Hector is a cat of unknown age that I first saw in January of this year. I observed him one morning on my way to the office and was struck by the huge wound between his chest and neck.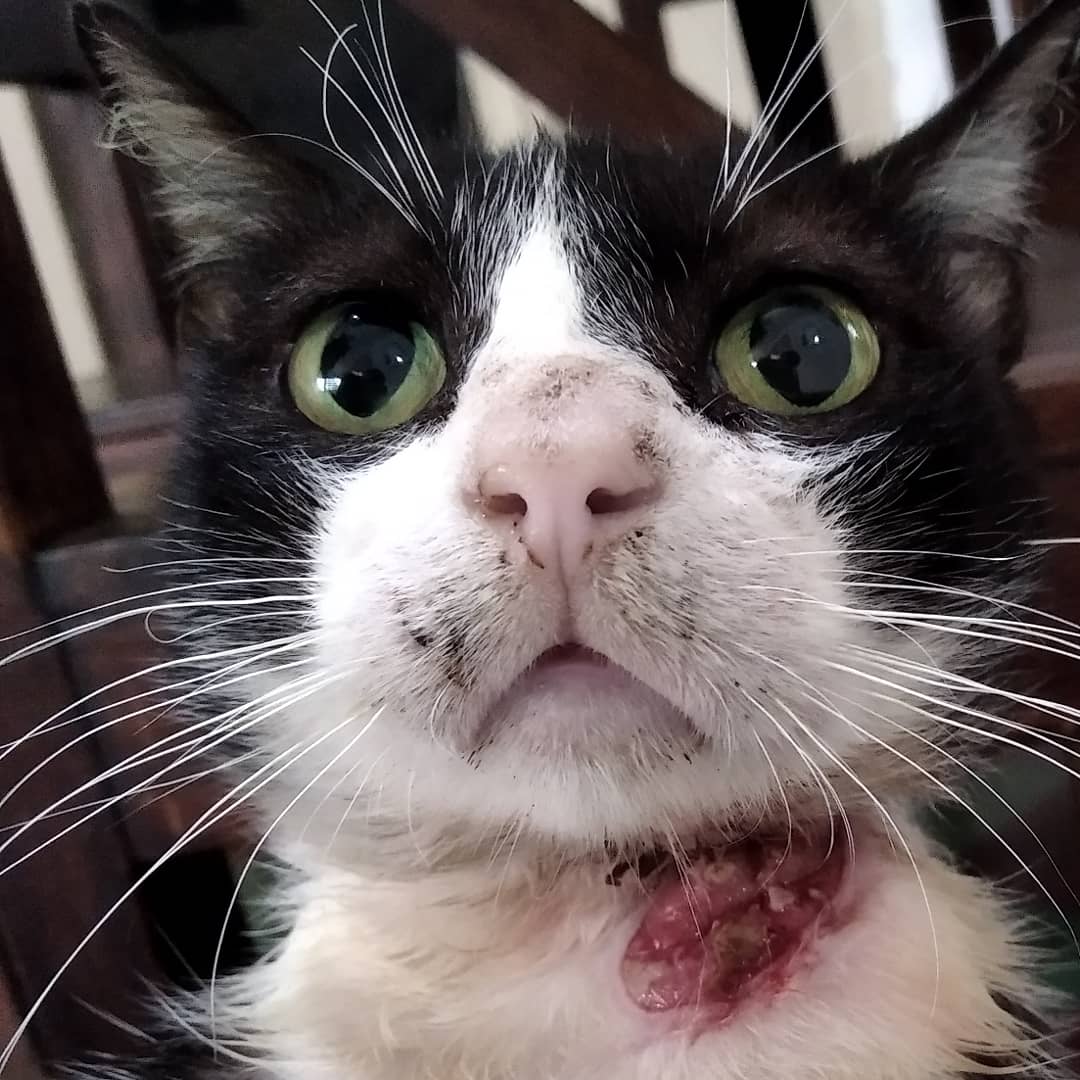 This cat was blessed to have an elderly lady who was very concerned about his health and sought help. She managed to keep him safe for about a month and a half, during which time he evolved quite well to his treatment. He returned to his area, he is a cat in street condition, with the wound practically healed.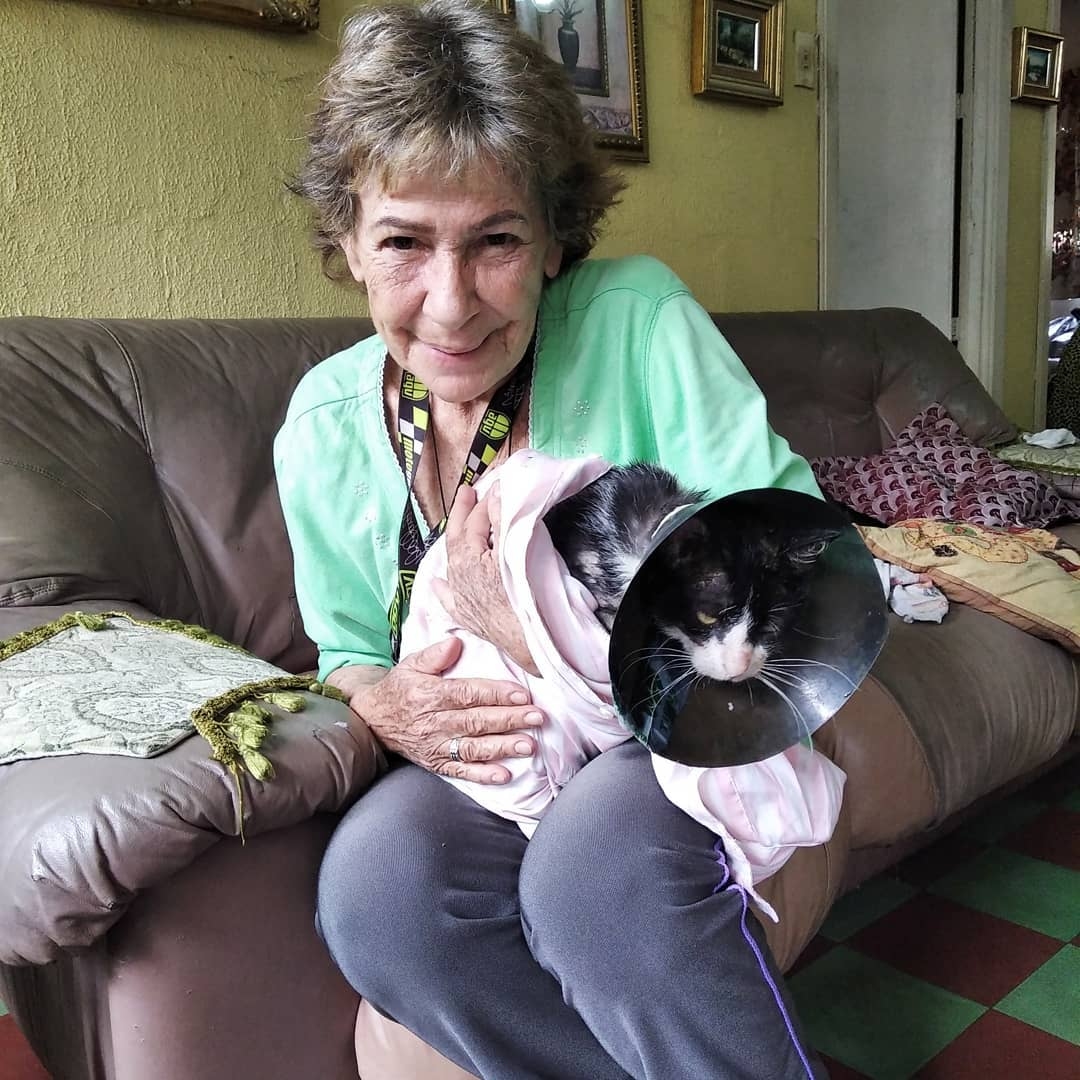 After approximately one month his protector contacted me to inform me that Hector had had an involution in his condition and that he was worse than when he was hospitalized.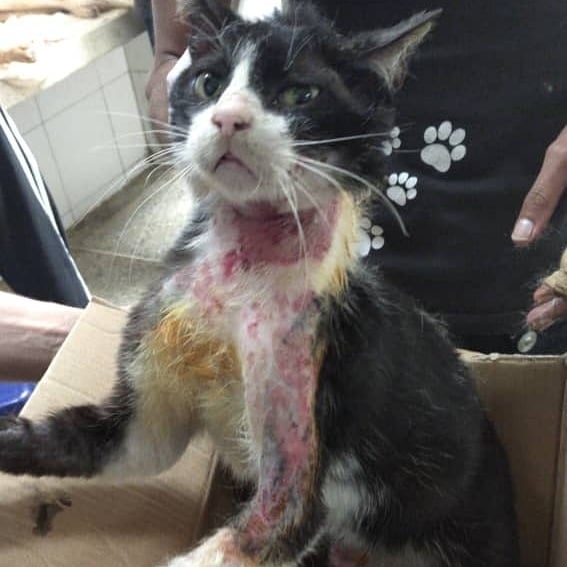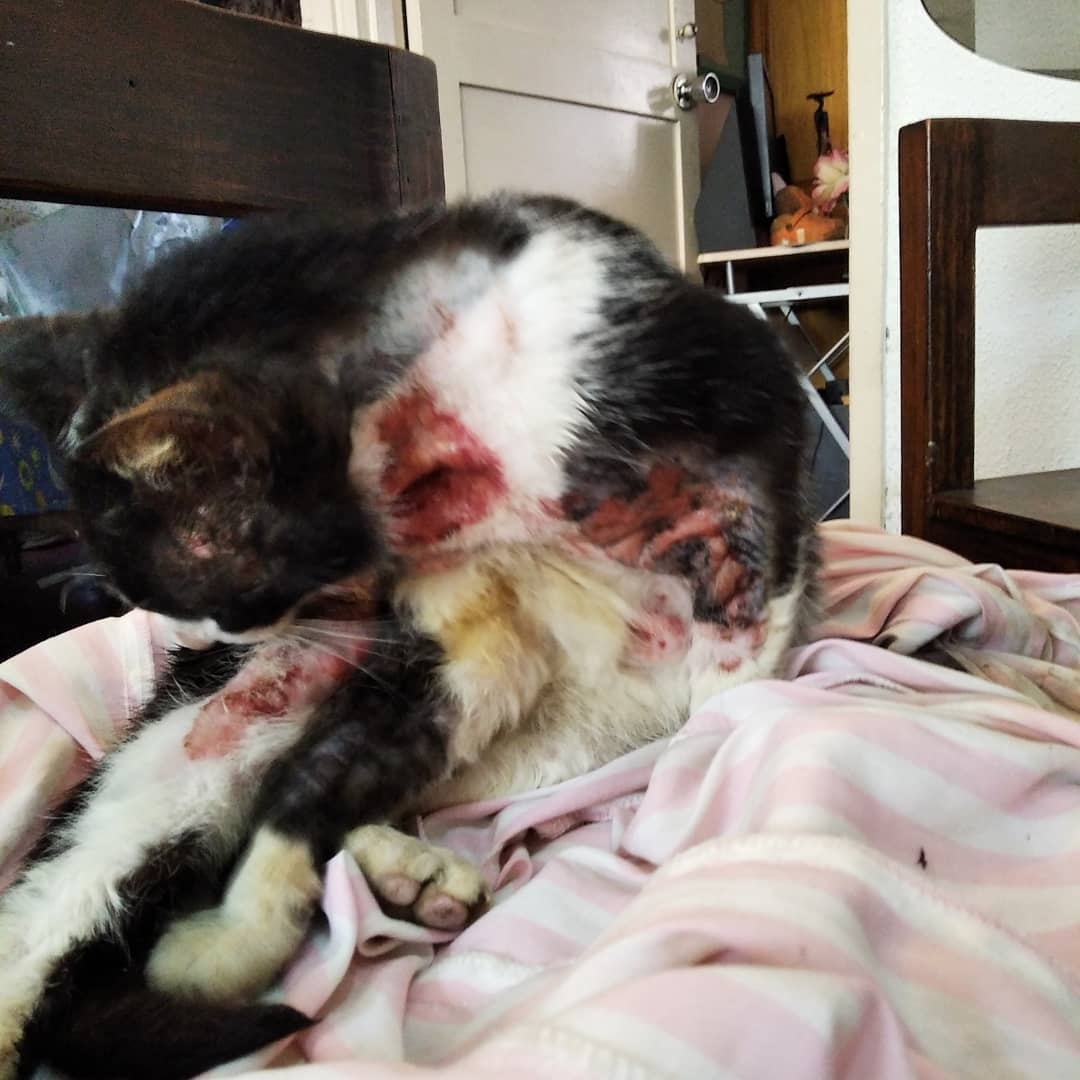 When I received the photos of the state in which Hector was, I was very impressed, what once was only a wound between neck and chest, it had extended to his front paws and a back one, you could practically see his live flesh, due to the loss of tissue.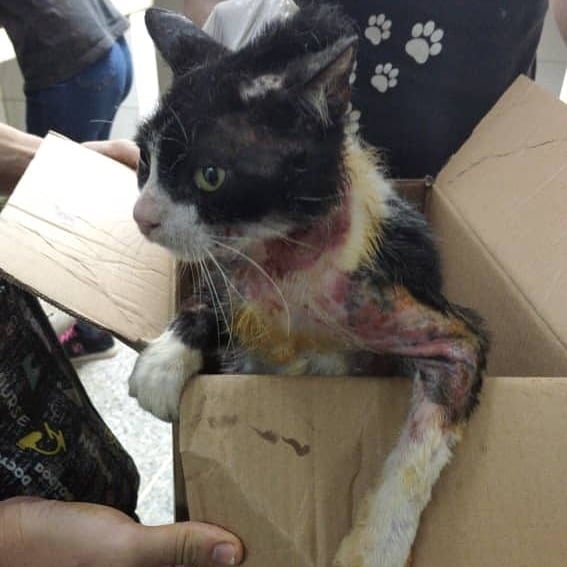 I used the social networks to ask for help to take the cat to the veterinarian, here in Venezuela due to the inflation has increased a lot the cost of the consultations , medicines and food for the pets. Those of us who help cats and dogs must resort to asking for donations to cover the costs.
Returning to the adventure with Hector, after collecting a sum of money he was taken to the veterinarian where they indicated that his injuries were the product of burns, possibly battery acid, maybe he was thrown, maybe he was standing somewhere where they threw him.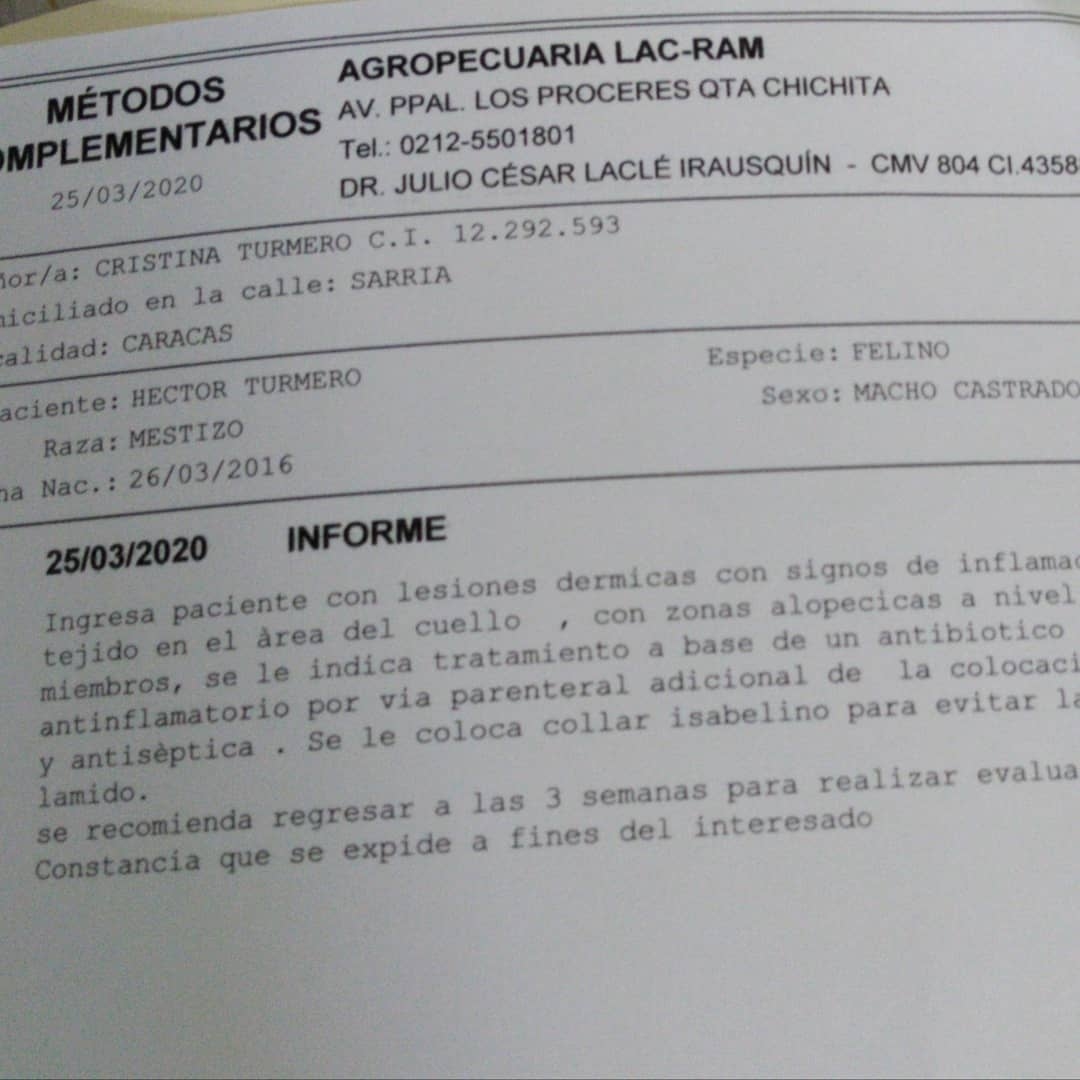 At the veterinarian, they cleaned his wounds and applied a cream to start his treatment, they put an Elizabethan collar, besides prescribing, antibiotic, anti-inflammatory and vitamins to help in his recovery.
Hector was injected for fifteen days, thanks to many people who were in solidarity with him, they got the injection machines, bought the antibiotic ampoules, the anti-inflammatory and even a delicious kilo of molina, gatarina, and worming meat, among others.
Thus began the path of recovery of Hector, practically at the same time as the quarantine in Venezuela, has been long, the wounds on his legs healed very quickly, but the big wound has given war, but thanks to creams, love, food and perseverance are seeing the fruits, the wound is closing, but all this has been possible to the donations that have allowed to feed him take him to the vet, buy their medicines, as well as the daily visits that makes this servant, which will only culminate when he is healthy.
Up to this moment Hector has been fed, sheltered, dewormed, castrated to lower his testosterone levels, had his nails cut, gained weight and is learning to live in a home.
You can also help Hector and all the kittens I support by giving a positive vote to this publication.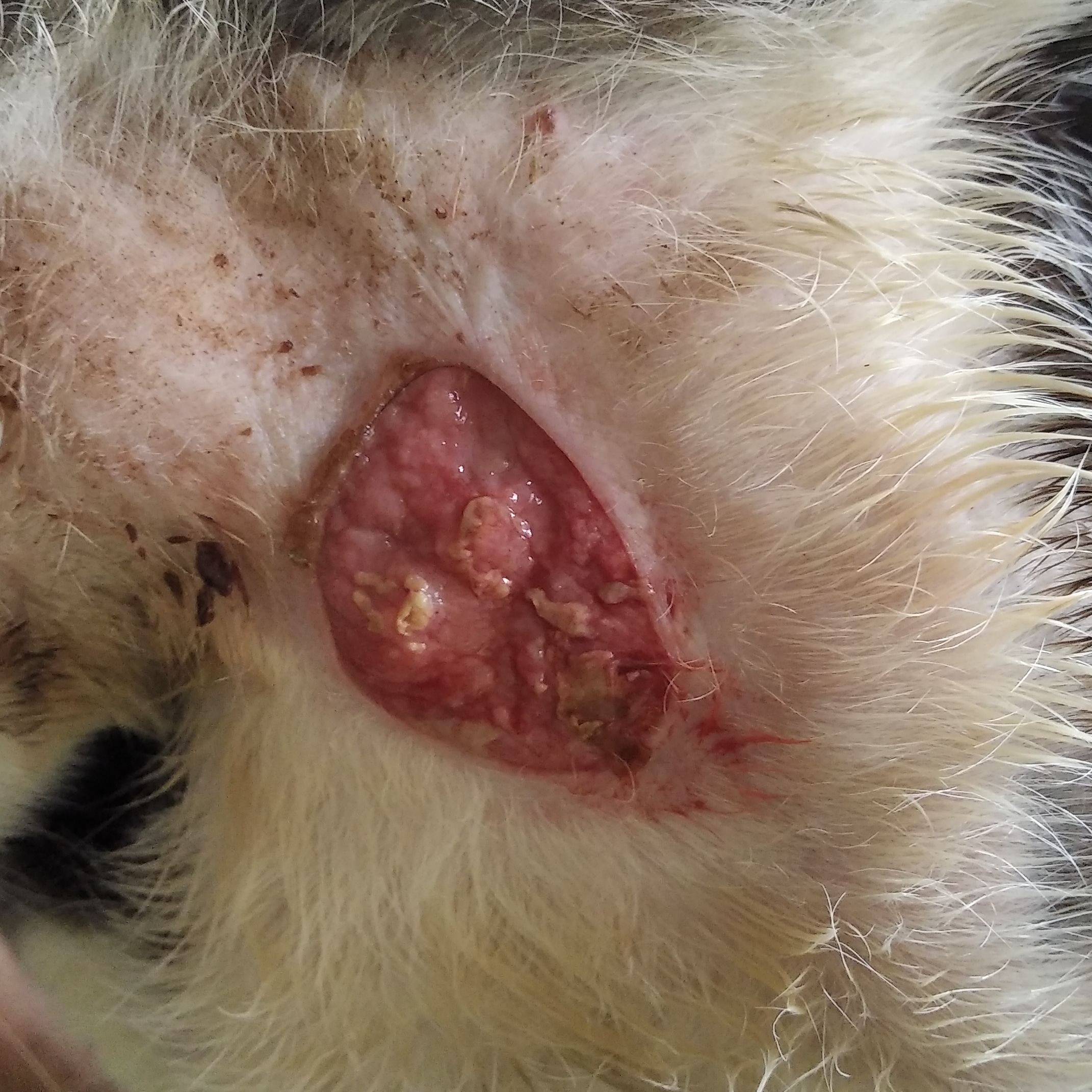 Héctor es un gato de edad desconocida al que vi por primera vez, en enero de este año, lo observe una mañana camino a la oficina y me llamó la atención la enorme herida entre su pecho y cuello.
Este gato tuvo la bendición de contar con una señora de la tercera edad que muy preocupada por su salud busco ayuda, se logró tenerlo en resguardo aproximadamente un mes y medio, durante el cual evolucionó bastante bien a su tratamiento. Se devolvió a su zona, es un gato en condición de calle, con la herida prácticamente curada.
Pasado aproximadamente un mes su protectora se comunico conmigo para informarme que Héctor había tenido una involución en su condición y que estaba peor que cuando se le interno.
Al recibir las fotos del estado en el cual se encontraba Héctor, quede muy impresionada, lo que una vez fuera solo una herida entre cuello y pecho, se había extendido a sus patas delanteras y una trasera, prácticamente se veía su carne viva, debido a la pérdida de tejido.
Recurrí a las redes sociales para solicitar ayuda para llevar al gato al veterinario, acá en Venezuela debido a la inflación se ha incrementado mucho el costo de las consultas , medicamentos y alimentación para los animales de compañía. Los que ayudamos a gatos y perros debemos recurrir a solicitar donaciones para sufragar los gastos.
Volviendo a la aventura con Héctor, luego de recolectar una suma se le llevó al veterinario donde nos indicaron que sus heridas eran producto de quemadas, posiblemente ácido de batería, tal vez se lo arrojaron, tal vez se posaba en algún lugar donde lo arrojaban.
En el Veterinario, limpiaron sus heridas y le aplicaron un crema para comenzar su tratamiento, le colocaron un collar isabelino, además de recetar, antibiótico, antiflamatorio y vitaminas para ayudar en su recuperación.
Fueron quince días inyectado a Héctor, gracias a muchas personas que se solidarizaron con el se consiguieron las inyectadoras, se compraron las ampollas de antibiótico, el antiflamatorio y hasta un delicioso kilo de carne molina, gatarina, desparasitante, entre otros .
Así comenzó el camino de la recuperación de Héctor, prácticamente al mismo tiempo que la cuarentena en Venezuela, ha sido largo, las heridas de sus patas sanaron muy rápido, pero la herida grande ha dado guerra, pero gracias a cremas, amor, alimentación y perseverancia se le están viendo los frutos, la herida está cerrando, pero todo esto ha sido posible a las donaciones que han permitido alimentarlo llevarlo al veterinario, comprar sus medicamentos, así como a las visitas diarias que le hace esta servidora, las cuales solo culminarán cuando este sano.
Hasta este momento a Héctor se le ha alimentado, resguardado, desparasitado, castrado para bajar sus niveles de testosterona, cortado las uñas, ha subido de peso y esta aprendiendo a vivir en un hogar.
Tu también puedes ayudar a Héctor y todos los gatitos que yo apoyo dando un voto positivo a esta publicación.