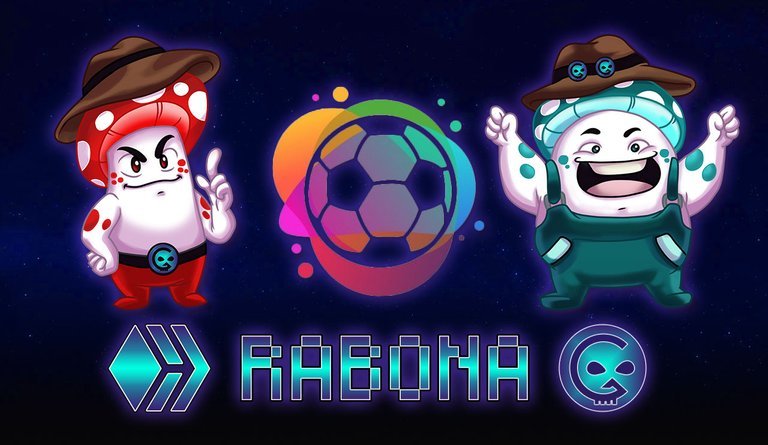 Welcome to my Rabona update post of this week. I am an 1UP Cartel operator and try to keep all of you up to date by these posts. New operator posts should be published every Tuesday but could be delayed from time to time since I am really busy with my upcoming exams at the moment.
Beginner advice of the week
Don't forget to extend player contracts at the end of the season - You'll be really sorry if you lose a player because you forgot to extend his contract. This actually happened to me last season (you can read more about that later on) and screwed up my whole plans for the next season. So better watch out!
Season 66
I devided this part of the post into different chapters, since I want to cover several important aspects of the game. You can find information about...
Buildings
Training
Game results
Financials
Preparations for the new season

Buildings
The upgrade of the shop capacity was finished this season! The merchandising income is the biggest part of the clubs profit, so focusing on this area is the best way to increase profitability right now. The shops profit was ~ 45,000,000 RBN last season and it amounts to ~ 30,000,000 RBN more than halfway through season 66 now. So I am not sure if the upgrade made the merchandising field more worthwhile. That's why I won't upgrade it again (for now) but try to change the merchandise prices instead. You can read more about that in the Financials chapter.
The upgrade of the Training Center was started. The costs were quite high: I had to pay 2,560,000 RBN and I'll have to pay an additional 50,000 RBN more per match in the future. Once this upgrade is finished (in 9 days 😅) I'll get an additional 5% home advantage which will bring my edge at home games to 50%. I know the costs are high but I have to take every advantage in order to finally get to a higher league in the future.

Training
Since Endurance is really important to me (because I want that my players are always fit and don't get injured) that was the only thing I focused on this week. The effects of the training might not be huge but I'm sure this will help my team to perform better.
17/02/2022: Trained Endurance with all players
18/02/2022: Trained Endurance with all players
19/02/2022: Trained Endurance with all players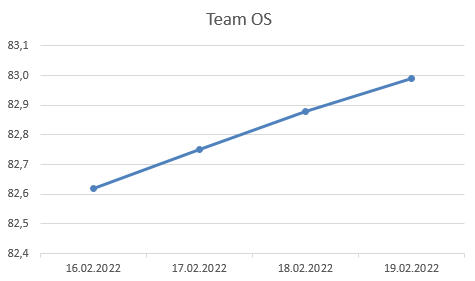 Game results
Sharing all game results with you would be too elaborate. That's why I try to give you just a general overview:
BTCSam FC won 21 games in addition to 4 draws and 5 defeats in season 66. That's a win rate of 70% which was a good result. I still didn't won enough games to get up to a higher league 😥
So let's take a look at some of the matches:
Highest victory: The best game was the one against the Kinetic FC. Sure, the opponent team only had an overall strength of 40 but a 5:0 victory was still an awesome result!

Most impressive game: One game I won't forget is the one against Caen United - They are the team that made first place in the end and their team has an OS of more than 83 but we still won against them 5:1. And that was even an away game 😮 What a legendary victory!

Most unnecessary defeat: The 2:1 defeat against Albacete was super unnecessary and incomprehensible: Sure, it was an away game but the opponent team has an overall strength of under 60! We really should've won this game and I have no idea what happened there 🙈

In the end the team couldn't reach the first place again. 21 victories weren't enough to overtake the top teams of the league. So BTCSam FC ended as fourth which is not what I was hoping for but I'll have to accept that and focus on the next season now.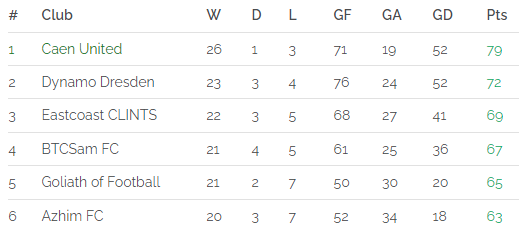 Financials
I've changed the ticket price in the middle of the season to see how this would affect the average utilization. I had the feeling that this could be a great way to increase the RBN income. The old ticket price was 54 RBN which led to an utilization of 100%. Since there is no way to know the perfect pricing right away, I just tried increasing the price to 58 RBN / match. After 1 day the average utilization was still at 100% so it was a good decision to rise the prices. Increasing the price even further was no option though since season 66 was almost over at that point. But I'll definitely try implementing a higher ticket price in season 67.
Merchandising sales are even more important than ticket prices. I already mentioned that I won't upgrade the shop capacity for now. Instead I am trying to increase profitability by changing the prices. In contrast to the ticket prices, the price effect is not that easy to see. So I made a little chart: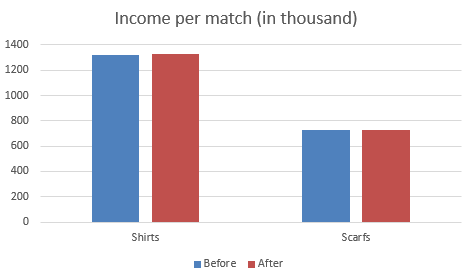 I've changed the fan shirt price from 62 to 64 and the scarf price from 15 to 16 after 21 played games of season 66. I cheecked the results 7 matches later and the price increase had no real effect. Shirt income increased by 1,600 RBN / match and the scarf income stayed the same. The possible reasons for that could be:
The demand dropped by approximately the same percentage as the price rise
Merchandise sales have a way higher volume at the beginning of the season, so the effect couldn't be seen
Merchandise sales correlate with team performance which led to fewer sales
I will keep an eye on the merchandising income in the next seasons and try to figure out what the best price strategy is. For now the prices will stay at 64 / 16 RBN.

Let's take a look at the profit of season 66:
The income decreased a bit - from 75,332,102 RBN (season 65) to 64,994,925 RBN. The main reason for that is the deviations in the merchandise area. Although increasing the price of shirts and scarfs had no significant effect, shirt income decreased by approximately 3 million RBN and scarf sales even by ~ 7.5 million RBN. I guess the reason for that is that my team played worse than last season which led to a smaller interest in club merchandise. The income of other fields didn't changed that much.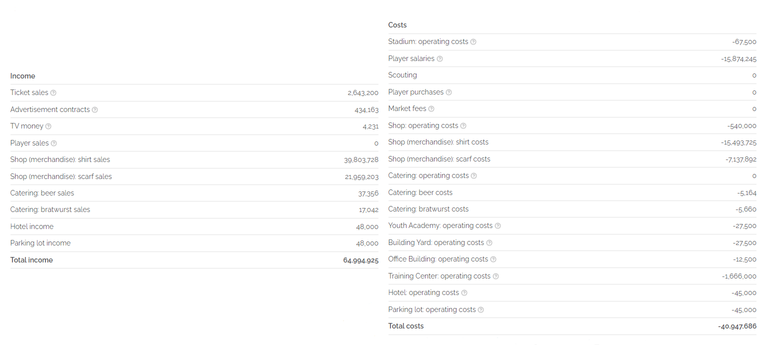 The costs could be reduced by almost 4 million RBN. The reasons for that are:
No player purchases during the season
Less operating costs of the shop
Shirt & Scarf costs decreased by ~ 4 million RBN
Operating costs of the Training Center went up by 600k RBN
So the main reason for the smaller costs was merchandise as well: Because less merchandise items were sold the operating costs went down as well.

In the end the profit amounts to 24,047,238 RBN (~ 0.96 HIVE at current rates). In addition to that I've received an season payout of 0.169 HIVE. So I have made a bit over 1 HIVE during season 66 which is slightly less than what I've got in season 65.

Preparations for Season 67
I've made a huge mistake at the end of season 66: I forgot to extend player contracts. So a lot of important players left BTCSam FC and I ended with just 10 players in the end - one of those is even injured. Normally something like that wouldn't happen to me but I've been so busy with learning for my exams that I just forgot about that. Let this be a lesson to all of you Rabona coaches out there: Never (!) forget to extend contracts!

So I needed to get new players. Since the new season started during night time in Germany I missed the first hours of the new season, so there were no good players to sign for free left. They were either too bad or too expensive (> 100,000 RBN / match). A complete disaster!
That's why I bought the following players:
| Player | Position | Age | Overall Strength | Salary | Transfer Fee |
| --- | --- | --- | --- | --- | --- |
| Levi Jönsson | Goal | 21 years | 87 OS | 31,178 RBN / match | 999,0000 RBN |
| Erwan Durand | Defender | 21 years | 87 OS | 42,611 / match | 2,875,000 RBN |
| Husam Guevara | Defender | 20 years | 88 OS | 32,810 / match | 3,675,000 RBN |
| Emiliano Palumbo | Defender | 21 years | 83 OS | 36,681 RBN / match | 1,000,000 RBN |
| Jeffrey Ahmed | Attacker | 21 years | 80 OS | 32,217 RBN / match | 2,500,000 RBN |
After another look at the sign page I signed a free contract with attacker Jose Arias as well, a 29 years old player with an OS of 79 and a salary of 30,201 RBN / match.
So I paid about 11,000,000 RBN for the new players. That's almost half of last seasons profit but I had to invest that much in order to keep my chance of getting to first place alive. I think the defense is pretty powerful now, midfield is good as well (as long as nobody gets blocked/injured) and my attack isn't the best but okay. I still think season 67 could be tough.

Season 67
Buildings
I am still waiting for the Stadium Capacity, Office Building, Building Yard, Youth Academy and Training Center upgrades to finish. This will happen within the next hours after publishing this post (except the upgrade for the Training Center - still 9 days remaining there), so I'll keep you updated on that in my next posts.
No new upgrade was started since Catering / Hotel & Parking Lot haven't been really profitable in the past. I'll also wait with upgrading the Shop Capacity again because first I want to find the perfect pricing for shirts & scarfs.

Training
I was able to just train twice this season so far: I focused on endurance again but also trained the 4-3-3 formation again because that's the lineup I usually play with and some of my newer players needed better 4-3-3 stats.
20/02/2022: Trained 4-3-3 with all players
21/02/2022: Trained Endurance with 15 players

Game results
The start in the new season was a nightmare! The first game was lost to Azhim FC due to all the players who left the club because their contracts ran out. Although I signed new players the next 3 games were losts as well and the BTCSam FC ended up on one of the last spots in the table.

Fortunately the team increased their performance in the next games. There were 6 additional matches until the moment I publish this post and 4 of those were won by BTCSam FC. 1 game was lost and another match ended in a draw. So at the time I am writing this the club has 13 points out of 10 games and is currently placed ninth in the table.

So to sum up: Season 66 did not went great as the club made less profit and "only" ended forth in the league. The new season is going worse than that so far, mainly because I made the mistake to not extend player contracts. I hope the team can at least move up to the top 5 spots till the end of the season.
The focus for the rest of season 67 is to strenghten the team by training every day and maybe even buying new players. In addition to that I'll try to keep an eye on ticket / merchandise prices in order to increase the profitability.
Some criticism
As much as I love playing Rabona, there are few things that are really annoying me. One of them is the way game results are determined: How do they do that? Because at some point if feels super random. For example: I just played 1:1 against Albacete, a team with an OS of ~ 60!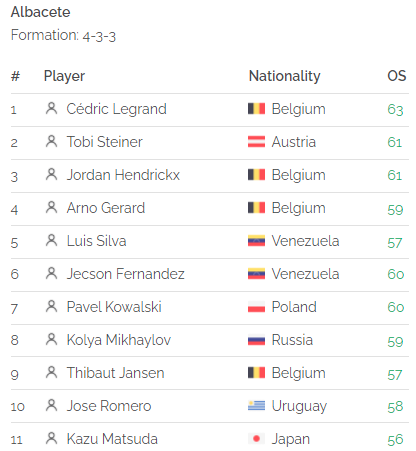 Sure, sometimes the underdog is surprising everyone and steals some points from the better team. But this happens so often, it's just weird and makes this game a lot less fun. You can have the best team in the league but in the end it's still feels like 80% luck if you manage to end up first. That's a bit frustrating. Maybe the @rabona team can tell us a bit more about the way results are determined.

Not playing Rabona yet? Start your football journey now by signing up here. See you on the pitch!