Did you ever want to play against more than one Pig Herder? Well, now you can!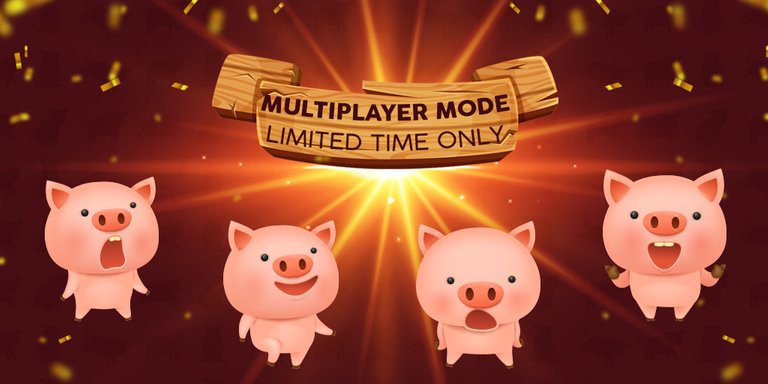 Join the Multi-Tossing:
Saturday, September 12
Sunday, September 13
6 pm - 10 pm CEST
12 PM - 4 pm EST
The new feature will be activated only during this time. We want you to test the multiplayer mode, have fun with friends and experiment with even higher stakes.
After playing a bunch, please let us know in the comment section or on Discord what you think. Do you like it? Do you wanna keep it? Or would you maybe prefer special multiplayer events?
How it works:
First of all: Even if multiplayer mode is active and even if enough players are available, it does not necessarily mean, you will end up in a multiplayer game. You will be randomly placed in a game with two to four players including yourself.
Similar to regular games, each player gets toss after the other. Once it's your turn, your options stay pretty much the same: toss, bank, switch pigs (or be time–outed if you dare to fall asleep).
The big change, however: The game ends as soon as the first person hits the target.
The more the merrier!
If you win a multiplayer game you can really hit the jackpot. There is always only one winner, and two or three losers means double or even triple rewards for you.
Theoretically, if you crush three opponents, you could win a total of six pigs in one single game. However, keep in mind that - depending on the loyalty - there's a 25% to 35% probability of defection, so there is no guarantee of winning (multiple) pigs.
Obviously, with up to three opponents there's a bigger risk of losing the game so brush up on all those strategies we talked about.
Okay, so who's excited?
---
Stay tuned
We have much more in store:
Gameplay Trailer
How to Play
When to Toss and Bank
Follow us
Twitter | Telegram | Discord | Website | Blog
P.S.: Let us know how you like multiplayer mode on Discord or in the comments below!