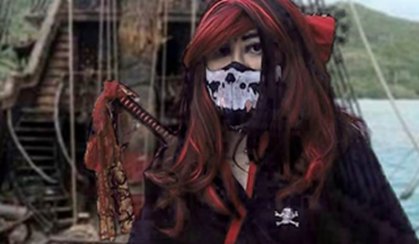 1 P

" Blackbirds tend to like shiny objects" ~ The Bloody Raven
I saw the reviews. I could barely contain my excitement about this coin soon coming out in the bullion market. My eagerness was satiated when I searched my Favorite Retailers for this very coin, and my instincts took me directly to The Coin Shoppe and ordered my pair at $31.65 CAD each, but my scurvy Stackitis got the better of me and I ordered another pair $32.61 CAD each. At the time of posting of this article, the price is $54.99 CAD each and long out of stock! And now the 5 oz. version is coming out!
Though much has been written and documented about the infamous legendary Pirate Captain Blackbeard, this article is not about him as I can reserve that for another coin at another day. This is about his Flagship, the Queen Anne's Revenge. Without further adieu...
Presenting the first coin of Tuvalu's Black Flag Series.
The Queen Anne's Revenge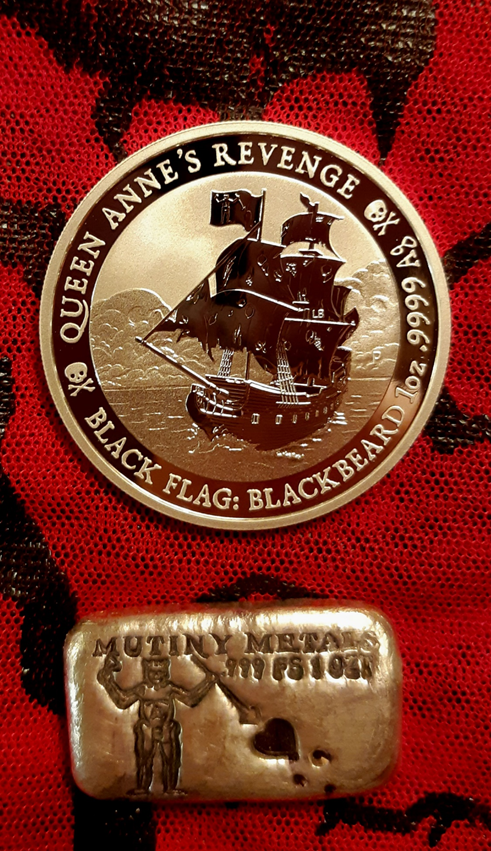 1
Reverse: Black Flag: Blackbeard
31.1g, 0.9999 Fine Silver
40.6mm Diameter
P - Made by the Perth Mint, Mintage of 15,000
The portrayal of the ship suggests the viewer of the coin from the perspective of the prey.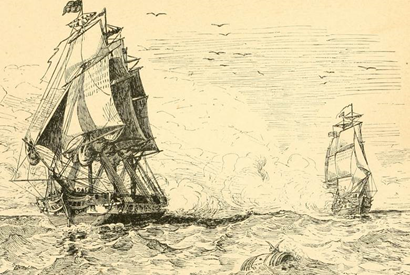 W
The Taking of the Westerly Star
The Captain and crew are familiar with these treacherous waters off North Carolina. Sails appeared from the distant stern early that morning and by the afternoon they had closed some considerable distance. The Captain was visibly nervous as she was a fast ship for her size and hoped upon hope it wasn't who he thinks it is following them. Extending his spyglass the ship was of a familiar French design and accompanied two sloops.
"Damn they are fast." The Captain's mouth went dry.
The Westerly Star was a mere merchant ship burdened with grain, wares, goods, and coin needed in the colonies. Most of the crew gathered around him, their eyes filled with fear awaiting the Captain's assessment of the situation.
His young officer looked at him for orders, "What are your orders Sir?"
The raspy voiced Sail maker chimed in, "I heard back in Charleston that the Queen Anne's Revenge was recent in these waters. If it is her we'd best not fight and peaceably give them the cargo!"
"I heard the crew of the Saint Marie was spared when they surrendered t' Blackbeard," stammered the old Boatswain. The men around him nodded and vigorously agreed with him.
It would be another half hour before the faster sloops cut in behind to take the wind out of the sails. A flag was raised. A black flag! He felt his heart race as he beheld the trademark grinning Skeleton of Blackbeard! The Captain collapsed his spyglass and took a deep breath just as a boom bellowed from the big ship's fore Chaser gun. A geyser of water rose just off the port side doing no harm. But the message was sent. It was Blackbeard's last warning,
He may be finished as Captain according to his Pay Masters, but he may live to see his family. "Gentlemen, hoist a white flag and come to a stop."
(A typical fictional account.)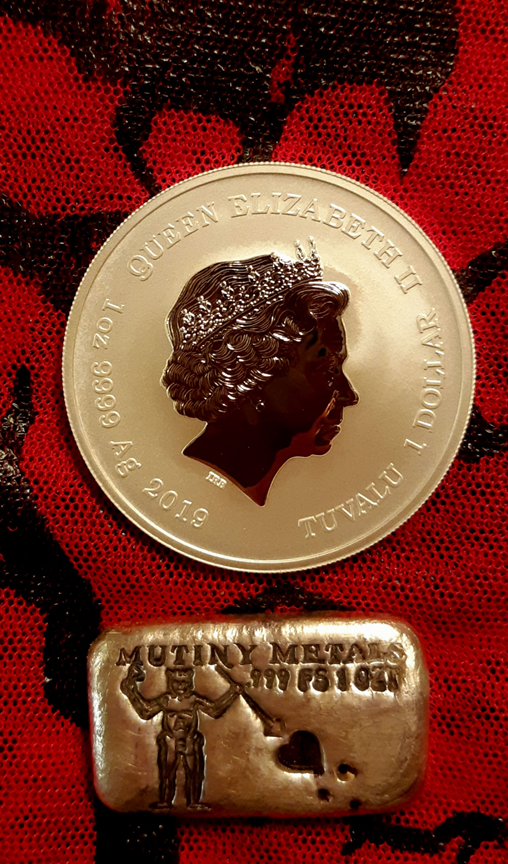 1
Obverse: Queen Elizabeth II, 1 Tuvalu Dollar, 2019
Also featured here is…
BlackBeard's Flag Silver Bar by Mutiny Metals
So you want some details?
Original Specifications of the La Concord:
Built in 1710 France
Length 31m or 101 feet
Beam 7.1 m or 24.1 feet
Displacement of 200 tons
Full rigged sail
Registry Port of Nates
Owned by a French Merchant Rene Montaudoin
Service as a Slave Trading Vessel
Armament of 16 Cannons
Captained by Pierre Dosset
Crew Complement of 75
In July 1717, The La Concord was only on it's third trade voyage across the Atlantic's Middle passage with its Slave cargo when she was encountered by Blackbeard's two pirate Sloops. Already eight weeks into this westerly Atlantic leg of the voyage, scurvy and dysentery took its toll upon La Concord's crew already suffering casualties with almost half the crew debilitated from disease. They were in no condition to fight.
The two attacking pirate sloops, with about 150 men, then fired warning volleys at La Concorde as they closed. One figure stood tall at the fore, prominent and frightening to behold. From the main mast rose the Black Flag of the grinning Skeleton with the hourglass.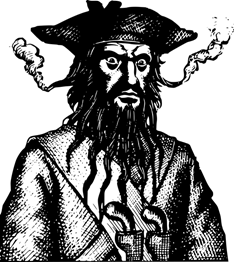 P
Edward Teach aka Blackbeard by gregoose under Pixabay
Captain Dosset had no choice but to surrender. There will be no fight.
Blackbeard's new ship was an idea Pirate ship, the former French slave ship was designed for speed, reliability, well-armed enough to deliver the perishable cargo and be profitable. With newfound speed, fire power, and size of the ship made Blackbeard more emboldened in his piracy and to intimidate his prey. She could arguably put up a good fight with a comparable naval warship.
However, his command of the Queen Anne's Revenge was rather short lived only until the next year in June 1718, the ship was run aground on the banks of Topsail Inlet off North Carolina. There, the Queen Anne's Revenge belong to the sea for almost 300 years. November 21, 1996 this ship's remains were found and identified off Beaufort inlet. North Carolina. Since 1997, The Queen Anne's Revenge Project continues to this day to preserve resting place of Blackbeard's flagship and to recover the thousands of artifacts for the benefit of North Carolina's maritime history.
They say that the spirit of pirates continues to haunt the shores off Beauford "Topsail" Inlet.
The Re-purposed Queen Anne's Revenge:
Change in Management: Blackbeard aka Edward Teach
Upgraded armament up to 40 Cannons but 30 were recovered
Up to 300 men as Blackbeard had more than one ship.
Added his cool flag too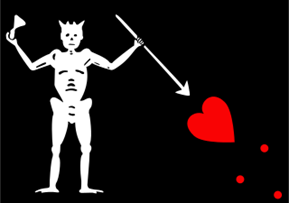 W
BlackBeard's flag from OpenClipArt under Public Domain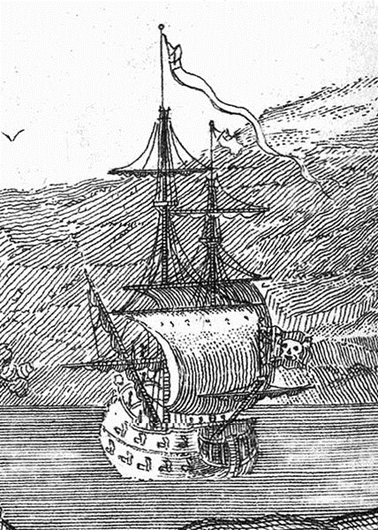 W
Queen Anne's Revenge 1736 illustration by Joseph Nicolls under Public Domain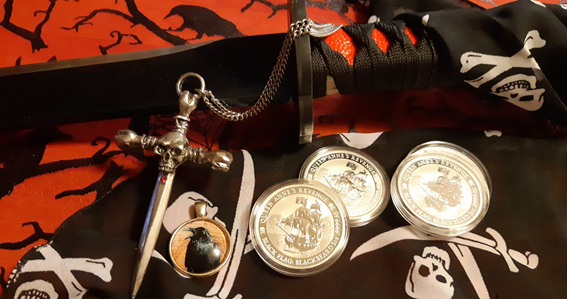 1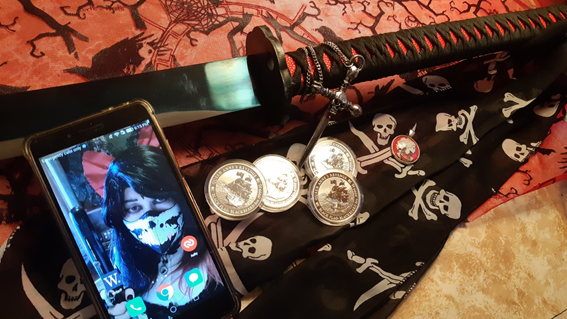 1
The sword is a variant of the Chinese Dadao war sword
As Edward Teach might say. "'Ave a Good day…. in Davey Jones Locker! Har har har!"
He can be quite the Teddy bear once you get to know him.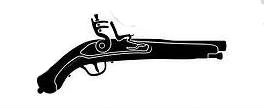 R
References and Links
1. My own pictures shot with a Samsung SM-A530W
P. Image under Pixabay
R. Clip art from 123RF
W. Wiki Commons
Numista Queen Anne's Revenge for coin details.
Queen Anne's Revenge Project The Archeology of the wreck site.
Blackbeard and his Infamous Pirate Ship a good read!
The Queen Anne's Revenge: Blackbeard's Mighty Pirate Ship
Black Flag Apmex

R
The Bloody Raven at your service.
1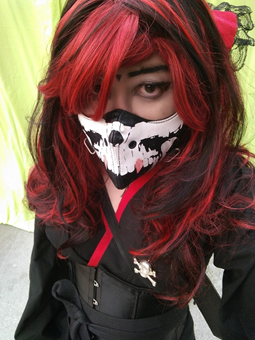 I love the smell of Pumpkin Pie in October!
Black Sails Characters from Starz Entertainment LLC 2017