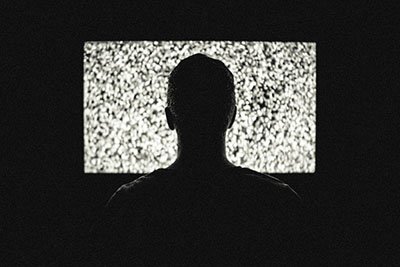 An Importance of Language in a Psychological Context
Language: the vast majority of us use it. It can act as a tool to facilitate healthy interpersonal communication (but not always.)
Language is a filter our mind uses to help make sense of ourselves, other people, and the world around us. When considering a general understanding of the structure of subjective experience, filters are part of the perception process preceded by sensory input. For example, us humans contain the physiology necessary to maintain (at least) five sensual faculties (sight, smell, hearing, taste, and touch) to absorb raw data from the world around us (other forms of life, like Dolphins and Bats for example, have completely different sensory systems for retrieving data.) This raw sensory data is then transcribed by a process of perception which reduces, simplifies, and transcribes the raw data into a unique/relative form we can understand. There are a number of different types of filters involved in this process (our past experiences, culture, beliefs, interests, assumptions, etc.) including language.
This sensory-perceptive process is the reason why an individual's perspective is unique, distinct, and - maybe most importantly - partial in nature. The perspective gives us insight into the person, as well as the identifiable filters used in the process of generating that perspective.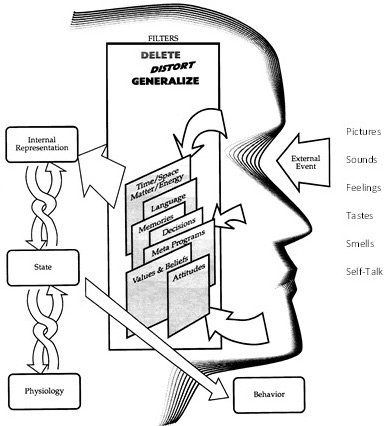 Image from www.nlpcoaching.com
The world is so vast and rich that we have to simplify to give it meaning. Map making is a good analogy for what we do; it is how we make meaning of the world. Maps are selective, they leave out as well as give information, and they are invaluable for exploring the territory. The sort of map you make depends on what you notice, and where you want to go (O'Connor, 2011, p. 4).
Psychologist Marshall Rosenberg, during his work and research involving one's ability to remain in a state of compassion, discovered an interesting (although retroactively obvious) correlation with language. Explicated in a psychological study by O.J. Harvey at the University of Colorado, there is a strong correlation between the use of certain words and violence; less violent cultures tend to frequently use very different words than violent cultures.
"I was struck by the crucial role of language and our use of words. I have since identified a specific approach to communicating— both speaking and listening— that leads us to give from the heart, connecting us with ourselves and with each other in a way that allows our natural compassion to flourish... In 75 percent of the television programs shown during hours when American children are most likely to be watching, the hero either kills people or beats them up. This violence typically constitutes the "climax" of the show. Viewers, having been taught that bad guys deserve to be punished, take pleasure in watching this violence." (Rosenberg, 2003, pp. 346-572).
Language and Control
However, violence likely isn't the only correlate we're experiencing in the world today. Marshall Rosenberg continues...
Life-alienating communication both stems from and supports hierarchical or domination societies, where large populations are controlled by a small number of individuals to those individuals, own benefit. It would be in the interest of kings, czars, nobles, and so forth that the masses be educated in a way that renders them slavelike in mentality. The language of wrongness, should, and have to is perfectly suited for this purpose.. When we are in contact with our feelings and needs, we humans no longer make good slaves and underlings (Rosenberg, 2003, p. 66).
A Quick Note on 'Politically Correct' Speech
Because language in action is a product of an individual holding a unique/special perspective, to assert non-consensual rules on speech is - in my opinion - to deny an individual their very freedom to express who they truly are. And, not only that, a separate and authoritative filter that comes from another perspective is then fitted to substitute one's original filter. The ramification of this act in regards to thought & behavior control, to me, are incredibly disturbing.
Let Me Know What You Think!
I covered some pretty controversial material here, especially for the year 2019. Whether you agree, disagree, or don't care! I'd love to know what you think in the comments section below.
Previous Steemit Posts in Steve Cronin's Nonviolent Communication (NVC) Series
References
O'Connor, Joseph, et al. Introducing NLP: Psychological Skills for Understanding and Influencing People. Conari Press, 2011.
Rosenberg, Marshall B.; Arun Gandhi. Nonviolent Communication: A Language of Life: Life-Changing Tools for Healthy Relationships (Nonviolent Communication Guides) (Kindle Locations 570-572). Puddledancer Press, 2003. Kindle Edition.