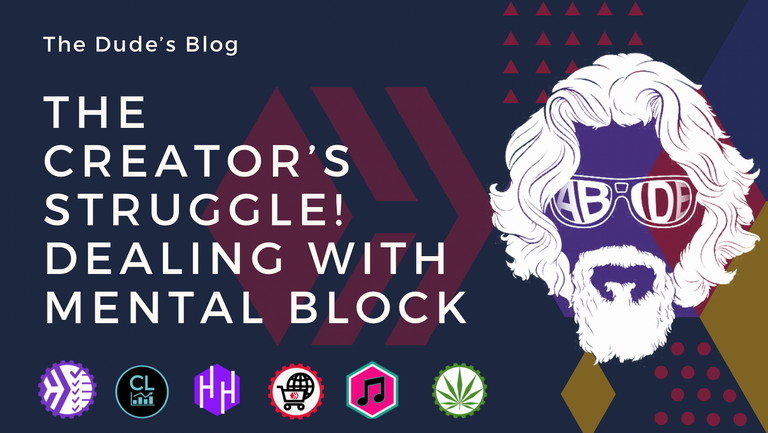 When you are trying to make in the content creation world, whatever medium you find yourself in, you will inevitably hit what is commonly referred to as 'writer's block'.
It happens to the best of us. It certainly happens to me, more than I really want it to. I love being able to express myself freely, and thankfully finding a platform that actually rewards me for my efforts. At least sometimes...
The Struggle Is Real
And that is where the struggle seems to come into play. At least for me, it's finding the balance between content that I find valuable, and creating content that others are also going to find valuable. It's a hard line because allot of times the content that people are wanting to read or watch, you have no desire to create. Or you are out there seeing how much others are making for what seems like not allot of work, and you put in a ton of time and effort into a post for it to basically just get ignored. It's a hard pill to swallow at times and can really bring you down.
Take for instance all the global nonsense going on in the last couple of years. I have honestly had no desire to write or report on any of it because it is so shoved in our faces all the time. From every flipping direction. So what else would I bring to the table on these subjects? Not much… For me, if all I am worried about is what type of content is going to get you more or more valuable upvotes or clicks, I would never get to produce any of the content I actually want to create.
Create What Makes You Happy... There Is Enough Depression Out There For Everyone
I for one would be miserable if all I was doing was writing or making videos about the news, politics, war, etc. It already makes me depressed, but I feel that if I were to start down that content creation rabbit hole, I would become a freaking nervous wreck.
That is why I am focused now more than ever on creating content I want to create. Whether it be a written blog for this account, @hivehustlers, or @hivelist, or a mix of written posts or videos for @coinlogic.online or a music video or audio recording for @groove-logic and @blocktunes, I am going to be creating the content that I want to create! Maybe in my crazy rambling videos or posts, you will find some value that can help keep me going and help pay the bills, lol. Because aren't we all here to gain some kind of monetary gains?
If All You Worry About Are Upvotes... You Will Not Have a Good Time...
If the community doesn't value my content the way I hope they would, then honestly there is nothing I can do but keep making more content and trying to improve and increase my reach to people that do want to consume my content and find value in it. What would be even more helpful is if the community would actually engage in posts and give some solid constructive feedback. That kind of thing is always helpful for beginning content creators.
Many times people just go on rants and talk about how bad the platform sucks because their content didn't earn or even got downvoted, but do not ask what it is that they could improve on. So it really goes both ways. It's called engagement and communication.
Dealing With Over Saturated Categories and Topics
It's tough out here in this space because so many people are trying their hand at becoming full time content creators that now even Hive is starting ti feel over saturated with the same kind of content. This makes it tough to be creative when everyone is making the same kind of content. It can be a fun challenge to try and do things differently, but then how different is it really from what is already out there. It's a struggle, and one I have been battling for a time now.
One reason I create content on different branded accounts is to have some variety in my creation. Admittedly, it can get a bit too much to handle at times, but it brings a spice to my content life.
Building Engagement Is KEY!!! Curate More Than You Create
It's also not all about my content. One thing I have found that helps me when I get these creative blocks is to go and just absorb other people's content. This gives the opportunity for you to possibly learn something from someone else or to just get ideas on how to improve or adjust your content style.
Not only that, but you can actually create and build relationships this way. I have found that the more I focus on curating other peoples content and engaging with it, the more followers I have created. Followers are the most valuable form of engagement because you are building trust with that person and they will continue to come back for your content again and again. Not only can they help you in your journey, but maybe they can learn something from you that can help them on their's.
Finding YOUR Special Sauce
So it's a fine balance of many spinning plates to make it in this crazy world. Some people have that special sauce and others don't quite have it. All you can do is try to figure out what kind of sauce you are made of and try to improve your flavors at every opportunity you can!
Okay, now I am getting hungry, lol.
All I Am Trying To Say Is...
The fact is that sometimes it's best when you hit the writer's wall, to just get outside of your head. Allot of times that means actually getting off the computer and spending some time outside… the house, lol. This works for me more than anything because I find peace and inspiration in nature. Gives me all kind of content ideas when I can just sit and think without any stresses from the outside world getting in my way!
Getting outside your head again sometimes means getting into someone else's! Again this means get out there and actually consume and engage in other people's content. You never know what kind of connections and friendships you can make!
Most importantly, just remember to enjoy life because really none of this social crap really matters. Educate yourself in many real world skills, live and love as much as you can, and just have fun! Nobody is promised tomorrow so you might as well just do and create what you love!
Life is short, enjoy it!
If you made it this far into my ramblings, you are a super star! Thanks for reading!
Be Cool, Be Real, and always Abide!
Get started playing Splinterlands today!
https://splinterlands.com?ref=thelogicaldude
Join Hive by going to:
https://signup.hive.io/
Want to shop using crypto, or even start your own online store? Check out the Hivelist Store
If you like what I am doing, please consider voting for my Hive Engine witness with your staked WORKERBEE!
https://he-voter.vercel.app/thelogicaldude
Or at
https://tribaldex.com/witnesses
https://thelogicaldude.com - The Dude's main site
https://hivelist.io - Classifieds, NFTs, DEFI Pool, Online Retail
https://HiveHustlers.com - Community for Entrepreneurs and All Around Hustlers
https://coin-logic.com - Live crypto market data, news, and research
https://blocktunes.net - Music NFTs, DAO, Downloads, and more
https://groovelogic.audio - DJ/Producer/Sound Engineer music and services
https://weedcash.org - The Highest Form of Social Media
View my channel on 3speak.tv! Video platfrom for a free speech society!
https://3speak.tv/user/thelogicaldude
But if you must... here is the YouTube channel link:
https://www.youtube.com/channel/UCtGApfTp4ZzLHksDdImJ9JA
Pure Logic Podcast can be found on 3speak.tv and YouTube as well as the following podcasting platforms:
Apple Podcasts
Spotify
Anchor.fm
RadioPublic
Breaker
Google Podcasts