This post is part of a series that explores the various features available on https://quello.io.
In the third installment of this series, we'll be looking at answers and how you can get started answering questions on Quello. We've made answering questions easy and we've given you a selection of tools to help you find questions to answer.
On Quello, we've created a dedicated answer area to help you find questions relevant to you. You can access your answer area once you have signed into Quello. When enter the answer pages the first area you'll be presented with questions suggested for you.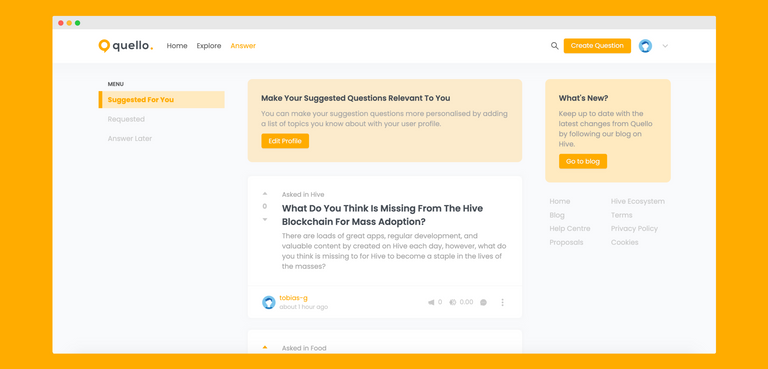 The suggested questions feed allows you to tailor your feed to questions you know about, this means no more searching through the topics page to view the topics you know and love. The suggested feed allows you to quickly filter down to the latest questions in topics you're likely to want to answer.
We wanted to make sure you could personalize your suggested questions feed at the click of a button and you can tailor your suggested questions feed by editing your user profile, within the topics you know about section you can select from all of our topics to tailor your suggested feed exactly how you want it.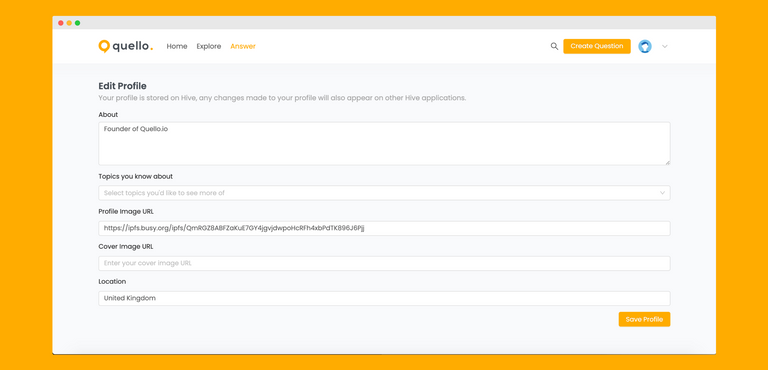 Another tool we've created for you is the ability to save a question for later. We know that sometimes you're going to find a great question and not have time to answer it, using the save for later you won't need to search for the question later and get started answering it straight away. As you can see in the image below, every question on Quello has the ability for you to mark a question to answer later.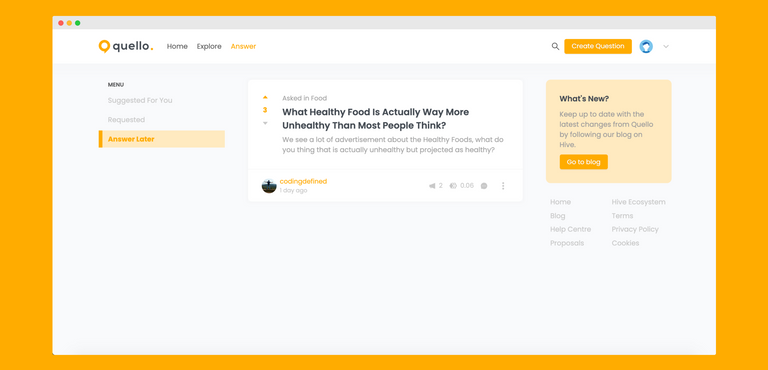 When marked as answer later, they'll appear in your answer later feed as shown below. Don't worry, if you decide you don't want to answer it, you can dismiss it from your feed to by selecting remove from answer later.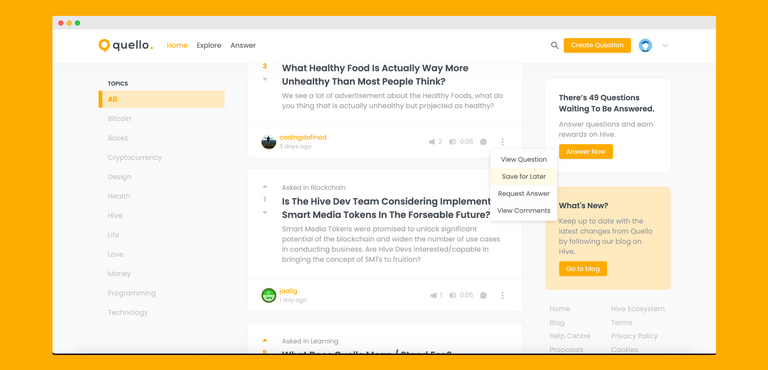 Once you've found questions to answer, answering them is easy, all you need to do is click on the answer button shown on the question and answer page on any question and you'll be presented with the answer editor for you to add your answer.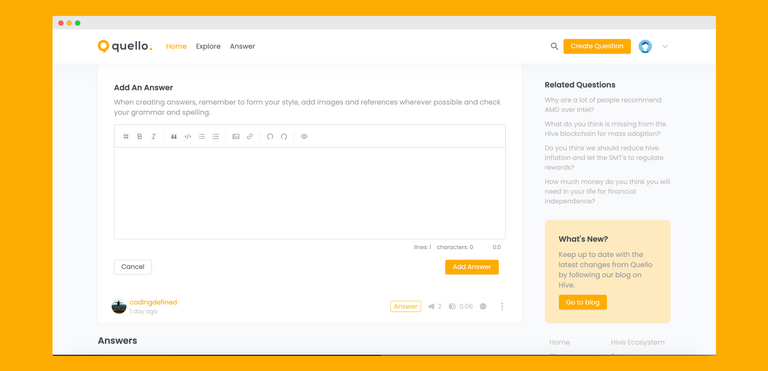 You may have seen that we also have the ability to request answers from users with the answer page too, we'll be covering that in another post so stay tuned.
As always, we love hearing your feedback surrounding Quello so if you've got anything you'd like to suggest or if you have any questions, please let us know. We'd be happy to help.
Related Posts
#1 Exploring Quello - Creating Questions on Quello
#2 Exploring Quello - Topics
Get Started with Quello Today!
You can get started on Quello today by visiting https://quello.io
Support Quello
Join us on Discord: https://discord.gg/G2XZsau
Follow our blog on Hive: https://peakd.com/@quello