Welcome back my fellow revolutionists!
I have a delicious recipe this week that will leave anyone whom you make it for, speechless. It's simple, delicious and inspires a healthy lifestyle that will keep you happily cooking for the long haul. It's also very filling. Two peppers will keep you full most of the day as you're giving your body the protein/veggie/grain balance it needs.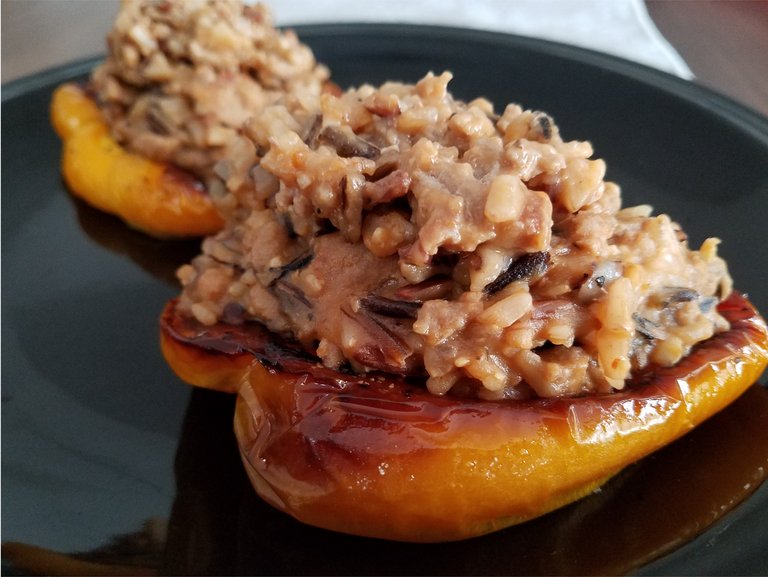 This recipe is a variation from the old classic Stuffed Peppers but made with ground turkey, much less grease and none of the unnecessary cheese or cream toppings. We'll be using a wild rice blend, which has less starch and is easier on the digestive system. In the past, I've substituted the wild rice for riced cauliflower (https://steemit.com/revolution/@revolutionstcafe/beans-and-crice-part-ii) and it's turned out just as good so feel free to do the same; just leave out the beans.
I'd like to dedicate this recipe to the world famous inventor and revolutionary, Nikola Tesla. I grew up knowing very little about this man, other than his famous black box that could run a vehicle on aetheric power, "available in limitless quantities" and a pocket sized oscillator that could violently shake large buildings. My favorite quote of his perfectly describes why I've always preferred being alone over groups and pointless social gatherings. Next time you feel out of place in this maddeningly anti-progressive planet, just think of this:
"Anti-social behavior is a trait of intelligence in a world full of conformists."
This is also my entry to @qurator for the Tasty Tuesday #88 competition.
Ingredients:
3½ cups - Water
1 cup - Wild Rice Blend
1 tbsp - Ghee (melted)
1 tsp - Salt (Kosher/Himalayan)

2 - Bell Peppers (large, orange/yellow ok)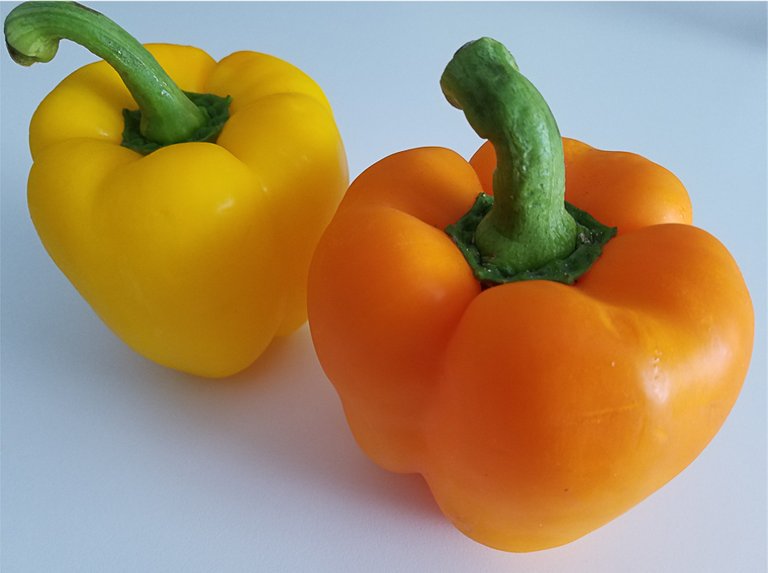 1 lb - Turkey (ground)
1 tsp - Salt
½ tsp - Black Pepper
1 tbsp - Garlic (minced)
3 heaping tbsps - Hummus (plain)
2 heaping tbsps - Red Dred Salsa (https://steemit.com/revolution/@revolutionstcafe/red-dread-salsa)
1 tsp - Spicy Brown Mustard



Extra Salt & Pepper for Bell Peppers
Cooking Ingredients:
1 tbsp - Coconut Oil
1 tbsp - Grapeseed Oil
Instructions:
1 - Add water, rice, ghee and salt to medium sauce pan on high heat and stir occasionally until boil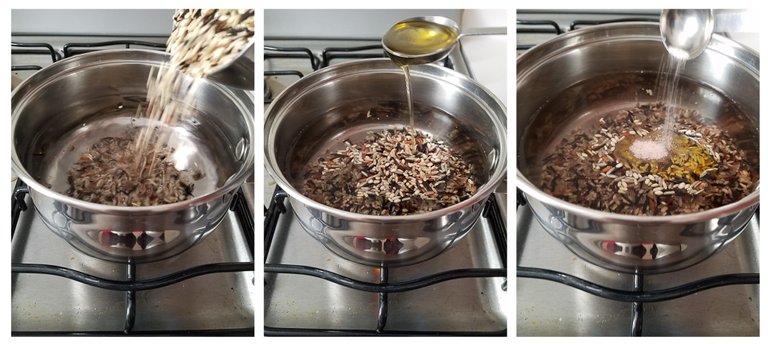 2 - Cover with lid and lower heat to simmer for 45 minutes or until rice is soft and water has evaporated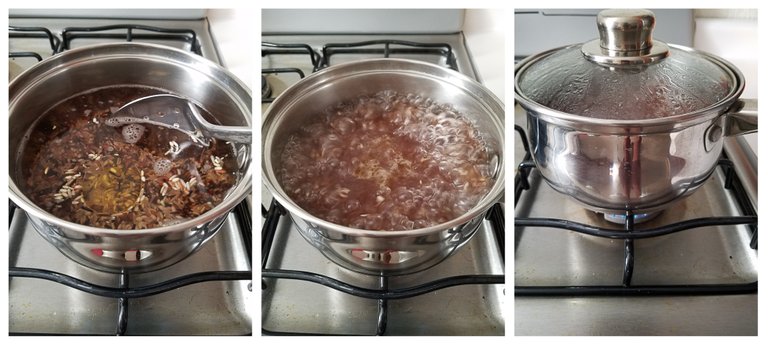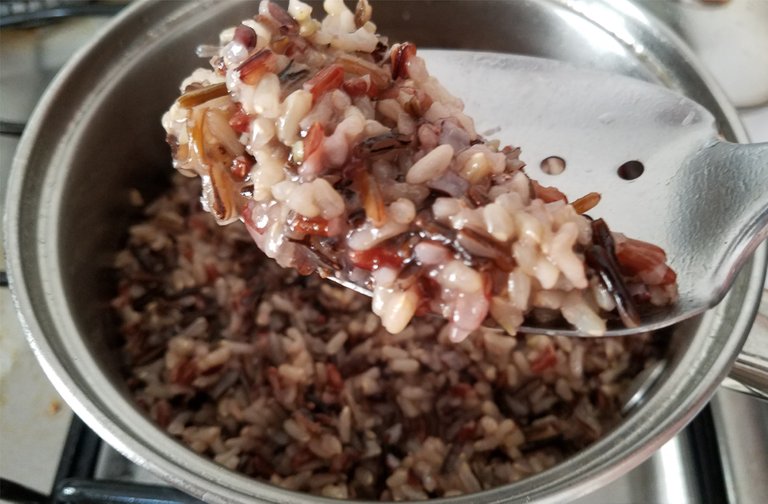 3 - While rice is cooking, cut the peppers in half and clean them out
4 - Place pepper halves on a pan lined with aluminum foil and lighly pour the grapeseed oil over them


5 - Lightly sprinkle with the extra salt and pepper and bake in the oven on broil for about 20 minutes on one side and 10 minutes on the other side until lightly blackened


6 - While the peppers are cooking, put a large pan on high heat and add in the coconut oil
7 - Add the salt and pepper to the meat and sear for a couple minutes on both sides
8 - Add in the garlic and turn down the heat to low until the pink is mostly gone
9 - Add in the hummus, salsa and mustard and cook for about 10 to 15 minutes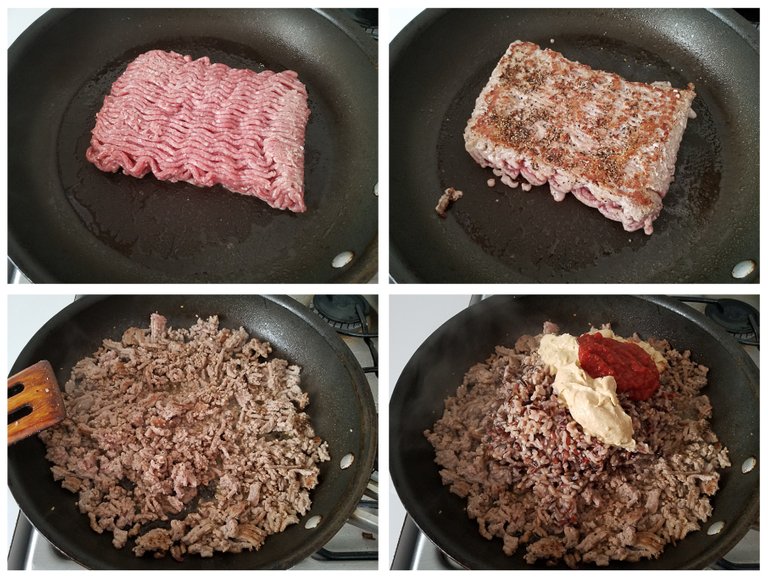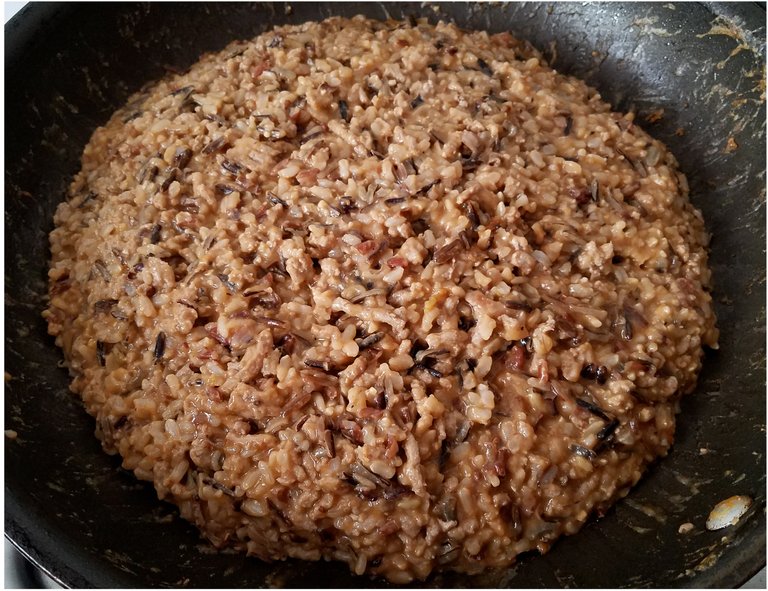 10 - Place the peppers on a plate and fill with stuffing
11 - Enjoy!
Our revolution begins now. We keep fighting by staying private, buying crypto and of course, by cooking! The greatest act of defiance is to quietly resist the constant distraction, disappointment, and discouragement that bombards us daily. We can and we will persevere by staying the course and fighting till our last breath no matter what obstacles come our way.
Let us stand and cook in this world full of sitting conformists!
My contribution to the revolutionist movement will be to turn the recipes I post on this blog into The Revolutionist Cookbook and eventually open a restaurant where only cryptocurrency is accepted. Where tipping won't be necessary as everyone will be paid full salaries and where simple and healthy ingredients will meet delicious cuisine. Like open source code, all of my recipes will be available to the public in full detail and any improvements offered will be embraced and possibly added to the menu in their perfected form. Any donations to the cause are much appreciated either by up-vote or wallet of choice below.
BTC:
1FFKXs4nDU4K5RJED7J4hKZb52Ku5nuFQV
LTC:
LgmcEdMJ1k6e7jY4DbwdTK5nsza9Y3FPHQ
XMR:
49SSmcAqEdECbze28knCJXU6DBzxF2raohnMuVvCQeJ1gqU4eXSXJKBiiZCF8kpy6VKjdUaiCH6CPY3FpP4sHzfgT1ga9us