I wanted to write earlier about the progress of our Beta testing. The fact that I have not done this does however not mean that we have been lazy or that there is nothing to tell. Indeed, the opposite is true.
While we started with 10 Beta testers, this number has increased by now to about 25 test users, to whom I want to say a big thank you already. You guys have helped us a lot, not only to find bugs but also to give valuable input and ideas for improvements or new functionality.
Based on the feedback we received, we have for example improved the line-up progress to make it clearer which players plays where.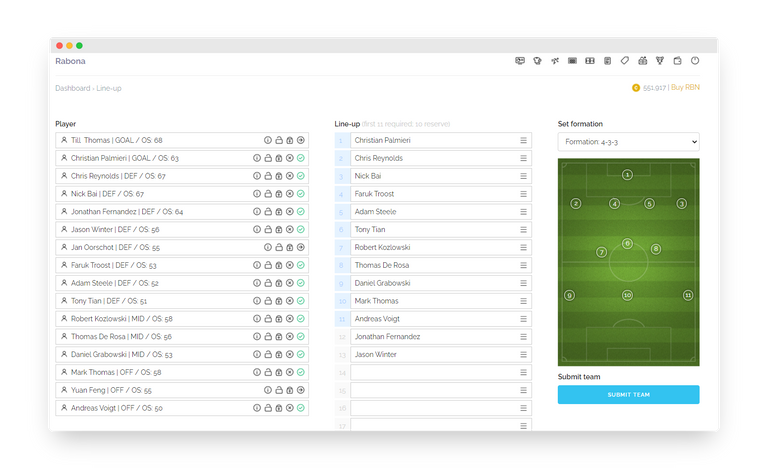 Also, we have almost finished the work on a detailed club page, which can also be used to analyze other clubs.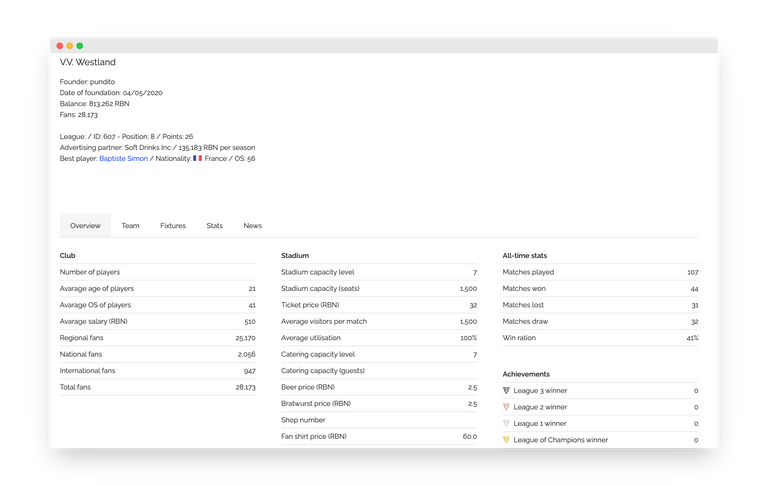 Besides that there is a list of 100s of changes and improvements that we did together with the Beta testers. Really, you guys have helped a lot to make Rabona a lot better than it was already. Thank you!
So what is left before we launch? Not much I would say. There are still some minor things to be done, but all the critical stuff is out of the way it seems. So if everything works out, we will finish the private Beta next week.
Open Beta
As soon as we finished the private Beta, we will fully reset the game. We will most likely start September 25th, 18:00 UCT. Originally, we wanted to start after the Eclipse HF 24 was successful, but as this keeps on being postponed we have decided to wait no longer. During the open Beta phase, we will optimize the existing functionality, fix bugs and add smaller and medium improvements to the game.
What comes next? Shareholders!
Once we are done with this phase and things are running smoothly, we will publish the first bigger update to the game. We have structured the game in a way that clubs play against each other - not users. This means, that a club can also have more than one owner. We will therefore provide a possibility to divide ownership of a club into small pieces, which can be tokenized. This means that owners of a successful club will be able to sell parts of their club to other users, which will then in turn automatically receive their share of the rewards. We think that this will bring a whole new dynamic to the game...
Ok, but that is it for today - I need to go back to coding, so we can make it in time for
25th September, 18:00 CET.
Best regards,
Tim