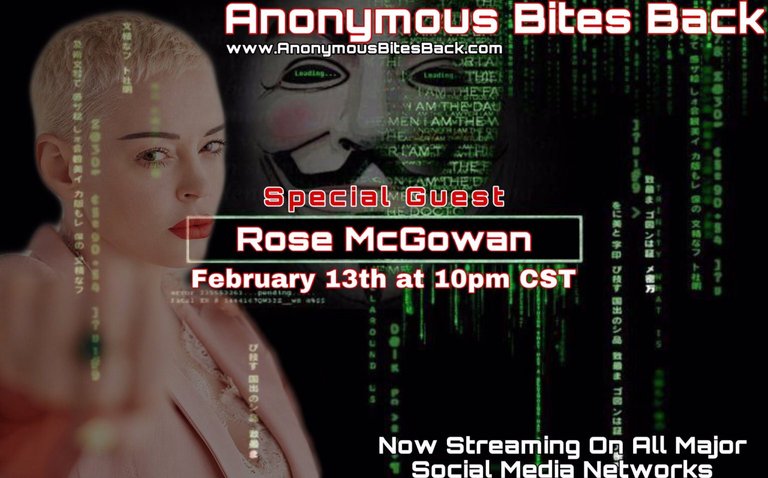 Breaking: In a special episode that will air tonight, the Anonymous Bites Back podcast will have activist Rose McGowan on.
We will talk about Hollywood, her personal story and more.
As an independent free speech initiative, we will cover aspects of her story that you will never see anywhere else.
Rose McGowan has been a central figure when it comes to raising awareness about sexual harassment and sexual assault in Hollywood.
October 12 2017, McGowan exposed the fact that Harvey Weinstein had raped her, and that Amazon Studios dropped her project after she complained. On the same day, McGowan said that Twitter suspended her account for 12 hours after she repeatedly tweeted about Weinstein's sexual misconduct, including toward her. Many Twitter users expressed outrage over her account being locked. After the tweet was removed, her account was unlocked several hours before the 12-hour ban was set to expire.
The story of Weinstein's systematic assaults – "His whole movie factory," McGowan says, "was in fact a rape factory. That was his priority every day: his appointment diary had to have someone for him to meet and rape" – broke on 5 October 2017
Through his lawyer, David Boies, Weinstein at one point hired the private intelligence agency Black Cube to spy on McGowan and to stop outlets such as The New York Times and The New Yorker from reporting their investigations on Harvey Weinstein.
McGowan was systematically discredited, "confounded and confused" by the way she was routinely slated in the press. "It got to the point, if I said to someone, 'I want a tuna sandwich,' you'd see this look: 'Oh my God, it's that crazy lady.' It's kind of like Mrs Rochester – we only have Mr Rochester's word for the fact that she was crazy." This persistent, deliberate erosion of normal regard created its own feedback loop: "You're constantly gaslit and you also have active trauma, so you do sometimes short-circuit."
You will hear all about this on tonight's broadcast.
The Anonymous Bites Back episode will go live around 10pm CST.
Subscribe to the Youtube channel so you get a notification when the show goes live:
Anonymous Bites Back on Youtube
Afterwards the stream will be embedded in this post so you can always watch it back.
The episode will also be broadcasted on the Another Voice channel that focusses on generic alternative media content.