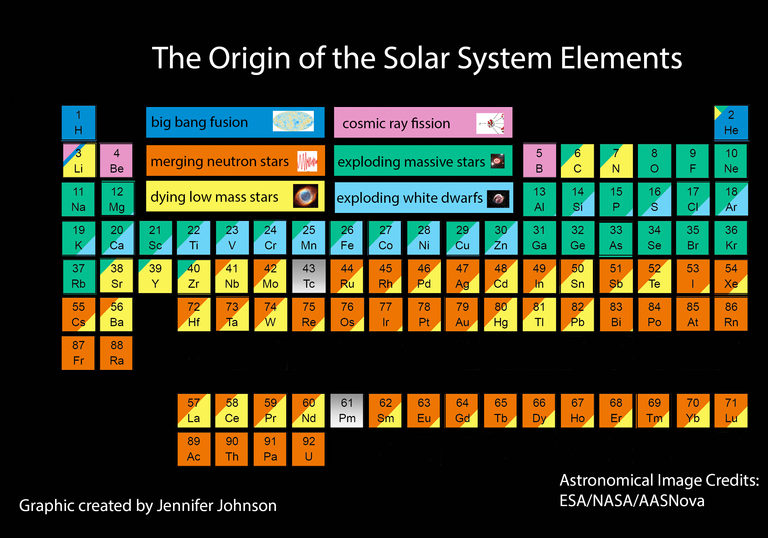 Source
Nucleosynthesis is the process by which the different atomic nuclei are formed from existing protons and neutrons, that is, the way in which the elements of the periodic table are built by adding protons and neutrons, from Hydrogen. which has a single proton up to Uranium with its 92 protons.
La nucleosíntesis es el proceso por el cual se van formando los distintos núcleos atómicos a partir de protones y neutrones existentes es decir, la forma en que los elementos de la tabla periódica se van construyendo a base de ir añadiendo protones y neutrones, desde el Hidrógeno que tiene un sólo protón hasta el Uranio con sus 92 protones.
All the existing matter in the universe from the stars to your brother-in-law is made up of these elements and although one might think otherwise, these elements have not always been there but have been forming little by little since the origin of the universe with the Big Bang some 14 billion years ago.
Todas la materia existente en el universo desde las estrellas hasta nuestro cuñado está formada por estos elementos y aunque pudiera pensarse lo contrario estos elementos no han estado siempre ahí sino que han ido formándose poco a poco desde el origen del universo con el Big Bang hace unos 14.000 millones de años.
From the initial explosion until 380,000 years later, no element could be formed since the universe was too hot and the subatomic particles had too much energy to join each other, once the universe had cooled down, the first hydrogen nuclei began to form. that only have one proton.
Desde el estallido inicial hasta pasados 380.000 años no se pudo formar ningún elemento ya que el universo estaba demasiado caliente y las partículas subatómicas tenían demasiada energía como para juntarse una a otras, una vez el universo se hubo enfriado comenzaron a formarse los primeros núcleos de hidrógeno que solo tienen un protón.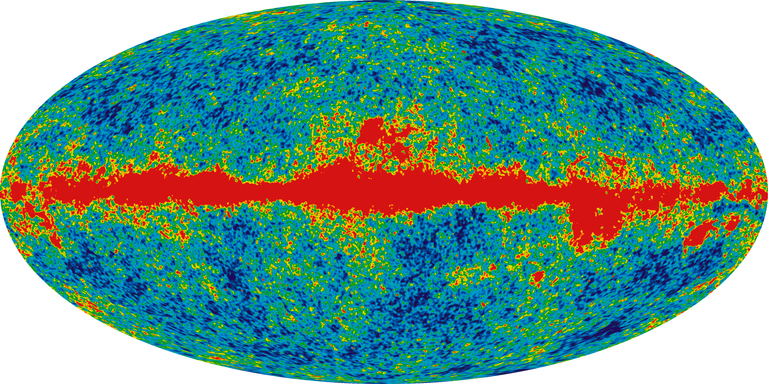 Source
Due to the action of gravity, the hydrogen was grouping forming large clouds of gas, as there is more mass, gravity increases and attracts more hydrogen that begins to rotate and heat up until it reaches a few million degrees and the hydrogen atoms begin to fuse to create helium atoms giving rise to the first stars.
Por acción de la gravedad el hidrógeno se fue agrupando formando grandes nubes de gas, al haber más masa aumenta la gravedad y atrae más hidrógeno que empieza a rotar y a calentarse hasta que alcanza unos cuantos millones de grados y los átomos de hidrógeno empiezan a fusionarse y a crear átomos de helio dando lugar a las primeras estrellas.
We already have 2 elements, from now on inside the stars, as the hydrogen runs out, the helium begins to fuse to form lithium, which has 3 protons, when the helium runs out, the lithium melts, turning into beryllium and so on. until we reach the iron that can no longer be fused, with this we already have 26 elements created.
Ya tenemos 2 elementos, a partir de ahora en el interior de las estrellas a medida que se acaba el hidrógeno comienza a fusionarse el helio para formar litio que tiene 3 protones, cuando se acaba el helio se funde el litio convirtiéndose en berilio y así sucesivamente hasta llegar al hierro que ya no se puede fusionar, con este ya tenemos 26 elementos creados.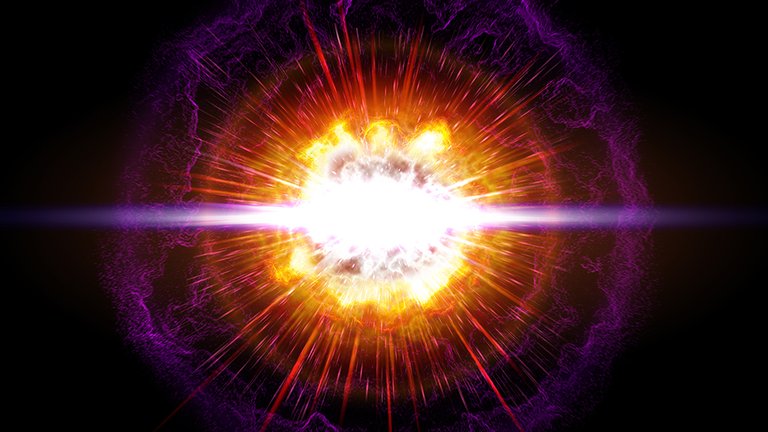 Source
From iron we already need huge amounts of energy to continue merging, luckily if the star is big enough instead of dying turned into a piece of iron the star ends up exploding in the form of a supernova and in this process heavier elements are created that spread through space to form new stars and planets.
A partir del hierro ya necesitamos cantidades ingentes de energía para seguir fusionando, por suerte si la estrella es lo suficientemente grande en lugar de morirse convertida en un trozo de hierro la estrella acaba explosionando en forma de supernova y en este proceso se van creando los elementos más pesados que se esparcen por el espacio para formar nuevas estrellas y planetas.
The greater the energy released, the heavier the elements will be, such as those produced when two neutron stars fuse, until we reach the heavier elements on the periodic table of which we are all made.
After reading this I hope you will reflect on the amount of great and fascinating events that have had to take place so that today you can be reading this post.
Cuánto más grande sea la energía liberada mas pesados serán los elementos como los producidos cuando se funden dos estrellas de neutrones, hasta llegar a los elementos más pesados de la tabla periódica y de los que todos estamos hechos.
Después de leer esto espero que reflexionéis sobre la cantidad de eventos grandiosos y fascinantes que han tenido que producirse para que hoy podáis estar leyendo este post.
More information/Más información
https://en.wikipedia.org/wiki/Nucleosynthesis
https://es.wikipedia.org/wiki/Nucleos%C3%ADntesis