23andMe is the second contender in the 'Steemit Consumer Report Challenge!' You'll discover some very interesting differences between this one and the HomeDNA Test Kit!
The first difference between the two was the collection process!
The Home DNA kit, this one: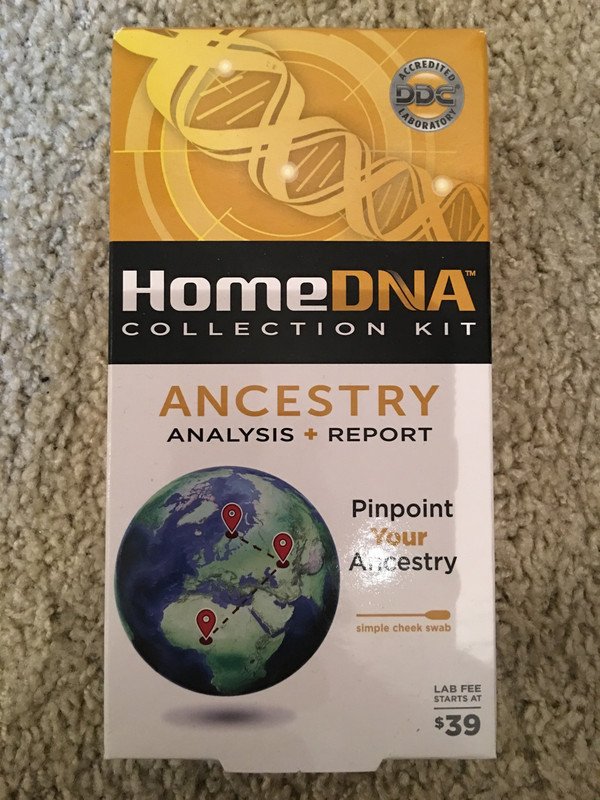 Involved 4 swabs and 2 minutes of scraping the inside of your cheeks for DNA samples.
23andMe is VERY different!
If purchased, you will find this contraption inside the packaging: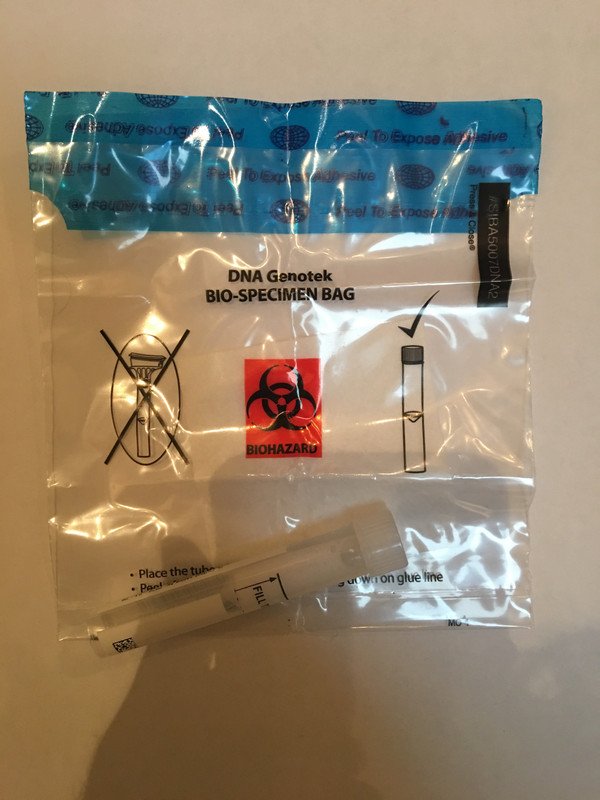 Here are the directions: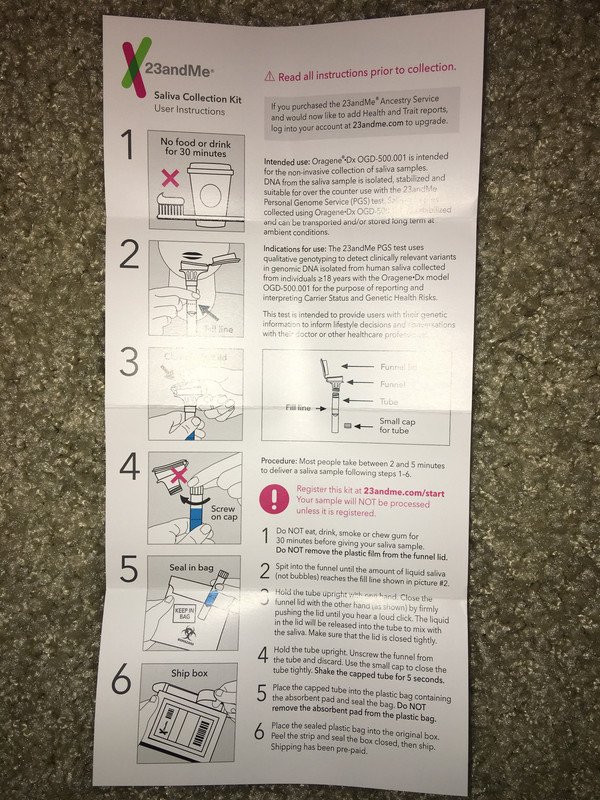 The abbreviated version is to first refrain from eating or drinking for 30 minutes.
Then you continually generate saliva and spit into the container pictured above. There's a fill line on the container, and to get there takes about 5 minutes.
You then snap the container shut, which pierces a secondary chamber in the cap filled with additional fluid, which then mixes with your saliva.
Shake the sealed container for 5 seconds, and you're done!
Place the container in the small bag included, put it back in the box the 23andMe kit came in: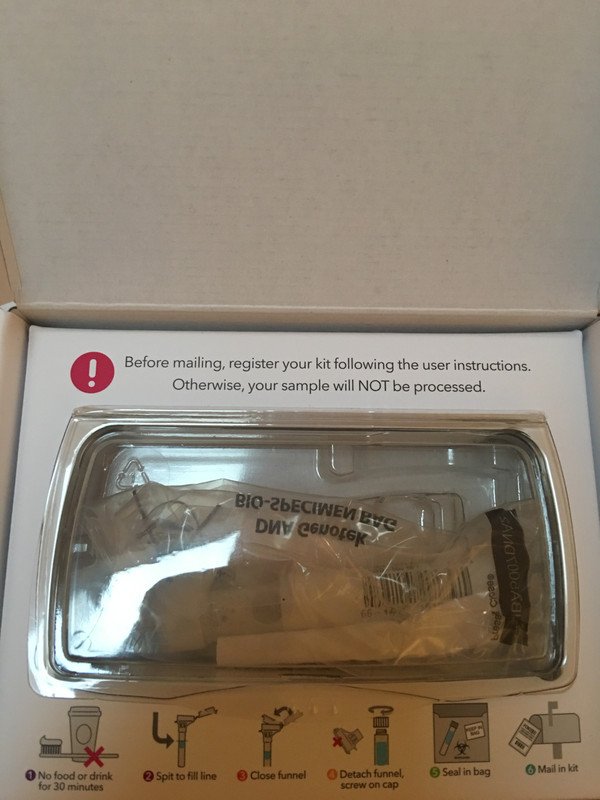 Then seal the postage pre-paid box to drop off at the post office: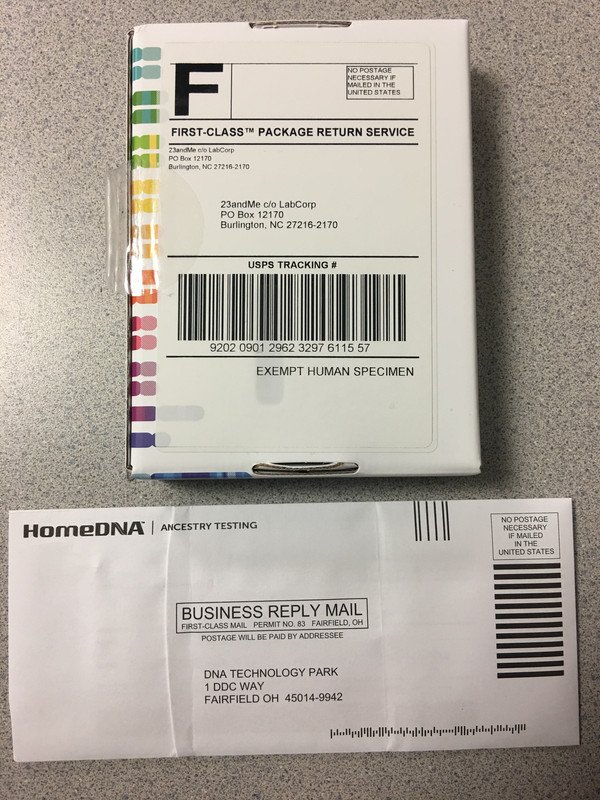 THE OTHER BIG DIFFERENCE:
23andMe has a very comprehensive website.
The genetic testing THEY do includes the potential predisposition you may have for genetic diseases that could be passed on to your children or develop in you...
They very responsibly warn you of potential anxiety and psychological trauma that may occur as a result of learning this information.
Both DNA test kits will tell you about your ancestry.
Only 23andMe will tell you if you are at risk for hereditarily linked genetic diseases.
They also speak quite highly of their cyber security; I imagine they have more to fear from hacking done by domestic insurance companies than Russian spies...
I signed up and paid for the full monty: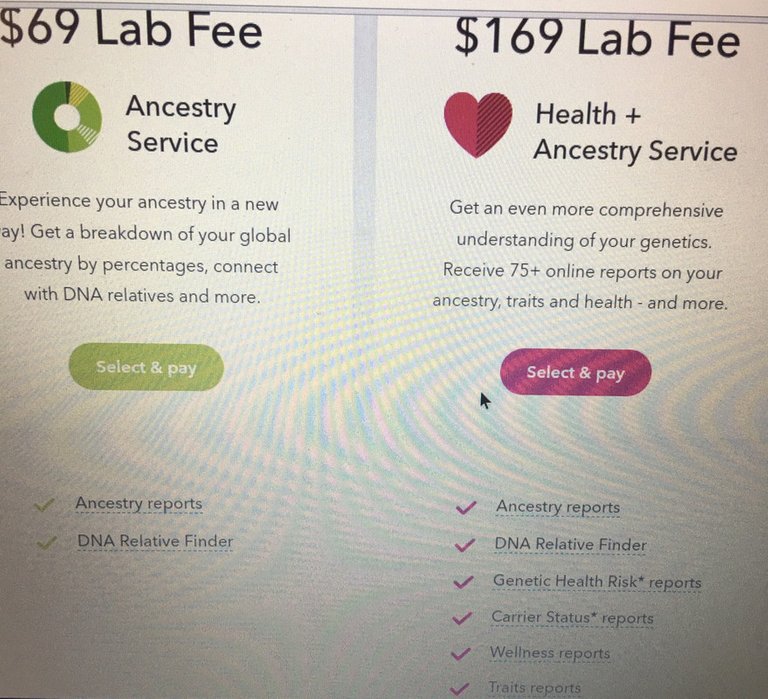 Both kits were completed and mailed out at the same time.
The next post will offer a breakdown of the total cost on each service.
After that, we'll discover how the ancestry results compare on each so that you'll know, if you choose to invest in learning about your past, which is the best kit for you!
Thank you for reading,
have an amazing weekend everybody! 🤗