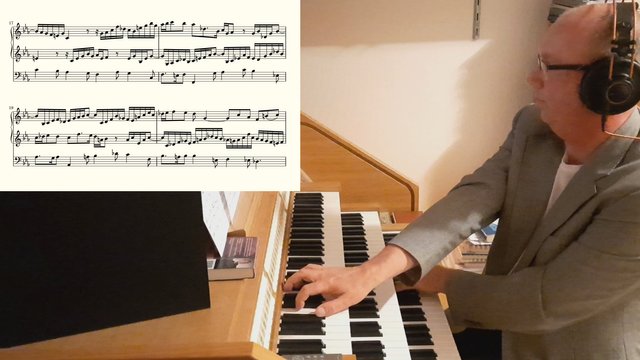 This is my entry for the Secrets of Organ Playing Contest, Week 70. I play the second movement (Adagio) of Bach's first Triosonata, BWV 525.
One of the beautiful things in these Triosonata's is the way the three voices intertwine and interact with each other. Especially the right and left hand part. The are constantly switching position and take over each other motives. An on a larger structural scale the left hand part of the first half of a movement often becomes the right hand part in the second half of the movement. And vice versa. And the bass voice often carries the main melodic motives of a movement as well. The three voices are truely equally important and no voice is the accompaniment of a solo voice.
The Adagio of the first Sonata consists of the halves that are to be repeated. To emphasis the fact that the melodic lines of the parts of the hands are written so they can switch position, I thought it a nice idea to let my hands switch manuals on the repeat of each halve. Which was indeed a nice idea but a bit awkward to carry out. For the upper manual I had chosen a registration on a 4 foot basis. Meaning that I have to play an octave lower on that manual than the music is written to get the pitch the composer meant. As long as the left hand plays on that manual that's not a problem. In the repeat however I play the right hand part on that manual with the result that sometimes my right had is at the lower end of that manual while my left hand is at the upper part of the other manual.
Let's call it: a good excercise in balance.
My performance is not entirely error free. And the drawback of trio playing is that errors are easily heard. Yet I am delighted to have been able to play one of my favorite organ compositions. This Adagio is of an ethereal beauty that I can't get enough of. SO I'll just keep practising it, and who knows, one day I can play it error free and by heart.
The recording was done with the Hauptwerk software and the sampleset, made by Sonus Paradisi, of the Klapmeyer organ in the St. Nikolai church in Altenbruch (http://www.sonusparadisi.cz/en/organs/germany/klapmeyer-organ-altenbruch.html).
Next in line is the third movement of this Sonata. I'm actually not looking forward to that. Lots of notes in high tempo. It's going to take a lot of practise to be able to play that one.