Keeping in mind the monsoon, it is wise to buy an IP 67 or IP 68 rating phone. Rain drops have no effect on this kind of phone.
In addition to IP rating, the device and build quality also play an important role in waterproofing. The IP in the rating means 'International Protection Marking', which decides the International Electrotechnician Commission. After this, the first digit 6 tells how much the device is safe with dust and the second digit is associated with 7 and 8 waterproof certifications.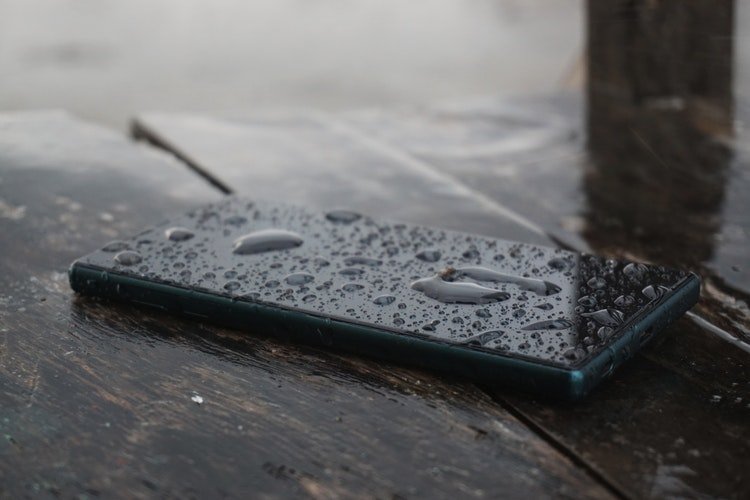 These days, you can enjoy the drenching of rain, but saving the smartphone from water is a big problem. Most of the smartphones can be deteriorated in water. But, if you have a waterproof smartphone, you do not have to worry. Some smartphones that come with IP 67 or IP 68 ratings are completely dust, dirt and waterproof. The IP 67 rating means that if your smartphone lasts 30 minutes for one meter deep water then no damage will occur. The same, you use a phone with an IP 68 rating, even if it is in 1.5 meters deep water for 30 minutes, the phone will stay safe. If you are considering buying a smartphone in this season, then these phones may be better for you.

I Phone X
Apple launched the iPhone X as the 10th Anniversary Special Edition. It is completely safe with dust and water. That is, the IP comes with 67 ratings. In it, the A11 bionic chip and 58 super Retina OLED display.

Huawei P20 Pro
This is an IP 67 rating phone. The company's drug is that it will not deform even deep water in one meter. There is also complete dust proof. Its topmost feature is the three rear cameras given in it - which come with 20-megapixel monochrome, 40-megapixel RGB and 8-megapixel telephoto lenses.

Nokia 8 Searoko
This phone also comes with IP 67 for dust and water resistance. It has features such as 5.5 inch quad QHD POLED screen, Octacore Qualcomm snapdragon 835 processor, dual rear camera setup.
Google Pixel 2
Google Pixel 2 smartphone comes with IP 67 rating. This is water and dust resistant. It has an Octacore Qualcomm Snapdragon 835 processor and 4GB LPDR 4x RAM. It has a 5 inch full HD AMOLED display, which comes with Korning Gorilla Glass 5 Protection.

Google Pixel 2 XL
This is also IP 67 rating Wall Smartphone. It has a battery and screen size larger than Pixel 2. This smartphone has a 6 inch QD HD + P - OLED display, which has an aspect ratio of 18: 9 and a 3520 mAh battery.

Samsung galaxy s9
The smartphone comes with Galaxy S9 IP Rating 68. This phone has been told that this phone can live in 1.5 meters deep water for 30 minutes. Its specialty is the given Gauge Dual Aperture Lens, which automatically switches according to different lighting conditions.
Samsung Galaxy S9 +
The Galaxy S9 + is also launched with the Galaxy S9, with IP 67 rating and it can also last up to 30 minutes in 1.5 meter deep water. It has two lenses of 12 megapixels.
Samsung Galaxy Note
This is Samsung's flagship fable. This is water and dust resistance. This smartphone comes with IP 68 rating. The handset has a 6.3 inch edge-to-edge screen and comes with the Octa core Qualcomm Snapdragon 835 processor and 6 GB RAM.

I Phone 8 Plus
The iPhone 8 Plus also comes with the IP 67 rating. This phone has A11 biopic chip set and 5.5 inch Retina HD LCD display. It comes with 12 megapixel dual rear camera setup and 8 megapixel front camera.

HTC U11
HTC U1 is the dust, flash and water resistant smartphone. It can also last up to 30 minutes in one meter deep water. This IP rating comes with 67. Its key feature is the 'Squeezable' Edge and Edge-Sense Technology given in it.

LG V30+
This phone comes with IP 68 rating. This is also water and dust resistant. The phone has full visual card HD display. Whose aspect ratio is 18: 9. The phone has Qualcomm Snapdragon 835 processor, 4GB RAM and 128 GB inbuilt storage.
Note:- It's of my knowledge list. And my vest of view. Other smartphones can be better than my list. So make your sure decision, if you buy a new smartphone. I'm not fully expert on smart phones. I can give you only one suggestion for a better product. And the smartphone images of this article may differ from the original phone images.
 Thank You For Coming And Reading. If you have any suggestion for me please comment.
Please follow me and if you like this post and Please Upvote me.
So bye friends meet in next post.
Your Pushpen