Two weeks ago, we KL Sketchnation had our 40th sketchwalk since 2014, and little that we know that it was the most controversial one just yet.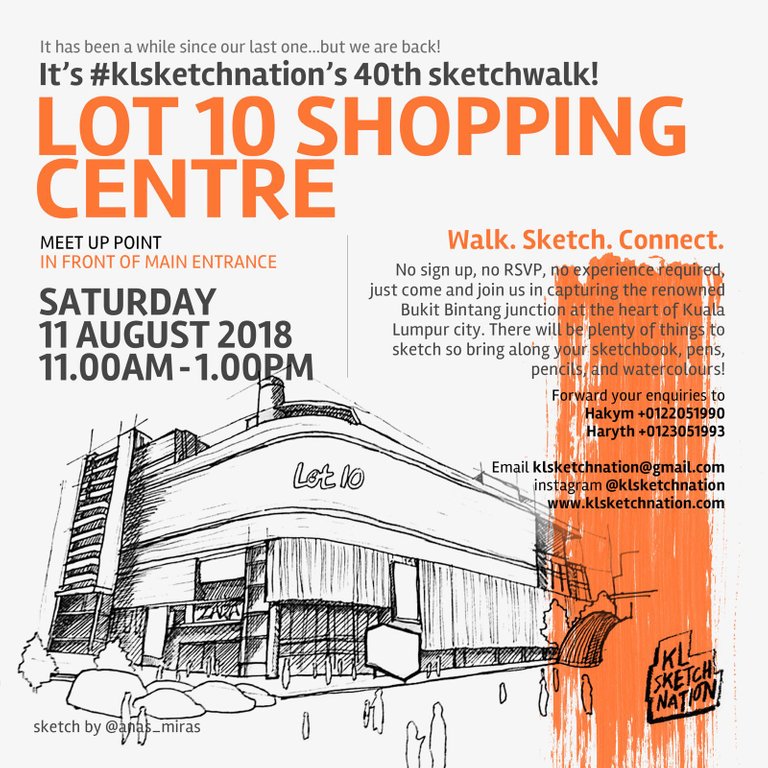 Our official poster.
We KL Sketchnation always evaluate our fortnightly sketchwalk through the significance of a place within our urban setting in Malaysia. We always keep in mind for public places that have interesting stories to tell as part of our goal to highlight the beauty of our city by sketching and discussing about them in the weekends. So Jalan Bukit Bintang was voted by our group of friends and chosen the Lot 10 or well known as the 'London Knightsbridge of KL' as a reference point whilst wanted to share on the interesting information on Lot 10 being one of the first luxury mall of KL in the 90s till today.
So what happened you ask?
This happened.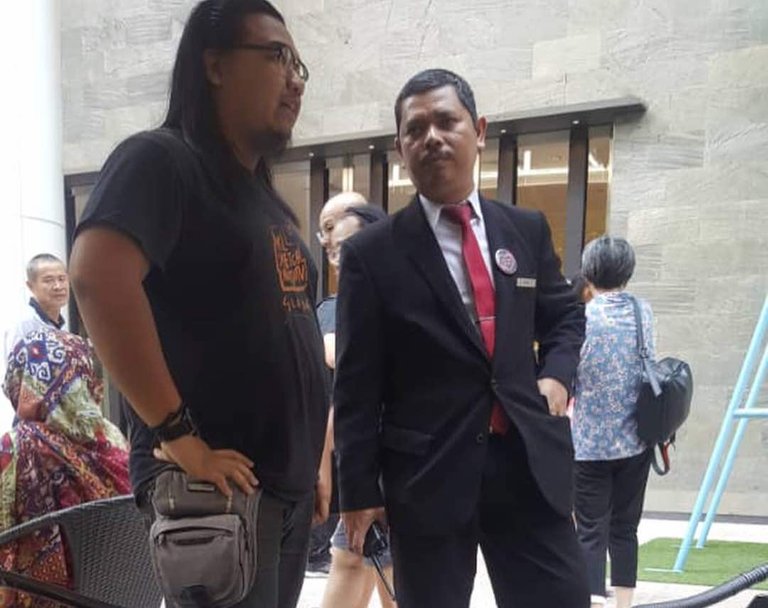 We are well informed that its not legal to do activities of gathering in a big group with in a mall as it is considered as a private place so we always do our gathering at open public spaces but always scattered while we are sketching because we dont want to disturb traffics or create suspicions. The numbers last weekends was 19 people but they came in different times in different groups with sole reason to experience the place and sketch in their own sketchbook. So we always scattered along a street finding own sweet spots to sketch and mingle with the community as part of the appreciation of the urban spaces because people love to engage with us sketchers. So usually only 2-3 friends will clumped up and sketch together but most of the time they chose to move alone.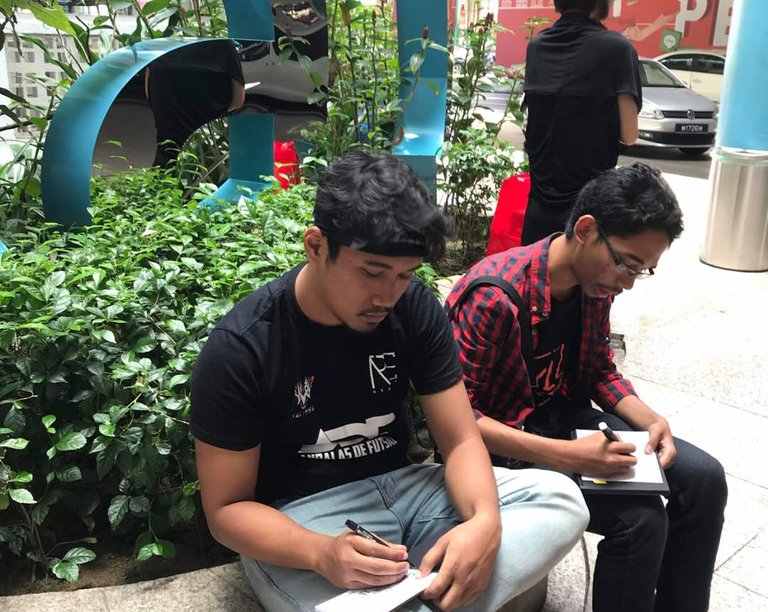 This was definitely not our first time. The last time happened was at The Kasturi Walk of the Central Market where 2 of our sketchers was just sitting at the stairs with the locked doors to sketch, and were chased away by the Polis Bantuan saying that any activity needs a permit to be done there. They were just 2 friends sketching inside their sketchbook. It has caused trauma to them and they went back to our meeting point in Ruang By Think City and finished the drawing there instead from photos (which defeats the main point of urban sketching. Checkout urbansketchers manifestos
We draw on location, indoors or out, capturing what we see from direct observation.
Our drawings tell the story of our surroundings, the places we live and where we travel.
Our drawings are a record of time and place.
We are truthful to the scenes we witness.
We use any kind of media and cherish our individual styles.
We support each other and draw together.
We share our drawings online.
We show the world, one drawing at a time.
What do we usually sketch?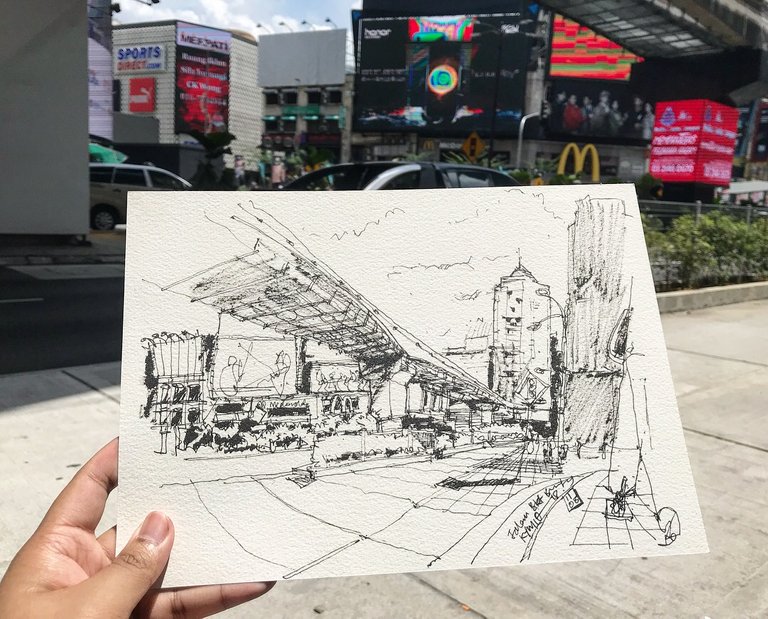 My sketch of the day.
It is up to the person sketching. We will usually share them about the history of the place, the architectural values of a building, or interesting facts about the streets and then they will find their subjects acording to their concerns it could be interior, landscapes, architecture, people, foods, etc.
We have been chased aways for a lot of different reasons but this time were the most absurd. The authority there forbid us to draw the building as he claims that he was told to do that as the building IP is owned by the owner. I am an architect myself i am most certain sketching a public facade of a building will never trigger a violation of IP, if it even an IP. The authority told us that its okay to sketch there but dont sketch the building and its elements such stairs, entrance, logo, signboards etc. They also claimed that the tenants dont like people to take picture or sketch their setting designs which absolutely ridiculous. I dont even think its supposed to be an issue but it has got the new sketchers afraid to do it again because of this incident.
So how do we resolved it?
I was furious and still think the claim was absurd and i am really confident that we did nothing wrong. I asked him what action will they take if we did draw them anyway? He said he cant do anything. So why do u tell us to stop in the first place? So i told everyone present there to just keep on sketching and don't mind whatever he told us.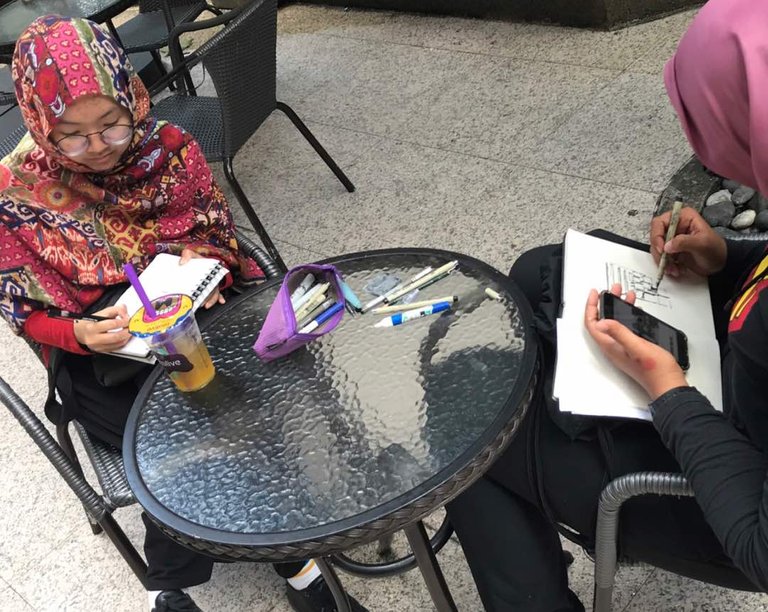 I actually went to the cafes and asked if they even mind if we were sketching there and sketch their shop, non of them told us to stop but rather they were very delighted to have us sketching their place.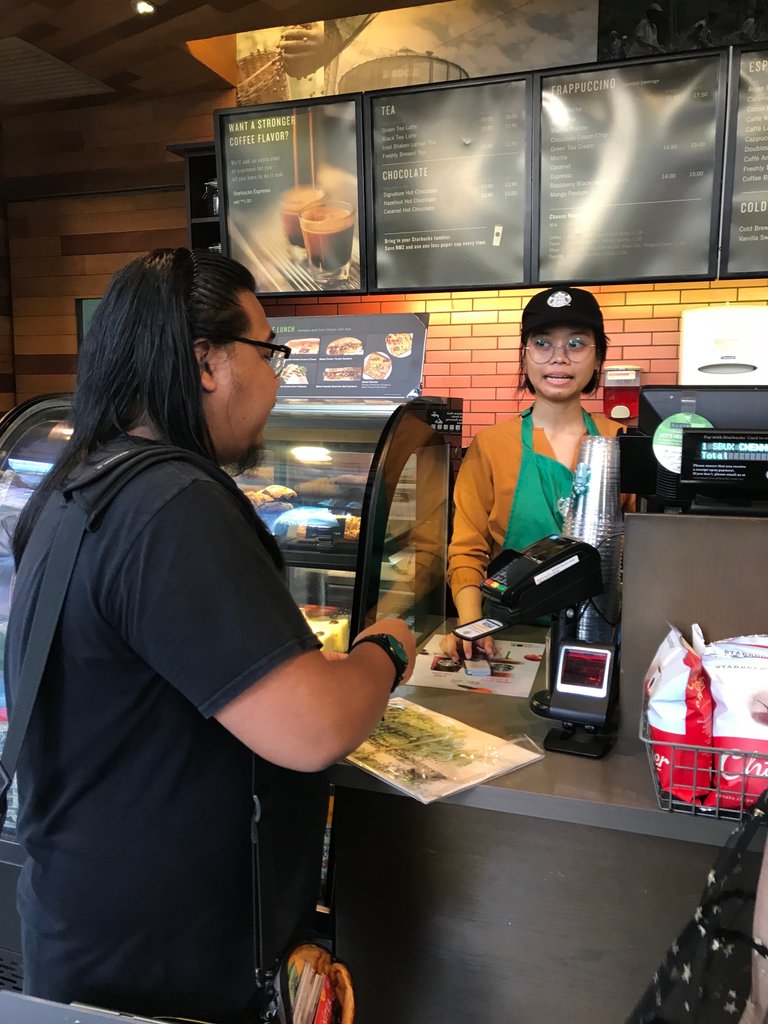 We all continue our sketches and them we gathered on an open space area near the building for some show and tell.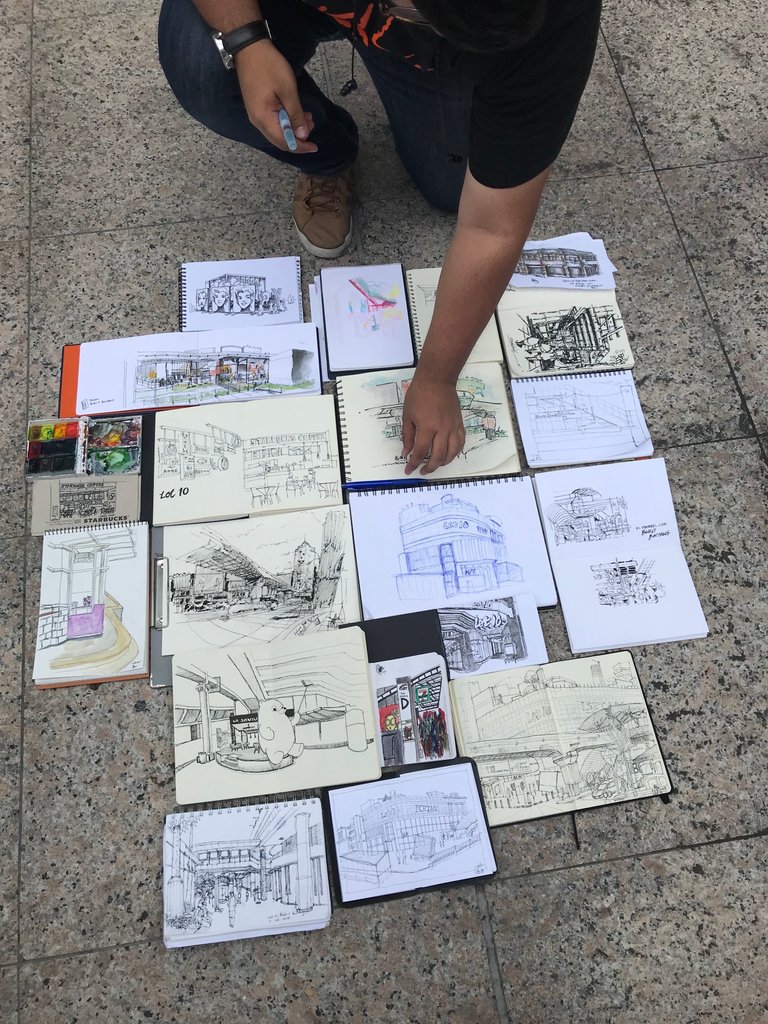 Aftermath of the sketchwalk, drawings from everyone, with superb range of different style.
We even had a simple voting session to find and reward the most fav artwork for the day.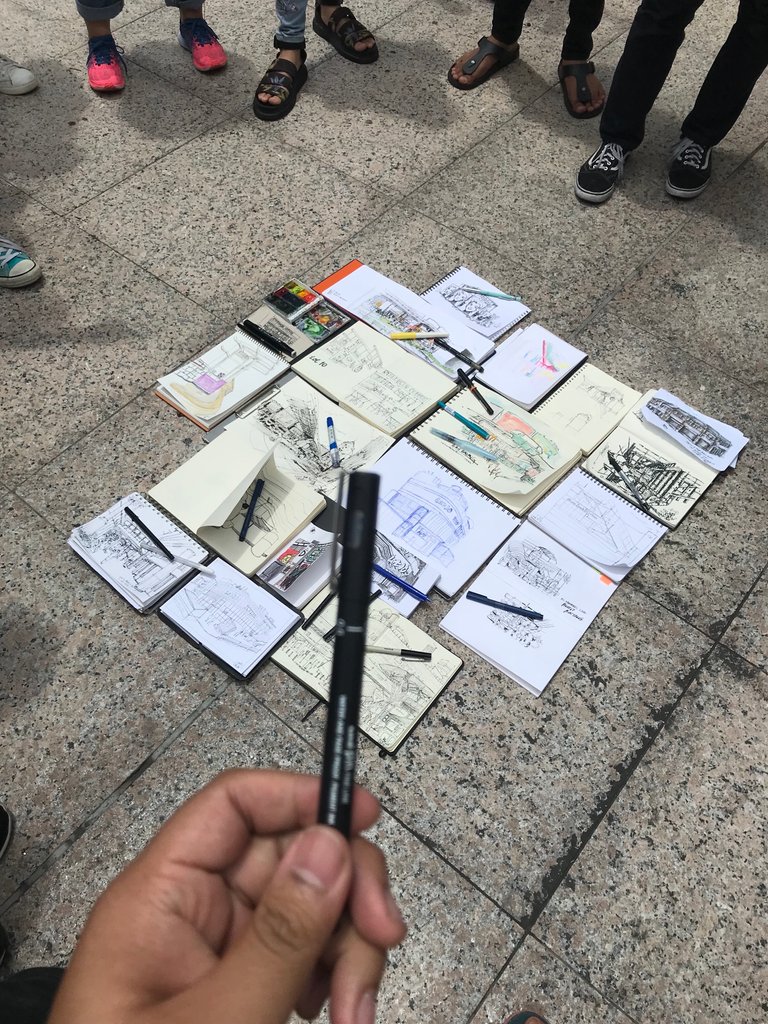 Everyone have the chance to vote 1 drawing by dropping their pen on it as a vote.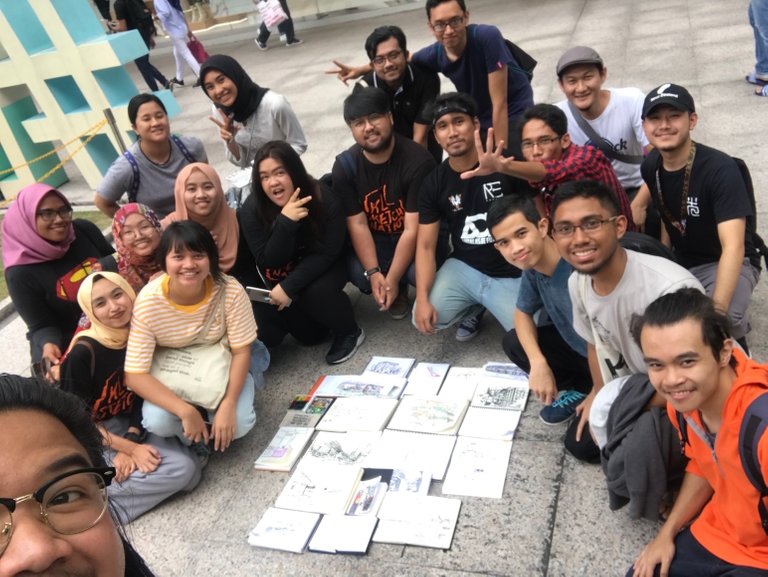 A group photo.
So did it end there?
Nope.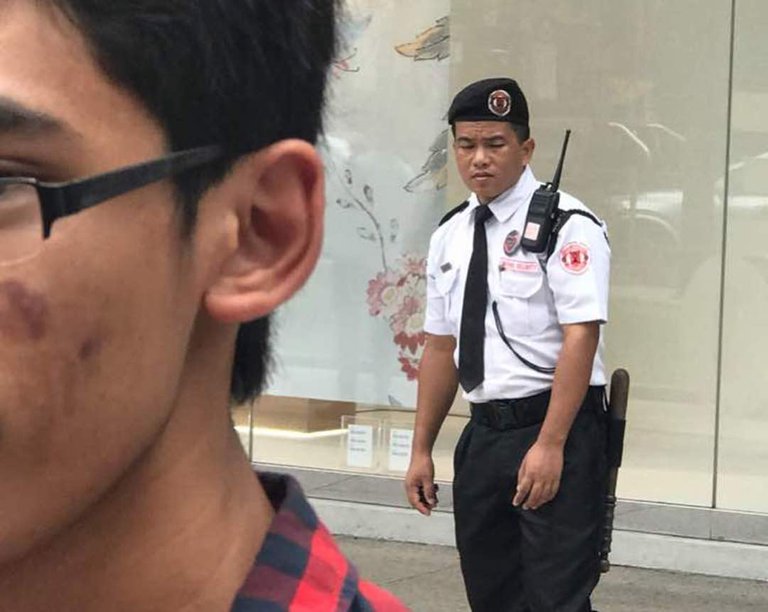 The security guards we observing our every moves, following us everywhere until we decided to go home.
We felt like a criminal, in our own city.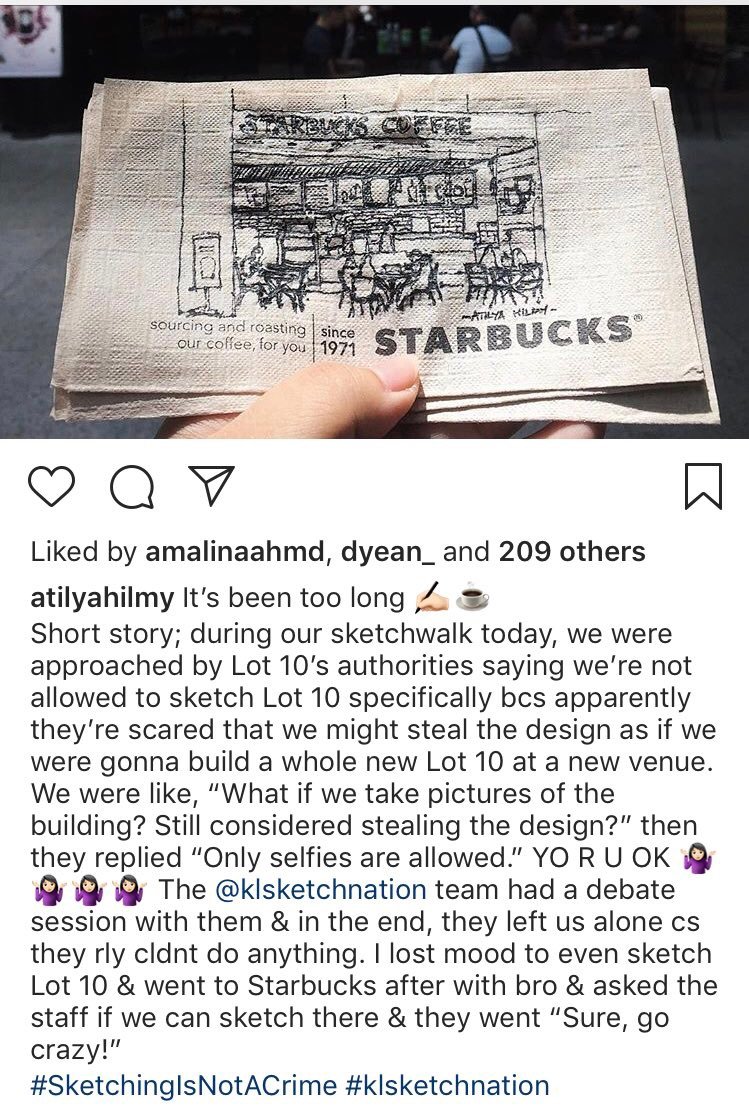 Most of us expressed our dissatisfaction through social medias with the hashtag #sketchingisnotacrime and it has caught the attention of everyone, including our local news;
You can have a read from these links;
https://www.malaymail.com/s/1661957/street-artist-complains-over-security-harassment
https://www.worldofbuzz.com/local-artists-allegedly-stopped-from-sketching-lot-10-because-it-intellectual-property/
https://cilisos.my/malaysian-urban-sketchers-chased-away-by-authorities-for-drawing-lot-10-shopping-mall/
---
Do you think sketching buildings is illegal and infringing copyright laws?