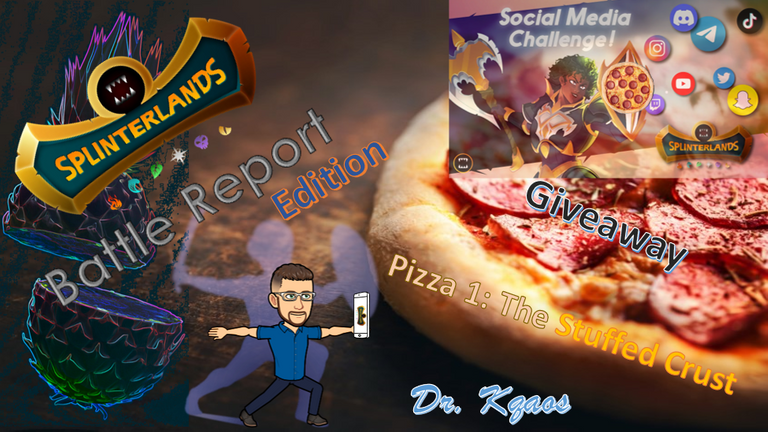 Looking at the image for this week, I just think it is a great thing with a Shield, throw Pizza in there, granted a Pizza pan does make a decent shield at times, especially when pepperoni is coming your way!
I am also doing the Social Media Challenge that Splinterlands puts out there, let's get awareness of an awesome game, follow me on twitter and retweet! @DrKqaos If you are not playing Splinterlands yet, click on any of the battles or the link towards the bottom, would love to have you! This one is a little bit different than what I have done in the past, before it has all been reward cards, this time I am going to use the image with the Shield of Pizza, the Chaos Knight!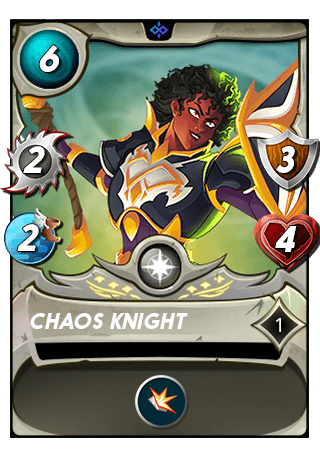 Rules:
• Leave a comment with your username, along with your
Favorite thing about Pizza!
•
No repost, upvote or tips, !PIZZA, !BEER, !WINE, !LOL, etc. required, but if you want to I will be appreciative!
• When this post pays out, a winner will be decided by random name picker (https://filoz.info/picker/)
• Winner will need to comment within 48 hours on the winning post, I want to make sure it is going to someone alive! No response, no winnings, but I want to send it out, the prize will roll over to my next brawl report.
---
As I post this SPS is currently trending at $0.058, it has dropped the last couple of days, and who knows what the new changes will bring to the price on this one! Speaking of buying things, there are 277,979 packs to go until the next airdrop, they are dropping fast for the next summoner, the legendary Fire Summoner!
---
Since I have been looking at cards a little bit more, the lore really pops, and this one, has gladiators within the brawl, so let's look at the one that worked well for me!
The Lore behind the Chaos Knight by Splinterlands:
Chaos Knights are most often found at the front line of the Chaos Legion's invading forces, although they are sometimes enlisted to defend garrisons, leadership, and other high-value assets. They are heavily armored and wield massive battle axes that are able to cut down even the mightiest of foes.
---
Those of the Order of the Silver Shield stood waiting as the Legion of Chaos closed the distance between the two armies. The Shieldbearers in the front rank planted their shields firmly in the earth and set their feet, while archers and mages readied their bows and their spells. Those wielding melee weapons tightened their grips on their hafts and hilts, ready to charge once the Shieldbearers had born the brunt of the initial assault.
At the head of the column opposite them, Chaos Knights led the charge, the throng behind them screaming and jostling to be the first into battle. The heavily armored knights hefted battle axes that were impossibly large, and those of the Order of the Silver Shield eyed them warily.
Arrows flew. Spells were flung. At last, the two armies met, clashing together with a violent ringing of steel on steel. The Shieldbearers leaned into their shields, preparing to give those in the rear as much time as possible to inflict their lethal ranged damage. But when the Chaos Knights swung their mighty battle axes, the Shieldbearers could not hold the line. They staggered backward. Another swing, and the Order's front rank broke.
Then the Legions of Chaos swarmed over them.
---
This was not a good one with multiple people on vacation or sick, only filled 10/16 frays. I am in the Bronze league with only Chaos Legion cards, with 7 battles to my name.
---
Battle #1 (Link)
The first one is in the home arena, so I have to talk to my buddy @theacks before this fight! 24 mana, blast, and no neutral, I decided to go death on this one, hopefully catching them quickly with some snipe and opportunity strikes. They went water, that shield and speed will not be nice to me. And it was not nice to me.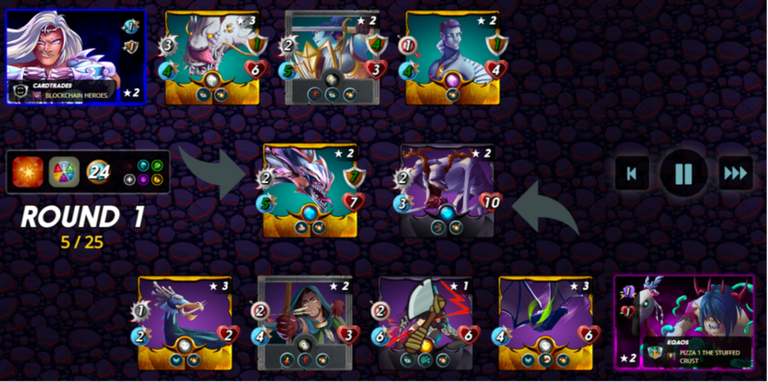 ---
Battle #2 (Link)
The second one is on the road this time around, nothing special on this trip. 50 mana, along with stampede and equalizer. I decided to go death again on this one, hoping that the magic attacks will slow them down quickly. They went with fire, and double bloodlust, this might not look good for me with the amount of damage that will be coming my way. However, the witch of warwick was my MVP this time around, enough damage with life leach that it came to my win!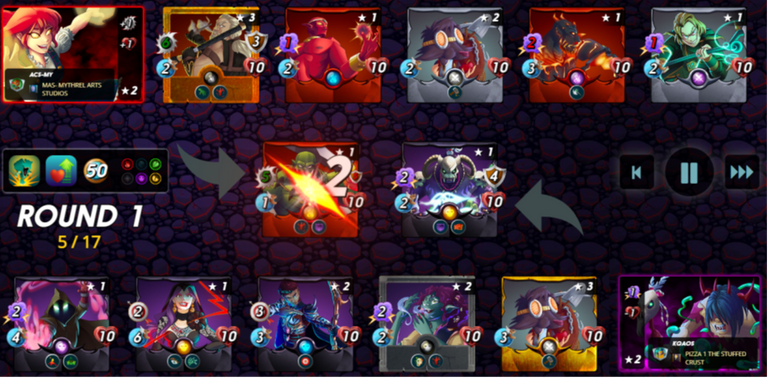 ---
Battle #3(Link)
Back at home again, I decided to go with a Barbeque Chicken Stuffed Crust pizza to celebrate the win on the road, hopefully it will keep me full through the fight! 28 mana, no buffs by summoners and melee can attack from anywhere. I decided to go earth on this one, the double attacks should do some harm. They went dragon, quora upfront makes things difficult for me. That pizza kept me through on this one! The double attack in the back caused the win! The picture shows how well my first guy did up front…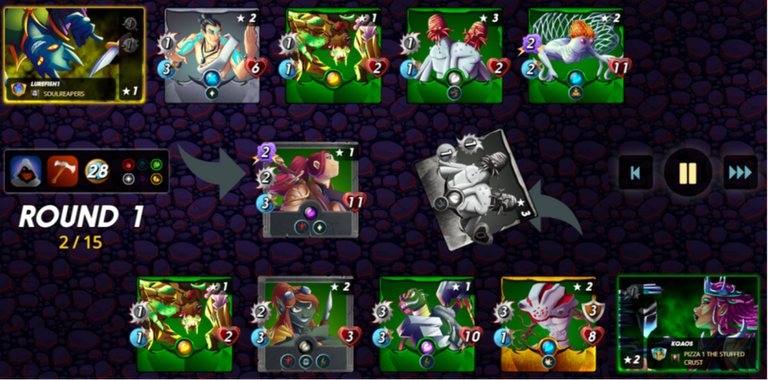 ---
Battle #4 (Link)
This one is on the road again! Looking at 13 mana, weak magic and rare and commons only, I went water for the extra shield and speed, hoping that my opportunity strike with my gladiator will take the day. They went death, taking away those hit points is not a good thing. I might have been able to win if my gladiator didn't miss the first 2 attacks…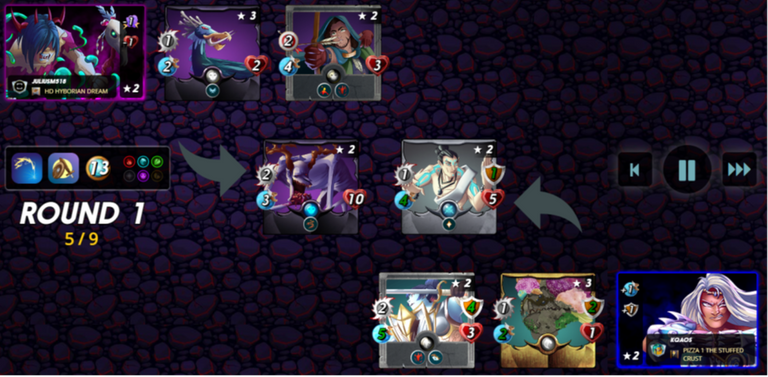 ---
Battle #5 (Link)
Coming back home being upset with RNG at this moment in time… looking at 46 mana, and super sneak, so that back row is going to be taking a beating with only fire and dragon available. Hopefully Chimney can do some damage. They went dragon to slow me down a little bit. Well Chimney went off on this one, killed a lot, unfortunately it was the enemy's Chimney…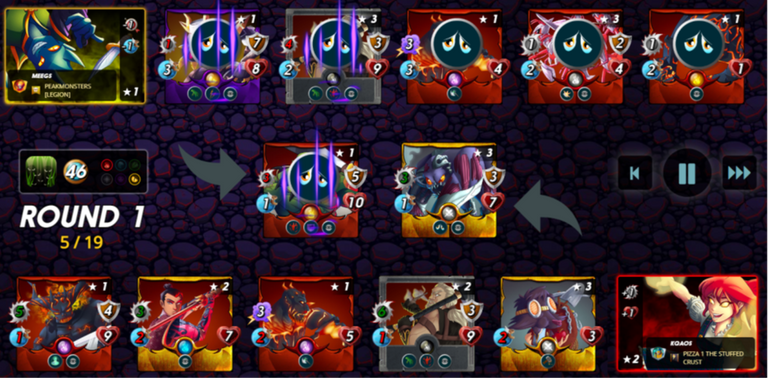 ---
Battle #6 (Link)
I really need these next couple of wins, at least one to maintain my roughly 50 percent in brawls. Looking at 20 mana, they banned Quora, not a problem, I don't have her anyway. No ranged and stampede. I went earth with lot's of healing and the double attack in the back. They went light for that ranged attack, plus they have some healing in there as well. However, this one I countered perfectly.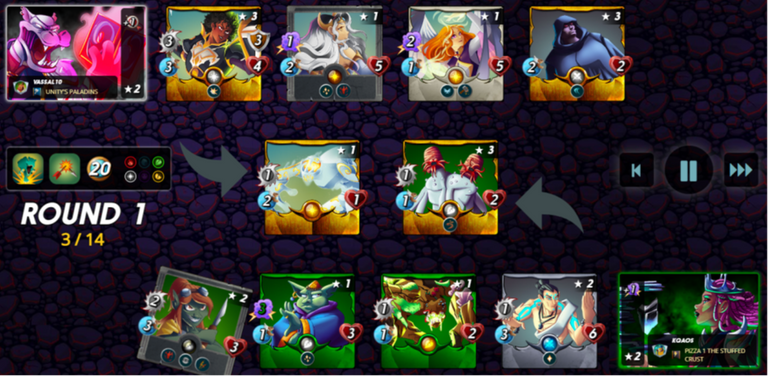 ---
Battle #7 (Link)
Let's see if I can keep that streak alive along with being over the 50 percent mark! 46 mana along with lost magic. I'm going light on this one, hopefully they will not be running anything with opportunity attack and I should be good. They went light as well, but with rath, which does not make things look good for me. This one started off well for me, but then the misses killed me, if my gladiator would have hit I would have won.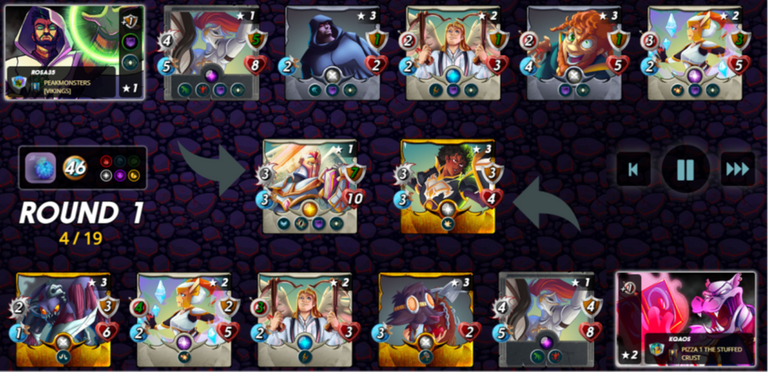 ---
Not super happy with this one, I did end up 3 and 4, would have preferred it the other way but RNG decided that I didn't need it. As a guild with about five hours and forty minutes to go we are sitting in 7th place, hopefully we can at least maintain, if not move up.
Not the greatest showing for us this time around, looking at 8th place, we really need to fill up more frays!
---
Check out other Pizza Guild Brawls:
@candnpg Splinterlands - PIZZA 420 Brawl Report
---
Giveaway Pings
@amaillo
@luizeba
@irisworld
@h3m4n7
@blitzzzz
@shawnmichael-gt
@koodies
@postapocgamer
@jfang003
@henruc
@bokica80
@relf87
@cogie88
@candnpg
@chefbgob
@qoogohome
@mercysalifu
@thoth442
@bonehead752
@marcinxyz
@urkanon
@criptosectadepit
@urkanon
@plicc8
@theacks
@danideuder
@vagabond42069
@zekelol
@waynechuasy
@xheadhunterz
---
Thank you for reading this far, additionally, I do want to thank the people in Pizza, a great place to hang out! I have learned a lot from it and there are great people and a very positive community.
You can find them here: Awesome Pizza Discord
I'm starting to track the Pizza token a little bit more as well, it is currently sitting at $0.02089, a great time to join!
At some point I will be doing some other posts about my experiences in Crypto, but here are some links if you are interested in some other NFT Games or other games as well!
---
Splinterlands
If you use my referral link I will send you 100 DEC to get started!
Layer 2 Labs
A Great community for Splinterlands, with games and a faucet to help players as well, new name as well, was Splinterlabs.
Rising Star
Great music NFT and a way to support up and coming musicians!
Sorare
Still learning this one, but it is a football (American Soccer), easy to set up and go!
Star Citizen Referral code: STAR-LRKQ-D6NK
Space game, still in alpha development, playable, very immersive, sign up with the referral code it will give you money in the game along with both of us receiving a free ship!
Unmineable
A great way to get into Crypto mining, easy to set up, code gets you a 0.25% fee discount, uses the graphics card while you are not using your computer, or you can mine with just your CPU.
---
Let me know if there are any questions, you can find me in the messages here or in the Pizza Discord.
Lastly, thank you again, remember you are awesome and have a wonderful week!
Dr. Kqaos
---
Photos come from PowerPoints stock image, Bitmoji with Splinterlands logo on top of it, or my own screen shots of Splinterlands
Disclaimer: This is my opinion, not financial advice.