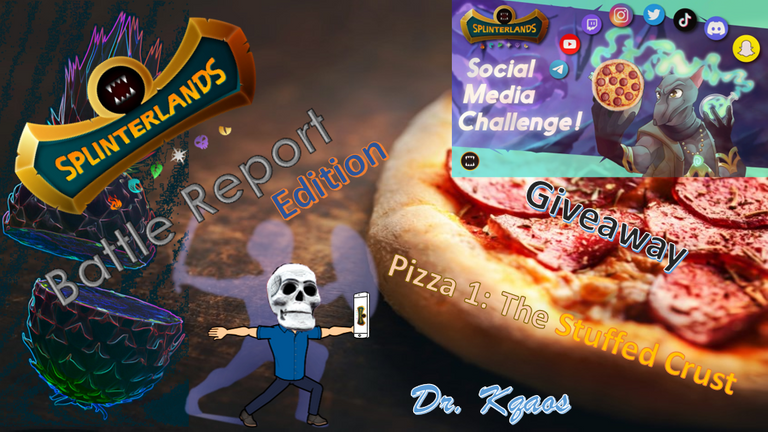 Looking at this image it is like killing some pizza after a night of drinking, just scarfing it down! So what is a guy to do with that image, well give away some Death cards in Splinterlands!
I am also doing the Social Media Challenge that Splinterlands puts out there, let's get awareness of an awesome game, follow me on twitter and retweet! @DrKqaos If you are not playing Splinterlands yet, click on any of the battles or the link towards the bottom, would love to have you! So let's start with the flying pizza killer, the Ever-Hungry Skull! However, if we get up to 120 upvotes on this post, it will come out to the Venari Bonesmith, a very useful card, not to mention, some magic pizza killing!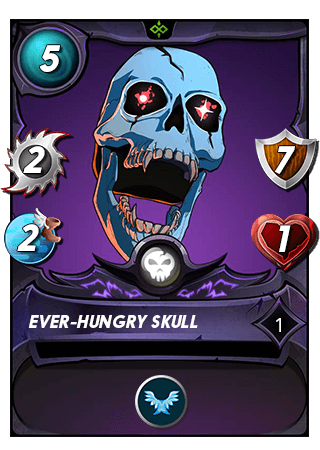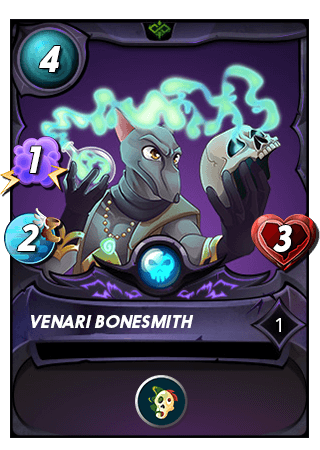 Rules:
• Leave a comment with your username, along with your
Favorite thing about to Binge
•
No repost, upvote or tips, !PIZZA, !BEER, !WINE, !LOL, etc. required, but if you want to I will be appreciative!
• When this post pays out, a winner will be decided by random name picker (https://filoz.info/picker/)
• Winner will need to comment within 48 hours on the winning post, I want to make sure it is going to someone alive! No response, no winnings, but I want to send it out, the prize will roll over to my next brawl report.
---
As I post this SPS is currently trending at $0.057, it has stayed around the 5 cent mark for a little while now. Additionally, there are 129,466 packs to go until the next airdrop, they are dropping fast for the next summoner, the legendary Fire Summoner!
---
Since I have been looking at cards a little bit more, the lore really pops, and this one, has gladiators within the brawl, so let's look at the one that worked well for me!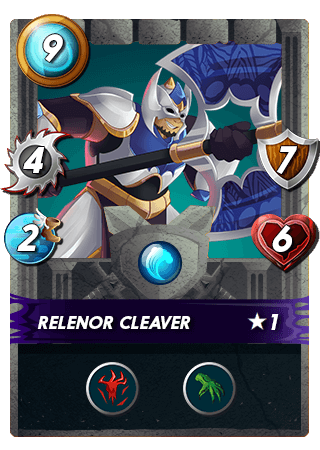 The Lore behind the Relenor Cleaver by Splinterlands:
The Cleavers are the only family of ΛZMΛRÉ Axemasters who have ventured away from their homes on the edges of the jungle. Many members of this family have even made names for themselves in other Splinters, such as Pearl Cleaver, who currently earns her living diving for treasures outside Lyveria in the treacherous waters near the Whirlpool of Fyor. Janus Cleaver, who has an artistic and adventurous spirit, has left ΛZMΛRÉ to live with the eccentric poets of Balfair in the Smoldering Forest of the Burning Lands. One of the Cleaver ancestors called Borgot signed the Dark Contract some fifty years ago, and went on after death to study black sorcery in Mortis. Relenor Cleaver wields the heaviest axes in the history of the Axemasters; he has been drawn to the glory of arena combat and the roars of adoring crowds at Mount Mox, where he now lives as a professional Gladiator.
---
This was not a good one with multiple people on vacation or sick, only filled 10/16 frays. I am in the Bronze league with only Chaos Legion cards, with 7 battles to my name.
---
Battle #1 (Link)
Starting away, away from it all! Running away from the problems towards more, okay, maybe not that bad, but I am in the visiting arena with 52 mana, blast, light and death only. I decided to go light on this one, hoping the double strike and Marisol do some good damage for me! They went light as well, with healing from Sola. My defenses held on this one for a really good win!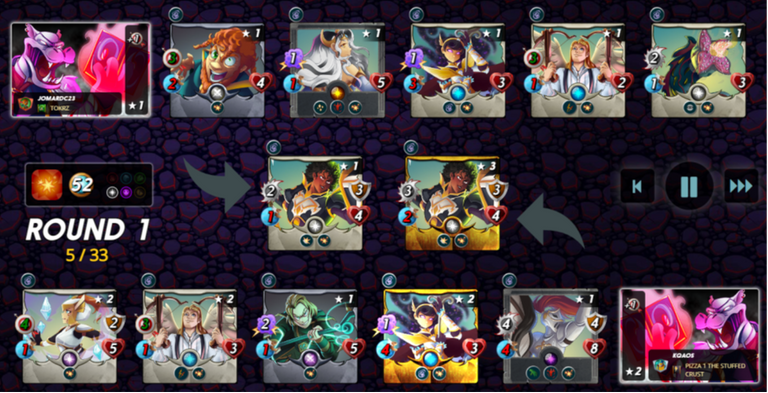 ---
Battle #2 (Link)
Starting with that strategy session with @theacks on this one, in the home arena looking up at the board with 30 mana, no magic. I decided to go water for that speed and extra armor, the double opportunity helps as well. They went fire for that extra damage hit. However, things went in my favor and that speed showed itself!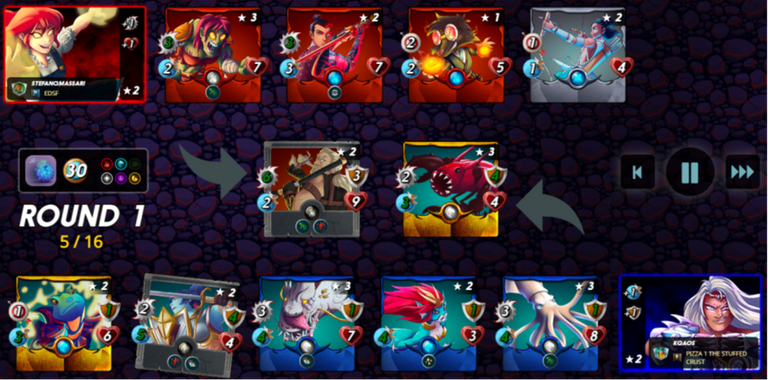 ---
Battle #3(Link
Staying with the home arena this time around, I sat down with @queenstarr for some good times! 99 mana, only water or dragon and stampede along with knockout. Since I do not have Quix, I went with kelya, but using taunt to hopefully draw them away from my hitters and healers for a little bit. The taunt did not work out well for me.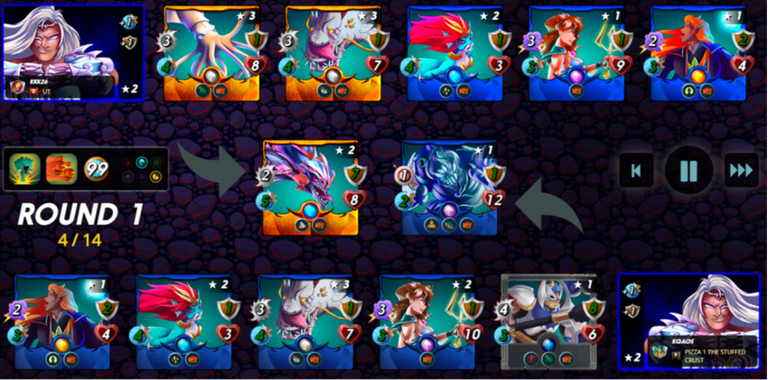 ---
Battle #4 (Link)
This one sees us on the road again, hopefully it will be a good trip! The battle we are looking at 54, water and light, with snipe and knockout. I am going to try the same lineup that I just used for the previous battle, hopefully it will go well! They went water with another similar lineup as myself. This was a close one, but I pulled it out!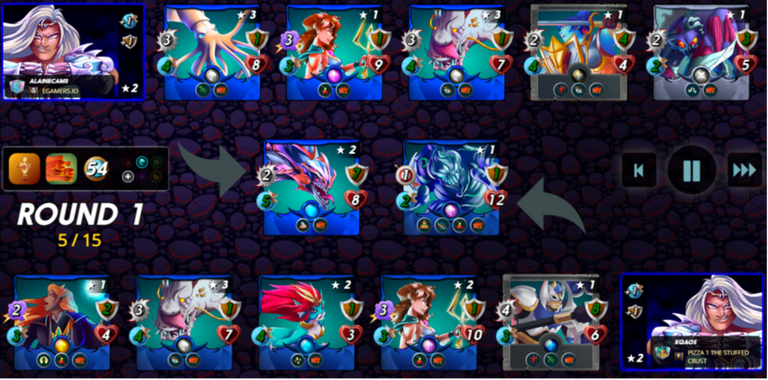 ---
Battle #5 (Link)
Past the halfway mark, I hope I can keep the same pace on this one as we are running on the road. 52 mana, summoners do not give a buff and equalizer. I decided to go light, with the healing from Sola, I think this could work out for me. They went light as well, only with some armor repair. They had a better lineup and some items I missed out on.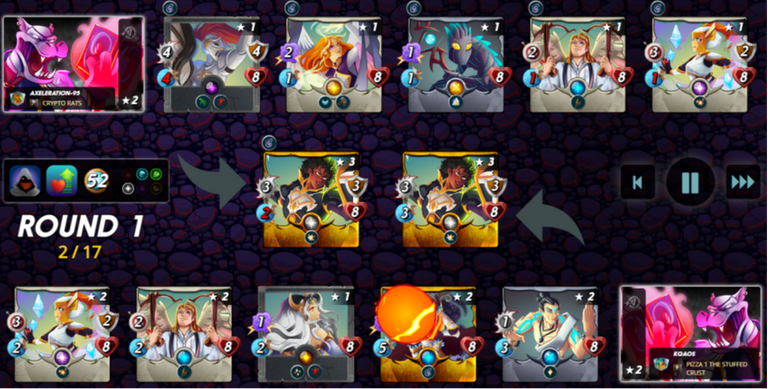 ---
Battle #6 (Link)
Back in the home field, is the home stretch? Looking at 34 mana, no ranged, super sneak, light and dragon only. I went with a gold lineup this time around! Using Hugo that I have not done in the past, but I am hoping that the shield will help me out. My double shield, with armor repair along with decreasing their attack worked wonderfully!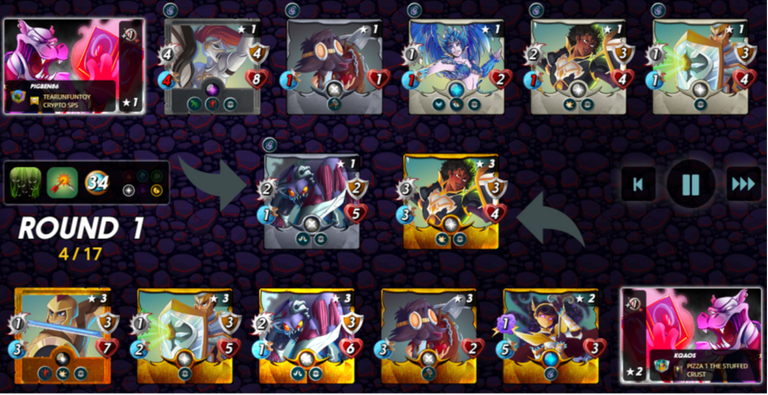 ---
Battle #7 (Link)
After that last fight a weight was lifted, the worst that I can do is fifty percent, but I am aiming higher than that! This trip shows 99 mana, divine shield, along with weak magic, so it will be hitting the shields. So, I went with water for that extra protection, along with the speed. They went water as well on this one. However, they have Tatiana a very strong card! Timing worked in my favor on this win!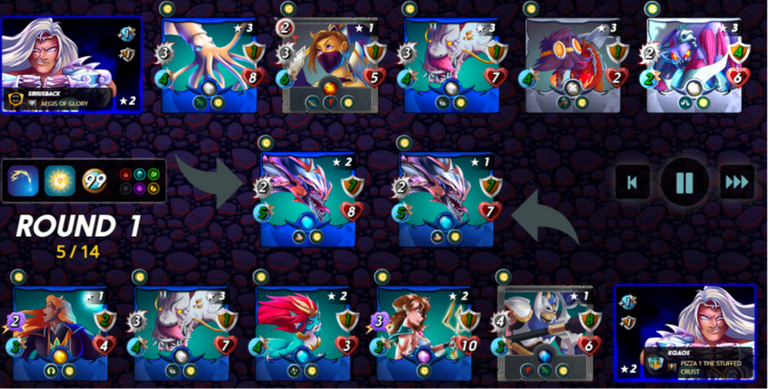 ---
Battle #8 (Link)
The homecoming, I had to go see @sweny over there for the Pizza Madness, great times, I made sure to have an armload of Stuffed Crust for them! Looking at 36 mana, weak magic and equalizer rulesets. I went light for the high amount of damage that I can put out on this one, along with the healing from sola. They went with death, the decrease will hurt, but hopefully I can chew through them quickly. My team held up on this one!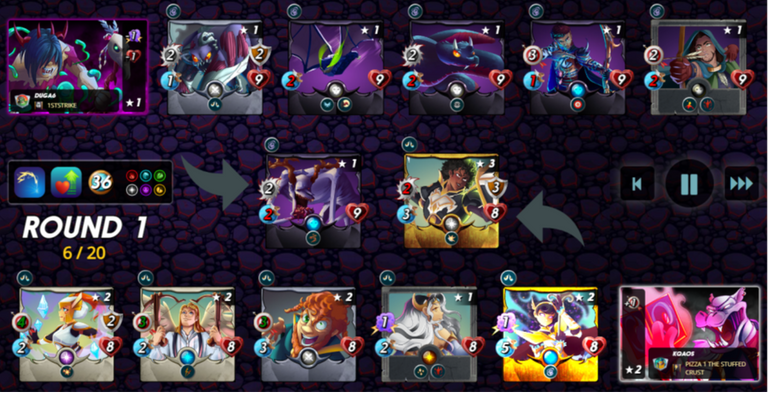 ---
I ended up 6 and 2, a good showing! The guild is currently sitting in 4th place, hopefully we can maintain it over the next 2 hours until the end of the brawl!
The guild as a whole did good, even though we had a few people not show up, we still ended in 4th place, a good showing!
---
Due to those merits, another gladius pack! A new epic gladiator for me!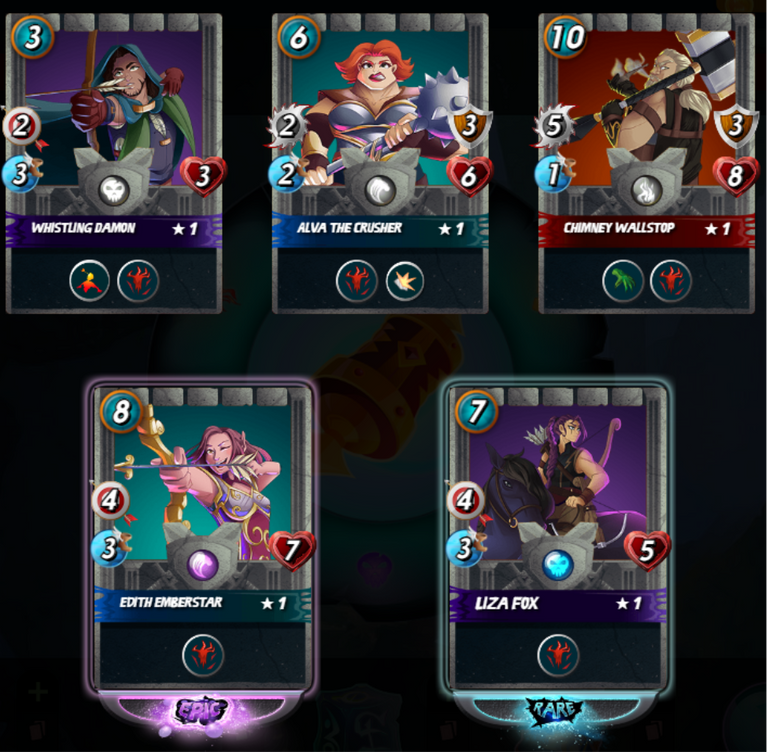 ---
Giveaway Pings
@amaillo
@luizeba
@irisworld
@h3m4n7
@blitzzzz
@shawnmichael-gt
@koodies
@postapocgamer
@jfang003
@henruc
@bokica80
@relf87
@cogie88
@candnpg
@chefbgob
@qoogohome
@mercysalifu
@thoth442
@bonehead752
@marcinxyz
@urkanon
@criptosectadepit
@urkanon
@plicc8
@theacks
@danideuder
@vagabond42069
@zekelol
@waynechuasy
@xheadhunterz
@eijibr
---
Thank you for reading this far, additionally, I do want to thank the people in Pizza, a great place to hang out! I have learned a lot from it and there are great people and a very positive community.
You can find them here: Awesome Pizza Discord
I'm starting to track the Pizza token a little bit more as well, it is currently sitting at $0.02253, a great time to join!
At some point I will be doing some other posts about my experiences in Crypto, but here are some links if you are interested in some other NFT Games or other games as well!
---
Splinterlands
If you use my referral link I will send you 100 DEC to get started!
Layer 2 Labs
A Great community for Splinterlands, with games and a faucet to help players as well, new name as well, was Splinterlabs.
Rising Star
Great music NFT and a way to support up and coming musicians!
Sorare
Still learning this one, but it is a football (American Soccer), easy to set up and go!
Star Citizen Referral code: STAR-LRKQ-D6NK
Space game, still in alpha development, playable, very immersive, sign up with the referral code it will give you money in the game along with both of us receiving a free ship!
Unmineable
A great way to get into Crypto mining, easy to set up, code gets you a 0.25% fee discount, uses the graphics card while you are not using your computer, or you can mine with just your CPU.
---
Let me know if there are any questions, you can find me in the messages here or in the Pizza Discord.
Lastly, thank you again, remember you are awesome and have a wonderful week!
Dr. Kqaos
---
Photos come from PowerPoints stock image, Bitmoji with Splinterlands logo on top of it, or my own screen shots of Splinterlands
Disclaimer: This is my opinion, not financial advice.