[En español debajo]
I wanted to play around with the name Baby Yodin (referring to Baby Yoda) and this illustration came up. Combining Yodin Zaku, Baby Yoda and Shrek's "Puss in Boots".
A sad and innocent expression of a little Yodin child, for he was once a child after all.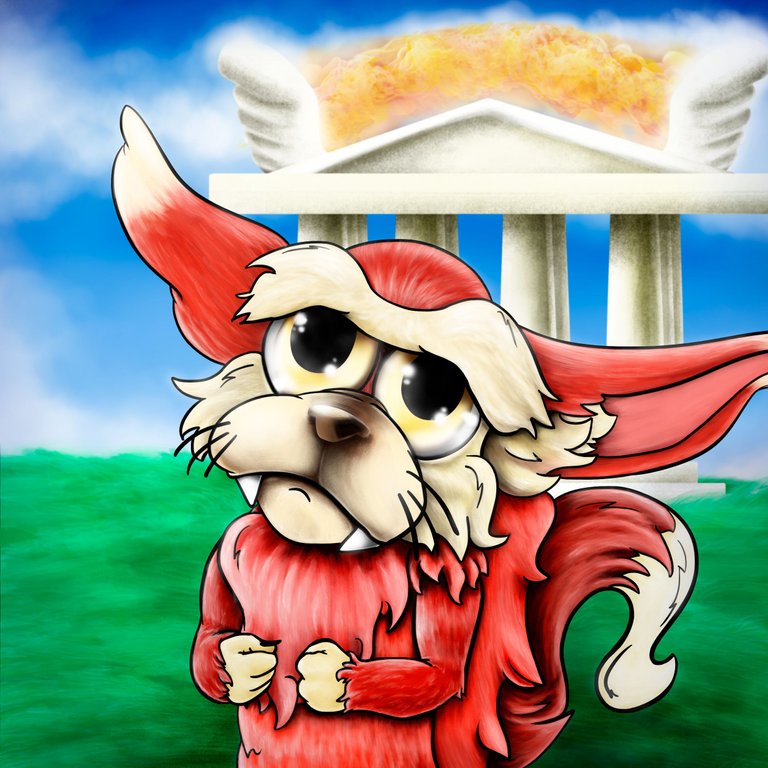 I must also say that in this case it was my partner's idea that background, because I was not quite sure which way to go. Whether to just make a forest or some type of hell, or a forest set on fire by Yodin himself after a mischief. But my girlfriend came up with a great idea that I tried to carry out in the best possible way. After reading Yodin Zaku's lore, she suggested paying tribute to her parents. The Parthenon symbolizes the diplomacy brought by the union of her parents (Eha Balan and Zer'geroth Mozran). The wings above this is a tribute to his father and the rainbow of fire a tribute to her mother. It seemed like an excellent metaphor to graph the whole scene.
I recommend reading his Lore, it's great what the Splinterlands creative team does with character bios:
As with all times of peace, it came to a sudden end at the whims of a single jealous shaman. The histories do not remember his name, but the war, once rekindled, threatened the existence of both races, Efreet and Belludae. [the races of Yodin's parents].
The jealous shaman captured the consciousnesses of several powerful Demons, taking over the Estath state and plunging order into turmoil and violence. The Great Orderlies were hunted down one by one and slaughtered. Those Orderlies who could not be killed were imprisoned by unbreakable enchantments in boxes, chains and cages. In a battle against a vile Efreet sorcerer, Yodin's parents were vaporized before his eyes by the most powerful spell of lightning he had ever seen. From then, Yodin was on his own. His life became war, and he never stopped fighting until he was finally imprisoned in an enchanted chest by another Efreet sorcerer (Yodin could not be vaporized). The war, which lasted all the way until the great Splintering, became known as the Thousand Year War.
1. Sketch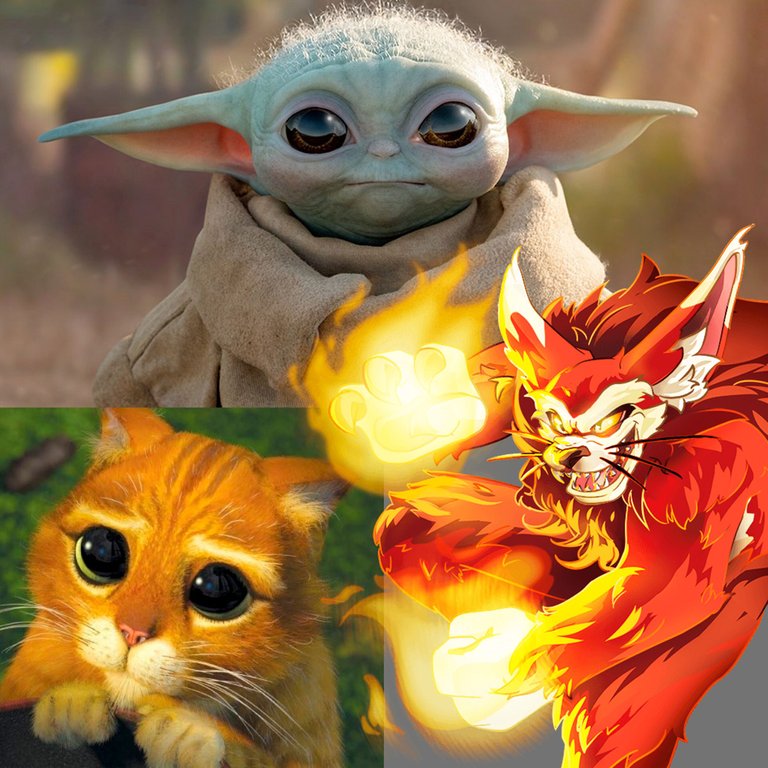 As I said before my idea was to combine Yodin, Baby Yoda and Puss in Boots. Taking those three reference images I made a quick sketch.
I imported this images directly to Photoshop and left them in the background, just for reference, because the idea was not to copy the expressions but to find a similar one. The art in both cases seems impressive to me and I did not want to simply copy them, also because it's a different character.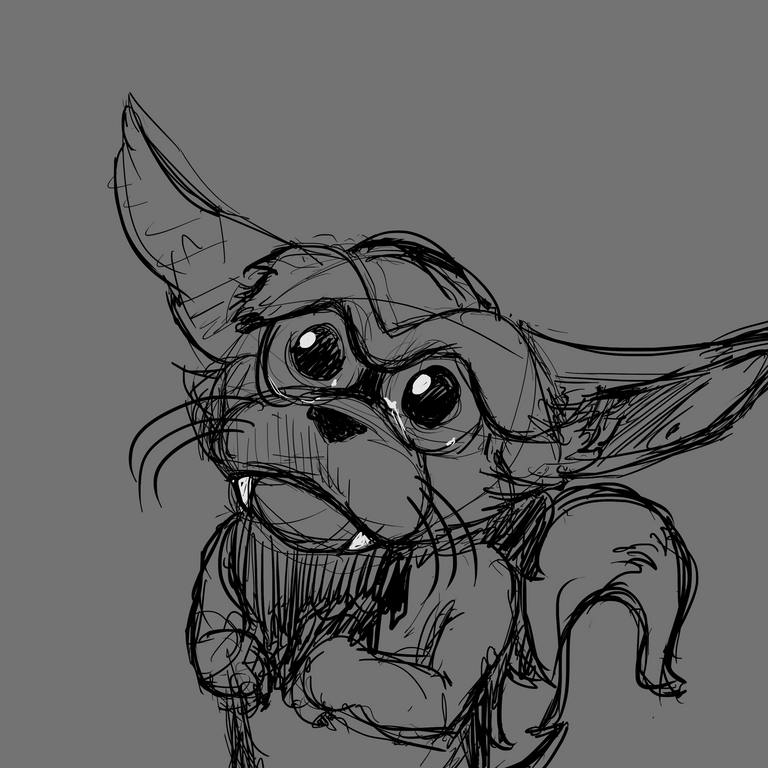 2. Outline and base color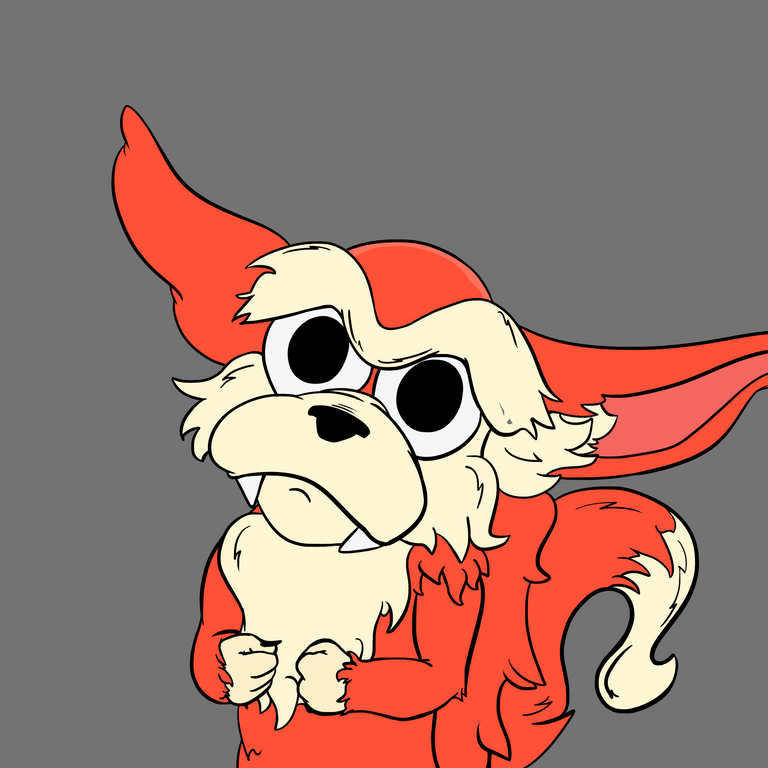 With the background sketch, lowering the opacity to half (or less), in a new layer I made the outline in black. This time I did not add any color to the stroke, perhaps to accentuate the cartonnish style and consequently the tenderness that I wanted to add to the illustration.
The base color is mainly a desaturated red.
It can also be noted that the expression changed in the final illustration. It's because at first my idea was to reflect mainly innocence, but later, with the background story, it should also reflect sadness for the loss of his parents.
3. Lights, shadows and texture
I really like textures, that's why I spend a lot of time on it. In this case the main texture is the hair, of course. But to achieve this I did not use any special brush. I took one of the brushes that I use regularly, that simulates pastel paint, and I pretty much did it one stroke at a time in some places of specific light and shadow to add volume.
4. Background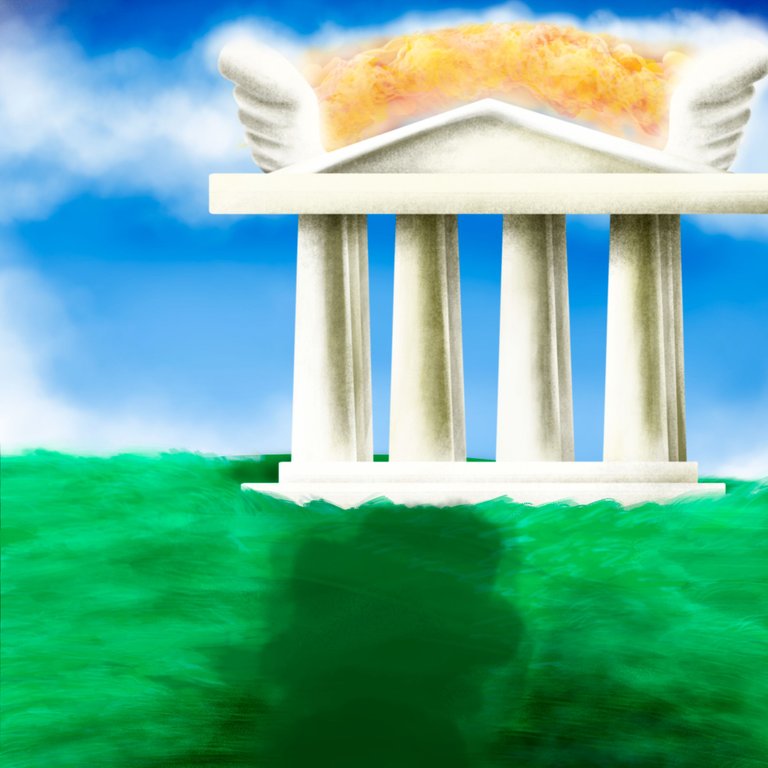 As I said before, the Parthenon symbolizes diplomacy and I focused on making a reduced version accompanying the main illustration. There was no point in making it realistic style.
The wings over the Parthenon are a tribute to his father (as he had mighty wings). The rainbow of fire is a tribute to his mother who was a great fire sorceress.
The triad of complementary colors in this case is made up of red, blue and green in similar proportions. For this I used a tool that is essential to me and that you should always have at hand: Adobe's color wheel.
There after select a color you can get complements colors, triads and much more. It's an extremely useful tool.
And this would be all, thanks!
If you have any suggestions, requests or questions, please leave your comment!

Quería jugar un poco con el nombre de Baby Yodin (a propósito de Baby Yoda) y surgió esta ilustración. Combinando a Yodin Zaku, Baby Yoda y "El gato con botas" de Shrek.
Una expresión entre triste e inocente de un pequeño niño Yodin, pues alguna vez fue un niño después de todo.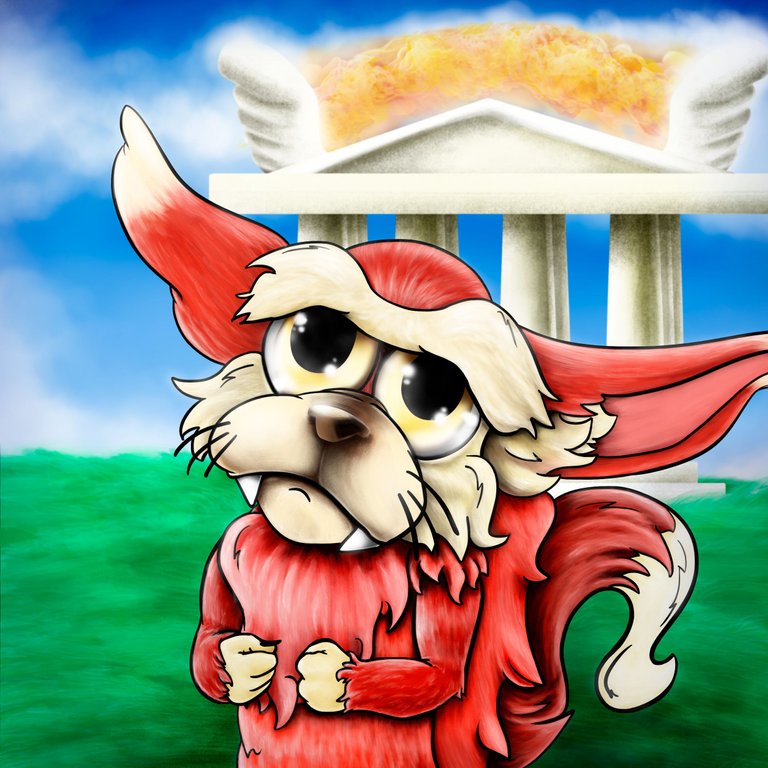 Debo decir además que en este caso fue idea de mi pareja ese fondo, pues no estaba muy seguro qué camino tomar. Si hacer solo un bosque o un infierno, o un bosque encendido por el propio Yodin luego de una travesura. Pero a mi novia se le ocurrió una genial idea que intenté llevar a cabo de la mejor manera posible. Luego de leer la biografía de Yodin Zaku ella sugirió hacer un homenaje a sus padres. El Partenón simboliza la diplomacia que trajo la unión de sus padres (Eha Balan y Zer'geroth Mozran). Las alas sobre este es un homenaje a su padre y el arcoíris de fuego a su madre. Me pareció una excelente metáfora para graficar toda la escena.
Recomiendo leer su biografía, es genial lo que hace el equipo creativo de Splinterlands con las biografías de los personajes:
Como ocurre con todo tiempo de paz, terminó repentinamente por los caprichos de un solo chamán celoso. La historia no recuerda su nombre, pero la guerra, una vez reavivada, amenazó la existencia de ambas razas, Efreet y Belludae [las razas de los padres de Yodin].
El chamán celoso capturó la conciencia de varios demonios poderosos, tomando el control del estado de Estath y sumiendo el orden en la confusión y la violencia. Los grandes Ordenanzas fueron cazados uno por uno y masacrados. Aquellos Ordenanzas que no pudieron ser asesinados fueron aprisionados por encantamientos irrompibles en cajas, cadenas y jaulas. En una batalla contra un vil hechicero Efreet, los padres de Yodin fueron vaporizados ante sus ojos por el hechizo de luz más poderoso que jamás había visto. A partir de entonces, Yodin estuvo solo con sí mismo. Su vida se convirtió en guerra, y nunca dejó de luchar hasta que finalmente fue encarcelado en un cofre encantado por otro hechicero Efreet (Yodin no pudo ser vaporizado). La guerra, que duró hasta la gran Escisión, se conoció como la Guerra de los Mil Años.
1. Boceto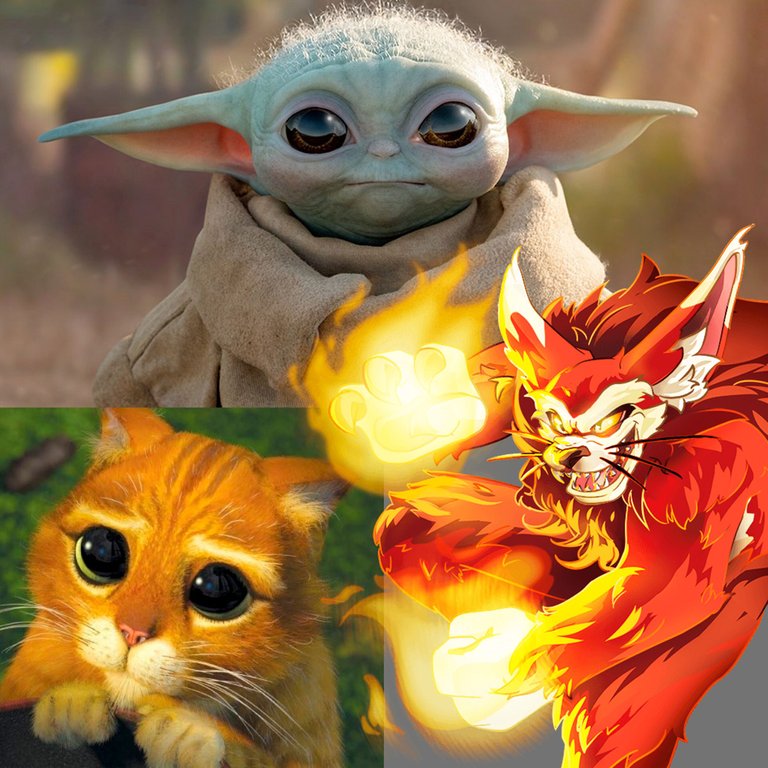 Como dije anteriormente mi idea era combinar a Yodin, Baby Yoda y el Gato con Botas. Tomando esas tres imágenes de referencia hice un rápido sketch.
Imágenes que importé directamente en Photoshop y dejé de fondo, sólo como referencia, pues la idea no era copiar las expresiones sino buscar otra similar. El arte en ambos casos me parece impresionante y no quería sencillamente copiarlos, además porque se trata de un personaje distinto.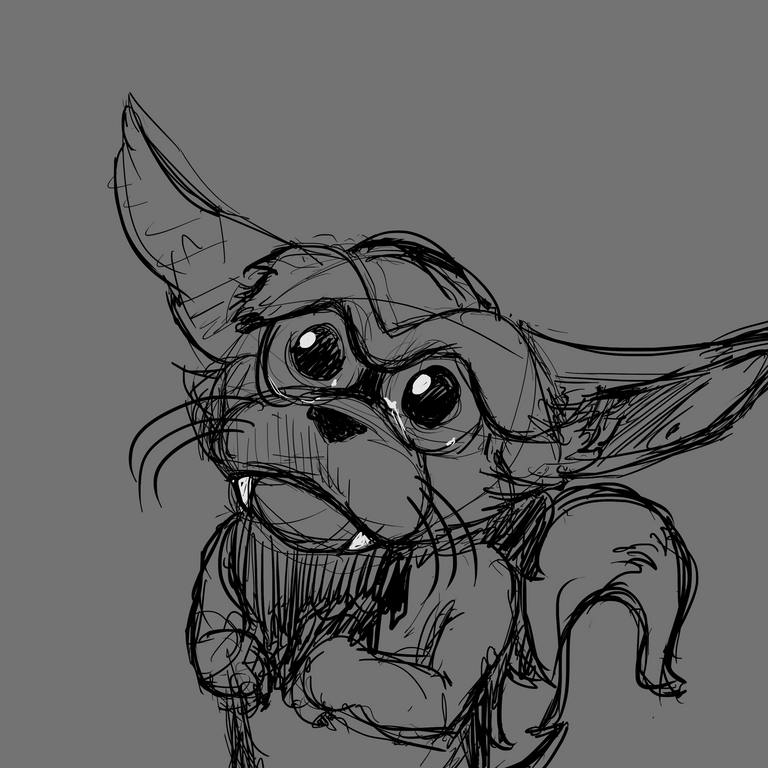 2. Delineado y color base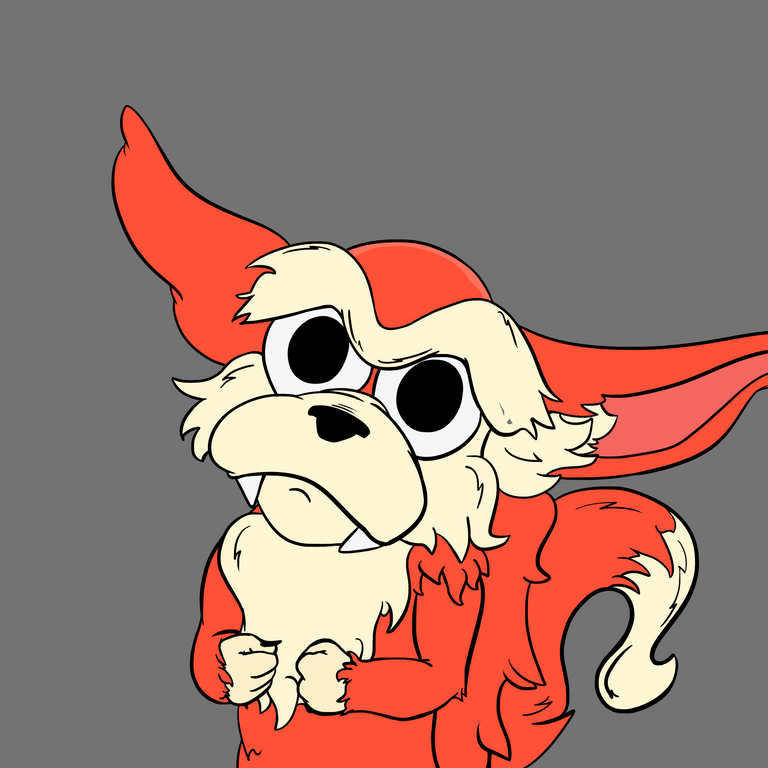 Con el boceto de fondo, bajando la opacidad a la mitad (o menos) en una nueva capa realicé el delineado en negro. Esta vez no le di nada de color al trazo, tal vez para acentuar el estilo a caricatura y en consecuencia a ternura que quería dar a la ilustración.
El color base es un rojo desaturado principalmente.
También se puede notar que la expresión cambió en la ilustración final. Es porque al principio mi idea era reflejar principalmente inocencia, pero luego, con la historia de trasfondo también debía reflejar tristeza por la pérdida de sus padres.
3. Luces, sombras y textura
Me gustan mucho las texturas, es por eso que dedico bastante tiempo en ello. En este caso la principal textura son los pelos, desde luego. Pero para lograrlo no utilicé ningún pincel especial. Tomé uno de los que uso habitualmente que simula el pastel y prácticamente lo realicé de un trazo a la vez en los lugares de luz y sombra especifica para dar volumen.
4. Fondo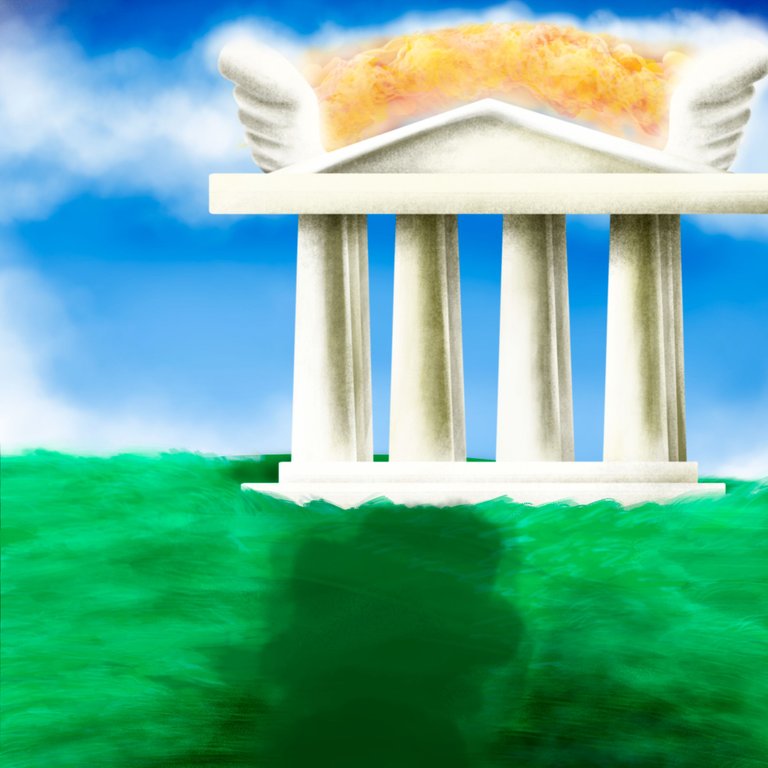 Como dije anteriormente el Partenón simboliza la diplomacia y me enfoqué en hacer una versión reducida acompañando la ilustración principal. No tenía sentido hacerlo realista.
Las alas sobre el Partenón son un homenaje a su padre (pues poseía alas impresionantes). El arcoíris de fuego es un homenaje a su madre quien era una gran hechicera de fuego.
La triada de colores complementarios en este caso la forman el rojo, azul y verde en proporciones similares. Para esto utilicé una herramienta que me resulta indispensable y que deben tener siempre a mano: la rueda de colores de Adobe.
Allí luego de seleccionar un color pueden obtener complementarios, triadas y mucho más. Es una herramienta sumamente útil.
Y esto sería todo, gracias!
Si tienen alguna sugerencia, solicitud o pregunta, ¡dejen su comentario!