One of the characters and cards that I like the most in Chaos Legion is the Cursed Windeku, from the death deck. So I wanted to make my own version by accentuating the darkest side of him.
Because if you look closely at the Cursed Windeku, he's eating, and not exactly a burger.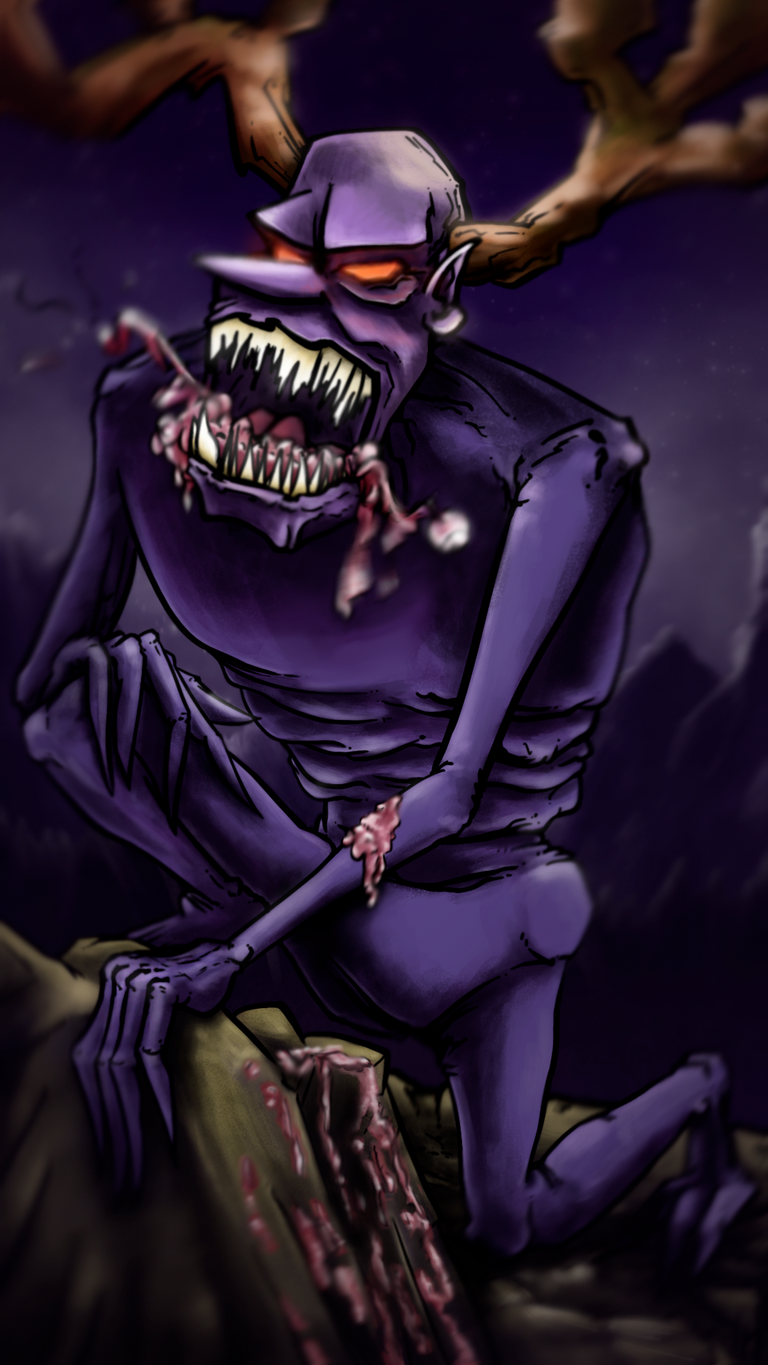 The process was as follows:
1. Sketch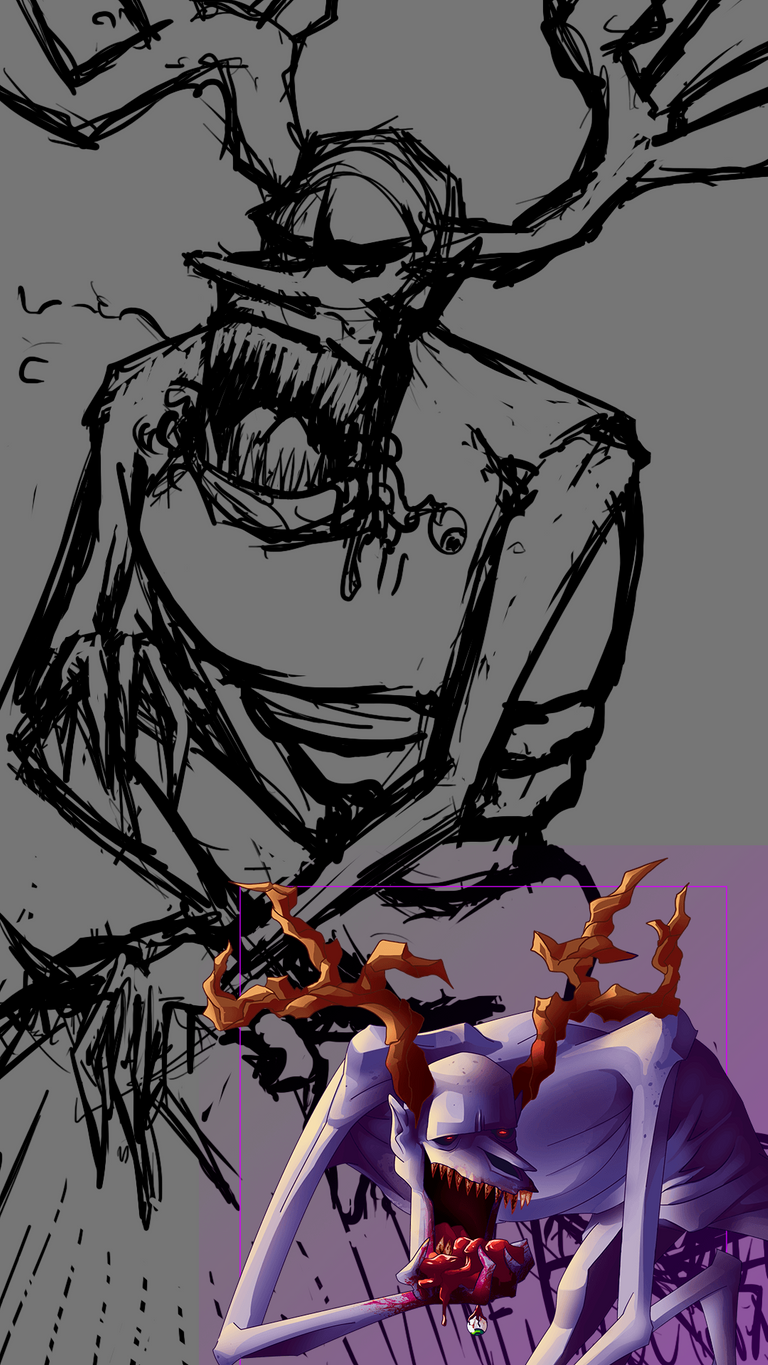 From the picture that can be found in the Lore section of the character, I decided to place him on a mountain, away from the forest. On a dark night.
2. Tracing and cleaning up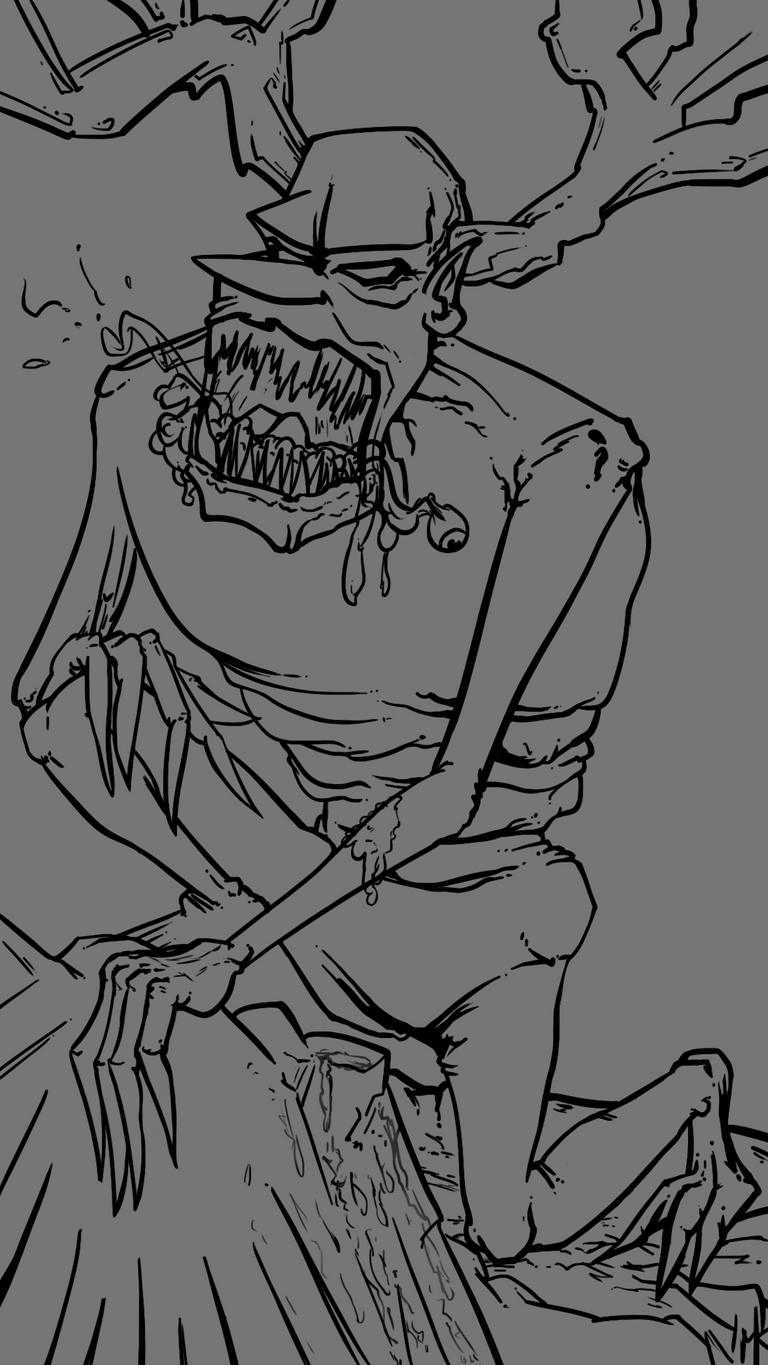 I wanted to highlight the dark and threatening side of him, so I decided to use a thick and sharp stroke. Triangular and square shapes rather than round ones.
3. Base color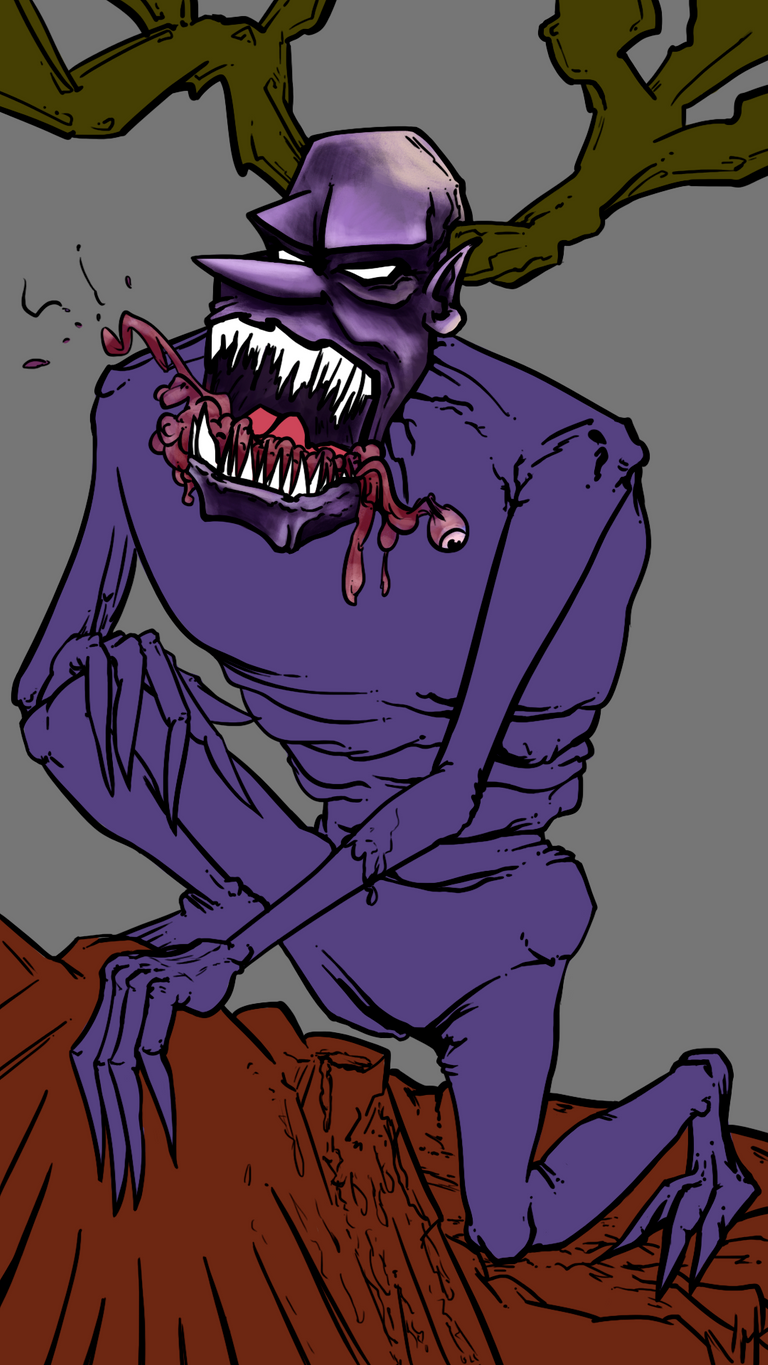 I did this roughly, without worrying too much. Just to set the colors and limits.
(I almost forgot to take a screenshot, that's why the head has some extra details)
4. Background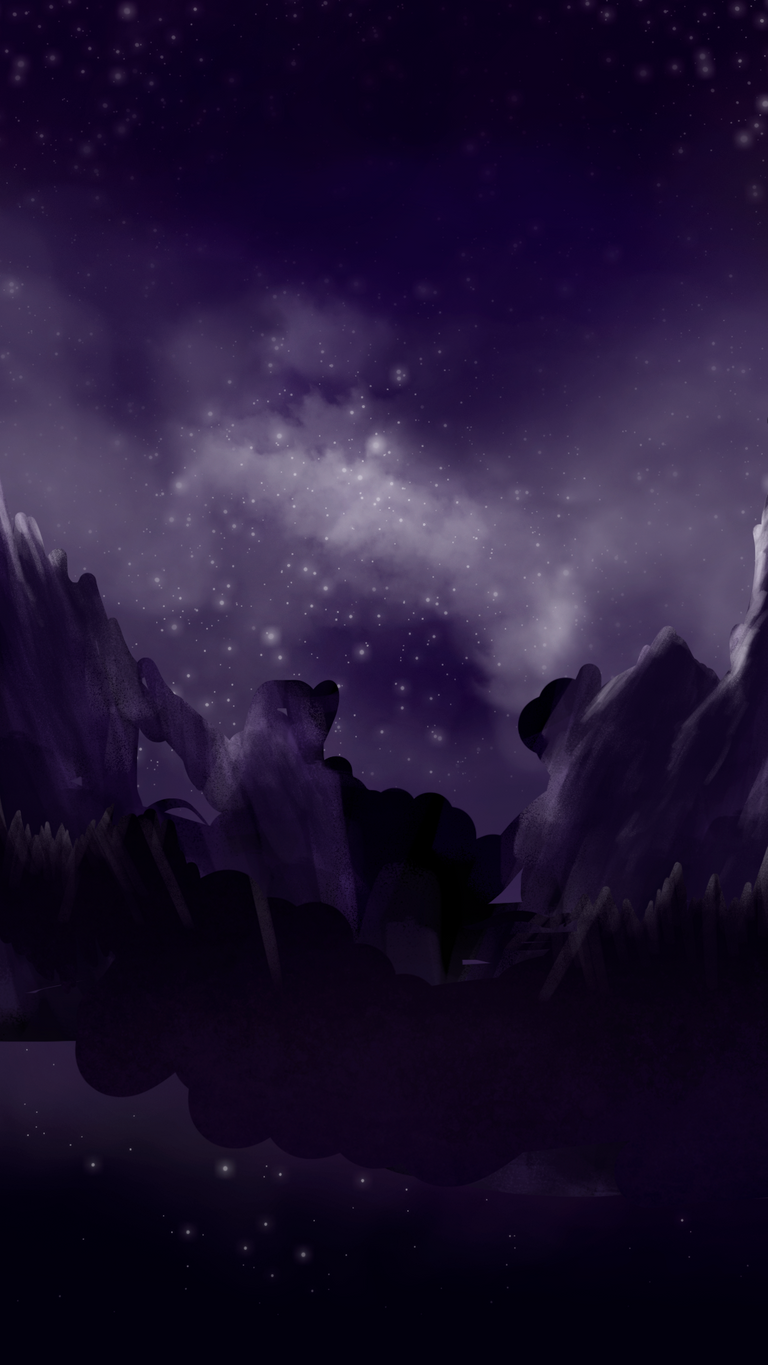 I wanted to represent a night in the mountains secluded from the forest in the middle of nowhere.
5. Color and texture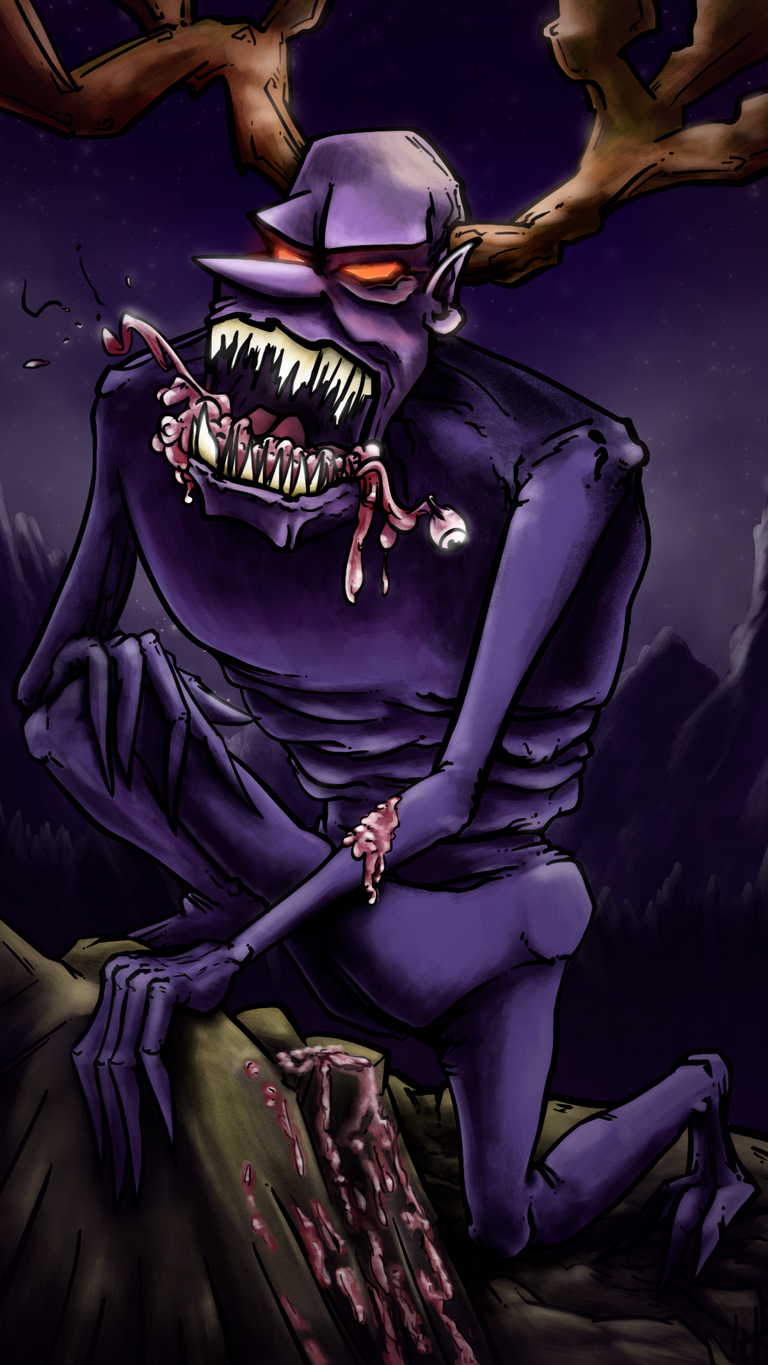 Now I did use the colors with more awareness, establishing that the light would come from above, from the moon that cannot be seen. In the original image the light also comes from above.
6. Highlights and shadows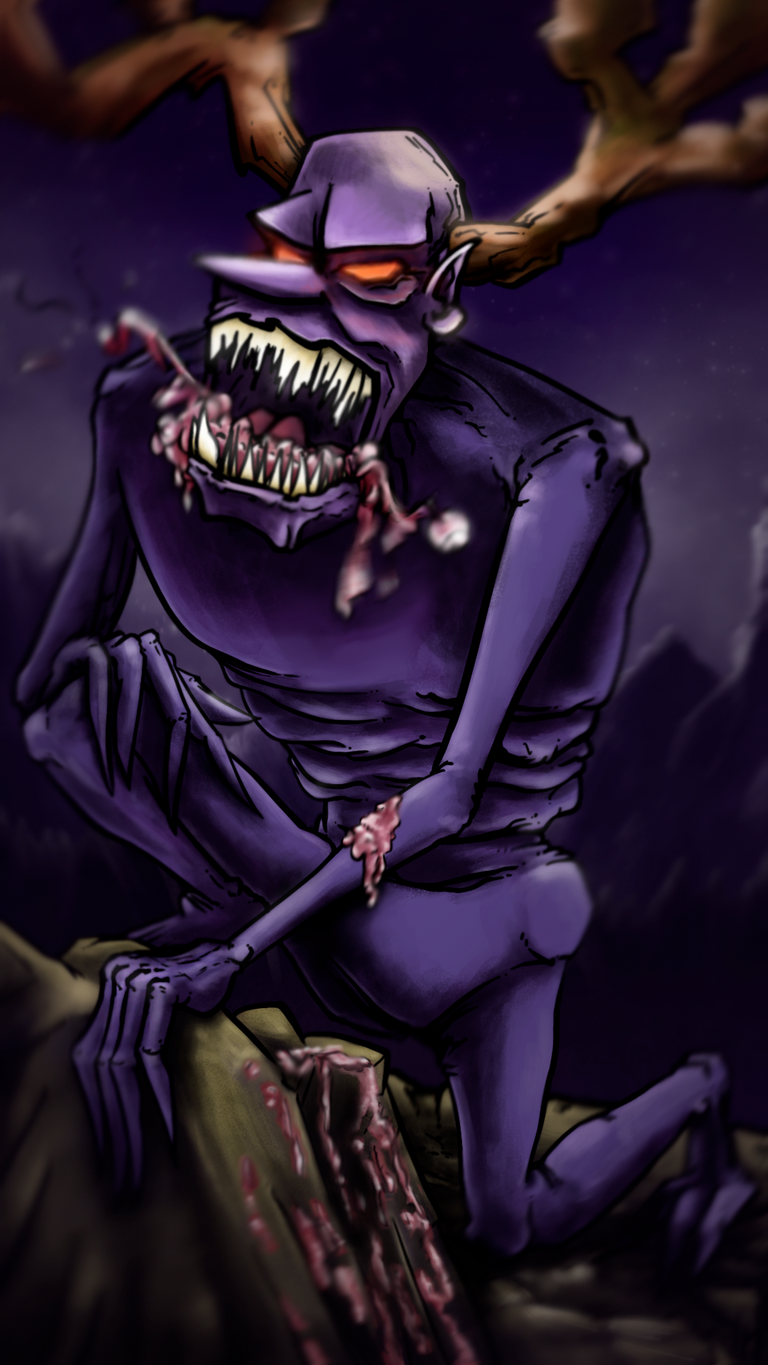 Finally, there were the final highlights and shadows, to better integrate the whole scene. I also decided to add some movement and depth by blurring the background and things that could be in motion. But also for the viewer to direct his gaze to the mouth and eyes of the Cursed Windeku.
Play Splinterlands

Uno de los personajes y cartas que más me gustan de Chaos Legion es Cursed Windeku, del mazo de muerte. Así que quise hacer una versión propia acentuando un poco su parte más oscura. Pues si observan detenidamente el Cursed Windeku está comiendo y no precisamente una hamburguesa.
El proceso fue el siguiente:
1. Boceto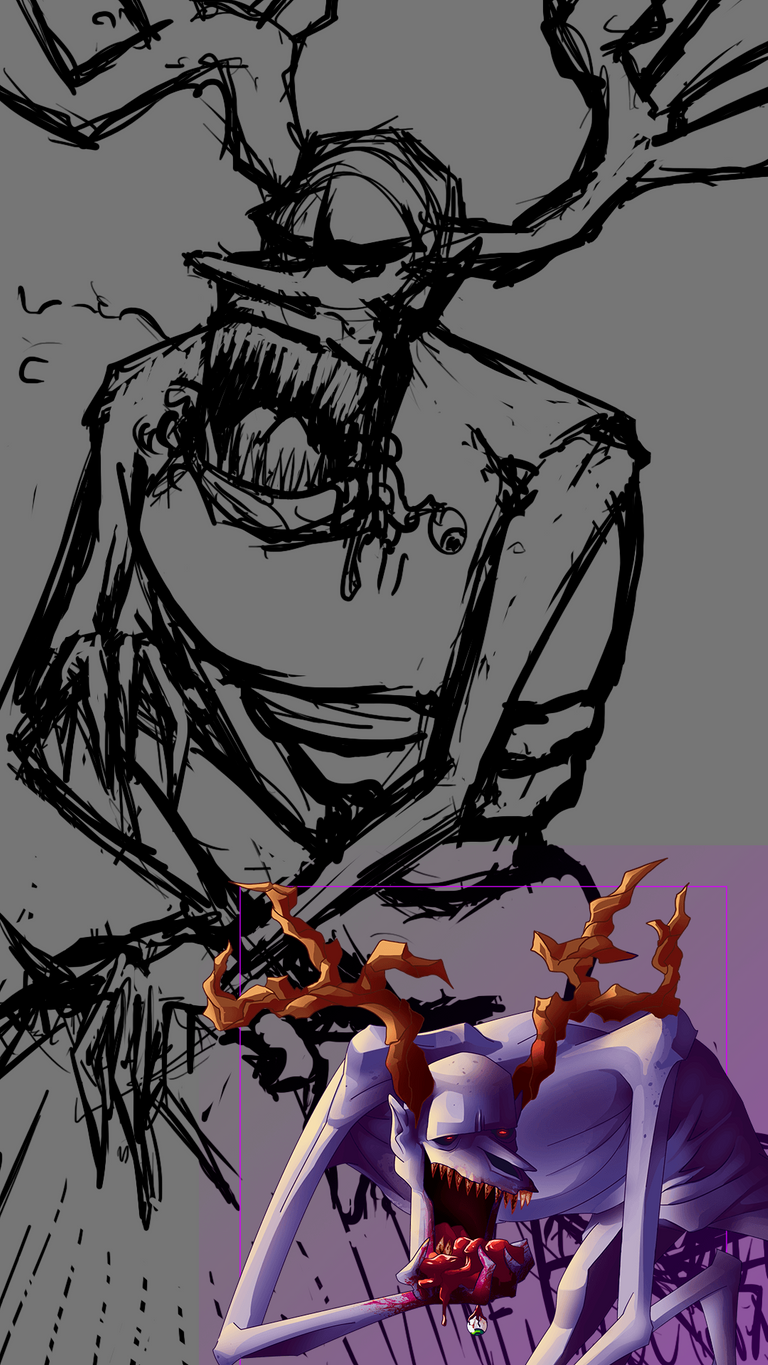 A partir de la imagen que puede encontrarse en la sección de Biografía del personaje me propuse colocarlo sobre una montaña, apartado del bosque. En una tenebrosa noche.
2. Limpieza y trazado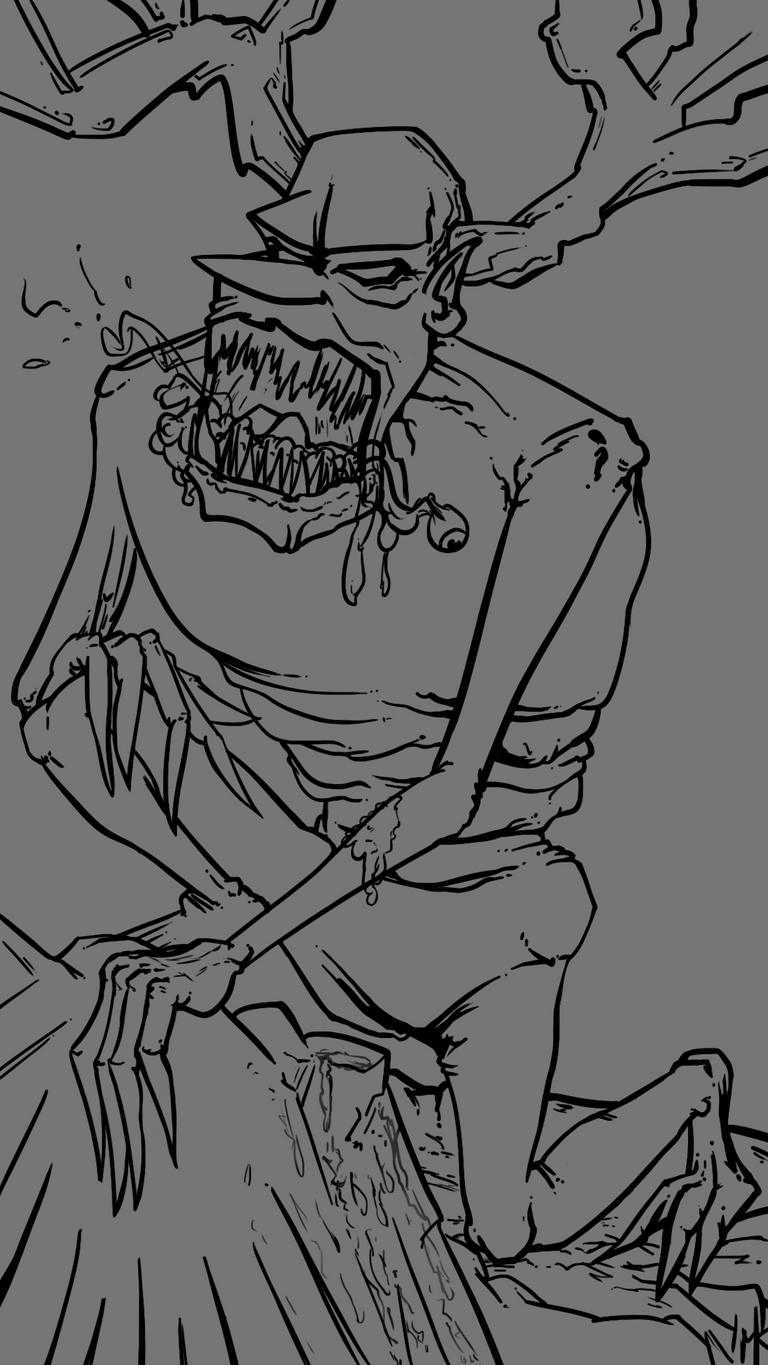 Quería destacar la parte tenebrosa y amenazante, así que me decidí por un trazo grueso y filoso. Formas triangulares y cuadradas antes que redondas.
3. Color base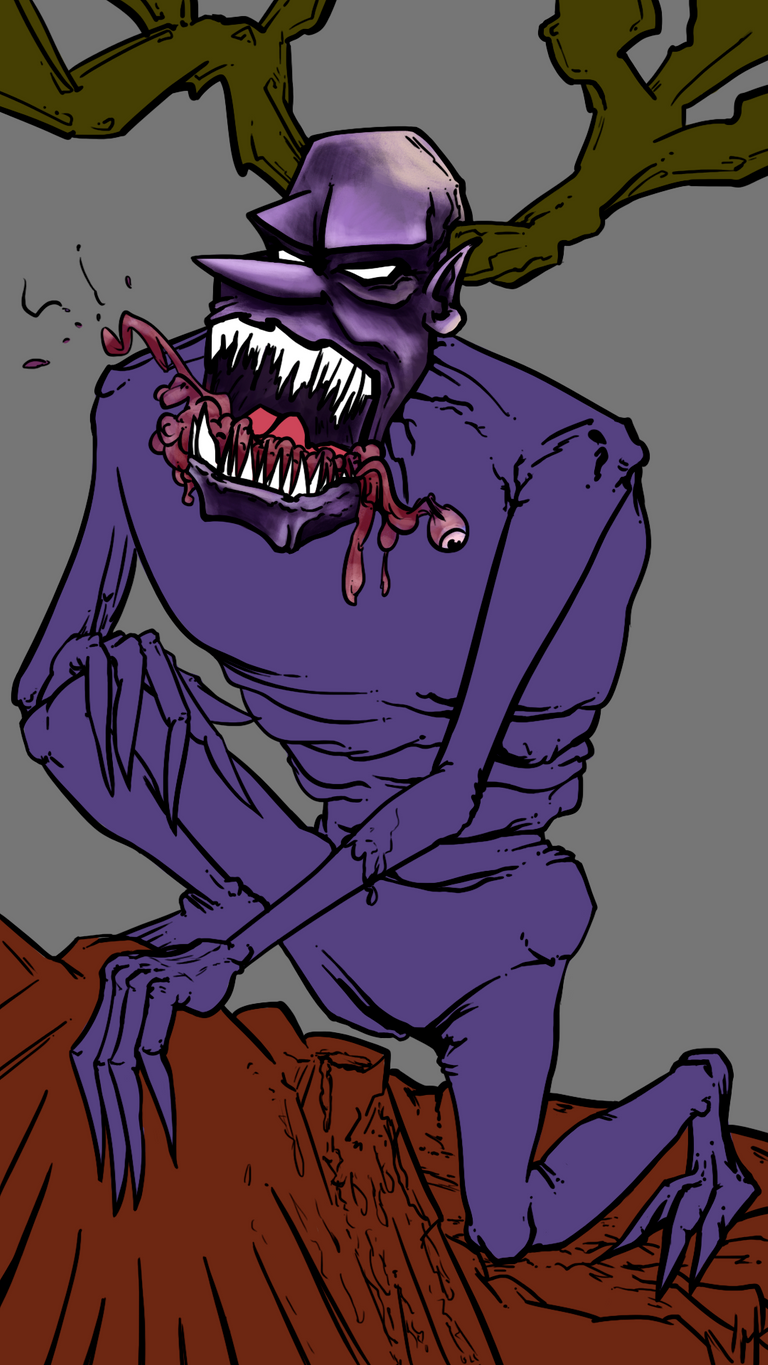 Esto lo hice a grandes rasgos, sin detenerme mucho. Solo para establecer los colores y limites.
(Casi olvido tomar una captura, por eso la cabeza aparece con algunos detalles adicionales)
4. Fondo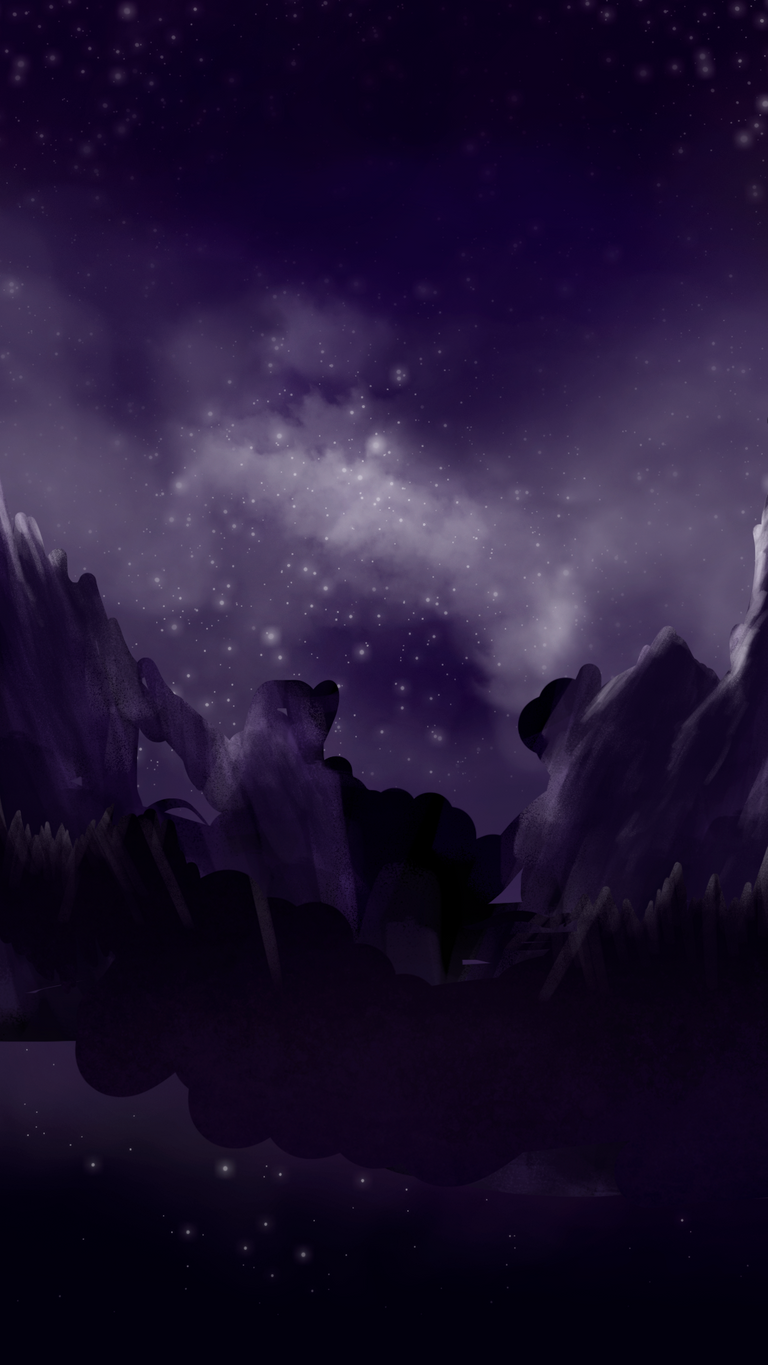 Quería representar una noche de montañas apartada de un bosque en el medio de la nada.
5. Color y textura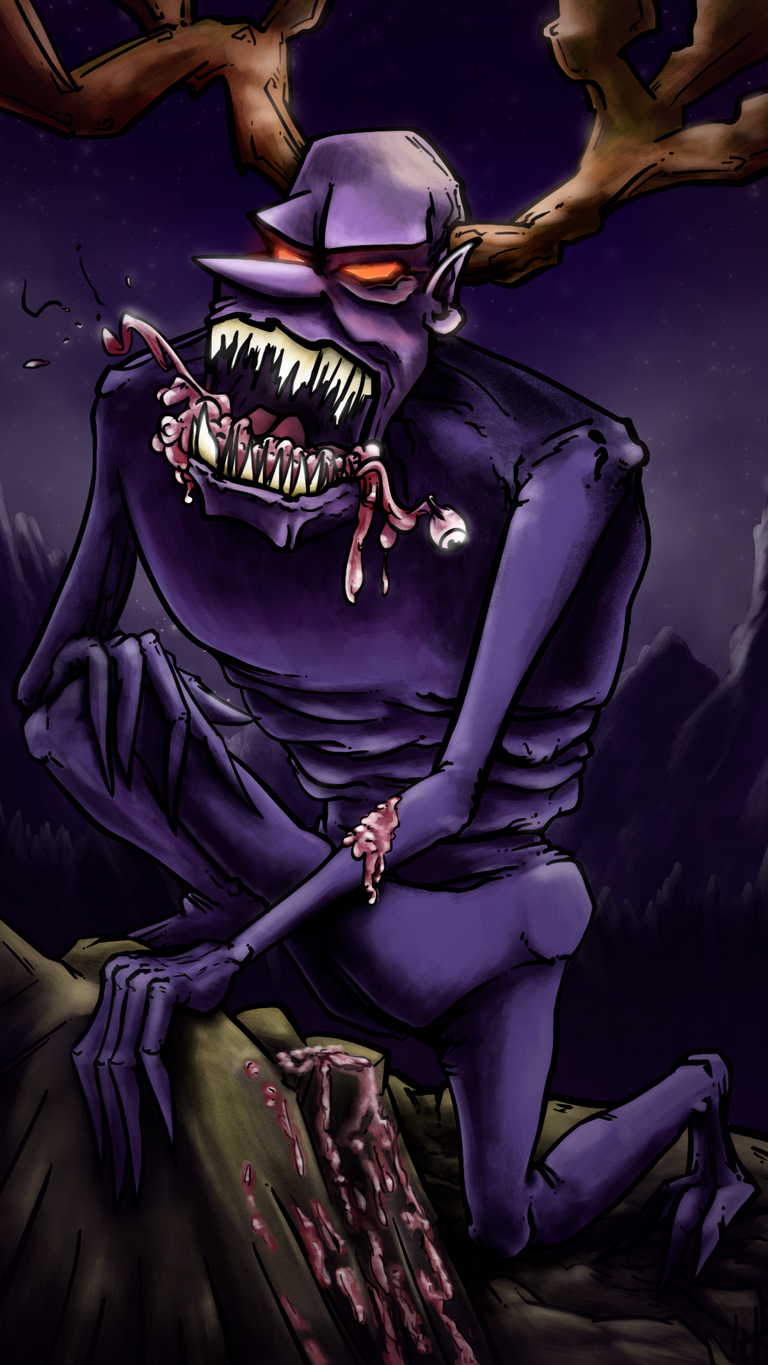 Ahora sí utilicé los colores con más conciencia, estableciendo que la luz vendría desde arriba, de la luna que no se ve. En la imagen original también viene desde arriba la luz.
6. Brillos y sombras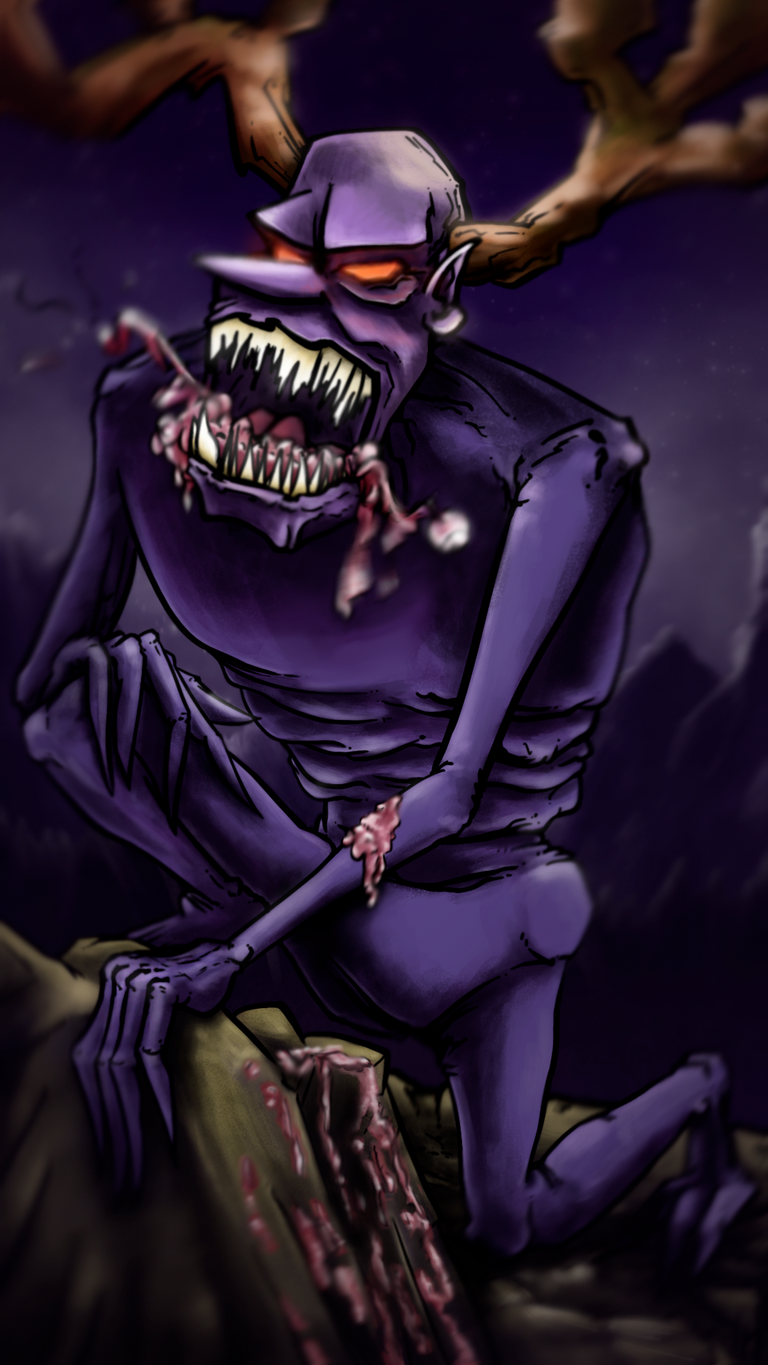 Por último quedaban los brillos y sombras finales, para integrar mejor toda la escena. Además decidí dar algo de movimiento y profundidad difuminando el fondo y las cosas que pudieran estar en movimiento. Pero además para que el espectador dirija su mirada a la boca y ojos del Windeku maldito.
Juega a Splinterlands