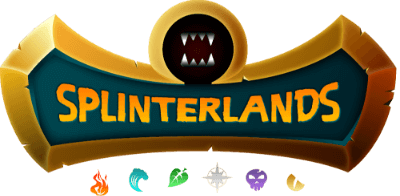 Two Brand New Weekly Splinterlands Tournaments!
​
Do you love Splinterlands as much as I do?!
Do you love the thrill of battle?
Do you like to earn killer prizes?
​
Then join us for 2 brand new weekly tournaments!
They both start on July 4th at 12pm pacific time. Different prizes, different leagues, same entry fee. We aim to have them every Monday from the 4th on.
Kick off your 4th by knockin heads in these brand new tournaments!
​
What tournaments you say?
Well let me tell you!
---

The war on the floor tournament is, as you would guess it, a novice league tournament.
Bring your low level cards and be ready to rumble!
Entry Fee: 500 DEC
Total Prizes: 10,000 DEC
Winner: 10
Minimum players 30
Maximum Players: 50
Minimum Award: 500 DEC
Starts when full or on the 4th
Anytime sit n go tournament with one full day to get your teams set up.
​
If you simply place in this tournament you will earn your entry fee back!
This is a great tournament for beginners or those just wanting to show off their low level cards.
Earn some great prize money and level up!
---
Our second tournament is:

You guessed it! This one is Bronze League.
Do you have a team that rocks the house in bronze league?
Then get in there and crush some skulls!
Entry Fee: 500 DEC
Total Prizes: 15,000 DEC
Winner: 10
Maximum Players: 80
Minimum Award: 500 DEC
Starts when full or on the 4th
Anytime sit n go tournament with one full day to get your teams set up.
​
Just placing in this tournament earns your DEC back!
With a good team the odds are really in your favor on this one.
---
I sponsor these tournaments myself with the help of @sour-d419.
@sour-d419 is my nephew guys so remember he's family. No funny business.
He's super new to the hive scene so show him some love. I'll get him posting shiz soon.
---
Now, I know what you're thinking...
​
Where have these guys been all my life?!
​
We get it a lot so trust me, I understand.
Luckily theres a support group just for you and your dilemma.
This group is patient and understanding. They will not judge.
They can help you get over the excruciating pain of not meeting us till now. ;)
It's called #thealliance, and one of the dopest guys I know started it...
​
You guys ever tried herding cats?
It's tough boys and girls and my boy witty has been holdin that shit down since 2017!
---
Listen up ya'll!!
Real talk...
My dude @enginewitty deserves a mic drop shoutout so here goes:
Witty is a badass! Recognize.
Week before last my boy @enginewitty was livin it up with his girls at Bonnaroo Music and Arts Festival outside of Murfreesboro TN...
Straight killin it with his daughters havin a rockin time...
Only to get a call that his house burned down!
What the actual blue billy 2 timin fuck?!
Had to leave the time of their lives early to rush home to this catastrophe.
This ain't a joke, it's real shit, so pay attention...
The humans were safe, lost a dog though.
The house and everything in it are gone.
There's some really good people that have made some posts tryin to help out from a distance. I'm the idiot not paying enough attention to know them all. look em up
You know how many memories and collectibles went up in smoke from this shit?!
How much love was built, grown and nurtured in those walls?
Do you have any idea how much of this platform and its community was literally built in the rooms of that house?!
With his mind, through his fingers to all of you!
Astounding amounts!!
Immeasurable amounts!!
...
It's fucked ya'll.
This guy has been showing so much love here and back on steem, to so many new and old, for so long.. its just silly!
I was there in the beginning.
Right beside him.
I saw the sacrifice this guy made to bring all things he created here first hand.
He's not another username to me...
He's a brother.
He's a witness here and on steem.
He's there raising that pile of girls and still somehow finds time for all of us/you!
Even during all this shit he's still here doin what he does!
This man is a beast!
Can you spell tenacity?!
Can you feel the heat this kid is throwin?!
He's a true OG of this place! So many people on this platform and back on steem, owe what they have accomplished here to him and #thealliance, and a lot of you know it.
So much has spawn outside of this platform from the influence he's shown here.
Right here.
So I need every person that reads this shit right now, not fucking later, right fucking now... to do me a solid.
I'm talkin right fuckin now!
Not after you send that email!
Not after you read or comment on that post!
Not after you take a bathroom break from how fucking long my post is!
Not even before you finish reading this post!
Right!
Fucking!
Now!
​
I want fingers typing!
I want to see upvotes for any god damn thing this man is puttin out!
Don't give me some shit about already showing support, do it again!
Don't know him? I don't give a fuck... get your ass moving!
Now mothafuckas! WTF you waitin for?!
Pick yourselves up, like he has for so fucking long...
Get your asses over there and support this mothafucka cause if anyone on this platform deserves some love its this fool!!
​
I've been crying the whole time I've been writin this shit.
If you haven't then idk wtf is wrong with you.
Fuckin love you witty!


---
​
Sorry, i got a little distracted. More than worth it.
Now back to what this post is about, the tournaments.
Look, if your pain and frustration is coming from not having enough splinterlands tournaments to kick the crap out of your fellow spinterlanders in...
Then We've got you covered!
Cause we're the crazy assholes that will bring you tournaments to fit you!
Yes you!
​
See... we want to shake shit up a bit.
We want to know what types of tournaments you, the actual players of splinterlands want to be in!
​
I mean, I go in there and I see some good ones, even some great ones.
However it seems to me that most of them have been created by someone...
Maybe this someone is playing them, maybe some aren't.
Frankly I dont know or care.
I want to create tournaments that real players really want to play!
I want to make tournaments you guys are dying to be part of!
​
Maybe you find the normal everyday splinterlands tournaments boring or uneventful.
Maybe you find these 2 tournaments boring after trying them.
Maybe you want to see some tournaments that no one has done yet, or you just want to see happen.
Maybe you really do think I'm an asshole!
Maybe you just want to challenge a crazy person to create one you can really get down on.
Maybe you just dont think I'm that fuckin crazy!
Maybe you want chances for higher prizes!
Maybe you want to see different types of prizes!
Maybe you don't even like prizes!
Full

 disclosure, that would make you 

one

 odd duck.

Maybe you are not a freaking duck at all!
Maybe you want to show off your Splinterlands skills to your mom or grandmother!
Maybe your overall goal in life is to crush faceless names in digital card games!
Maybe you are addicted to crypto and this will just scratch that itch!
Maybe you are sick of reading and just want to freaking battle already!
Maybe you love making your friends jealous of your mad skills!
Maybe you have a rare condition that makes one big toe larger than the other and it throws off your balance so to redeem your self esteem you crush tournaments!
​
Shit!!
That's a lot of damn maybes!
​
Whatever your maybe...
Leave me a comment and let me know what would make the best tournament for you, your gameplay style, your levels, your collection type...
I want to read your crazy ideas!
I might find out you are crazier than me, and in that case I'll simply have to find a way to create you a wild ass tournament!
I'll go over the comments and see just what I can do to kick the living crap out of your maybe!
​
More to come!
​
PS:
This shit:
@the-singularity
Yea, that shit is me too so get on board ;)