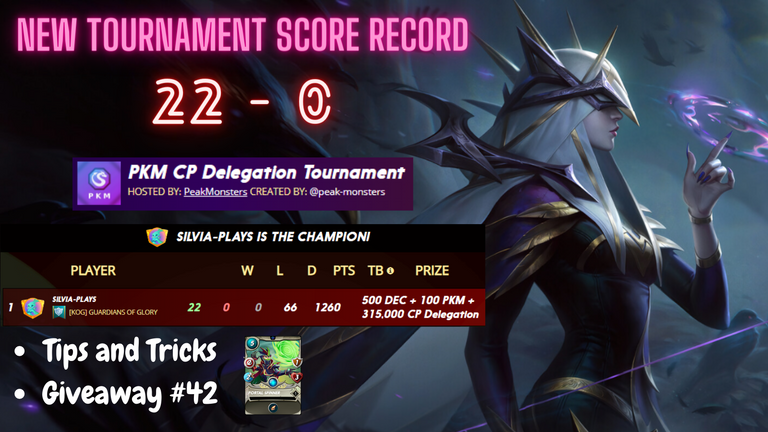 ~ 😘 Hi Hi Splinterlands lovers around the world 😘 ~
Welcome back to my blog, @queen-silvia. Alright, I am going to share my experience as well as tips and tricks after participating at PKM Delegation Tournament which was held by @peakmonsters team. The result was really amazed me that I could be a champion with perfect clean sweep score, 22-0!. It becomes the history for my Splinterlands journey because I'm not sure I would be able to do the same thing in the future but I always do my best to win every match. The prize for the winner is 500 DEC, 100 PKM and 315 CP Delegation.

Well, This article will explain about the following topics :
Tournament Overview
My Tournament Performance
Match analysis of the top 3 battles (Tips & Tricks)
Tourney Result
Announcement of the Giveaway #40 Winner
Giveaway #42

- TOURNAMENT OVERVIEW -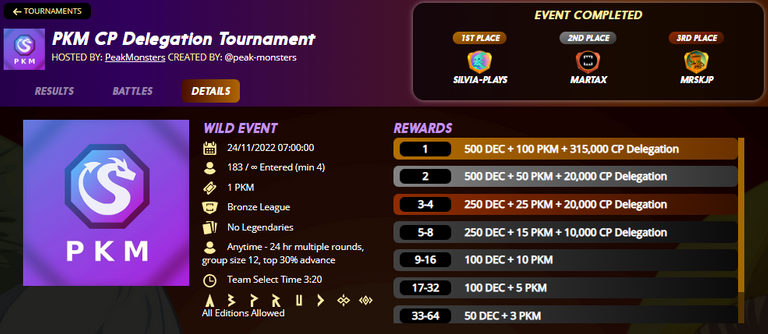 The tournament is hosted by @peakmonsters. The entry fee is just 1 PKM, not that much which makes all players could join and train their abilities against some other players. I think the purpose of the tournament is to share the utility of PKM token. For those of you who didn't know about it, feel free to check it here : The Utility of PKM Token. and... If you used Peakmonsters frequently to rent or sell your cards you might want to check some of these articles in order to optimize all the existing features. Some articles are very good for users : Official Guides on using Peakmonsters Features.

Okay, The tournament is a wild event which means that all cards edition are available to be used. The rule is Bronze league and no legendaries so all players need to think more tactical to optimize the use of common, rare and epic cards. Bronze is always identic with Llama-Kron but don't worry, That combo is not available in this tournament 😆. I think the most interesting reward is 315K CP delegation so I was trying my best to get that prize. Another interesting thing from this tournament is that 183 players were participating, almost 200. So this tournament is pretty crowded.

- MY TOURNAMENT PERFORMANCE -
1st Round
Alright, as we know that the score was 22-0, I will just show you guys who were my opponents in the first round, and here it is :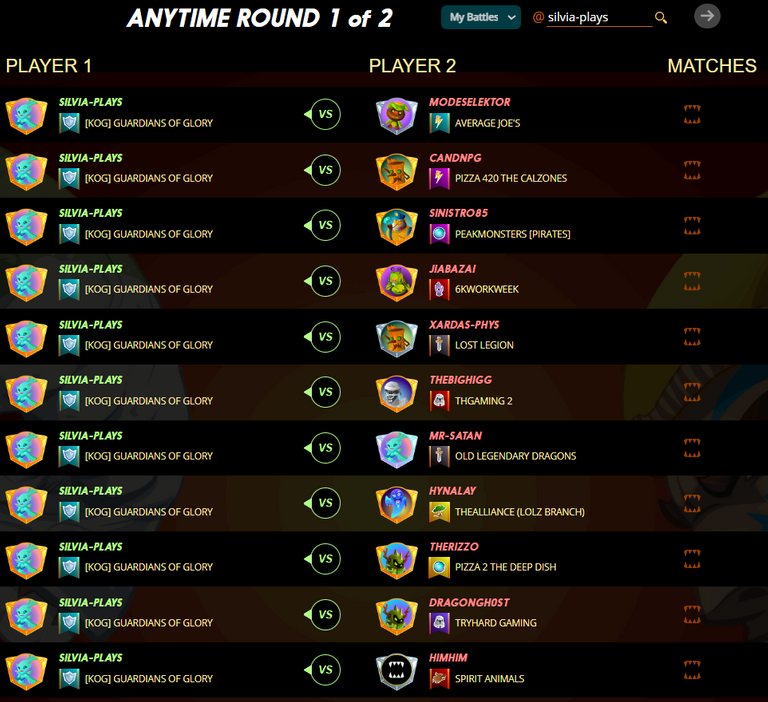 So, I have fought against : @modeselektor, @candnpg, @sinistro85, @jiabazai, @xardas-phys, @thebighigg, @mr-satan, @hynalay, @therizzo, @dragongh0st, and @himhim. I think the most popular player is jiabazai as I saw him a lot in many tournaments and sometimes I met him in gold rank battle too. The first round ended with 11-0 as a result. I saw candnpg and sinistro85 also sometimes. For all of those players above, thank you for playing with me :).
2nd Round
Here is my opponent in the second round :
The opponent at the final round is always harder since they are the best 30% of each group. The opponents in this round are @kvm86, @krizalid, @darkbakshi, @tom-riddle, @infiniteworld, @bobcarj, @k-arrm-a, @dstampede, @emason, @reconnectnature, and @owl001. Some well-known players now are kvm86, tom-riddle, infiniteworld, bobcarj, dstampede, emason and owl001. I still remmeber how owl001 won a bronze contest and won a land plot. strong player 👏. For all of those players above, thank you for playing with me :).

- MATCH ANALYSIS OF THE TOP 3 BATTLES -
| Ruleset | Mana | Element |
| --- | --- | --- |
| Armored Up, Up Close and Personal | 16 | Fire, Water, Death, Dragon |
We almost used the same lineup, the difference is just the tank monster. I used Flesh Golem while he used Stone Golem. In this case, Flesh Golem is better since he can restore 3 health point in each round, so the thorn ability and melee attack from stone golem can be ignored while the health point of Stone golem is reduced by 1 each round due to thorn effect and finally the rest of @owl001 team died due to Flesh Golem attack and thorn ability.

Match against @kvm86
| Ruleset | Mana | Element |
| --- | --- | --- |
| Broken Arrows | 58 | Fire, Water, Earth, Life, Death |
This match is interesting since I tried to counter melee and magic attack from my opponent. first of all I pulled all the opponent attack to the back line using taunt ability by mycelic morphoid. Unicorn Mustang and Mushroom Sheer used to counter magic attack as they have Void and Silent ability (respectively) then Mylor and Goblin Psychic are used to counter melee attack with the thorn and tank heal ability. The match went very well as three earth monsters are still alive at the end of the battle.

| Ruleset | Mana | Element |
| --- | --- | --- |
| Rise of the Commons, Equalizer | 42 | Fire, Water, Earth, Life, Death |
Both of us are trying to counter magic attack as tom also used magic reflect (prismatic energy) and Mushroom Sheer to reduce my magic attack, but my magic counter is better since I used amplify to increase the reflected magic. it makes the damage of magic reflected equal to the attack given. In this match I was using 3 ranged attack monsters as I do believe the enemy will counter magic attack.

- TOURNAMENT RESULT -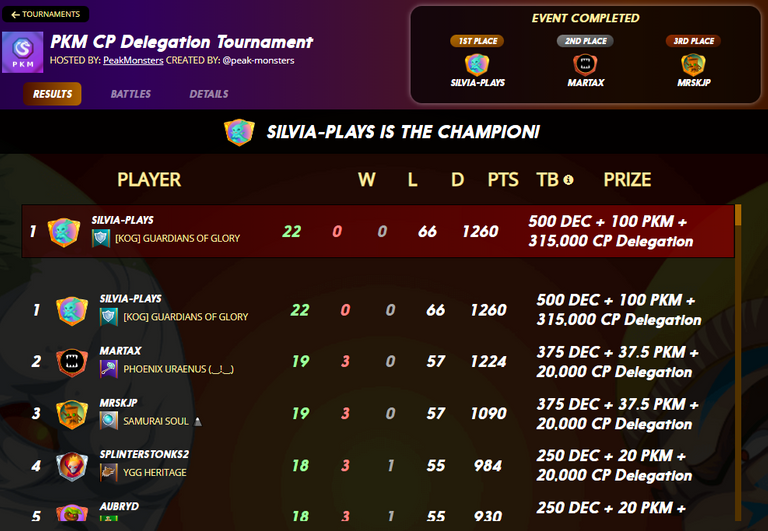 Well, to be honest, this result is very beautiful. I wish to repeat it again in the next tournament. the winner came with the 22 wins and not suffering any lose (unbeaten), while the second and third position @martax and @mrskjp have the same score (57) with 19 wins and 3 lose. At the forth and fifth position, we have @splinterstonks2 and @aubryd who share the prize after winning 18 matches, 3 loses and 1 tie. For all of players who have participated, Congratulations for the SPS reward you got, See you on the next tournament.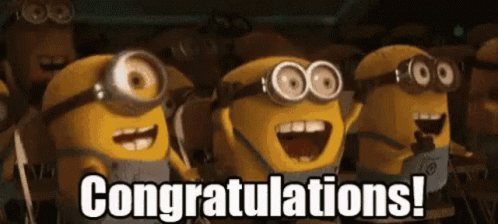 - ANNOUNCEMENT OF GIVEAWAY #40 WINNER -
Alright guys, now it's time for giveaway. We have 14 participants for the Giveaway #38. I'd like to say Thank you very much for visiting my blog and joined the giveaway. Here are the list of participants :
@engilhramn, @pero82, @treefrognada, @critosectadepit, @gregory-f, @ieronimus, @rayius, @henruc, @emeraldtiger, @noctury, @olaf.gui, @ianballantine, @willendorfia, @marleyroots
I hope I don't miss out any names there. Regardless you win or not, I hope you guys keep supporting me by participating in my upcoming giveaways because sharing to the community is fun. Here is the snapshot of the winner :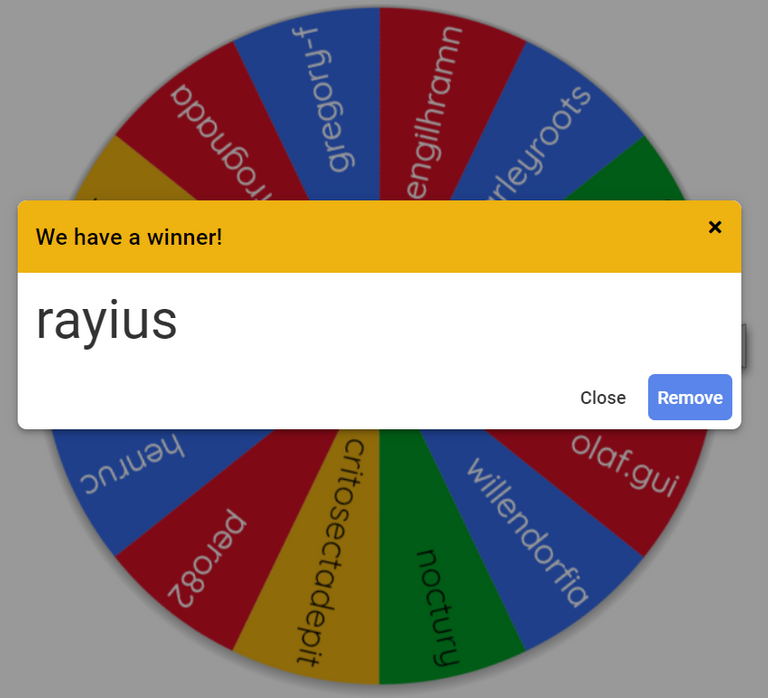 Congratulations to @rayius for winning Chaos Knight. This card has Shield, Giant Killer and Inspire abilities at maximum level which are very powerful in the battle.


1 BCX of Venari Wavesmith has been sent to IGN : @rayius, enjoy and take care of that Chaos Knight 👍. For other participants who didn't win, you can try your luck taking a part in the next giveaway below (Giveaway #42).

- GIVEAWAY #42 -
Alright, in the previous post we had some rare cards for the giveaways. In this giveaway post, there will be 1 Chaos Legion card that you could possibly win, Here is the card :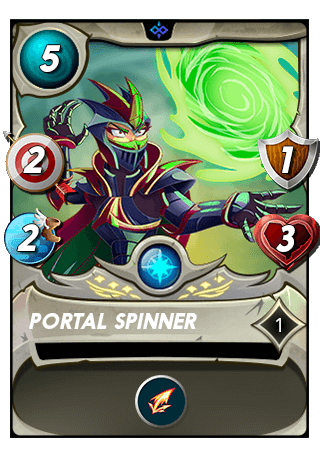 Portal Spinner
I will use Wheel of Names for the drawing and the name picked out will be given the card prize.
How to participate :
Please put your IGN (In-Game Name) in the comment section.
If you feel like the post is useful feel free to follow me for more battle tips and tricks and 2 weekly giveaways continuously. I'll make sure we will be good friends :)
Upvote is not a requirement but it will be greatly appreciated to increase the quality and the quantity of the next giveaway.
Only 1 person could win once a week.

Notes :
The cut off time is the pay-out of this post (7 days). I will put a comment "TIME'S UP" when the time is up.
The winner will be announced in the next giveaways.
If you want to give feedback or critics, feel free to leave any comments. As long they are constructive and not offensive, they will be appreciated.
Started from now, I will tag all of the participants who have joined (in the previous giveaway) in case you want to join the giveaway again, if you want me to stop tagging your IGN, feel free to comment STOP in the comment section.
Every time I posted blogs whether Art Challenge, Battle Challenge or Social Media Challenge, there will be 1 card be rewarded for the giveaway winner.
If you haven't got any Splinterlands account, you can get it here
Great thanks to @rimurutempest for sharing everyone's giveaway (including me), so the number of participants are increasing.

Alright, that's the end of this article guys, Thank you for visiting my blog. See you in the next article and giveaway. Take care~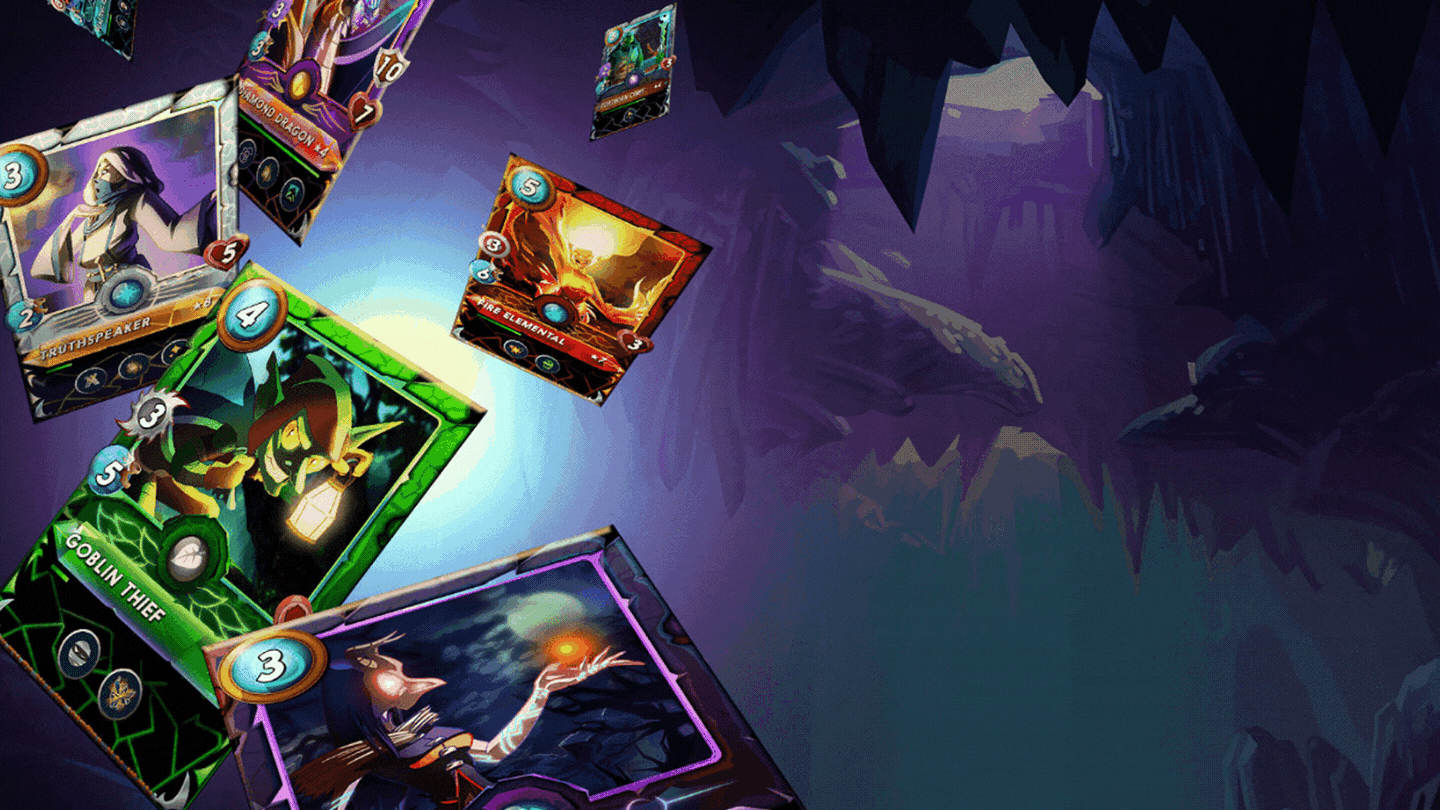 Source of picture :
https://defiance.games/games/play-to-earn/splinterlands/
https://www.gamersdecide.com/articles/lol-best-female-champions