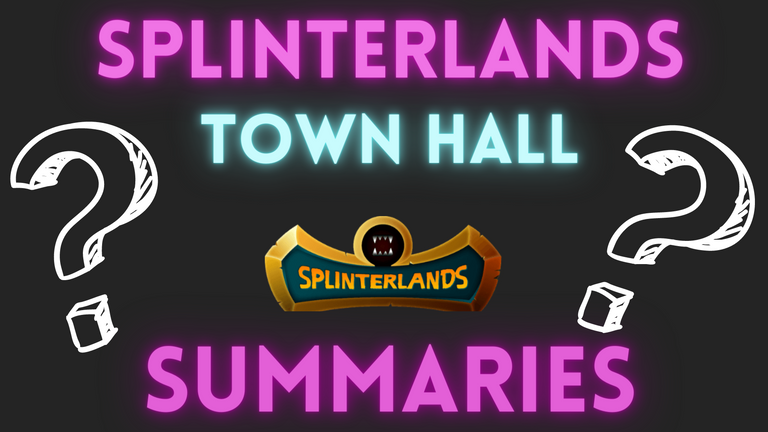 Where Are The Updates?
Hi everyone! I only have a few days left, but I will miss next Town Hall again next week, because I'll be flying across the pond back home to Kansas. I will have to do a "what I learned while in Australia post" at some point, but today, I'd like to say I'm surprised that Town Hall summaries aren't coming out for Splinterlands until a day or sometimes many days afterwards. Is anyone else noticing this? Is there a reason for the delay? I promise I'm not trying to complain and I hadn't noticed too much until I came to Australia and I can't listen to them as easily. I had to stop doing the minutes and it seemed like the Splinterlands summaries stopped as well. When I do the minutes, the Splinterlands summaries come out quite soon afterwards so it just seems odd to me.
Specifically, I remember several weeks ago I was looking for days for it, and FINALLY they made one, but in a "real-time" world, shouldn't a Town Hall Summary arrive fairly quickly after the event occurs? I thought to myself well perhaps they are on vacation and I don't want to imply anything negatively, but then the next week and the next, there is already new news/updates about the game before the Town Hall summary has even been posted.

There's Great Value in Sharing Updates on all Forms of Media
Once again, here's Rose the ideas girl, and I just think it's interesting that Splinterlands doesn't make summaries a priority as much as they could. A person could write up the minutes, post out the information, share on various forms of social media and then make quick infographics to express those highlights of what was most important. I haven't seen a Twitter post sharing the summaries in ages (unless I'm just missing them but I'm pretty fast on Twitter).
In fact, if they REALLY wanted to get with it, the summaries' person could then go back through the Discord comments and point out some of the great conversations that occur while the Town Hall is being held. If you're only watching on YouTube and not reading those comments as they roll by on the screen, you really miss out on some of the details. For example, I heard that Aggroed mentioned something in passing about land being PASSIVE in the game. Well, that is a HUGE bit of insight about land, isn't it? And so perhaps I need to just spill the tea.... maybe that's what I should write when I get home.... share all the hot tea from the AFTER Town Hall... hahaha.... :) Now I did see in the summary which came out just a few hours ago that they are saying land will not just be passive, but it does bring up some interesting thoughts on the land factor again. So what about sharing some of the AFTER commentary as well from the Town Hall? That would be very interesting.

If you want those summaries, let them know
So folks, I guess I'd like to know how many are looking for Town Hall summaries after the Town Hall and what value they believe they bring to the Splinterlands' community. If there's value, then maybe it's something Splinterlands could focus on a bit more and hey, since I've been happily doing the minutes when I can, I'm certainly game to help in any way I can. Either way, I'll be back to the minutes in 2 weeks, and I'm looking forward to it.
I believe if we share more information, if we explain Splinterlands in a more "laymans" terms for the general public, we will bring in dissatisfied people to Splinterlands easily because they will see the value of this game like we already do! Yipppeee!!!
If you enjoyed my post and want to try Splinterlands, please use my referral link: https://splinterlands.com?ref=rosiew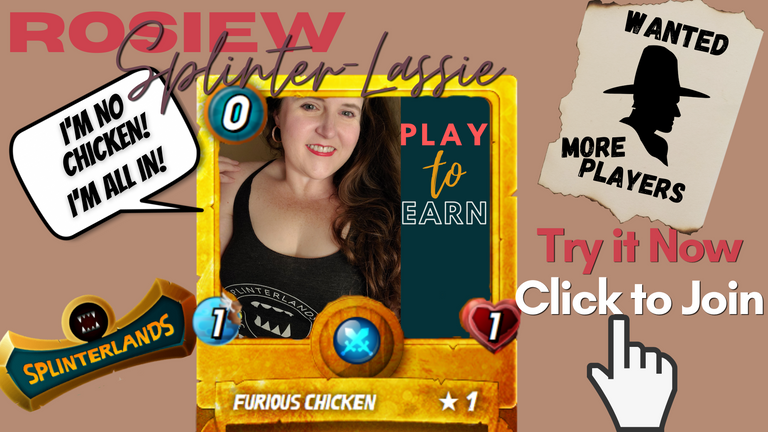 Please remember my post is not meant to be financial advice and is just my opinion.
Follow These Folks:
Splinterlands: https://peakd.com/@splinterlands/
PeakMonsters: https://peakd.com/@peakmonsters/
Monster-Curator: https://peakd.com/@monster-curator/
1Up (#OneUp): https://www.1up.zone/
Here are some great links to join as well!
Splinterlands Discord: https://discord.gg/Tw7KjNsQGs
PeakD Discord (PeakMonsters as well): https://discord.gg/7mQmzZeugE
Monster Market Discord (Monster Curator): https://discord.gg/DR3J9rfRFV
NFT Studios Discord (aka 1UP Discord #OneUp): https://discord.gg/4VYBcNuVQd