Note: I posted this here when I meant to do it on @herons-unlimited. That's the context most of this is written in - a guild for those accounts specifically.
So we've seen a bit of a testnet preview of the new guild system, and as promised it's a significant DEC sink. However, there are some benefits to what we're seeing so far, and the implication that there might be more in the future.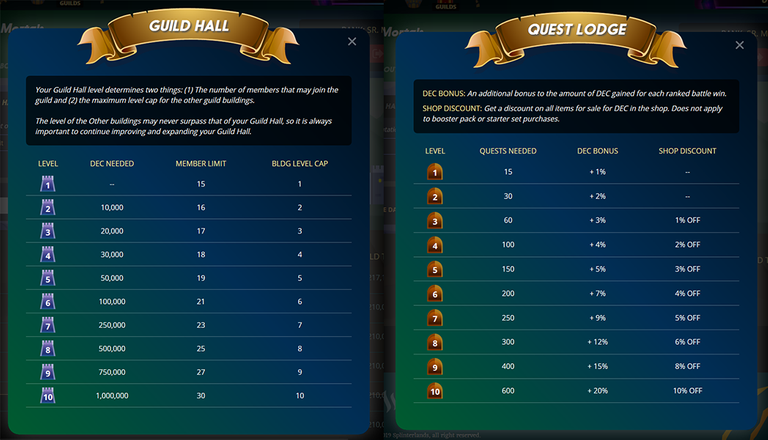 Benefits of guilds
Right now there are two benefits: a bonus to DEC earnings and a discount on DEC purchases in the shop. Both of these are significant.
Aggroed confirmed yesterday that the DEC bonus is not newly-generated DEC, it just adds more weight to your share of the existing rewards pool. So we shouldn't expect to see a 20% DEC bump over what we're earning now, and if we choose not to form a guild we might see our earnings decrease as other players get their bonuses.
The shop discount is really only meaningful at high levels currently; once the Quest Lodge is at Level 9 buying potions would become profitable.
In addition there's the implication that there will be more guild buildings in the future, and investing in a guild now would put us in a good position whenever that's released.
Risks of guilds
They're expensive. A max level guild hall will cost 2.71 million DEC, which is a whole lot. Also with the guild member cap at 30, and 18 Heron accounts already running, we're inevitably going to need more than one. While they're probably profitable in the long term that could be a very long term.
While making potions profitable would be great, they'd also be a significant recurring expense that had to be covered somehow.
---
From looking at this I currently see four options, and while I won't commit to any of them until guilds are actually released, I'd like input from our members and prospective members, either here or on Discord.
Option 1: tax to build
I would implement a 10% tax on all DEC earned by our accounts, which would be used purely to upgrade the Herons guild(s), and eventually buy potions for the accounts. Once accounts are at their intended level I expect 30 accounts to bring in something like 20,000 DEC per week by this method, which would be a long time to get a guild to a high enough level to be meaningful.
Option 2: build to tax
Like Option 1, this features a 10% tax on all DEC earned, but in this case we would spend the capital up front and the tax would come to the investors in return. I'd put out a call for DEC and anyone who sent some in would get a pro-rated share of the tax in return. I'd expect to put in a significant amount, and probably Neal would put in a significant amount, but neither of us is in a position to cover 2.7 million ourselves right now, so we'd need some help. In this case I'd expect to be at least to level 7 immediately, and we should be able to build up the Quest Hall quickly, so within a month or so we'd see an increase in DEC that should be expected to cover most of the tax.
Once we got to a high enough level some chunk of the tax would have to be dedicated to buy potions as well, or else an additional one on top of the one that pays off the investment.
We could repeat this if and when a second guild becomes necessary.
Option 3: allow the players to join other guilds
In this option, Herons doesn't build a guild at all, but players can choose to join other people's guilds if they want to, and I build an automated system which allows them to send DEC to the accounts and have that DEC automatically contributed to the guild. Programming that wouldn't be particularly hard. This would allow the players and owners of individual accounts to get guild benefits without the whole system having to spend anything.
Option 4: just ignore guilds
Here we do nothing, spend no money, and get no benefits. This strikes me as seriously worth considering - the profits from having a non-max guild are currently pretty small, and if it's going to be a year or more to see return on investment I'm not convinced it's worthwhile. We'd see a slight reduction in DEC earned in play as other players built their guilds.
Please share your thoughts
Personally, I was leaning toward one of the first two options when I started this post, but as I've written it out I think the latter two might very well be better. I certainly would expect to make more out of my DEC through Ottermaker than through investing it in guilds, though of course others don't have that opportunity.
Maybe some of our owners would see Option 2 as a good investment, because they'd make both from the tax and from the increased earnings? If you're willing to sink some DEC into that I'd love to have a preliminary estimate of how much.