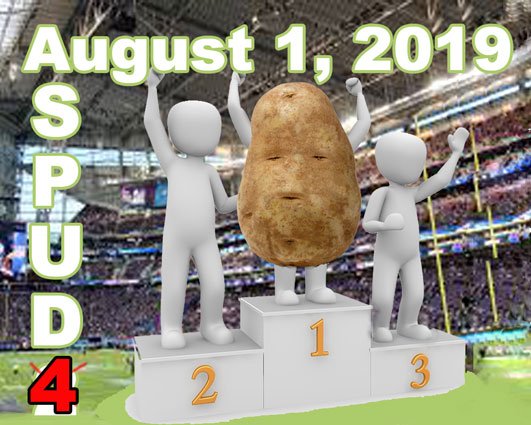 Teaching Others to Fish
The Steem Blockchain is a crypto-currency community unlike any other. Of course every crypto-currency has to have a community that supports it or it wouldn't even exist, but unlike the Steem Blockchain, those communities typically are not welcoming to other cryptos other than their own. The Steem Blockchain is the most inclusive, diverse and Self-Empowering blockchain of all the crypto-currency blockchains that exist today, making for a Blockchain Community that is the envy of the crypto-currency World.
Give a person a fish, and you feed them for the day. Teach a person to fish, and you feed them for a life time.


Old Chinese Proverb?
This old adage of uncertain origins certainly applies to the Steem Blockchain and its ability to allow the individual to become self-sufficient and self-empowered. This is probably the most overlooked aspect of the Steem Blockchain and its growing ecosystem, while current social media sites like Facebook and its subsidiary, Instagram, take advantage of its users' data to make millions if not billions of dollars in profit by selling that data. That profit solely belongs to Facebook and its investors but not the users themselves. This is where the Steem Blockchain steps in with a social media paradigm shift. On the Steem Blockchain the roles are reversed and the users profit from their use of the Steem Blockchain and its many different Dapps, from games to video blogs.
By Steem Community demand Steem Power Up Day 4 (SPUD4) will take place on August 1, 2019. This SPUD4 event now has 4 prizes thanks to the many sponsors that are willing to support this initiative. This is totally amazing, and furthers the idea that many are interested in helping others to better their lives via the Steem Blockchain.
What other blockchain can say that?
SPUD4 PRIZE UPDATE - 4TH PLACE NOW ADDED
Prizes:
1st Place
2500 Steem Power Delegation for 4 Weeks - sponsored by @xpilar
1000 Steem Power Delegation for 4 Weeks - sponsored by @sultan-aceh
20 SBI shares, "The Gift that keeps on Giving" - sponsored by @jlsplatts
*If the 1st Place Winner is from Aceh, Indonesia
+1000 Steem Power Delegation for 4 Weeks - sponsored by @sultan-aceh
2nd Place
*if no 1st Place winner from Aceh, Indonesia
+1000 Steem Power Delegation for 4 Weeks - sponsor @sultan-aceh
3rd Place
4th Place
250 Steem Power Delegation for 4 Weeks - sponsor @taliakerch
10 Steem Basic Income shares sponsored by me, @streetstyle
Rules to Win Prizes for SPUD4 :
MUST have a reputation score BELOW 69.00 ( so 68.99 is good & Can participate.) AND more than 75 STEEM POWER (prior to SPUD4) BUT LESS than 7501 Steem Power.

MUST have a reputation score ABOVE 42 (so rank of 41.99 will Not Win)

MUST have at least 1 Steem Post in their blog about SPUD4

MUST Power Up Steem on August 1st, 2019

On August 1st, you MUST make a post about your POWER UP. It can be as simple as "I powered up X amount of Steem" to a simple picture/screenshot of your Power Up and posted to your Steem blog, or it could be a super long dissertation on Steem Power. IMPORTANT: Use the SPUD and/or SPUD4 Hash tags so that I can be sure to see them.
The winner must meet all 5 requirements, and will be the one with the Biggest Steem Power Up PERCENTAGE, not the biggest Power Up. This means that it will be based on the ratio between your current amount of Steem Power and the amount you power up on August 1st.
For Example:
If you have 1000 Steem Power already powered up prior to August 1, and on August 1 you complete steps 1-5 with a 100 Steem Power Up,
and
another Steemian has 100 Steem Powered up prior to August 1, and on August 1st Powers Up 20 Steem, then this 2nd user would be winning with a 20% power up versus the first example with a bigger power up but smaller percentage of only 10% based on their account.
This prize is meant to incentivize the smaller Steemians, the planktons, minnows and barracudas out in the Steem Ocean to participate in powering up on SPUD, and hopefully create more understanding as to why Steem Power is what backs the Steem Economy. The winners will be announced via a Steem Post a few days later, and if no one challenges it or lets me know I missed them after 2 days from Winner Announcement, the Winners become official and the prizes will then be given out.
Thank you to All our Prize Sponsors, Truly Amazing!!
Cheers Everyone, and Happy SPUDDING!
+++ @streetstyle
PS, SPUD4 could use this information in all the different languages used on the Steem Blockchain, thank you!!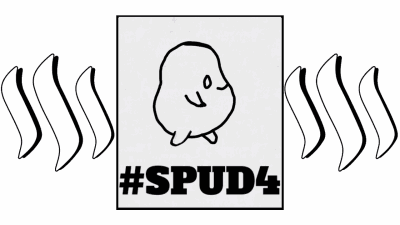 by @grisvisa and @eddiespino