If you are a community manager, an influencer or if you have a large number of followers who regularly interact with you by writing comments on your posts, then you know how important it is to answer to each of them. But this daily task is also time consuming and can become quite exhausting.
Moreover, if you manage multiple accounts or work as a team to manage a community account, it can turn into nightmare if you are not well organized.
Introducing SteemReply
SteemReply will help you to manage your incoming flow of comments with a dedicated, non-distracting interface.
You won't anymore miss to reply to any comment because they will come into your inbox to be managed sequentially. With SteemReply, you will stay focused while dealing comments as the interface will allow you to reply and/or upvote each of them.
You will be able to manage multiple accounts.
You will be able to work as a team as your work will be synchronized across devices.
SteemReply is definitely a huge time saver!
Manage your comments easily
SteemReply will look for and display any unanswered comments you have received on your posts or on your own comments in the last 7 days.
With SteemReply, you can:
reply to the comment
reply to and upvote or downvote the comment
upvote or downvote the comment and mark it as processed
completely ignore an author, therefore filtering out all his comments
Once a comment has been processed, it will disappear from your inbox and you will be ready to process the next one.
Security
SteemReply will never ask or store any of your credentials. Instead, SteemReply relies on Steem Keychain, a browser extension created by @yabapmatt and @stoodkev. For more information about Steem Keychain, read this post.
You can download and install the latest published version of the extension for the following browsers:
Quick tour
To use SteemReply, go to https://steemreply.com
First, you will have to identify yourself: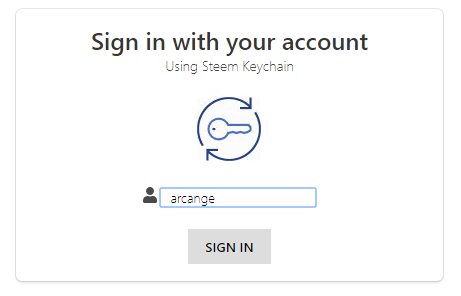 If your Steem Kechain wallet is not unlocked, you will have to unlock it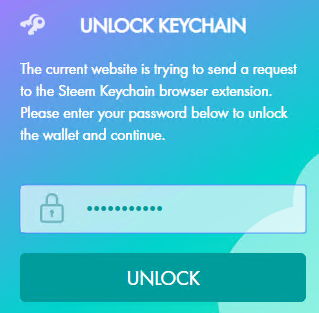 Keychain will then ask you if you allow the steemreply.com website to check if your wallet contains your posting key. SteemReply performs this check because your posting key will be used later to send your replies, and eventually do upvotes/downvotes, on the blockchain.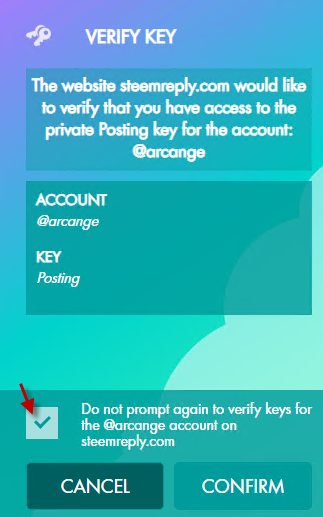 If you want to avoid this popup window to appears each time you access SteemReply, you can safely check the checkbox before clicking CONFIRM.
SteemReply will load your unanswered comments and display them in an "inbox" style window.​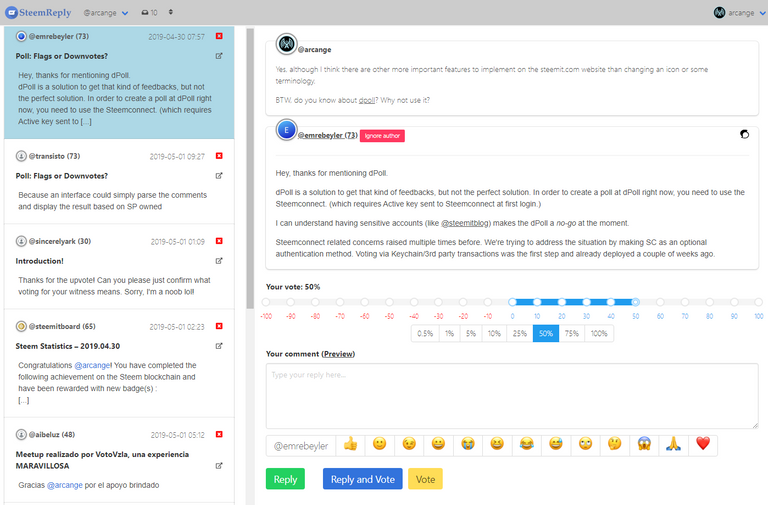 On the toolbar, you will see:

The name of the active user.
A basket icon with the number of comments waiting for an answer. Click on this icon to refresh the content of your inbox.
A sort icon, to switch the sort order of your comment. The default sort order is to display oldest comment first. Your choice will be persisted between sessions.
The left pane shows a list of all comments. Each comment box shows:

The name of the author and its reputation. If you click on it, SteemReply will open its profile in a new tab.
The date and time of the comment
A red cross. Clicking on it will discard the comment, i.e. it will no more appears in the list.
A small icon. Clicking on it open the comment on steemit.com in a new tab
A quick overview of the comment content.
The right pane show the selected comment details and allow you to manage it.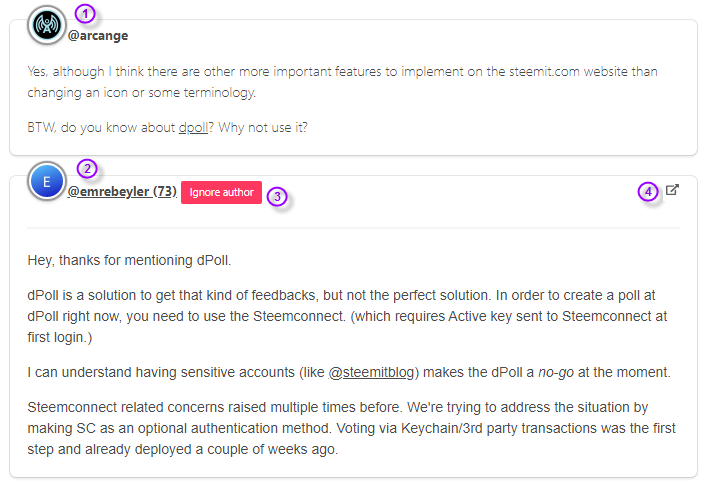 If the selected comment is a reply to one of your comment, your comment will be displayed on top of if so you know what you wrote without opening the comment on steemit.com.
Your name is clickable and allows you to open your profile in a new tab.
The name of the author and its reputation. If you click on it, SteemReply will open its profile in a new tab.
If you click on the Ignore author button, this comment will be removed from the list as all other comment from the same author and you will never see comments from this author anymore.
A small icon. Clicking on it open the comment on steemit.com in a new tab
Under the comment, there is a "vote zone" with a Voting Power slider several quick VP select buttons.

You can select a positive value to upvote the comment, or a negative one to downvote the comment. SteemReply will memorize your last Voting Power from comments to comments and from sessions to session.
The last box is where you will write your answer:

You can click on the preview link (1) to toggle the display of a preview pane on the right of your comment.
Below the comment input box, there are several button (2).
The first one contains the name of the commenter. Clicking on it will insert it at the cursor position in the input box.
Then you will find a few emojis that you can also insert in your answer. I plan to add a complete emojis selector later.
Finally you have 3 "actions" buttons:
Reply will sent your answer on the steem blockchain
**Reply and Vote" will sent your answer on the steem blockchain and vote on the comment using the selected Voting Power.
Vote will vote using the selected Voting Power (without any answer).
When you click on one of these buttons, the comment will be removed from your inbox and considered as processed.
The first time you will reply and/or vote with SteemReply, your Steem Keychain browser extension will display a popup windows and ask your authorization to perform the required action: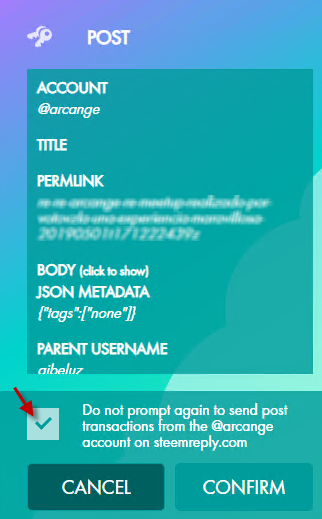 To avoid being annoyed by such popup each time you perform an action, you can safely check the checkbox before clicking CONFIRM.
SteemReply can manage multiple accounts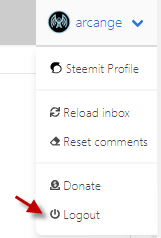 To add another account, logout the application and redo the registration process with the account you want to add.
From then, SteemReply will remember all accounts you have used.
To quickly switch from one account to another, click on the active usename on the toolbar and select another account.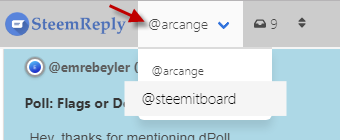 The next time you will access Steemreply, you will be automatically logged on with the last used account.
Development roadmap
Here are the features I plan to implement in the next releases:
Support for your favorite Steem blockchain client
Registered account management
Ignored author management
Full emojis selector
Predefined customizable answers templates
List all the comments / posts where you are mentioned
Tour of the application (tour.js)
Night mode
… and much more !
Let me know what you like or dislike and I will do my best to improve it. Any suggestion or constructive feedback is more than welcome.
Credits and support
This tool has been greatly inspired by Fast-reply made on long time ago by @oroger. Unfortunately, his project was no more working nor maintained. Moreover, it used SteemConnect for authentication, and being a security paranoid, I always have been reluctant to provide my credentials to third party apps. Therefore, I have rewritten and improved the app to support Steem Keychain and post HF20 new fonctionnalites.
I made a lot of cookies and tea disappear while rewriting the app. Therefore, any donation to replenish both boxes are welcome. A donate button is available in the top-right menu. Feel free to use it to support this new project.
If you like this tool, please talk about it to your Steem friends.
Get started, it's free!
Go to https://steemreply.com and stay in touch with your fellow Steemians!
---

footer created with steemitboard - click any award to see my board of honor