Hello everyone
Happy Sunday to you all, thanks for stopping by ones again. I hope you had a blessed service in your various places of worship.
The premier league has been hit with a wave of the coronavirus as Chelsea star Callum Hudson-Odoi becomes the first player to have been tested Positive for the virus. He was actually tested after showing symptoms of the common cold and the club thought it wise to run a medical test on him which they confirmed had contacted the virus.
Hudson-Odoi becomes the second high profile premier league figure to have the virus after Arsenal manager Mikel Arterta tested positive to the virus on Thursday. The Chelsea personnel who had recent close contact with the player in the men's team building will now self isolate in line with Government health guidelines. This will include initially the full men's team squad, coaching staff and a number of backroom staff. It is expected that those who did not have close contact with Callum will return to work in the coming days.
The club also disclosed that some parts of the training center would be closed due to the virus. In the meantime, the men's team building, one of several separate buildings at their training ground, will remain closed. The rest of their training facility, Stamford Bridge and other facilities are operating as normal.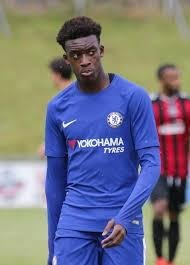 This virus is really spreading and it's becoming more deadly by the day. I know and pray that it won't get to us and to you reading this the virus is never for you or your loved ones.
Thanks so much for creating time to read this post am honoured and grateful. Thanks so much. Until i come your way again tomorrow stay motivated and remain blessed. Bye for now.