Fellow Steemians,
We are proud to be the first betting platform to integrate our native token with Steem Engine. In our journey, we have collaborated with a person whom we consider the 'Steve Jobs' of Steem, the genius behind Steembottracker, Steem Keychain, Steem Monsters & Steem-Engine, Yabapmatt. It would not have been possible for us to create any of our games without the products developed by Matt for the steem community. So we owe a big thanks to him for all his contributions to Steem.
We are in the final stages of launching our fully transparent GAMER token on steem engine, a sidechain which is immutably linked to the steem blockchain. This means that all your token transactions, holdings, and earnings are stored immutably on the blockchain and anyone can access and verify any transaction related to the GAMER token.
Token Launch will be within 1-2 weeks from now. Also, all the bets placed till launch will also receive their share of tokens.
GAMER Token – BE THE HOUSE

Become a part owner of the kryptogamers platform and earn daily dividends for lifetime from the profits generated by the platform.
The best part is that the GAMER tokens will be transferable and tradable with Steem through the Steem Engine internal exchange after the first 10-15% tokens are issued through "Smartdrop" as explained below.
But unlike most of the tokens which are only used for trading, speculation and pump-dump schemes, a GAMER Token, will always hold some intrinsic value since all the token holders are entitled to a fair share of the profits generated by the platform for lifetime.
Moreover, we also have plans to integrate it with SMTs if launched.
Since we have the lowest house edge in the industry, our games are designed in such a way that players can experience the thrill of betting as well as earn a decent passive income by holding GAMER Tokens.
Token Distribution Plan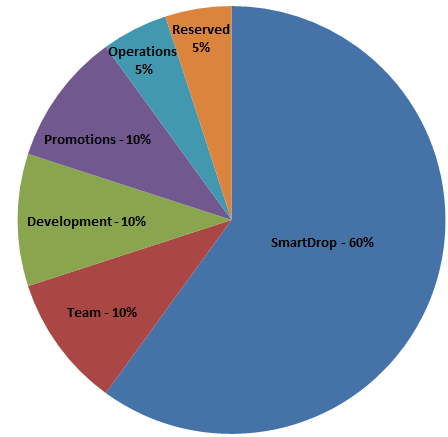 Max Supply of GAMER tokens will be 10 Billion tokens since we already have 2 games and are planning more games in the future.

Team Tokens (10%) will be accumulated in the official @kryptogamers account for now and won't be available for trading or profit sharing for a lock-in period of at-least 1 year to avoid any price manipulations.

Reserved Tokens (5%) may be used in either of the categories (except in the Team Tokens) required for the sustainable growth of the platform as per the market conditions of the future.

6 Billion Tokens (60% of the total token supply) will be distributed to the players of Kryptogamers via 3 different channels:

Play: For every 1 STEEM wagered, 100 GAMER tokens + Bonus Tokens as per Club rewards will be distributed irrespective of whether you win or lose the game. 'Playing' is the best way to earn GAMER tokens since you can enjoy the game, earn some tokens and maybe win some steem as well.
Refer: For all referrals, we currently distribute 20% of the house edge (0.5%) of blackjack bets and 10% of the house edge (1%) of dice bets of all your referred users daily for lifetime. Additionally we will distribute 10% of all the bets of your referred users as GAMER tokens.
Delegate: For every 100 Steem Power delegated to @kryptogames, 100 GAMER tokens (1:1) will be credited to your account every day. Distribution will be halved every time the total Steem Power delegated to @kryptogames reaches multiples of 100,000. (Eg: After 100,000 SP delegated, 50 GAMER tokens will be issued. After 200K SP delegated, 25 tokens will be issued per day)

Early Bird: As promised earlier, all bets placed till the token launch will receive an Early Bird Bonus of 10% bonus tokens in addition to the regular tokens earned at the rate 100 tokens per 1 steem wagered.

Distribution Rate of 100 tokens per steem will be halved after every 10% of the smartdrop tokens are issued.
Dividend Payouts & Token Buyback/Burn
Payout: 70% of the profits will be distributed among the current circulating supply of 70% community token holders (Smartdrop + Promotions) right from the day our dividend payout system is launched which will take around 3-4 weeks from now.
Eg: If a total of 1 Million community tokens are circulating on the first day of dividend payouts and the platform achieves a profit of say 100 steem on that day, then 1 steem will be distributed for every 10000 tokens on that day.
We may also consider staking 'GAMER' tokens to receive dividends in order to discourage token dumping by extremely short-term token holders.
Token Buyback/Burn: At some point in the future, we will initiate a token buyback or token burn system in which a particular amount of tokens will be bought back by the platform or burned in order to decrease the token supply and increase the value of tokens for our token holders.
Bug Bounty Rewards Program
Introducing a new bug bounty rewards program, where each bug discovered by you will get a bounty from anywhere between 100 GAMER tokens up-to 50,000 GAMER tokens depending upon the severity of the bug as decided by our development team.
kryptogamers.com
Support
For any questions, feel free to contact us on Discord
Stay Happy! Stay Motivated!