Proposal from eSteem team to develop and deliver open source, fully-fledged exchange software.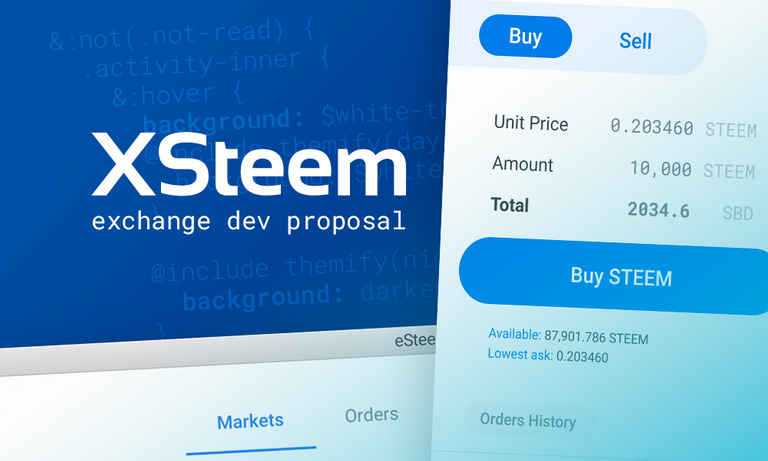 Synopsis
XSteem is opensource exchange built on top of Steem. Goal of this proposal is to allow eSteem team to build decentralized opensource exchange application (web and mobile app). Right now, we have internal exchange with built-in api and soon there will be SMTs, api and functionality of these will be limited and cannot compete with traditional experience traders have. Our goal is to build infrastructure for open exchange apps. We have had eSteemX project which we started working on last year but due to shortage on resources, we had to stop project and focus on eSteem. But with help of Steem.dao we can pick up and continue to work on project with new brand and community vision.
Timeframe
Initial timeframe we are choosing 6 month so that we can show progress bi-weekly and estimate delivery of both user facing Website and Mobile app. As well as backend API to improve/extend functionality to allow us to query traditional exchange like requests, candlestick charts, transaction free trades and wallet/token management.
Deliverables
Funds will be spent for development expenses, servers, designing product/UX. Below some items and allocation of funds for them.
Opensource backend api service (possibly, hive plugin like we did with search engine) (30% of funds)
Website with keychain and steemconnect support (20% of funds)
Mobile app with steemconnect support (35% of funds)
Design materials, UX elements, etc. (10% of funds)
Server setups and requirements, cost (5% of funds)
Source code will be available https://github.com/esteemapp
We will publish bi-weekly updates
Budget
10k SBD monthly (333 SBD daily) for initial 6 months, starting from 1st November.
Afterwards, project will be re-evaluated and new proposal may be submitted depending on community feedback.
Approve Proposal #44
Also see:
https://steemitwallet.com/proposals
https://steemproposals.com/proposals/good-karma
https://steempeak.com/proposals
Thank you for your support! Let's build the future together!
---
EDIT: