Reminder: October 1st the SteemFest hotel rooms are back on general market.
And prices increase most probably.
Wow, this morning I received a fine. It was a fine from Monday 6 November 2017, the day after SteemFest 2 when I left Lisboa with the family to chill for a week in the south of Portugal. Believe it (or not) but the fine time was actually 13:37:00 - now they must be f*cking with me. Anyhow it brought back fond memories of SF2 but also of the fact that the vending machine at the tollroad exit had a problem and I got a receipt which I paid at the airport when we left back for Amsterdam.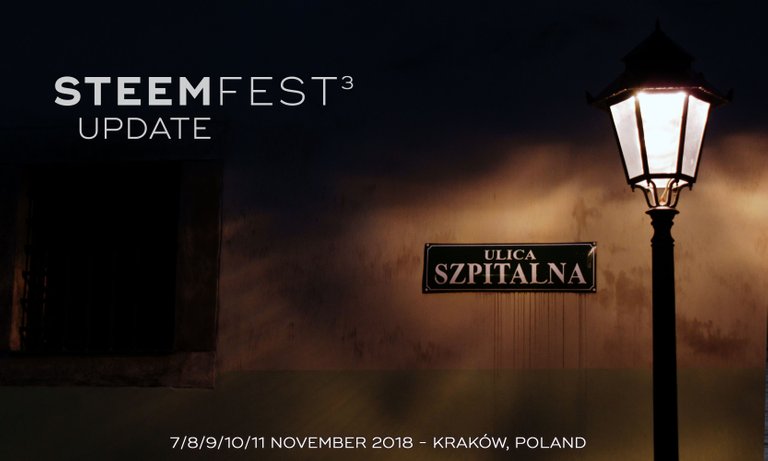 "Un rincón de Cracovia" by danielico on Flickr
This week was all about Hardfork 20 obviously after last weeks halt and wow yes, it definitely needs some tweaking, but here we are looking at a 0.20.4 almost being rolled out which should enable transactions again for many users currently stuck, and some other fixes as well. I'm curious how it all plays out, but I do understand something had to be done against limitless posting with the broken bandwidth problem, especially if the chain gears up towards service-ing SMT's as well. That said it should not be the case that newcomers can't post any longer or even new accounts cannot be used, only after 5 days. But these things are being fixed and I think it is smart that you know think before you post.
I encountered this actually today. I was logged in with the @whalefountain user, as the SteemWhale had some physical problems after barely surviving a flood last week due to autumn storm in combination with Syzygy spring-tide and did some checking on recent transfers as the bot for the service of @whalefountain runs on "transfer" operations mainly. Then I wanted to do a comment to a heavy user of the @whalefountain, namely @tufkat, saying that all is resolved now and @whalefountain is happy spraying again - but refrained, intended to use my own account to comment instead. Anyhow with the 20.4 patches I hope to see stuff change for the better with bigger Resource Credits pools, but I think we have not seen the end of all challenges just yet.
Ok. SteemFest!
In the time left over I managed to work on the SteemFest Mobile App, which was originally build by @good-karma for SteemFest 1, with minor help from me and adjusted last year to work for Lisbon. This year I've taken over the app hosting on the same account as SteemWallet.app in the appstores and the app will roll out in about a month latest. This time it has a nifty feature to scan users' badges so you can store & follow & remember to whom you talked during the event in a convenient list. Next to this some bug fixes for the online/offline detection and a stylesheet overhaul to get into that 'Let's Fire Things Up' mode :)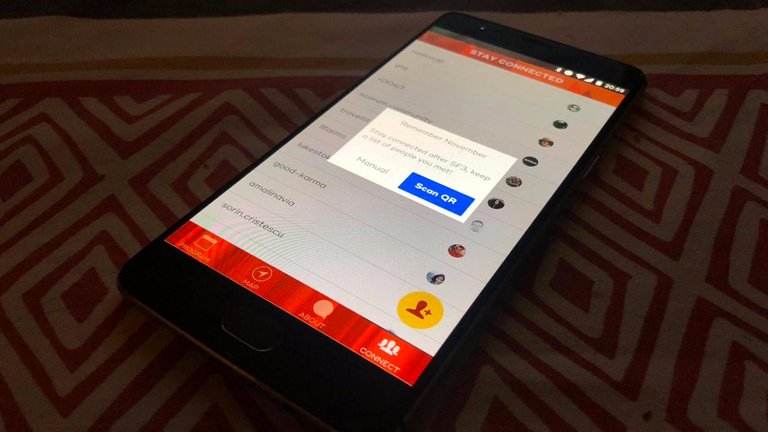 Testing the new "Stay Connected - Remember November" feature of the SteemFest app
Bitshares at SteemFest worker proposal
The unofficial predecessor of Steem, the Bitshares chain has a feature I really like a lot, namely the so-called "Worker Proposals". These enable one to write a proposal and get part of the daily reserve fund paid out to fund that proposal. Now I've written a proposal for Bitshares to sponsor SteemFest and this worker is currently up for voting. If it maintains voted for (it just got voted in!) I will next week progress with announcing the Bitshares Give-Away SteemFest Tickets competitions (as part of the sponsorships) through the @bitshares-at-sf account.
If you want to read the full proposal read here: https://bitsharestalk.org/index.php?topic=27177 - should you have Bitshares account, feel free to vote it with your stake, if you like it's purpose! Also, if you want to learn more about Workers on the Bitshares chain, go here: https://bitsharestalk.org/index.php?topic=19559.0
New Names announced:
Reminder: Art at SteemFest looking for your best work!
Just like the previous two SteemFest editions this year Art At Steemfest is going to happen in the weekend dedicated to works by the arts community. It is a pop-up art gallery with artworks by Steem-users. This year the venue is a multimedia expo room on walking distance of both hotels. By using this 360 degree projections sphere there will unfortunately be no actual prints to be made, but the upside is that we have virtually unlimited place for artworks thanks to this rotating all-around-you animated projection gallery!
If you have a (digitized) artwork (photo, painting) you want to be considered for the Art at SteemFest pop-up art expo during SteemFest, please follow this form to share your work.
Click here for the Art at SteemFest submission form
---
Ongoing SteemFest ticket give aways
Last week ! @scorum.community SteemFest ticket raffle: https://steemit.com/steemfest/@scorum.community/steemfest-2018-ticket-giveaway-from-scorum
Till HF 20 @pharesim is giving away 1 free ticket to Steemfest: https://steemit.com/steemfest/@pharesim/why-should-you-get-a-free-steemfest-3-ticket
@steemfestdreams is running a contest and you can still participate: https://steemit.com/steemfestdreams/@steemfestdreams/time-to-buy-steemfest-tickets-don-t-miss-your-chance-to-win-a-free-ticket-and-travel-expenses
Have a nice weekend!
Greetings from Amsterdam,
---
Get your SteemFest ticket at steemfest.com
Ticket prices increase in 21 days!
read more about the price increase algorithm here
Liquid rewards from this post will go to organising @steemfest
SteemFest's ticket reductions are made possible by generous donations from: