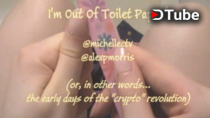 ---
Note that this is the "extended" version of our video, "Goodbye YouTube, it's the END of an ERA :: Hello STEEMIT and DTUBE!", featuring one of our most popular viral YouTube videos of all time.
"I'm Out Of Toilet Paper!" reached over 30 MILLION views and was live and monetized for over THREE YEARS before YouTube decided it was "inappropriate", and removed it completely from YouTube (although ironically, it does still exist in other copycat accounts! lol).
Regardless, we expect YouTube will probably get around to removing the "2018 version" sooner or later as well, cuz, you know... we're "Divergent"! 😘 lol
But no worries, it will now also live on... through DTUBE as well! 😀
It's always fascinating in life how things seem to come full circle. As YouTube feels we are no longer "worthy" to be members of their once coveted "partner program", despite us being on YouTube since nearly the beginning (since 2006!), we felt compelled to create these videos...
Check out the full blog post relating to this video on STEEMIT here:
https://steemit.com/steemit/@alexpmorris/good-bye-youtube-it-s-the-end-of-an-era-hello-steemit-and-dtube
In the full blog post, you'll also learn how you too can vote for STEEMIT content and DTUBE videos past the payout date using my "Past Payout Monetizer" TamperMonkey script, by targeting unexpired comments by the author!
Michelle on STEEMIT: https://steemit.com/@michellectv
Alexander on STEEMIT: https://steemit.com/@alexpmorris
See y'all round the cryptosphere! :D
Also, a special thanks to @seveaux on STEEMIT for allowing us to use his epic song "Final Battle" for this piece: https://soundcloud.com/seveaux/final-battle
---
▶️ DTube
▶️ IPFS