Welcome to my Steem Stats Report for Tuesday, July 18, 2017. All data is coming directly from the Steem blockchain and is based on UTC time.
Some users with less than 10 Steem Power are experiencing problems with voting and posting. Most of the witnesses have raised the block size limit which should fix this issue.
If you are new on Steemit and are still getting this message "Bandwidth Limit Exceeded", then go to this post by @neoxian.
I've got some extra stats about the number of Active Users:
May: 33,655 active users
June: 89,950 active users
July (so far): 74,642 active users
Last 30 days: 103,989 active users
Wow... More than 100,000 active users over the last 30 days!
1. Daily number of Posts (including comments)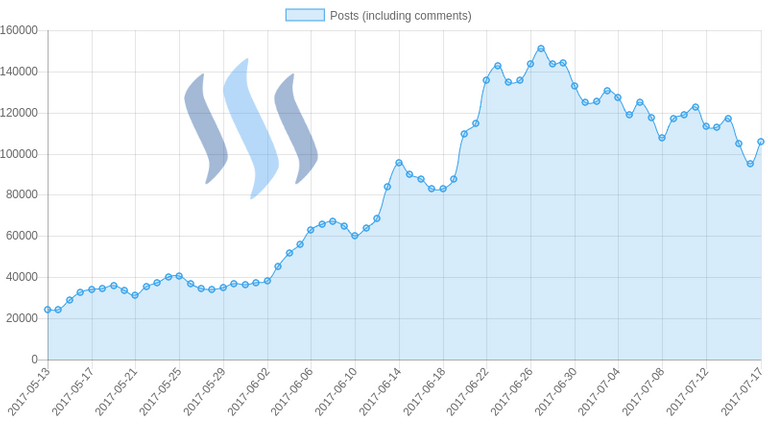 | Date | Posts |
| --- | --- |
| 2017-07-17 | 105,713 |
| 2017-07-16 | 95,292 |
| 2017-07-15 | 104,959 |
| 2017-07-14 | 116,971 |
| 2017-07-13 | 112,677 |
| 2017-07-12 | 113,418 |
| 2017-07-11 | 122,627 |

2. Daily number of votes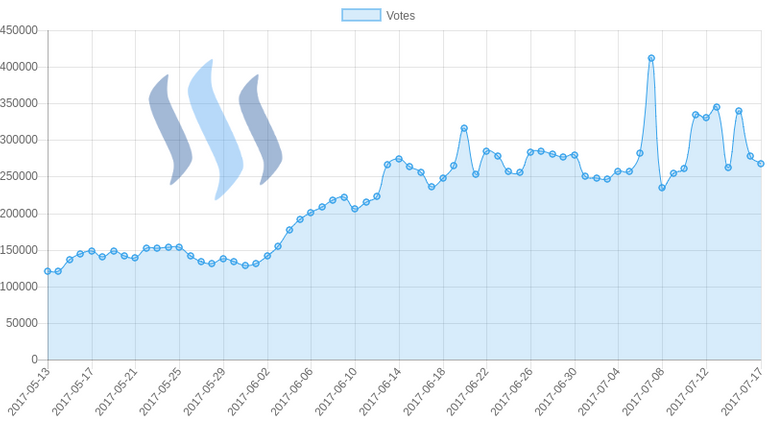 | Date | Votes |
| --- | --- |
| 2017-07-17 | 267,714 |
| 2017-07-16 | 278,240 |
| 2017-07-15 | 339,990 |
| 2017-07-14 | 262,144 |
| 2017-07-13 | 344,899 |
| 2017-07-12 | 330,604 |
| 2017-07-11 | 334,498 |

3. Daily active users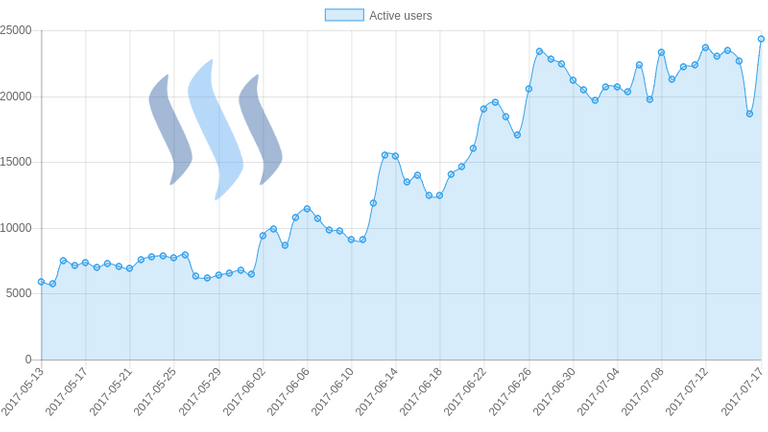 | Date | Active users |
| --- | --- |
| 2017-07-17 | 24,310 |
| 2017-07-16 | 18,650 |
| 2017-07-15 | 22,698 |
| 2017-07-14 | 23,434 |
| 2017-07-13 | 23,021 |
| 2017-07-12 | 23,703 |
| 2017-07-11 | 22,401 |

4. Posts + Comments per post
| Date | Average # comments |
| --- | --- |
| 2017-07-17 | 3.58 |
| 2017-07-16 | 3.49 |
| 2017-07-15 | 3.46 |
| 2017-07-14 | 3.66 |
| 2017-07-13 | 3.60 |
| 2017-07-12 | 3.47 |
| 2017-07-11 | 3.77 |

5. New accounts created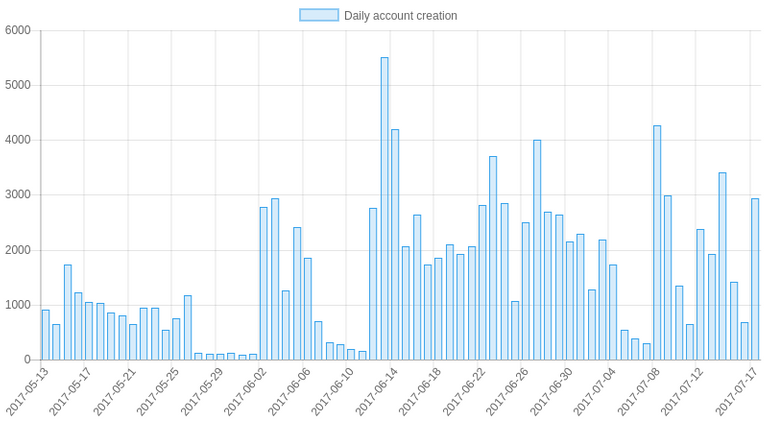 | Date | New Accounts |
| --- | --- |
| 2017-07-17 | 2,941 |
| 2017-07-16 | 684 |
| 2017-07-15 | 1,425 |
| 2017-07-14 | 3,418 |
| 2017-07-13 | 1,929 |
| 2017-07-12 | 2,386 |
| 2017-07-11 | 646 |

6. Daily Amount of SBD converted to Steem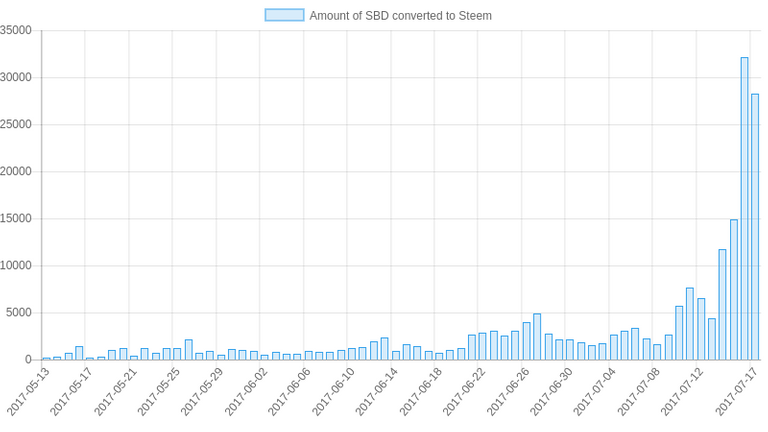 | Date | Amount in SBD |
| --- | --- |
| 2017-07-17 | 28,233.012 SBD |
| 2017-07-16 | 32,119.815 SBD |
| 2017-07-15 | 14,900.507 SBD |
| 2017-07-14 | 11,742.780 SBD |
| 2017-07-13 | 4,395.542 SBD |
| 2017-07-12 | 6,499.204 SBD |
| 2017-07-11 | 7,668.731 SBD |

7. Daily Amount of Steem Powered UP
| Date | Steem |
| --- | --- |
| 2017-07-17 | 367,028.405 STEEM |
| 2017-07-16 | 177,185.980 STEEM |
| 2017-07-15 | 170,335.426 STEEM |
| 2017-07-14 | 115,519.631 STEEM |
| 2017-07-13 | 270,897.621 STEEM |
| 2017-07-12 | 240,715.498 STEEM |
| 2017-07-11 | 474,005.248 STEEM |

8. Daily Steem & SBD Transfers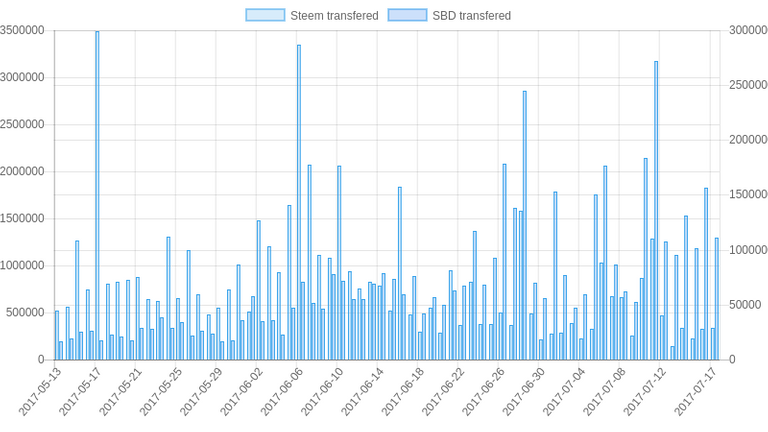 | Date | Steem | SBD |
| --- | --- | --- |
| 2017-07-17 | 336,667.913 STEEM | 111,380.025 SBD |
| 2017-07-16 | 327,187.927 STEEM | 156,824.797 SBD |
| 2017-07-15 | 228,607.508 STEEM | 101,297.330 SBD |
| 2017-07-14 | 333,225.031 STEEM | 131,046.854 SBD |
| 2017-07-13 | 142,135.930 STEEM | 95,401.779 SBD |
| 2017-07-12 | 467,083.946 STEEM | 107,960.361 SBD |
| 2017-07-11 | 1,290,107.202 STEEM | 272,017.567 SBD |

9. Steem Price Update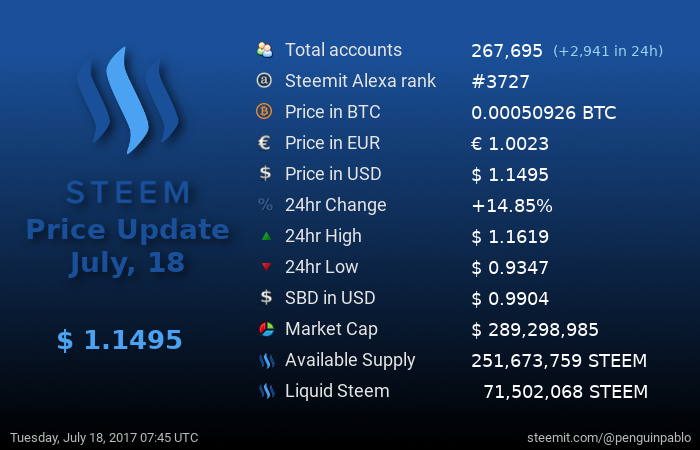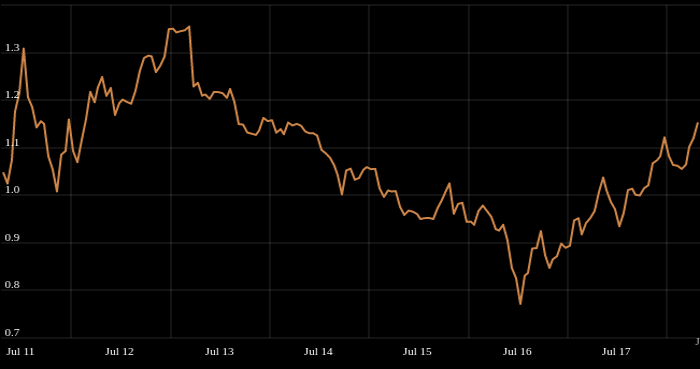 ---
¯\___(ツ)____/¯ Don't miss out on my next post! Follow me @penguinpablo