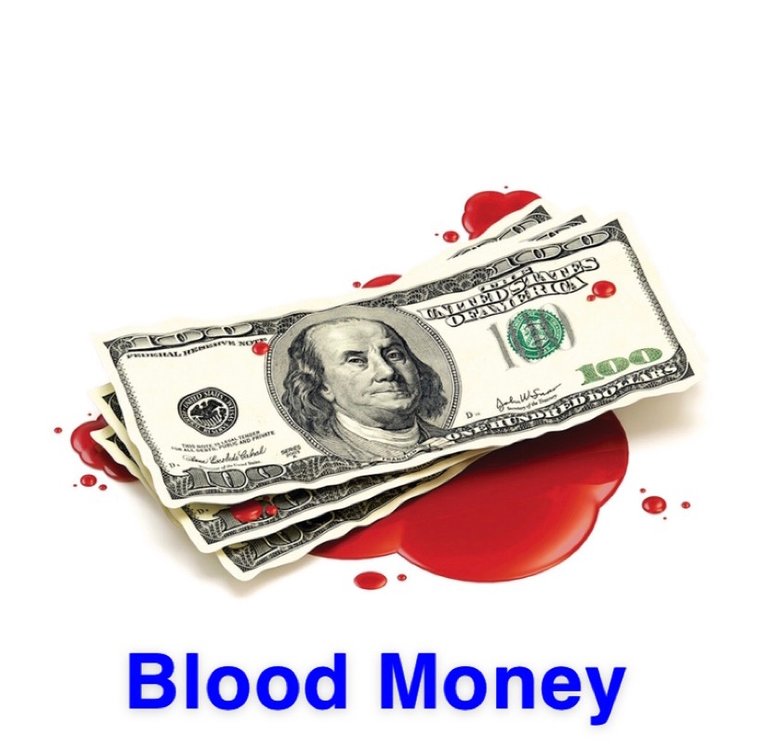 (SCENE 4: BLOOD MONEY (HONEYS HOUSE/ OUTSIDE)
(Characters: Tonya, Mike, Kelvin, Edward, Fats, Nisha,Honey.)
Setting: Night - Honey's house
MIKE
Aye Kelvin. You know I saw Nisha get in the car with some dude at the park today.
KELVIN
Oh yeah. You get a look at him?
MIKE
Na they pulled off as I walked up.
KELVIN
Well she should be coming home any minute. Lets see if we can find out who she creeping with.
(Mike and Kelvin hide outside the building waiting for Nisha to arrive. Tonya watches from the window. Edward and Nisha pull up to the building. Edward and Nisha walk up to the door to say their good nights.)
EDWARD
You gonna call me?
(Nisha kissing Edward)
NISHA
Yes.
Mike and Kelvin pop out.
KELVIN
What the hell is going on here?
NISHA
Kelvin chill out.
KELVIN
Chill out? Who the hell is this dude driving you around town. Some kinda predator because me and Mike can kick his ass now.
MIKE
No problem.
EDWARD
I'm not a predator that's my moms car and we all go to the same school. We don't hang out in the same circles so you probably wouldn't have noticed me.
KELVIN
We'll why you creeping around with my sister.
NISHA
Because it ain't none of your damn business who I'm talking to. You not my daddy.
KELVIN
I'm telling mama
MIKE
and that's my cue to go home
NISHA
I don't care tell her just get away from me embarrassing me like this.
EDWARD
Bye Nisha. Nice to meet you Kelvin. I guess you can say the cat is out of the bag Nisha.
KELVIN
Mhm whatever.
(Nisha sucking teeth and entering the building)
NISHA
Embarrassing
KELVIN
Whatever. Go up stairs.
NISHA
Don't tell me what to do
(KIDS GET READY FOR BED AND WATCH TV TILL HONEY ARRIVES)
SCENE 5: BLOOD MONEY (HONEYS JOB/ FATS CAR)
(Characters: Fats, Honey, Co-worker, Tonya, Sherry)
Setting:
Night - Honeys job. Fats Entering honeys job after hours honey busting tables. Co- worker trying to leave.
CO- WORKER
Hey girl I need to pick my son up from the baby sitter before it gets too late you mind if I leave early?
HONEY
Yea no problem I got it under control.
CO- WORKER
Thanks girl your a life saver.
(Fats walks in)
HONEY
Excuse me sir we just closed for the night.
FATS
I apologize I actually didn't come in to eat.
(Co- Worker passes Fats on the way out giving Honey signals that Fats is FINE)
HONEY
Oh is that right.
FATS
Yes Ma'am. I noticed you walking home after work the other night. I just so happen to work in this area as well. And a women has no business walking this city at night alone. Pretty dangerous if you know what I mean.
HONEY
Is that right and who are you.
FATS
My name is Fats
HONEY
Well Mr. Fats I've made it this far in life without protection. Why should I start now.
FATS
and its that kind of thinking that make our women feel like the don't need anyone. In all reality it would actually make life easier on you.
HONEY
How do I know your not some crazy killer. (giggling)
FATS
Why would I lure you to my car when no one is here now.
HONEY
You have a point. OK let me lock up and I'll be out in a hot second.
(Fats exits diner waits in car for Honey Fats cell rings)
FATS
Hello?
SHERRY
You still stopping by tonight.
FATS
Yeah I'm in the middle of something right now I'll call you on when I'm on my way.
(Honey opens passenger door. Fats hangs up phone.)
FATS
You ready?
HONEY
Yes sir (Location)
FATS
Right away
(Fats Starts and heads to Honeys home arrives to Honeys home where Tonya is in her window awaiting her mothers arrival.)
HONEY
I appreciate the ride and your curtsy.
FATS
The pleasure is all mines. Maybe we can go for a bite to eat sometime or a cup of coffee.
HONEY
I'd like that.
FATS
Well than until next time.
(Honey exits the car walks up to building. Fats drives off. Honey enters home to be immediately questioned by Tonya.)
TONYA
Mama who car is that.
HONEY
What you mean?
TONYA
You know what I mean who was that man who just dropped you off in that fancy car.
(Honey laughing)
HONEY
First of all I'm grown secondly I've been at work all day and my feet hurt and that nice man offered me a ride home.
TONYA
Yeah that's not all he was looking at do you better be careful out there mama.
HONEY
You don't have to worry about me Child I know how to handle myself out here. Besides he's harmless a little bit flashy for my taste but he is cute.
TONYA
Him or the car
(Girls start laughing honey starts changing from her work clothes.)
HONEY
He's a sweet guy his name is fat. I noticed him around my job for a while now I know what he into although he doesn't want me to admit it to him. I think all around he's a pretty good guy. Very polite even ask me out on a date.
TONYA
Are you going to go?
HONEY
I had given up on love a long time ago. I guess I deserve to treat myself. He just comes off to me as a different kind of guy. With a little bit of class and more self respect It's worth looking into.
TONYA
Just let me know when y'all are tight enough for me to drive that car.
HONEY
What you need a car for you do a good enough job driving me crazy. Girl go to bed.
TONYA
Night momma.
HONEY
Night baby girl.
(SCENE FADE CHANGE TO 15 MINUTES PRIOR FATS JUST DROPPING BY)
SCENE 6: BLOOD MONEY (OUTSIDE/TRAP HOUSE)
(Character: Fats, Sherry, Slick, Smoke, Crack Head.)
Setting: Night - Fats Car: Fats in car after dropping off honey cellphone rings.
FATS
Hello?
SHERRY
Where you at?
FATS
I'll be there in 10 minutes.
SHERRY
OK everything is ready
(Fats hangs up phone arrives at trap house grabs bag from trunk. Walks into trap house. People getting high occupying the home.)
FATS
Aye! what you doing out here?
CRACK HEAD
Just trying to get my fix.
FATS
That's what the bedrooms are for I don't wanna see you laid out in here. Bad for business you got me.
CRACK HEAD
Yeah no problem Fats. No disrespect.
(Fats enters the kitchen with Sherry and a few contracted workers to break down product.)
FATS
Sherry don't get high till all this shit is bagged up.
SHERRY
Come on Fats you know me.
FATS
and i also know you get high so don't fuck around.
SHERRY
I got you Fats.
(Fats swaps bag of product for bag of cash. Exits the home loads cash into trunk. Starts driving soon after pulling off Fats is pulled over by a patrol car. Two officers approach Fats vehicle with flashlights drawn.)
SLICK
License and registration.
FATS
That you Slick? Nigga you almost scared the piss out of me.
(Smoke and Fats laughing)
FATS
and yo ass just playing along Smoke. You niggas ain't funny. What you want?
SMOKE
You know what we want big time.
SLICK
To play these numbers.
FATS
Why cant y'all go and check my partner downtown like everybody else. I told him who y'all were and to take care of you.
SLICK
Well we don't know him. besides you want us to tell you to holler at our other partners when you need help.
FATS
hell na. give me them numbers
(Everyone chuckling about situation)
FATS
I'll have theses in for you boys first thing in the morning.
SLICK
Rodger that captain.
SMOKE
Peace brother.
(Shake hands and Fats drives off.)
SCENE CHANGES FROM NIGHT TO DAY AND FATS PULLS UP IN FRONT
NEW ALBUM