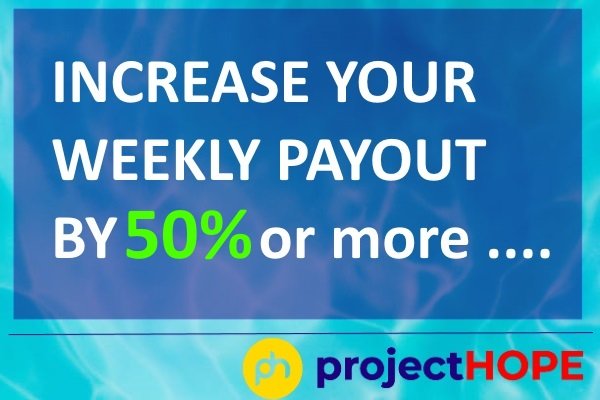 INTRODUCTION

Are you to busy to carry on with manual curation and not satisfied with your current level of received curation rewards?
How would you like idea of increasing your weekly curation rewards payout by 50%. Today you can achieve that and support our great cause. Two in one.
Hopefully we got your attention :) If I did, then please keep reading.
SMALL RESEARCH

I've selected randomly 100 steemit accounts (between range of 1k - 10k STEEM POWER) and compared received curation rewards for period of last week to total amount of SP. My goal was to estimate average weekly payout and compare those results with @project.hope. My goal was to find out how much does "average joe" earn depending on amount of STEEM staked.
Example:
@provenezuela has around 10k STEEM powered up. This account weekly curation reward payout is around 13 SP.
As a base for future reference, I would compare those 13 SP / 10k SP = 1.3 ratio.
It simply means that for each 1K staked on our accounts, we would most likely be rewarded with 1.3 STEEM every week.
Does it make sense so far?
RESULTS

I've compared over 100 accounts and I came with some interesting result. I quickly found out that average ratio of received curation rewards vs amout of STEEM powered up is actually less than 1.3 and it's closer to 1.2.
Which means, that "average joe" with 10k SP would receive around 12 SP in curation rewards / per week.
Perhaps right now you wonder what's your current ratio? It's very easy to calculate. Just open your wallet and divide "Estimated curation rewards last week" / total voting power.
Don't forget to share your results in comment section. On sunday I will randomly select 10 replies and upvote them with 100k SP to award your contribution.
DELEGATE TO @PROJECT.HOPE AND INCREASE YOUR EARNINGS

Let me wrap it up, before this post will become to long and complicated. Project.hope ratio is currently at level 2.13 (300 SP in rewards / 140k SP). And since we're distributing 100% received curation rewards to delegators, then by delegating 1k SP you could earn up to 50% more comparing to your own manual curation.
Which means, that by delegating 10k to us "average joe" would receive around 21 SP in curation rewards / per week (instead of receiving mentioned above 12SP)
You may ask:
how could that be possible? And there are few reasons behind it:
Reason 1:
After HF21 non-linear reward curve has been introduced. And that's an absolute game changer as it means that small upvotes carry very little voting power and pretty much only strong upvotes matter.
Additionally if post payout will be small, then all curation rewards are being kind of "penalized" (which works in favor of large STEEM stake holders).
Reason 2:
We not only upvote with 100% all selected publations (topics related mostly to technology, psychology and economy) but we also promote them on our media channels. This way we're attracting more valuable traffic, resulting with more strong upvotes following our own upvote. And that significantly increase final curation payout.
HOW TO DELEGATE?

Important note: To participate in the program, minimum required delegation is: 1000 SP
You can delegate 1000 SP or by using www.steemword.com or directly by opening secured link:
https://beta.steemconnect.com/sign/delegateVestingShares?delegator=&delegatee=project.hope&vesting_shares=1000.000%20SP
READ MORE AND DROP A COMMENT BELOW

If you like to learn more about "project hope passive income program" then visit our website:
http://projecthope.pl/passive_income
I would also love to hear your feedback. I read them all so please drop a comment and hopefully you will find our program worth supporting.
Yours
@crypto.Piotr