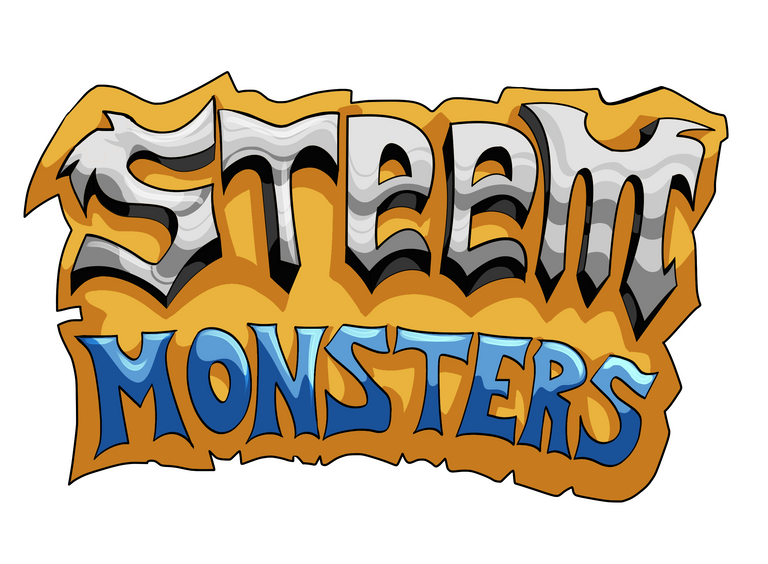 I'm excited to release to the public the alpha of Steem Monsters; a collectible trading card game with RPG elements. @yabapmatt and I have been hard at work creating the cards, art, a website, and building the game function on the Steem Blockchain. It doesn't do everything we want yet, but we're ready for some users to help fund faster development and unlock the full potential of Steem Monsters.
What is Steem Monsters?
It's a game you can play after you've created an account on the Steem Blockchain. You'll purchase cards and get a mix of summoners and monsters. You'll arrange them in tournments to fight and win prizes and glory. You'll trade cards between players to maximize the heart of your deck and over time you'll empower your monsters with items and new abilities. As they fight they'll earn XP, level, and grow more powerful.
Where are we at?
You're currently able to purchase a starter pack, booster packs, and see cards in your collection.
The starter pack is currently set at $5 USD. This is an intro price and will become substantially higher as new features are added and we move out of Alpha. The starter pack isn't precisely necessary, but it gives you summoners, which you'll need to start playing. Booster packs contain 5 cards each and are set at $2. We'll use funds raised initially to fund development, but as the core game gets put in place we plan to use a lot of the incoming funds to fund tournament prize pools.
We'll be adding the ability to trade cards and combine cards of the same type to help them level in the very near term (should be released in July). We're building the fighting aspect, which will likely take us through early Fall to get rolling. At that point we'll be launching tournaments where your summoners and the monsters they control will fight for glory and rewards!
Once the core fighting piece is baked then it's about game development. Maximize the meta. We'll be looking to add items that will level and gain abilities over time. These items will empower your summoners and monsters. We'll add new skills that the monsters can learn. We'll create some cards to increase stats and grant abilities cards wouldn't normally have. You'll have a completely customized deck unique to you based on your preferences and choices and we'll see how well you compete over time as the meta evolves!
Fivemium
The goal is to make it so you can start the game with just a $5 purchase. You can then level cards and gain new abilities faster with additional purchases, but the goal will be to make it so that everything can be unlocked with time and dedication to the game. We don't want this to be simply a "whoever pays the most wins." Strategy, following the meta, and playing smart combinations of cards should do better than simply plowing in cash to get powerful cards that get smoked when used in combination poorly.
What it looks like so far Homepage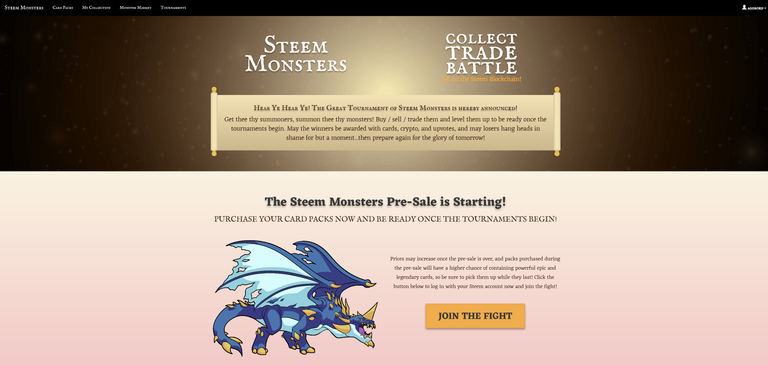 Card purchase- note that the account you use to purchase the cards is where they will be sent (we're adding a gift feature and it should be ready in July)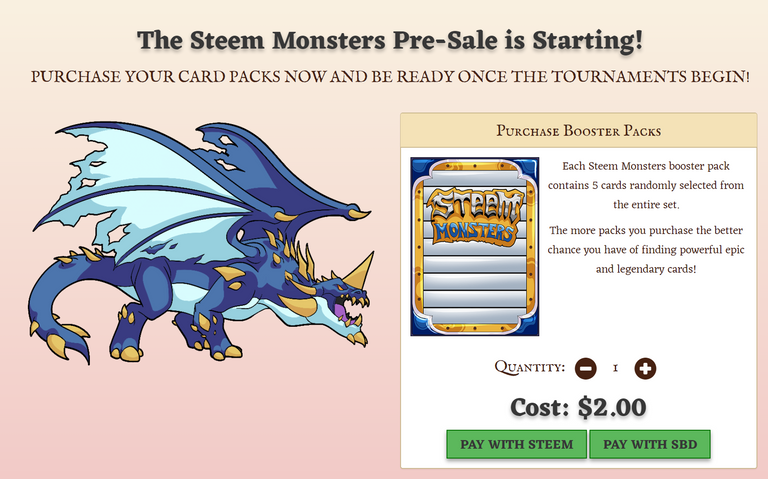 Beastiary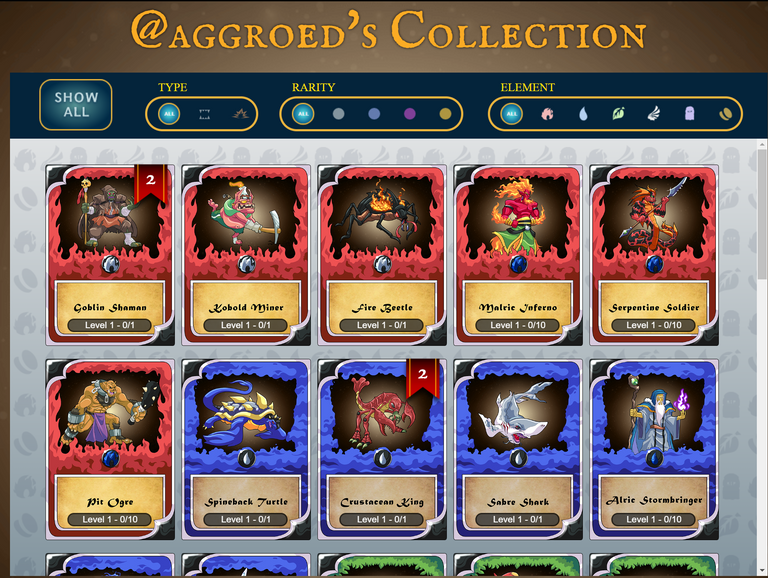 Marketplace
We're adding the ability to buy and sell your cards on a common market. We plan to take a small cut of the action and add a lot of money back into tournament prize pools. As your monsters fight you'll win some combination of steem, sbd, new packs, cards, unique items, xp boosts, SMTs, and monster upvotes. You'll trade the cards you have and level for Steem and SBD.
Inspiration for the game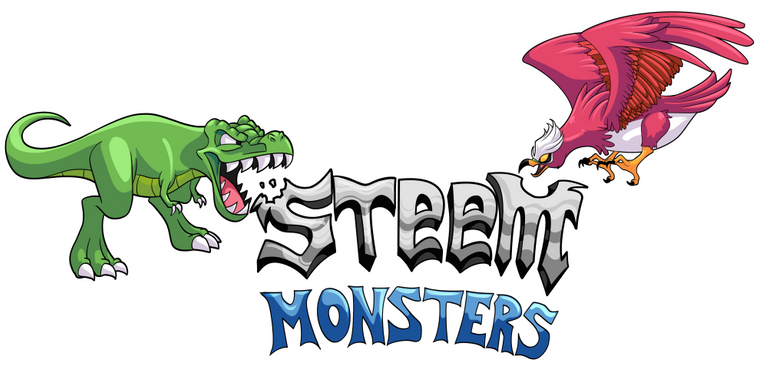 The inspiration for this was watching my daughters play fight with each other and I imagined them throwing buttons down on the floor and summoning monsters to fight on their behalf!
So, the basic mechanic works as follows: you'll get summoners and monsters. Summoners will summon monsters. Monsters will fight using four key stats of attack, defense, speed, and health. They gain experience as they fight and learn new skills and increase their abilities as they go. You can hasten the time it takes to level a monster by purchasing boosters or trading with friends for card duplicates and then merging them into one card that then has increased XP.
As your monsters level skill ranks will go up and abilities are unlocked. Some examples are:
poison: do increasing damage over time
stun: chance to stun an opponent for a turn
slow: chance to slow an opponent decreasing chance to hit, increasing chance to be hit
void: immunity to magic attacks
trample: push damage to a second monster after killing the one you're currently facing.
Summoners will be able to impact monster team abilities. For example every monster on your team will get +5 health.
Sneak Peek into the near future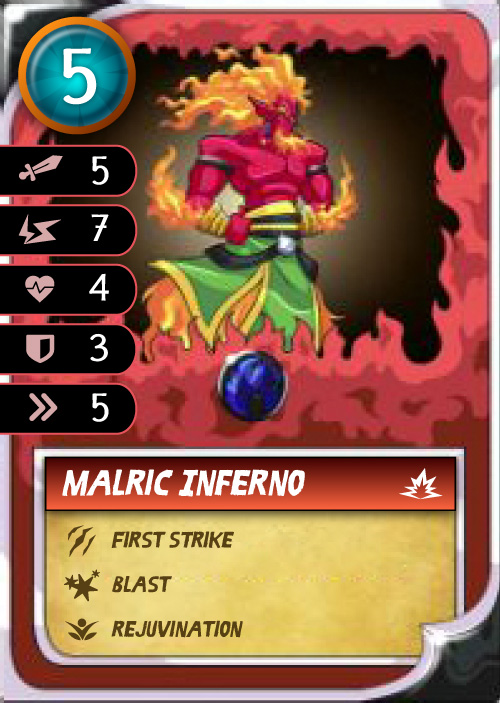 Tournaments
Over the course of a day there will likely be 10 tournaments that you can enter combinations of monsters and summoners. Some tournaments will have larger prize pools than others and that should draw your best teams to those while the other tournaments will attract different squads.
Once there your monsters will be run through simulated combat and we'll put out reports of how the fighting went so you can see who you smashed and who REKTed you. Then you can make some changes to your lineup and find the best bracket for your team.
You'll have to come daily to see what fights are available the next day, create your teams, and be prepared to fight. We'll work on granting things to you for dedication such that if you fight every day we'll give you some cool rewards for completing your dailies.
The current design will make it so the different tournaments will have different mana pools allowed and different monsters will cost different amounts of mana. Maybe you just send in your one mega legendary kick ass beast or maybe you send in a team of little guys. You'll have to choose the best squad for the best round.
Prizes
The plan is to create tiers of prize pools. Low level tournaments will likely only give XP and a booster deck. Higher level tournaments will likely have hundreds if not thousands of steem, SBD, and rare cards to enrich you and your deck.
Eating magical kittens by the hearth
Without a doubt the game has been inspired by several games in the world out there. The cards themselves pay homage to Magic the Gathering. Building in the idea of classes and unique abilities starts veering a bit towards hearthstone. Putting it all on the blockchain as an internet ready blockchain based collectible card game with RPG elements is inspired by the success of cryptokitties.
That said. This game is about fighting. This game is about rewarding users. This game is about keeping people coming back to the Steem ecosystem and growing our daily active user base. I think as we grow our ability to engage and reward users will be the highest out of all of these games as we're specifically designing the game to do this. My goal is to be the most actively used app on the Steem blockchain and to drive new users and bolster user retention.
We all go to the same moon folks, and activity is key! I'm looking to get people here and keep them here! I hope you enjoy the first release of Steem Monsters and keep with us as we grow their capabilities!
Kickstarter Coming!
Want to design a monster or have your own summoner in the game? We're going to put Steem Monsters on Kickstarter in order to garner some attention from parts of the internet we're not already poked into. As part of that you'll have the opportunity to create a high level monster with us or get your likeness in a card put into the game. Spots for this will be limited so if you're interested you'll want to get in early. That too should go live in July. There will be updates on Steem about it through @steemmonsters and @aggroed as we go.
Let the rewards start!
Put your epics (purple) and legendaries (orange) that you win in the comments below and you'll get a chance to earn some extra decks, upvotes, resteems, and love from me!
PS the things listed here beyond what exists are plans. We don't know what's going to happen during development. Plans and timelines may change. We reserve the right to change them. We're working to build this game quickly, safely, and productively. We're going as fast as we can to deliver a stellar product in as short of a time as possible. We're planning to reward users heavily. How we do that will change over time as we evaluate risks and benefits. We reserve the right to change how rewards are handled as well and it is likely to evolve from the original plans stated here.