The new collection score is coming into effect.
I guess for the game developers this is a good thing since it allows them to control how many players reach what level. Currently, people seem to be able to rank higher with smaller accounts then anticipated and this is not to the liking of the @splinterlands team since a lot more cards have to be printed and this dilutes the value.
If fewer people reach the higher levels it concentrates the players in the lower tiers and there are fewer rewards that have to be doled out.
If you want to get higher up you need more cards so this creates an incentive for players to buy more.
From the viewpoint of the game creator, this makes economical sense. For some players, not so much...

Now I am lucky here and have a high enough score to stay in the Champion leagues.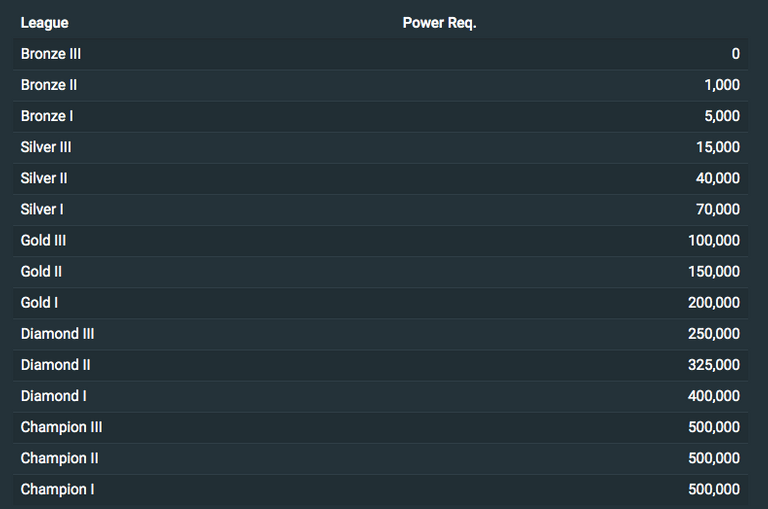 My Rant:
But I do own 6 other accounts that are being played by other people and they currently reach diamond easily and even champion from time to time. These are accounts that have roughly 70k - 120k power.
According to the stats, these will only be allowed to be played into GoldIII or even SilverI. I know these people live in countries that are struggling and that the income provided by playing this game is really helping with their survival. By bringing them down from DiamondI (on average) with 60 reward chests to GoldIII that will only give them 22 rewards chests. Even on the dailies that will make a massive difference as well.
I also realise that this move should, in theory, improve the value of the cards in the long run (especially the reward cards) but I am not so sure about the short term implications.
A lot of people play this game because they like it but there are also a lot of them that are drawn to the potential money-making aspect and with this move, the earnings potential has really been slashed to bits.
The whole measure looks to me like something that is just financially driven and not player experience. If someone is able to make champion 1 with lvl 1 cards that is not the problem of the player, that is part of the game and then as such they should get the rewards.
https://peakd.com/splinterlands/@splinterlands/new-reward-cards-and-collection-power-update
My Insight:
I do understand that the game cannot continue as it has been. There is too much ROI for low-level players in the game. Put the bot account rewards on top of that and the payouts are getting out of hand. This does not help the overall economy of the game itself.
If you slash the option to earn then there will be less market pressure and hopefully, the overall card price will go up
If you cap the leagues people will be enticed to spend on cards and the overall card price will go up
I do fear that will limit new players and will nerf their experience and as such will limit growth to the ecosystem.
Let's wait and see what will happen. I am not selling my cards but will not be buying any new ones either for the moment