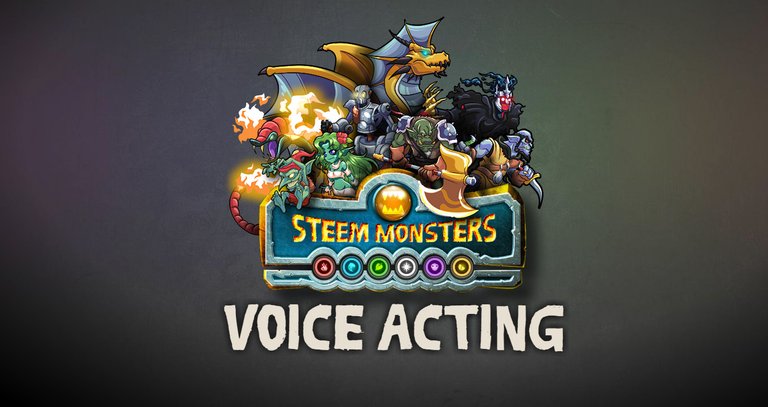 Hey all! @harrisonmir here, and we are very happy to announce that after much deliberation and organization, we will be posting the tentative casting list for Steem Monsters Voice Acting this coming Monday (9/3)!
If you submitted to the voice casting audition post we held, please read this whole post carefully! We outline some important information regarding the next steps!
For all of you that participated in the initial audition, thank you so much for being a part of this experience. We've very much appreciated your unfading patience as we get these puzzle pieces in place. The level of crowd-sourcing we've done for this game is unmatched. It's something we are very proud of, but it also creates logistical challenges of high coordination, organization, and deep planning.
Moving forward there are two very important talking points to this post that we need to address:

First off -

Firstly, some of the later auditions that were posted on Discord (through DSound) had expired by the time we were making placements, so we need to get in touch with those individuals to resubmit their auditions either through Soundcloud, or directly through Discord (to @harrisonmir). I personally apologize guys, as this was an oversight on my part. By the time I got them over to @isaria when the timing was appropriate, they were unplayable. Let's get in touch so we can place your auditions appropriately. The following individuals are:
Thanks for understanding!

Secondly -

Naturally, a lot of the original auditions were done on phones and laptops. Unfortunately, this quality is not usable in-game.
It's extremely important that we meet the high-quality standard that this game is reaching as a whole. With that said, making a very small investment in a budget microphone will be a required condition if you do not have access to high-quality audio gear.
I've personally done a lot of digging around on Amazon, and I've found very promising lapel microphone options in the $20-30 range. I can't realistically expect an entire community to invest in a full audio setup, but we cannot accept voice over work recorded with phone microphones or laptop microphones.
I've made posts in the past about audio setups, and how to get your audio sounding crisp and clean! Please don't hesitate to reach out to me (@harrisonmir on Steemit and Discord) if you have any trouble getting your audio sounding great. The 'tech assistance' role is exactly what I've reserved myself for in regards to the voice acting.
With those two big talking points made...
Next steps for our voice actors -
If you haven't already, be sure to join the #voice-actors channel in the Steem Monsters Discord. This is where we will be conversing, planning, and making posts about updates for our participants.
If your name was listed above as an audition that was not accessible through DSound at the time of placement, please be sure to get in touch with me on Discord (@harrisonmir) or post an additional Soundcloud link to the original audition post.
At this point, no one should feel the need to purchase a microphone yet, as I'm going to be testing a couple options over the next few days to make sure they are appropriate for the job (I am ordering/testing some of the prospects personally). However, this MAONO lapel mic seems to be the best option I've found so far if anyone is interested in shopping around. It is compatible with pretty much everything, including iPhone, Android, laptops, and DSLR cameras. There is also a lot of information regarding microphones here for those who are looking to learn!
Be sure you're following @steemmonsters (or additionally, @harrisonmir and @isaria, who will be resteeming this important information) on Steemit so you're aware of the the following posts, including the next steps!
Please don't hesitate to ask questions and make conversation in the comments. This is a huge task-at-hand, and the only stupid question is one that was not asked!
Tune in on Monday, 9/3, for the working casting list!
Thank you guys, much love to you all. Together we are going to make this gaming experience unforgettable!