It's been an exciting few days since the launch of SteemPress 2.0 last week, and we've been very happy with both the reception from the community as well as the feedback and suggestions we have gotten from our users. This update introduces a few new features that were highly requested in the aftermath of our two-way integration release.
Vote slider and vote percentage
With the new two-way integration feature activated, visitors of a SteemPress blog will be able to upvote the post as well as comments once logged in with Steem Connect. In the first beta version, however, votes were only given as 100%. We've now added the slide-bar which allows curators to choose the size of their vote from 1% to 100% as they can on most other Steem interfaces. Additionally, vote percentages are now also displayed next to the names of the curators of a post when browsing the upvotes.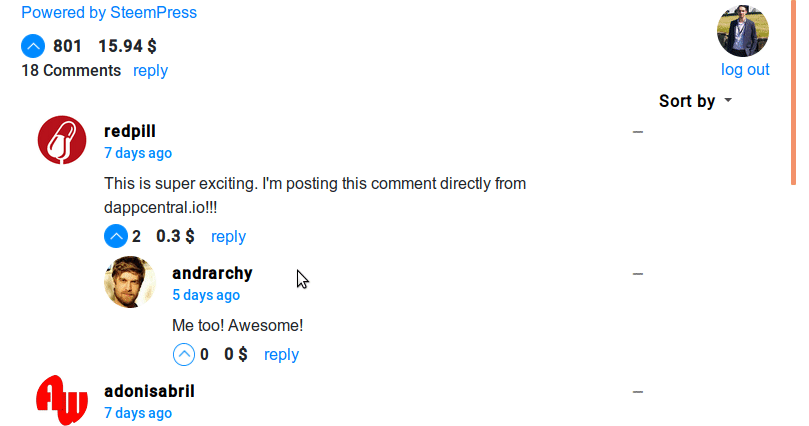 Blog visitors can now see the percentage at which other curators have voted on a post or comment and also decide what percentage they want to vote with themselves.
Synchronized updates
We want to move towards an increasingly seamless experience to what exists on Steem-based front-ends and the user's SteemPress blog. To ensure this, we've added a feature for automated post updates on the Steem article whenever the post is edited through WordPress.
To enable or disable the feature you will see a new option in the settings.

If enabled, this will enable new options :
update individual posts
Similarly to how the "publish to steem" checkbox must be ticket to post an article to the Steem blockchain in the first place, this option lets you push an update you've made to an article on WordPress also to the Steem blockchain.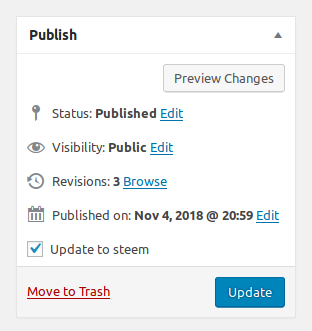 bulk edit several posts
If you have several posts that have been updated on WordPress that you would also like to update on the Steem blockchain, this option lets you quickly assign which posts you want to synchronize.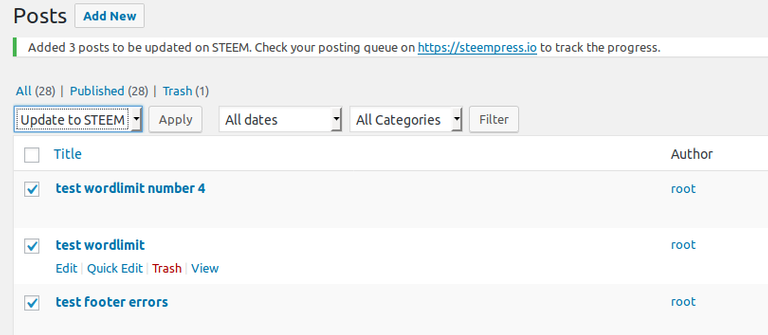 Usage notes
Note that in order for the update to work you need to have the permalink setup on the post. You can find these options at the bottom when you edit a post.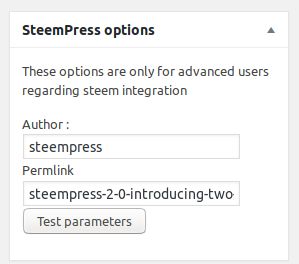 These options were introduced during the 2.0 update, meaning you will have to add the permalink manually on the posts that were made before the 2.0 in order for the update feature to work for those. The author/permalink is added automatically on new posts made after the 2.0 update.
If you set a different author than the one provided the update will not work. Answering "why" is not in the scope of this post, but feel free to dm @howo if you are interested in the technical details.
Word limiter
We've heard many users express an interest in only publishing the introduction of their original article to Steemit while posting the full text on their own website. The motivation may be either them having a paywall on their websites or as a way to help safeguard the SEO of their site. Our new word limiter feature allows the user to decide the number of words they want to see published to the Steem blockchain. Once published, the article on Steem will include a customizable footer similar to what many SteemPress blogs already use that links back to the user's website where the whole article can be read.
To use it, you'll find a new option in settings:

This way, a user can benefit from the Steem blockchain while still directing people to their blogs. With the two-way integration enabled, readers from the Steem ecosystem will still be able to engage with the full version of the content through upvotes and comments directly on the website.
Updates to the post queue on steempress.io
We do our best to provide a helpful interface to our users to manage their posts and to be able to take care of eventual problems themselves without the need for extra assistance. Therefore, we continuously add updates to our post queue manager introduced in greater detail in our October update.
It has been updated in two ways :
Before you could only see your posting queue, meaning you could only see the posts that were awaiting posting. If there was an error during the posting the post would simply get removed from the queue and you had no way of telling what happened to it and how you can fix the issue.
Now you can see the last 5 posts that had errors and see the recommended solution to the problem that caused it.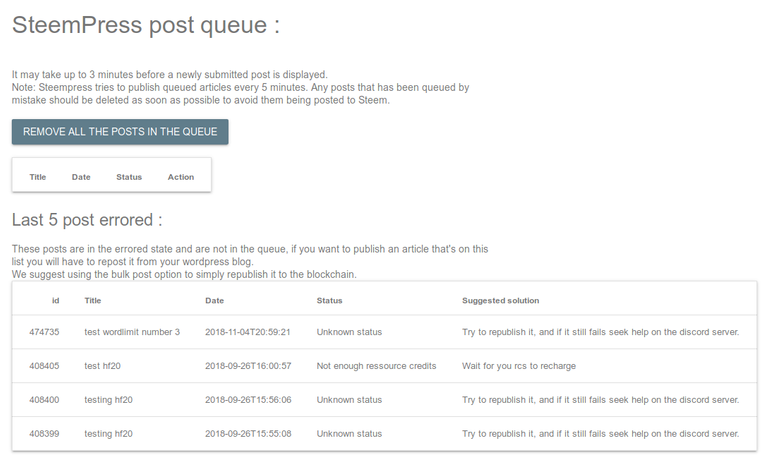 It has been updated to also manage your updates from WordPress to Steem and warn you if something went wrong during an update.
If you are interested in following our development, these changes were included in three pull requests plus a few commits directly pushed to master.
That's it for today! We look forward to an even more exciting week to come as we'll be attending SteemFest 3 to present SteemPress and enjoy the event together with other attending Steemians.
As always, if you have any questions then please visit us on [our discord channel[(https://discord.gg/vNKQ3q)!
To download SteemPress, find our plug-in at https://wordpress.org/plugins/steempress/
To vote for our witness, either use SteemConnect following this link or find us on https://steemit.com/~witnesses.
Thank you for reading this far and for being interested in SteemPress!
@Fredrikaa and @Howo