2020 is already well underway and we hope you have all enjoyed a pleasant start to the new year! Although it's been a while since our last update, we've made some major strides towards delivering the objectives detailed in our public growth strategy.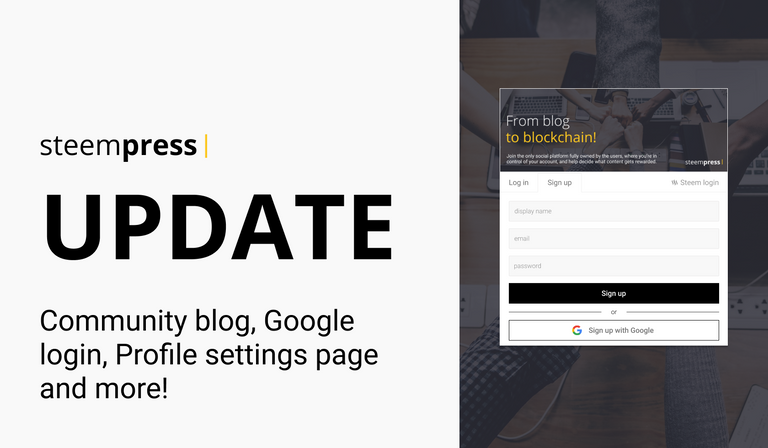 We also took a bit of a detour in order to add a feature highly requested from one of the larger websites currently using SteemPress. While this has delayed our progress on the roadmap goals, it has nevertheless made an important addition to our plugin and helped us grow current engagement across our websites by 10x since the summer.
We expect to continue to make changes to our short term priorities based on user feedback and requests and highly appreciate the effort you all make to provide feedback and suggestions! With that being said, we're looking forward to what we expect to be our most exciting year yet.
Google signup and login for guests
Our biggest addition before Christmas was the option for guest commenters to log in with a Google account to engage with content through our comment sections. In addition, we made general improvements to the appearance of the signup and login pages as can be seen below: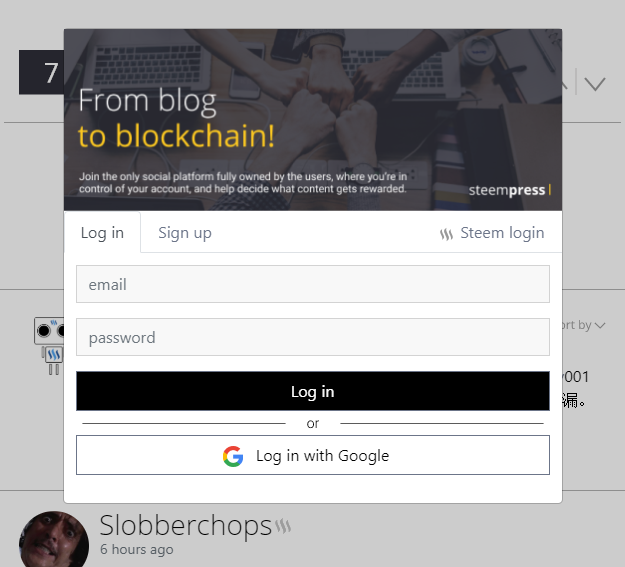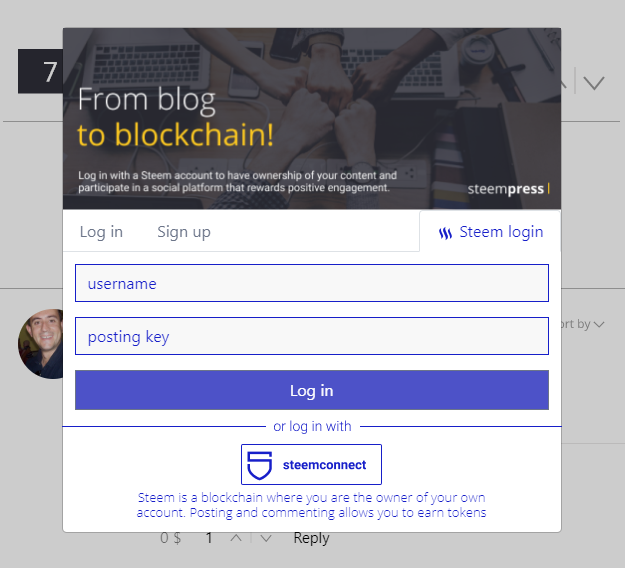 ---
The new login forms found across all Steempress comment sections.
Since the addition, we've already seen a steep increase in the number of guest commenters signing up and leaving comments on posts. This is of course great news both for the authors who don't lose out on engagement due to the barrier of entry otherwise presented by needing a blockchain account, as well as for us who get more users to onboard to Steem over time.
Profile settings dashboard
Another made before Christmas was a new profile settings page in the dashboard on steempress.io. With the growing number of guest accounts and users independent of the normal Steem ecosystem, it became increasingly necessary to have our own page for account profile settings. Similar to Steemit.com, it allows users to set or change the account profile information otherwise found on Steem.
This includes:
profile picture
display name
biography / description
location
website

The current profile settings page found on steempress.io
Thanks to the changes included in HF21, these account profile settings can now be changed without the need for an Active key.
The profile information options are the same for Guest users, who will get the options to update their Steem account to include the same information once they connect a Steem account.
Community blog
We are also about to launch our new community blog on steempress.io. This is a big deal for us, as the community blog will be a live demo of the long-awaited SteemPress Pro website version! Here, visitors will be able to log in with a WordPress account and submit an article similar to other websites accepting community or guest writers. Where our product stands out is that the guest can sign the article with their own Steem account, and have it posted to their account if it is approved by the site owner!
We look forward to showcasing how this can be of tremendous benefit to websites looking to do content marketing and using Steem as a way to both incentivize authors to come and write on their site as well as to reach new audiences through the blockchain.
Call for content
To encourage participation in the community blog, we will begin a series of "invitations to contribute" where we will be providing periodic rewards to quality articles. What we're looking for in particular are SEO friendly articles, posts providing tips & tricks that other SteemPress users can use to improve their WordPress blogs and the reach of their posts, any content teaching new users about Steem and blockchain in general, as well as other community activities promoting growth.
Before launching our full blog, we will be inviting those interested in writing featured guest articles to submit their entries. We expect the topics for the first round will most likely to be:
WordPress recommendations for 2020, including plugins, SEO tips or trends, social media strategy or other new trends worth considering for the new year.
"#mysteemblog", a new monthly invitation for users to present their Steem-powered website, ideally emphasizing how they integrate Steem to improve engagement or provide unique value to their visitors.
We will follow up with a new post soon to provide more instructions on the post criteria. For now, we just wanted to share that this will be coming very soon so that those who might be interested can start to prepare some thoughts already.

We've set up a dedicated page for interested writers looking to feature on our new blog as guest writers
Other changes
Fixes a problem where the profile picture would sometimes not display correctly in the field for new comments.
Made an improvement so that when a new comment was made it would automatically delete the text in the comment field, making it more clear that the comment was made successfully.
Witness status
The @steempress witness enjoyed a short spell in the top 20 during the last two months of 2019. This allowed us to look around for additional talent to join our team interested in taking on tasks in exchange for STEEM (as opposed to us needing to sell in order to pay for work in fiat). However, with a few new large votes being cast shortly after the new year, we're currently back ranked #26 on the witness list.
While we consider our witness mostly as a technical witness capable of carrying out tests of new forks, including our tests of HF21 and @howo's work on the upcoming SMT hardfork, as well as making open-sourced contributions to condenser, our witness is still crucial to help further develop SteemPress.
We thus hope that you will take the time to consider the contributions that we make to Steem overall and vote for our witness if you consider it valuable to you.
As always, if you have any questions then please visit us on our discord channel!
To download SteemPress, find our plug-in at https://wordpress.org/plugins/steempress/
All the best,
@Howo and @Fredrikaa

You can vote for our witness directly using Steemconnect here.