Hey there mateys! I am up late on a Saturday Night wanted to show off some of my recently acquired booty. Of course, you can't expect anything from me but either skulls or creepy silver. My husband found a company with some really good deals and I guess maybe I've been a good girl because the mail person handed me a package with some pretty cool shiny stuff inside.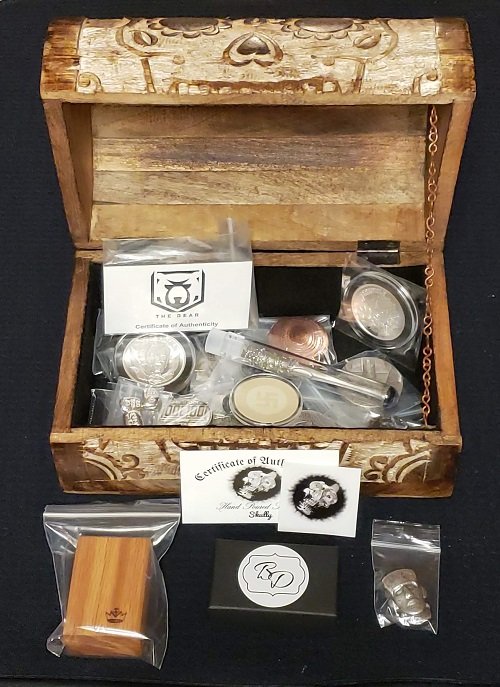 More sparkly booty to put in my treasure chest always makes me happy. Especially when they come in nice wooden boxes and unique shapes. Hmmmm... My treasure chest is getting kinda full, maybe I need to find a bigger one soon.
---
Let's take a closer look...
First is a cool skull from a guy called Skully on YouTube.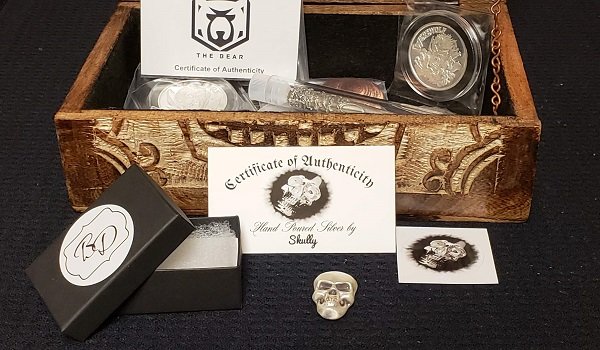 It came in a nice box with a Certificate of Authenticity and a cool "Skully" sticker.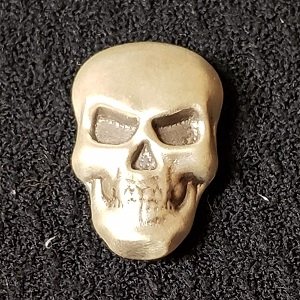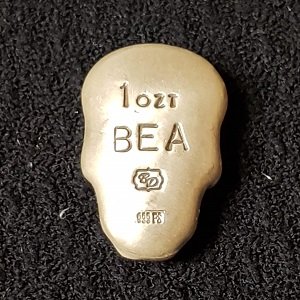 One Ounce of Silver, a wicked skull and on the back, it's personalized. This was a complete surprise. For those that don't know my name, it's Belynda and my husband calls me "Bea".
---
Next is from a company called Monarch Precious Metals. They have some pretty good deals and some really unique pieces.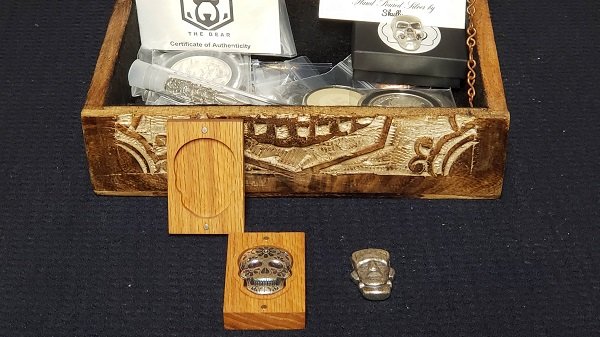 Oh wait what is that you see?? A sugar skull?? and Frankenstein's Monster?? Oh yes... that's right y'all and how awesome that a Frankenstein and Sugar skull lover such as myself can find such cool pieces that scream to me when I see them... they want me to bring them home where they will be loved.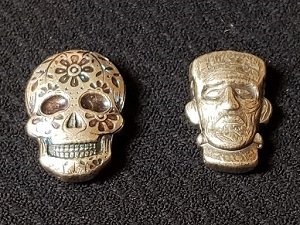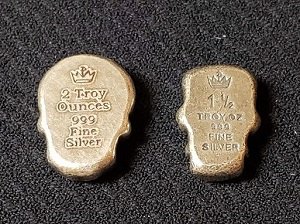 Three and a half ounces total of glorious silver made just for me!! The sugar skull has a blue and purple "antique" finish that doesn't show up well in the pictures. I wish you could see it. And Frankie's Monster... I think this one is up there with my favorite piece, Lucille. This makes me feel like I can extend Halloween just a little longer.
---
I hope you enjoyed my late night show off session and I hope you all are having a beautiful weekend.
Special Thanks to my husband @firecajun9262 for taking the awesome pictures of my shiny, spooky booty.