Hello Steemians! About a month ago, I chanced upon Steeve.app, a relatively new Steem interface. In fact, they went into public beta only 20 days ago. When I first stumbled upon this interface, I didn't really take notice of it as I thought it is just another interface much like Steemit.com, Busy.org or Steempeak.com. However, I did save the URL in my bookmark as I planned to revisit the site and take a closer look later on. For the past couple of days, I have been logging into Steeve via my mobile phone, comparing my feed on Steeve against the default feed, and I was pleasantly surprised!
---
A Feed Comparable with Facebook
Okay, it might be a little of an overstatement at this stage but Steeve has a tagline,
The Sieve for Steem: A personalized Steem web interface with extended content discovery features and more!
The fundamental principle behind the design of Steeve is really to help Steemians find good articles easily. Steeve is trying to achieve the objective by using AI to find interesting content for everyone. With that in mind, expect to see a feed which is very different from the default one you get "out of the box".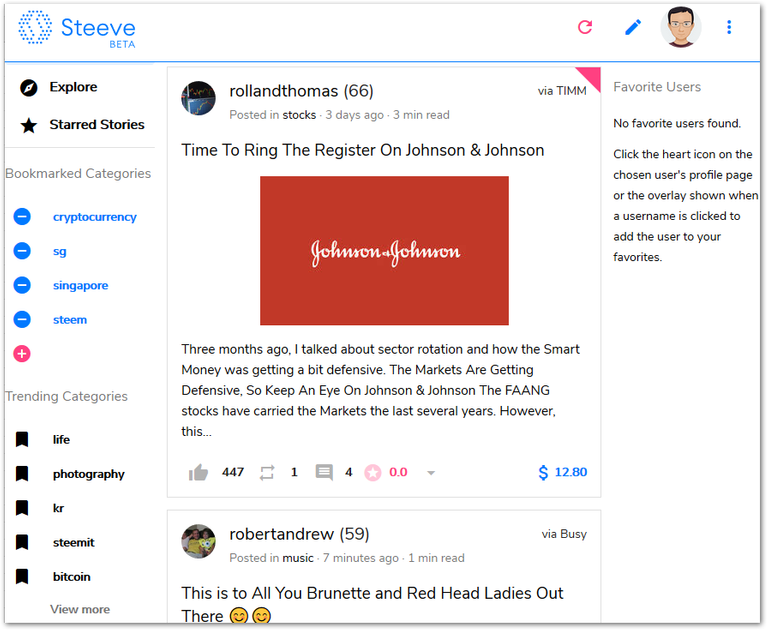 As you can see, my feed is showing a post from 3 days ago, which will probably take you 5 minutes to reach if you scroll through your default feed. In addition, the author is not even someone I am following! 😮 But Steeve is smart enough to learn from my past voting records that I like to read about stocks & investing and therefore included the post on my feed.
The algorithm of displaying feeds is probably modeled after Facebook feeds where they try to predict what you like and rank them higher to keep you scrolling on. Currently, I would not say that Steeve has reached the level of Facebook, but I think they are on the right track.
---
A World without Bidbots and Trails
Another neat feature which Steeve has implemented is to have a trending page which disregard votes from common bidbots and voting trails. This is probably what many bot haters are dreaming for. I am neutral when it comes to using bots, in fact, I use them myself. However, I agree that many articles were not given the fair attention because the default "trending" page focuses too much on payouts.
As you can see from the screencap, Steeve has a ranking system which only consider the genuine curator vote counts. Of course it is not perfect yet, but again this is probably the right way to go. We seriously need a better way to rank articles so that good authors can be discovered easier.
---
One Immediate thing to Improve on
On interfaces like Steemit.com, Busy.org and Steempeak.com, we can easily upload images by copying and pasting into the content editor. However, I noticed that Steeve does not seem to support that yet.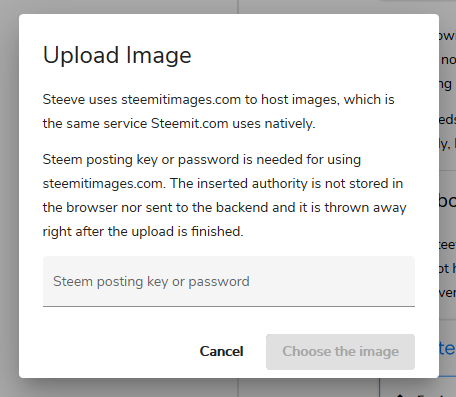 As you can see, in order to upload images, you have to have it uploaded to steemitimages.com first. This requires you to enter your Steem posting key each time and most will agree that it is very troublesome. When I am writing this article, I worked around this problem by uploading the image through Busy.org first then copy the image URL into the post. I hope @steeveapp will add support for easier image upload soon.
---
Conclusion
Overall, I like the Steeve interface and what the team is trying to achieve. I really like a better way to discover new authors/contents that are worthy. That is why I followed @trufflepig and other curation services. When @partiko released the "Discover" feature in their app, I was so excited that I wrote an article fully dedicated to that feature.
Today is not the day to check the cryptocurrencies market. Instead, I encourage you to take a look at Steeve and what it got to offer. Go explore their customized feeds and trending page. There are many other neat features that I have not written about. Let me know your thoughts on the interface and what is your favorite feature which is not found elsewhere. Thanks for reading!
---
View this post on Steeve