Steeve App
I am not usually compelled to try any other interface than the main steem interface. I discussed this matter earlier that I am a user who likes minimalistic, simplicity, and ease of use interface. That is because those things translate as faster loading times.But today,I decided to check @steeveapp which advertises their product as an advanced steem web interface. Now let's have a look.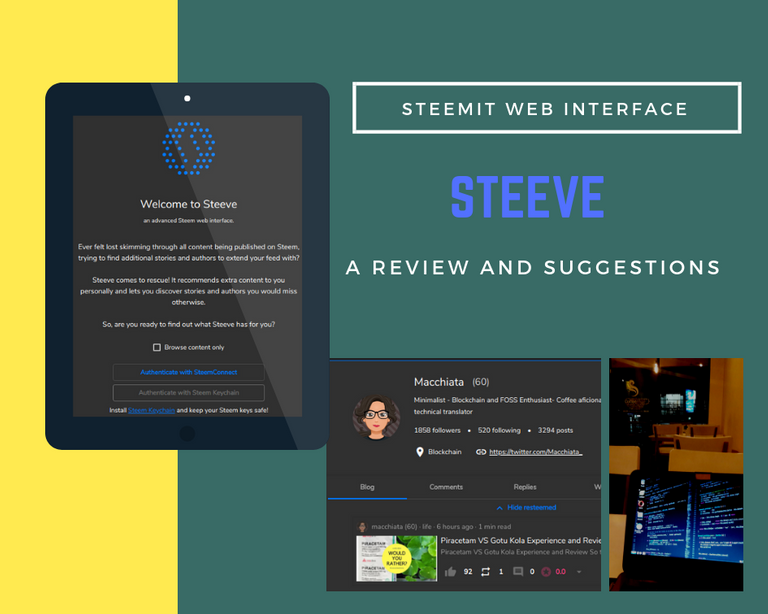 The first time I logged into steeve,I was welcomed with security and privacy statement. This is good eventhough if you are less concerned about it. However,bear in mind they have user tracking activity.
Steeve tracks user activity in the application so that we can recommend you content which fits you best. A mixture of Google Analytics and custom user tracking is being used.
In a regular web browser,I often use incognito mode.However,this can be good on steem if the use case is that readers will be suggested and directed to content which they will most likely read.Also,they stated that they don't share the data with anybody. So far, no problem in there.
If you have read and agreed,choose to proceed. Now let's review the design, usability,stickiness,and readability.
Design
Overall it has minimalistic touch and sleek design. Not to mention, it comes in dark mode with condensed and expanded view. A new addition would be, user can see who resteemed their post.However, when it comes to reading page,they have smaller indent than steemit front page. I hope they will increase their indent and fix the margin.Perhaps making it slightly bigger.
[x] Clean and Sleek design.
[x] Comes in dark mode.
[x] It shows who resteemed your posts.
[ ] It only supports png file. Perhaps enables jpg files in the future.
[ ] Perhaps, they need to increase the reading page margin. As the graphic shown below. Why waste the empty space when you can expand it?
Usability
Users even with Steem power under 500sp are able to use voting slider. Not only, users can add their favorite categories, they can add favorite user(author)too. It also has steeve filter which is different from steemit suggestion. Permlink option is also available. I tried to write this post with title : Steeve app review Sleek Design Steem Web Interface and permlik : steeve-app-review.
[x] Even with under 500sp voting slider is available.
[x] Users can add their favorite category and author.
[x] Users will know who resteem their post.
[x] It comes with keyboard shortcut.
[x] It has permalink (permlink).
[ ] However I noticed some markdown are not visible enough such as the heading.
Stickiness
So this terms apply to describe how long user will spend their time using the product.Since steeve able to track user activity,in below of the post, there will be suggested reading. This can be good to explore similar topics from different authors.Not to mention, everything is easy.The navigation is also straightforward.
[x] Users can get post suggestions from different authors
[x] Easy navigation.
Readability
For users who likes to read, the font might be smaller than the main interface even with 100% zooming. For this case I am currently using opera. Let me know if you use different web browser.
[ ] Smaller fonts even with 100% zoom, might need to increase it.
Conclusion
I personally will use steeve app more in the future given its plus points and especially I like to follow up certain tags. Not to mention, all the plus points above which convince me to use it. However it's still in beta version and they certainly need some improvements.For now, it's pretty decent to use it as a main Web interface.
That's about it. If you want to try to use steeve and migrate from the old interface, check out : https://www.steeve.app
Signed, M.
---
View this post on Steeve, an AI-powered Steem interface