Greetings, fellow Steemians, and Steevians,
We would like to brief you about recent improvements to @steeveapp, which we are pretty excited about. Some long-standing wishes of the community have been fulfilled.
New Features
Once again we worked hard to bring quite a few new features:
Added an omnibox for fast navigation.
Added keyboard shortcuts for fast navigation as well.
Images can be now uploaded easily using drag & drop.
A dark theme (night mode) is now available.
Steem Keychain is now fully supported.
DTube videos are now automatically embedded.
All changes are listed in the release milestone.
The Omnibox
@void got so used to the omnibox as available in Slack and Discord that he decided that Steeve must have something similar to that so that people can navigate through Steeve rapidly.
So, when you are anywhere in the application and you press T (when not typing text), the omnibox will pop out: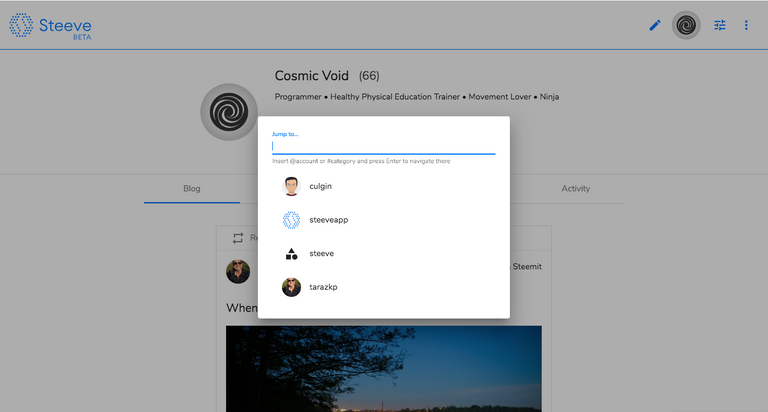 When you insert @account or #category, Steeve will navigate to the relevant page.
The omnibox keeps a small history (5 items) as visible on the screenshot, so in case you want to revisit a page loaded through the omnibox recently, you can just press TAB to get to the stored item quickly.
Autocomplete is also supported using your bookmarked categories and favorite users.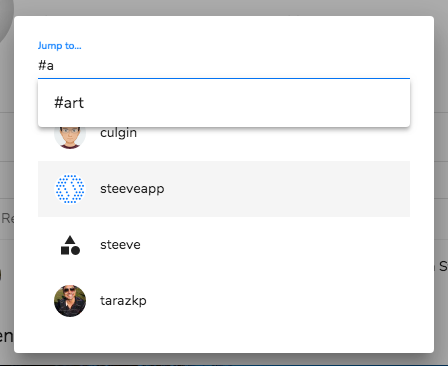 Keyboard Shortcuts
The omnibox is cool, but there was still something missing for easy navigation. And that is why we decided to implement additional keyboard shortcuts, which can be seen in the picture: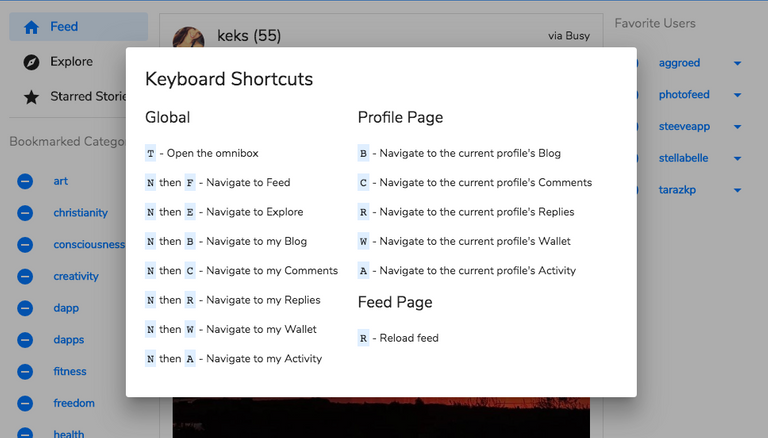 Press ? to open the help dialog.
Image Upload Saga is Over
We have been struggling a bit with image upload. It was implemented using steemitimages.com initially, but the service requires the user's posting key for uploading images.
In the end we decided to start our own IPFS daemon and upload images ourselves, so no posting key is required anymore to upload images. You can also upload any number of images at once or drag & drop them into the editor text area.
Night Mode
Some users obviously love to browse Steeve at night and they requested a night mode not to ruin their eyes. We listened and this is what it looks like: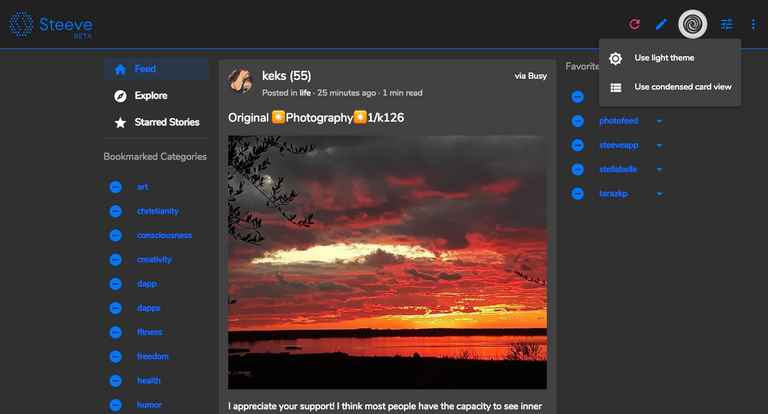 You can turn the dark theme on by clicking the tune icon in the top right corner, as visible on the screenshot.
The dark theme is not as polished as the light one, though, so feel free to propose theming changes via the issue tracker or drop us a line on Discord.
Steem Keychain Fully Supported
Some operations like comment deletion and claiming rewards was not supported when using Steem Keychain. Since the extension was improved and extended, we followed to put Steem Keychain on par with SteemConnect. So yeah, you should not be limited in any way anymore when using Steem Keychain to authenticate.
DTube Videos Embedding
When a DTube video link is encountered in plaintext, it is replaced with the relevant frame so that the video can be started from Steeve directly. That is the regular behavior you are used to with YouTube and Vimeo.
What is Next
@hr1 finished the business analysis of Steem and other online services. Based on that we came up with our own business plan and now we need to make it happen.
@mor had to do some other work, but she is coming back to work on the recommendations engine again. We are now planning to incorporate all available metrics into recommendations, for example the story rating data, which are not being used in any calculations right now.
@void is just hacking on the web interface hard. There is already a milestone initialized for the next Steeve release. It is not final, though, because our business plan is not included yet.
Support Steeve!
Steeve can be huge. But we are only a team of 3 with limited resources. In case you believe in Steeve and want to see it moving forward, consider helping somehow. Do you have a killer feature on your mind? Do you want to write and publish a review? Are you an investor that wants to support Steeve? Do you run a service that you want to integrate with Steeve? Let us know!
Feel free to join our Discord to have a chat about Steeve or anything else.

In case you are using Steeve regularly, and we are hoping so, or just want to support the project, think about setting @steeveapp as a beneficiary in your Steeve account settings to help fund further development.
Last but not least, there is a public issue tracker where you can always post your ideas and we will discuss them and reply as soon as possible.
---
View this post on Steeve