Sell Wall
The sell wall continues to shrink as we have burned another 10% of the sell wall when the market order expired. The sell wall total is 1,780,000 from the initial 2,500,000 supply.
I reduced the sell wall price from 2 Steem to 1 Steem.
Sell wall burn history:




Stem Curation
We issued another 50,000 from the STEM Team funds to boost @stemcuration from 50,000 STEM Power to 100,000 STEM Power.
All liquid curation rewards earned by the @stemcuration account are still being burned.
When voting with @stemcuration, I continue to use a relatively low vote percentage (currently 30%) to minimize our impact on the reward pool. With 100,000 Staked, I will reduce the voting percentage to 15%-20%.
I believe in a hands-off approach to curating the community with team stake, I feel this allows your stake to have the greatest influence without devaluing it with large moderator votes.
Over 500 STEM tokens were burned since the last update.
Miners
Another 10,000 STEM Miners have been burned since the last update.
I have drastically reduced the number of STEM Miners available on the market and have raised the price numerous times in the past.
Bounties
Over 3,000 STEM Tokens have been given out as bounties. As mentioned in our initial announcement, bounties will be used for the following:
Contest Rewards
Hiring Help
Rewarding Contributions
Engagement Incentives
Prizes
There is currently a lot of tokens available in the bounties funds, 10,000 tokens have been issued to the @stembounties account.
Brave Publisher
STEMGeeks is now a Brave Certified Publisher. If you use the Brave browser you can tip the site or add it to your auto contribution.
Reward Pool
I am extremely proud of how the STEM reward pool is used. If you look at trending, quality posts get a lot of rewards compared to tribes with 200%-1,000% more inflation tokens, and low-quality posts receive almost no rewards.
Spam and abuse is virtually non-existant and is handled quickly and effectively.
The reward pool is 80% proof of brain and 20% mining.
STEMGeeks does not take any beneficiary or management fees.
Abuse
STEMGeeks has zero-tolerance for abuse and will react swiftly and firm to eliminate abuse in our community. If you see abuse and want to report it, hit us up in Discord #abuse channel and let us know.
Custom Badges
If you want a custom badge in the STEMGeeks community, burn 25 Steem worth of STEM Tokens and post the transaction ID and the title you want in the #badge-help channel in our Discord server. I reserve the right to refuse any untasteful names.
Price
I still believe STEM is unvalued based on the price of other tribes tokens and the limited supply of STEM tokens. Only 840,000 STEM tokens are created each year. This is significantly less available tokens than other tribes.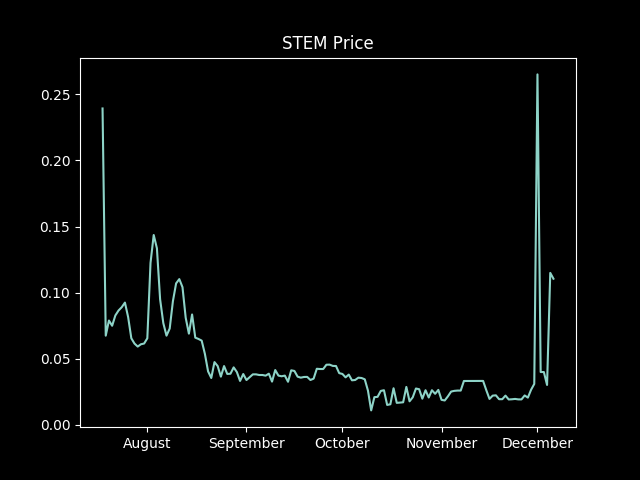 Thanks @gerber for the chart via
Gerbot
The price of STEM Tokens has climbed over 500% recently.
Airdrop
The initial airdrop has been completed for a while now, I will be starting a second airdrop to active members in the community. Keep an eye out on your wallet for a second airdrop.
Ideas and Future
I encourage everyone to join our Discord and participate in the future of the STEMGeeks community.
If you have ideas going forward, I am open to suggestions and ideas to grow the community on and off of Steem. Feel free to reach out to the #ideas channel and share your ideas.
If you are running a contest, feel free to share it in the #contests channel. If a contest gets significant engagement, we may sweeten the pot a little for you.
I am very interest in increasing the engagement and userbase of the STEMGeeks community and am open to any ideas you may have to help out. I am willing to reward users who help in this capacity.