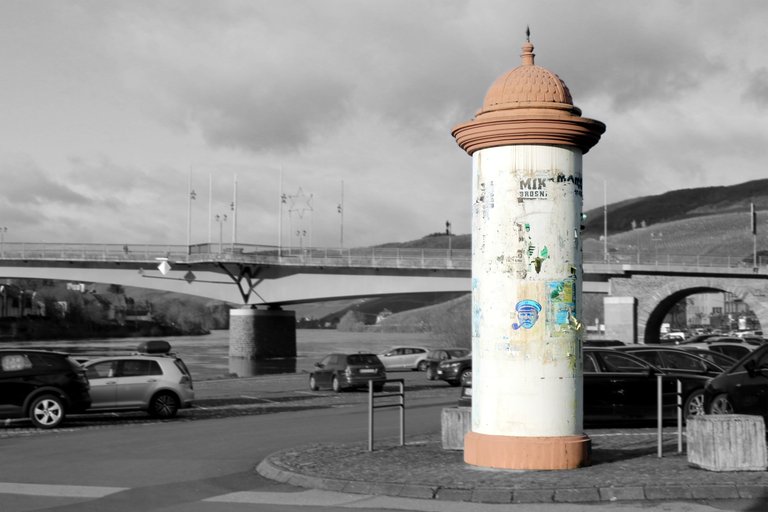 advertising pillar
pillar towering up to the sky
a sign of our times
to the praise and accolades of commerce
showing the wrong way constantly
spreads so many lies
needs that do not exist
makes harmful food healthy
and all too gourmet
KÄPT`N KALLE
---
a side note on advertisement
one of the ten commandments reads: "thou shalt not bear false witness against thy neighbor!" hardly any other commandment is more despised and mocked in the public space than this one. in the education of children, honesty is conveyed as something important. but what do they experience in our world? a few steps through the street and they encounter lies, everywhere just lies, nothing but lies. no way without big colourful lettering, without digitally manipulated presentations, without flashy pictures on walls or pillars, all of which lie and cheat passers-by. a constant companion is the attempt to convince the passer-by not to be happy. the impression of suffering from a lack of happiness is supposed to be created, which can be ended by buying a new product. this is the only way to achieve a state of bliss. it doesn't matter that people don't need most products at all. buying happiness is an impossibility, even a shop in germany is called so. unfortunately, only very few people seem to know this.
in order to create ever new needs, the appearance of cities is changing more and more drastically. what once started with wildly hung posters in the city was further expanded by ernst litfass with advertising pillars. after consulting the berlin police, he received permission to erect numerous advertising pillars in berlin. in addition to curbing wild postering, censorship was now possible and of course a new source of income was created. the clever printer had thus successfully expanded his business. in no time at all, his idea spread all over the world. however, with ernst litfass, the development of street furniture did not stop there. giant picture screens which are showing moving pictures and personalized advertisement. it is already possible to display individually advertisement to people as they walk by.
everywhere the big companies are collecting data. they use the collected data to exploit people's weaknesses in order to sell them even more products. we are drowning in garbage, have everything twice or three times and think that we need even more because we are permanently unhappy. but we don't realize that we have everything in abundance and that it's not the material things that decide whether we are satisfied or not. these false ideas are the result of an absolutely perfidious advertising world, which people love to fall for again and again.
the design of public space through advertising is hardly ever questioned. everybody is forced to consume content, pictures and texts and almost nobody is frightened by this compulsion. it doesn't matter if somebody agrees with the content or not. moral aspects are also completely ignored. the main thing is that the advertising spaces play a little money into the empty city coffers and the advertising does not criticize the existing system of rule. then everything is allowed: placing such advertising media in front of schools and kindergartens, communicating completely distorted and pathological beauty ideals, as well as praising unhealthy and/or unethical products made under reprehensible conditions of production. the advertising industry with its lies ruthlessly appropriates the last remaining free spaces in urban space. politicians also like to use these spaces in their election campaigns with their teaching phrases. whoever simply accepts advertising should not be surprised or even complain about the increasing superficiality and dissatisfaction in society, nor about the inflationary use of superlatives. it is time to do more than just question advertising in public space. we have a responsibility to our fellow men, especially to those who cannot defend themselves against this madness.
KÄPT`N KALLE and numerous other self-authorized artists act in urban space very much like the advertising industry and have looked at and copied methods of this industry. it is not about selling something or competing with the advertising world. the approach of the advertising industry should be questioned. the hanging of posters advertising products made by children's hands is allowed, also morbid and unhealthy products made for children may be advertised on every street corner. however, if an artist hangs up a poster or leaves a spray painting without permission and thus questions the design of the public space, this is a criminal offence.
of course, advertising is not only restricted to public spaces. this kind of harassment also takes place on the internet, radio, tv or in newspapers. but there is the possibility to put an end to it all by using ad blockers, switching off or turn over the page. in public spaces, this is not possible. even turning a blind eye doesn't help, because then the next advertising message will directly appear in the field of vision.