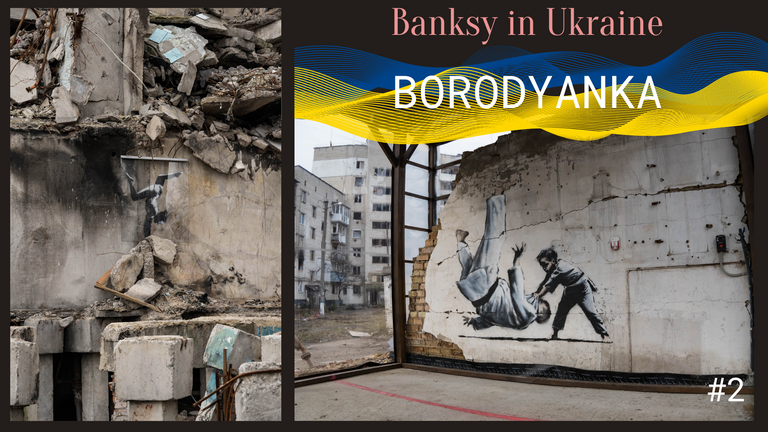 Hello there!
I am back to you with the second half of photos captured on Feb 25`2023 in Borodyanka, where a famous British street artist painted 2 graffiti. I put links to previous 2 posts at the end of the post.
I stopped at the point when I found the first graffiti with judokas. Let's continue and find the second one.
I walked about 2 km by feet one way, but I have to return to the place were we dropped the car.
The multi-story house stands next to it. I've been staring at it as under hypnosis.
It seemed that I had no feelings. Like I am at the epicenter of the explosion. But it is still hard to believe that all this is real. Because it looks like the scenery for a horror movie or an action.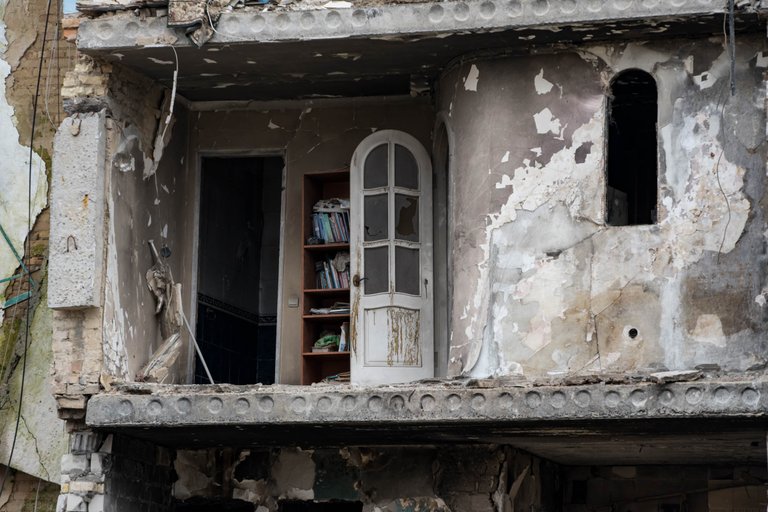 But somewhere there is a person who feels a lot when he sees these photos. Recognizes his bedroom door. And kitchen. It's mind-blowing, really looks like scenery for a theatrical performance. Sectional view.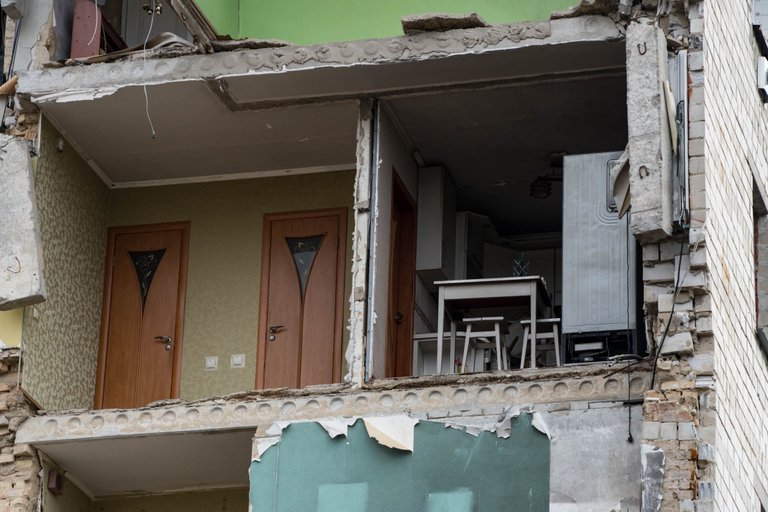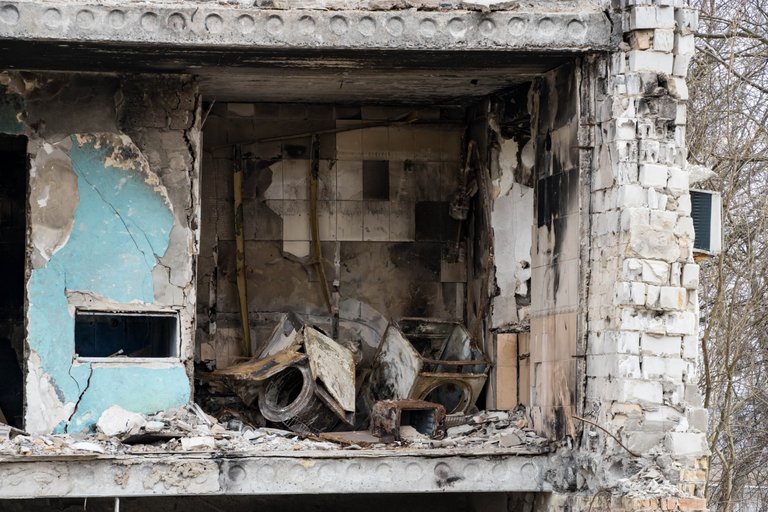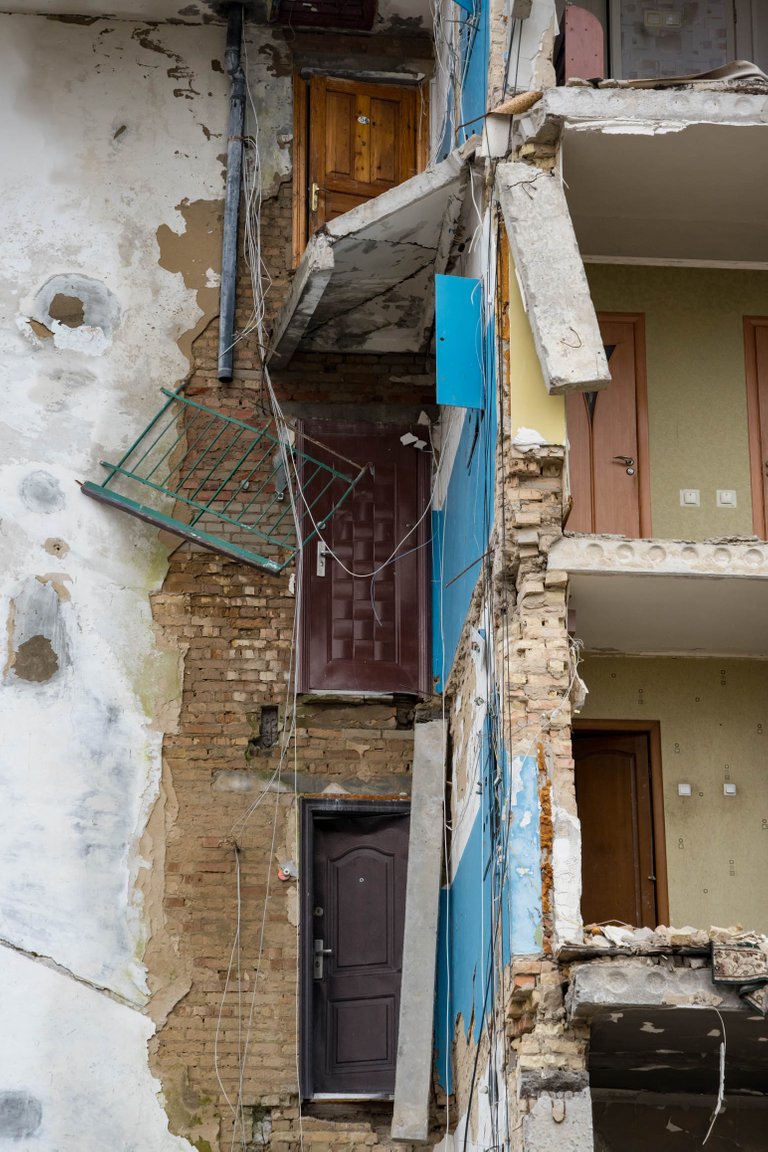 ---
Someone installed this violet figure. As the personification of all who lived their lives here.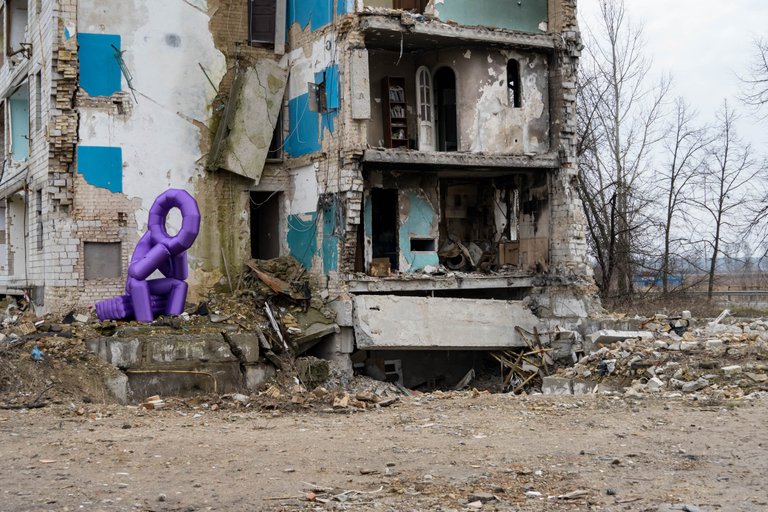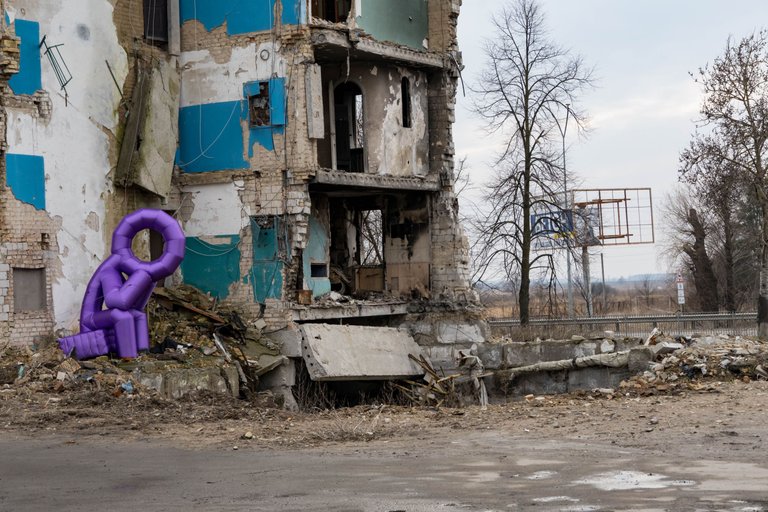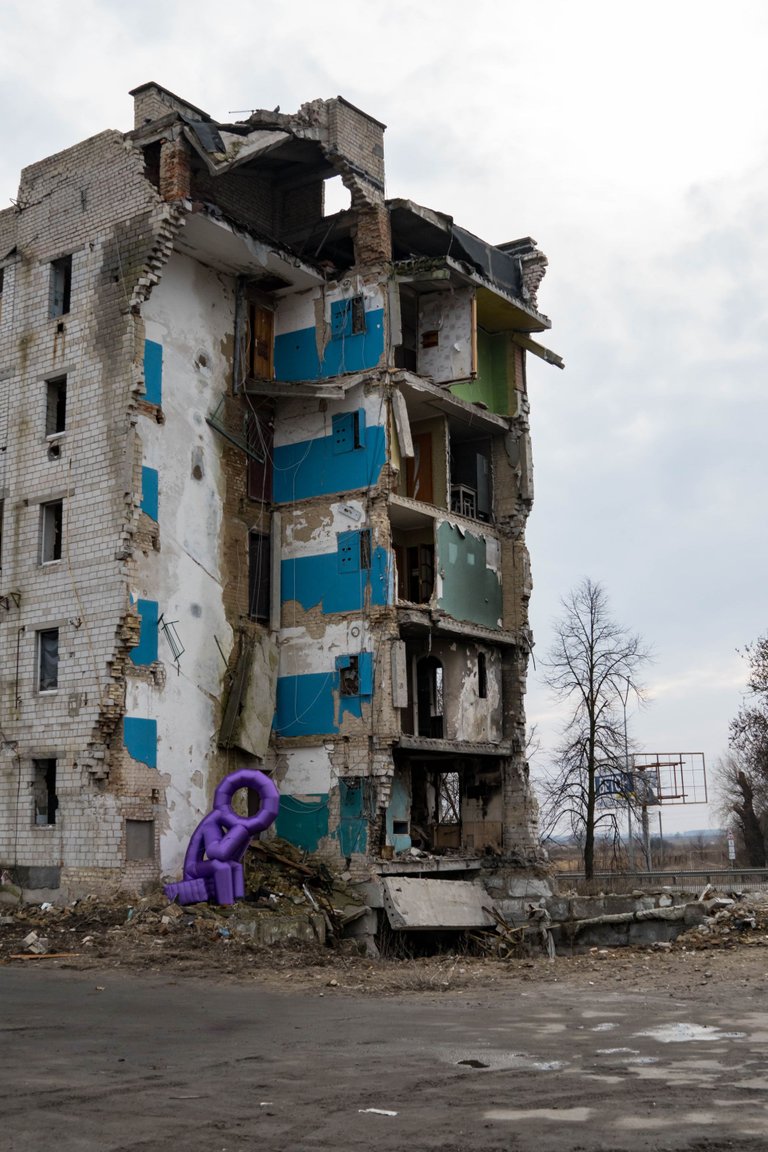 Another house that turned into two...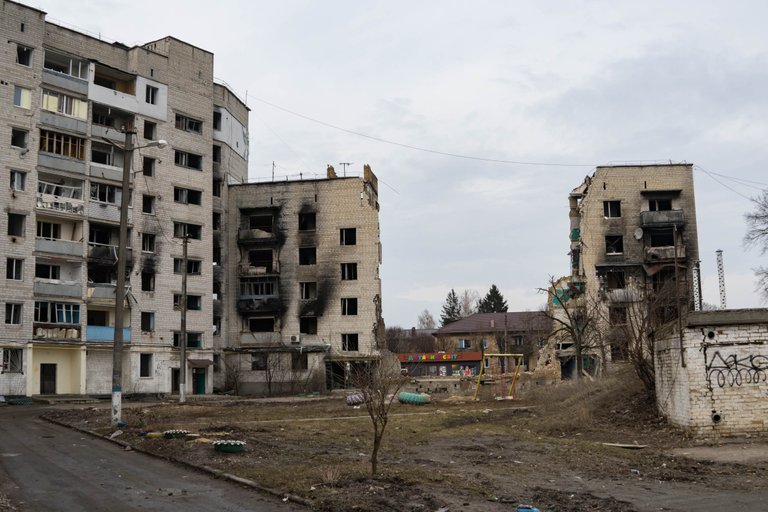 The inscription says "Children's world". This is a toy store. Many young families with children lived here.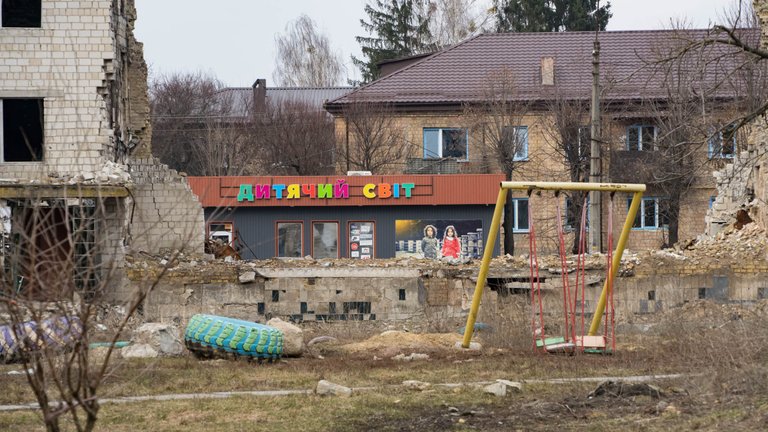 ---
Building materials on the background of a dilapidated house. Building materials are what is most needed here. I so want this to end. We will build many new, beautiful, modern, energy-efficient houses.
Oh, I remember this house on the back. From the strong wind, the remains of metal structures created sounds similar to explosions. It was loud and creepy.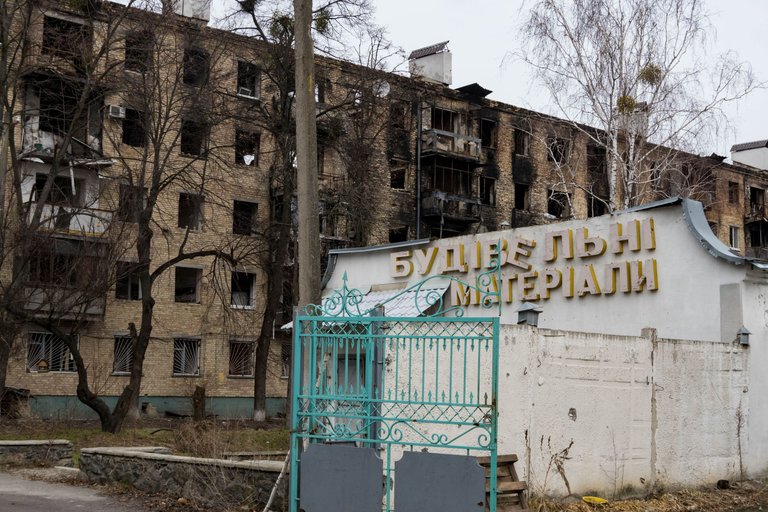 On the other side of the building there is the library.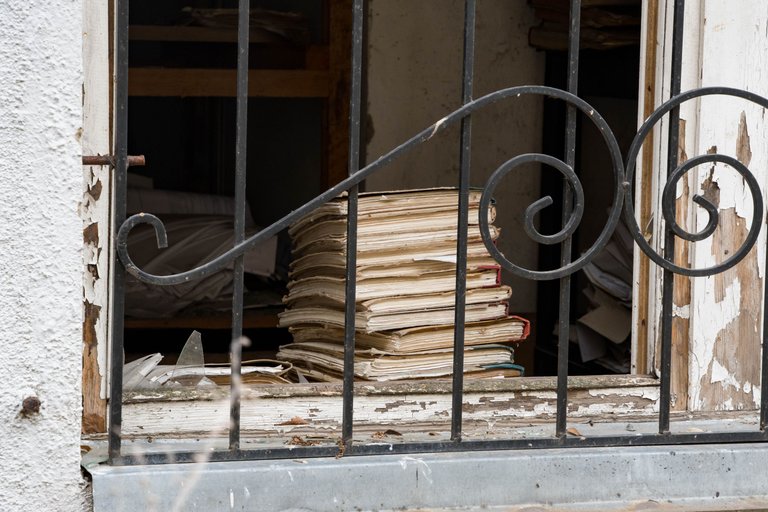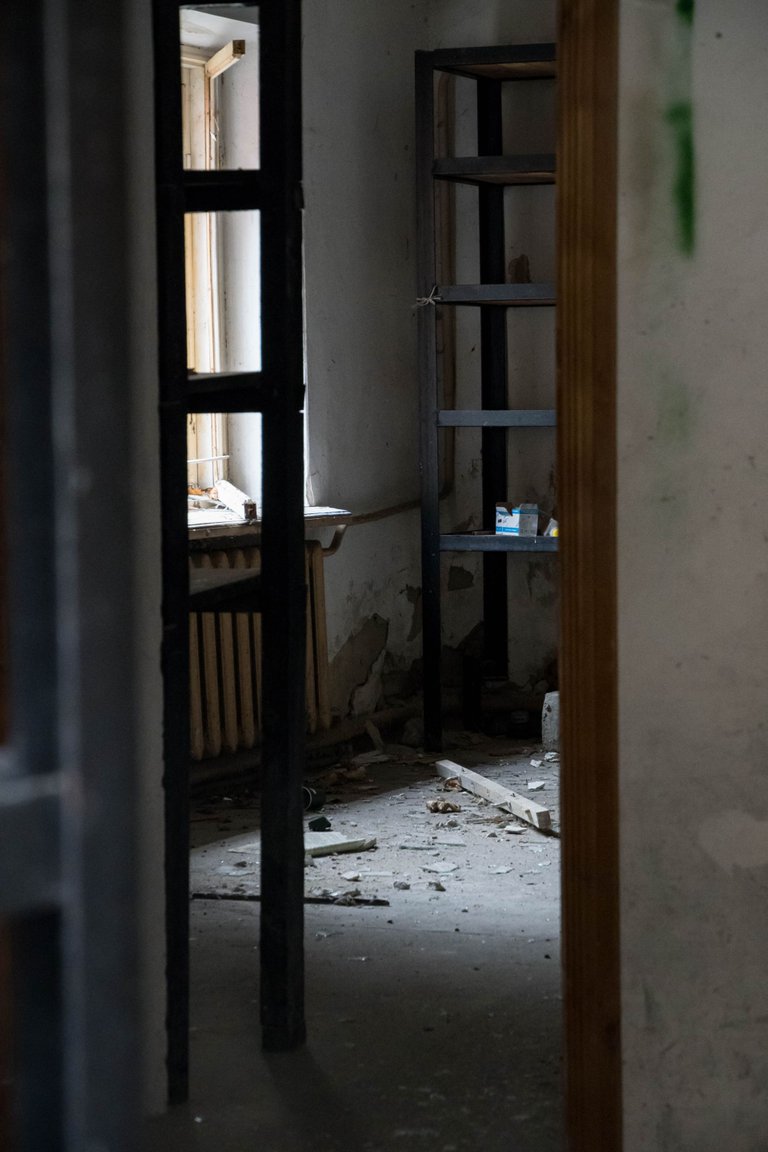 ---
Handmade preserving. A pot lid on a hanger on the wall.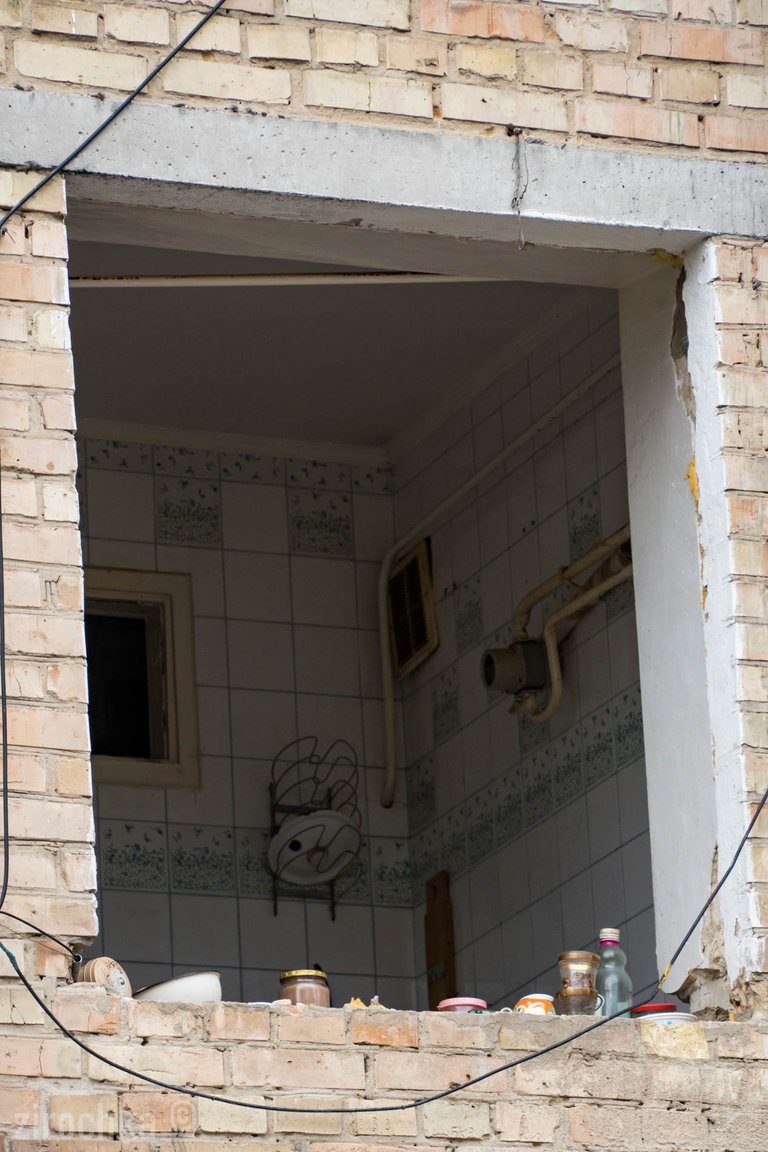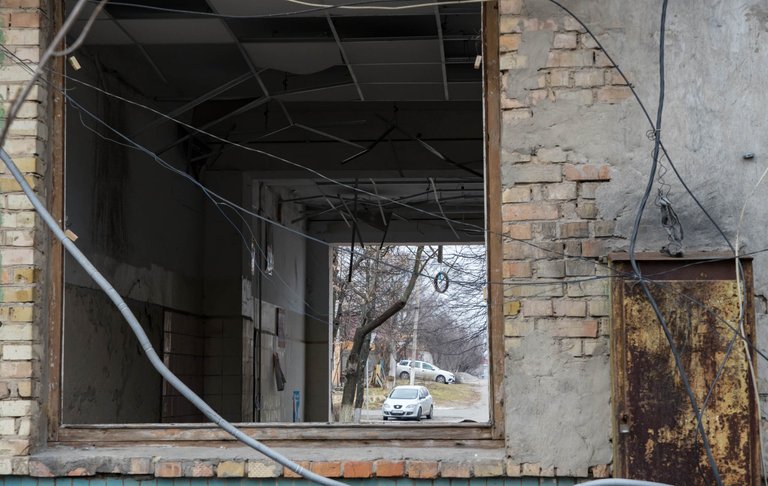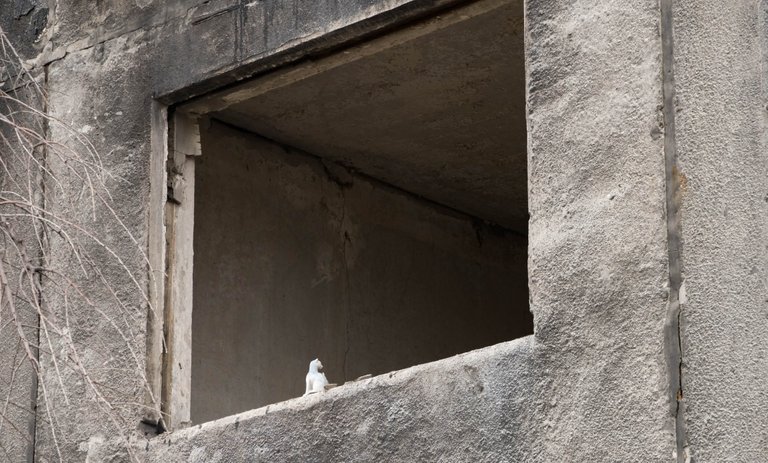 ---
The inscription on the car - Furniture. What is she doing here, next to this house?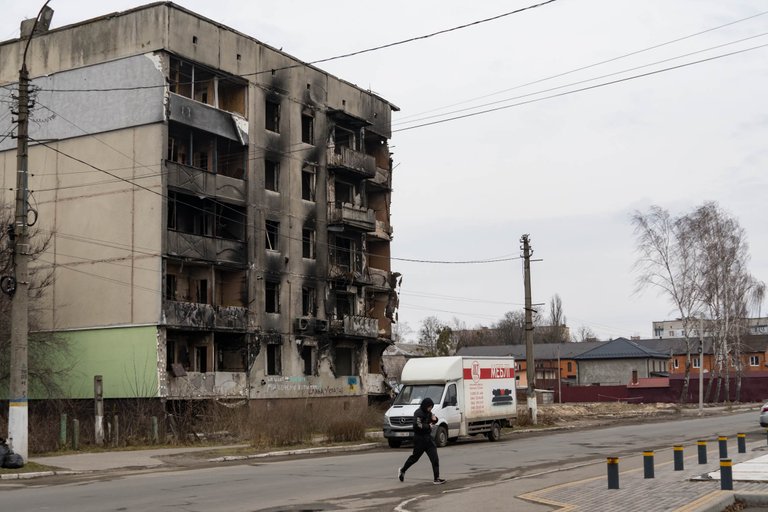 The inscription in Ukrainian and English saing "We want to live here!!!" and "Glory to Ukraine".
Home, sweet home...💔
From these remains, it is difficult to understand what was here.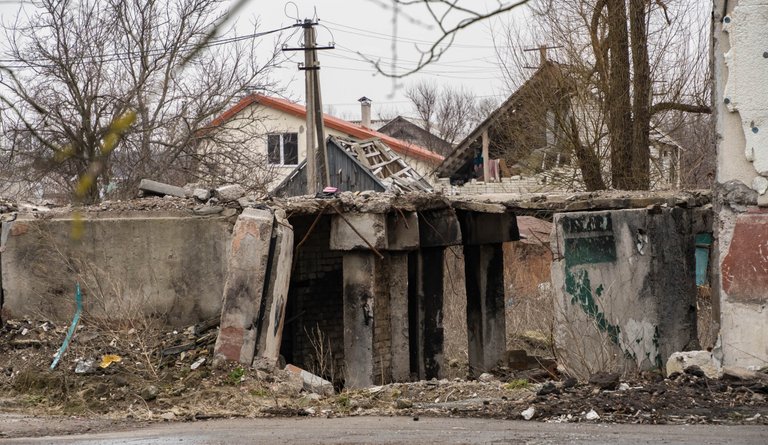 I met many children of different ages on the streets. Young mothers with baby carriages, school-aged children.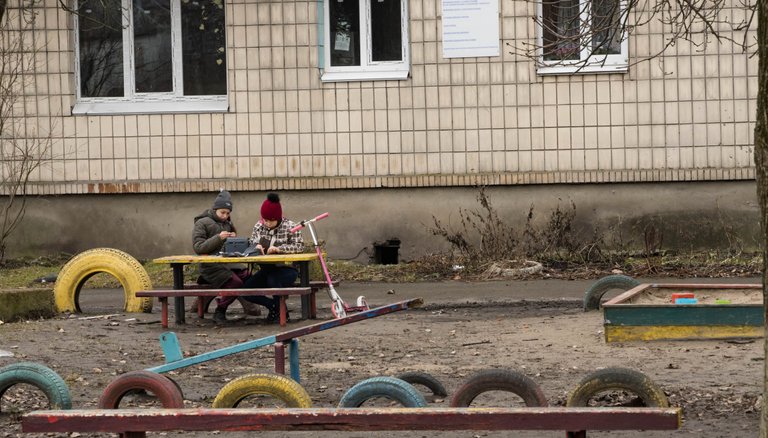 There are also elderly people. There are actually a lot of them, but most stay at home.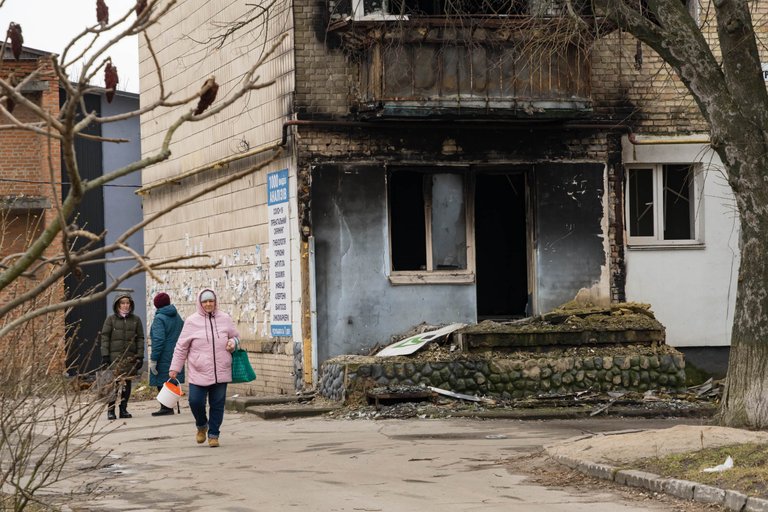 This was a Farmacy.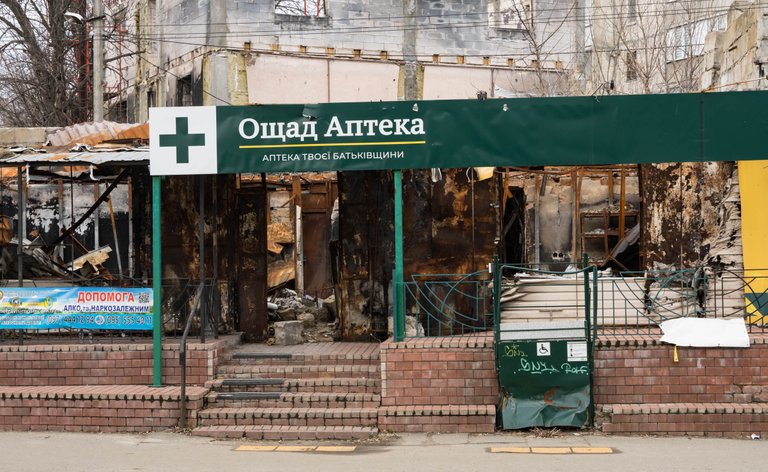 Here and there are people carrying planks, buckets and bags of building materials. They drive cheap cars, most likely hired builders. There are many of them. The state has no money to help, because the main item of expenditure is defense. Financial assistance is given not to everyone who need it, and it is small. People are trying to repair their homes on their own.
The address plate on the house: 363 Lenin Street. Eventually, it is a private house. Why didn't these people replace the plate when the street was renamed from Lenin str. to Central str? It didn't matter to them back then. Now it's too late.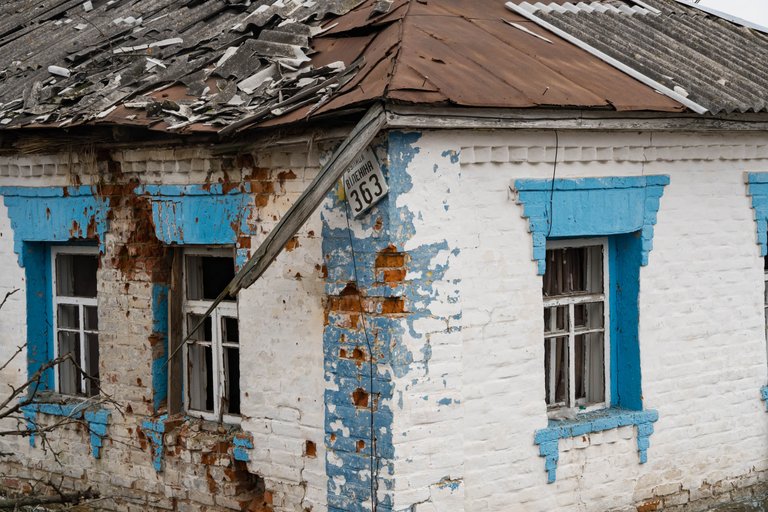 Some houses, probably those that were the most destroyed, have already been razed to the ground. Nothing was left of them.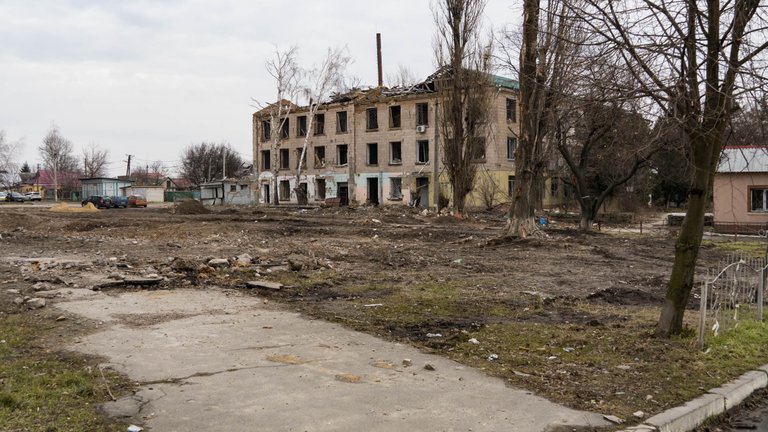 One wing of this building was badly damaged by shelling and fire. And another survived. It can be seen that it has new windows. A bench near the entrance, a modern car. Life here is extremely contrasting.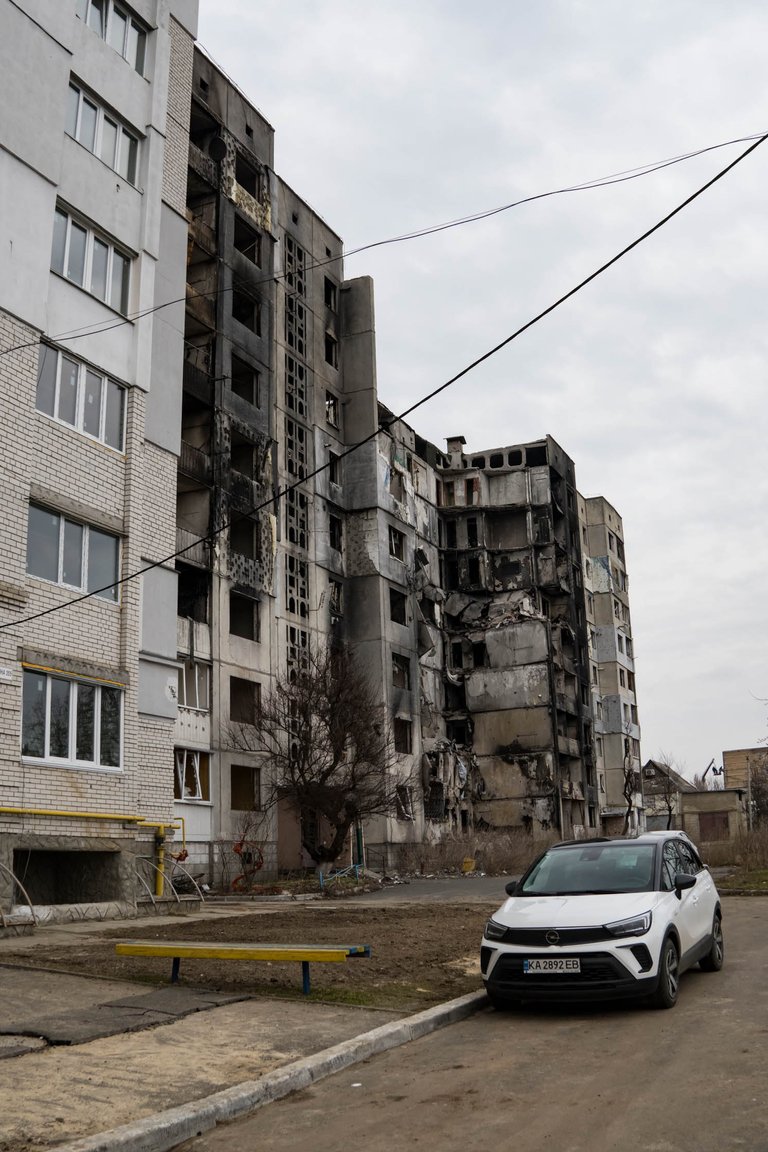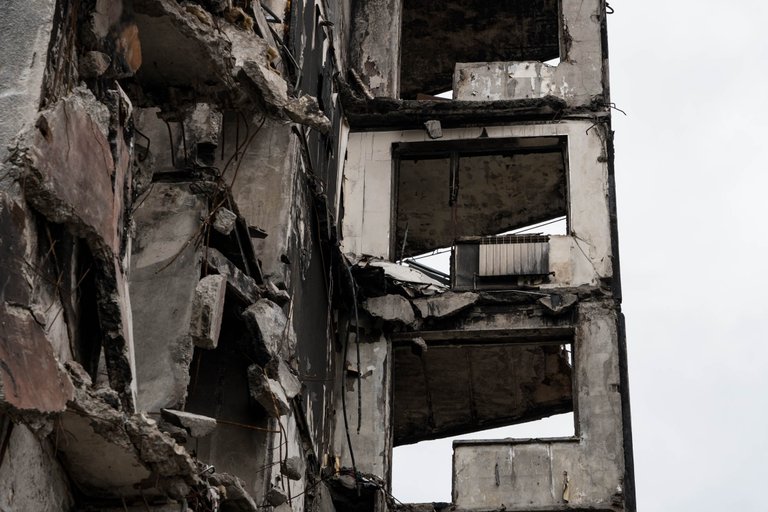 Here is it, the second Banksy in Borodyanka.
It is covered with something transparent. Because of it, it was difficult to find an angle without glare.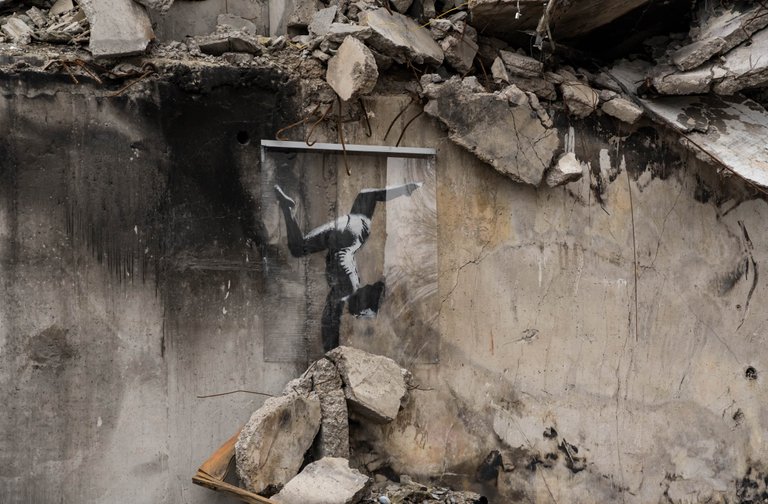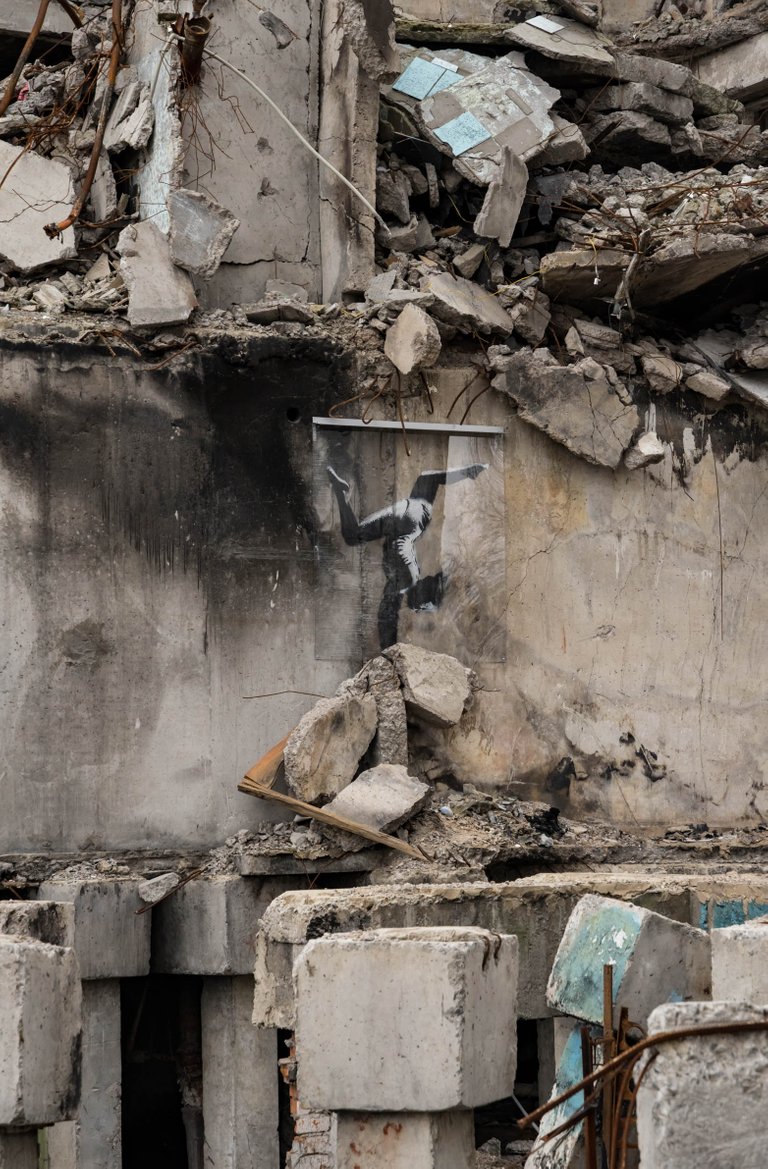 You can see white boxes on the wall is a security alarm on the left from the drawing. Ehhh, I miss my tele lens so much...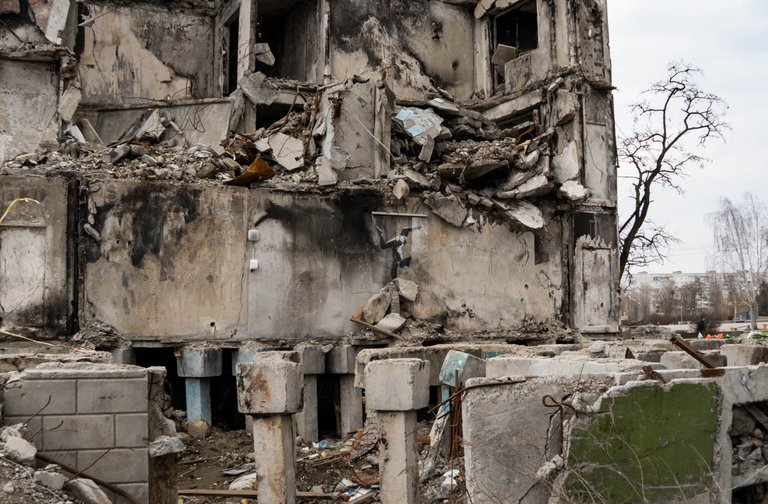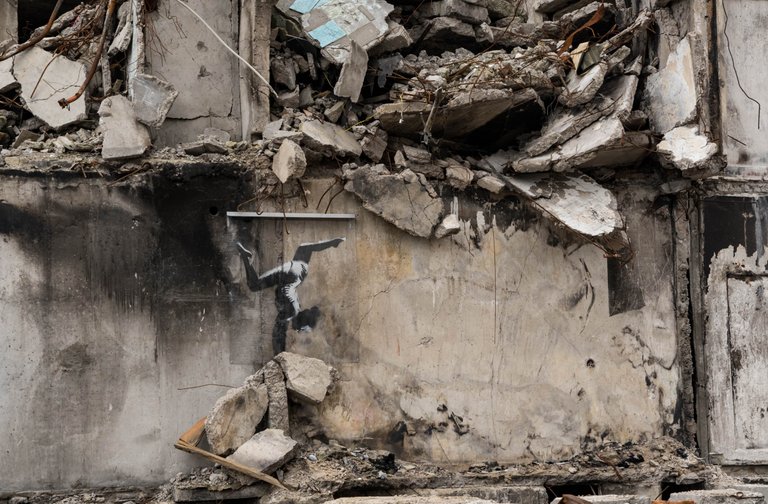 Someone recently brought flowers in memory of the civilian victims.
The house is made of panels. There was a period when many such houses were built in the USSR. They are very cold indeed. But I think about something else - can they be restored?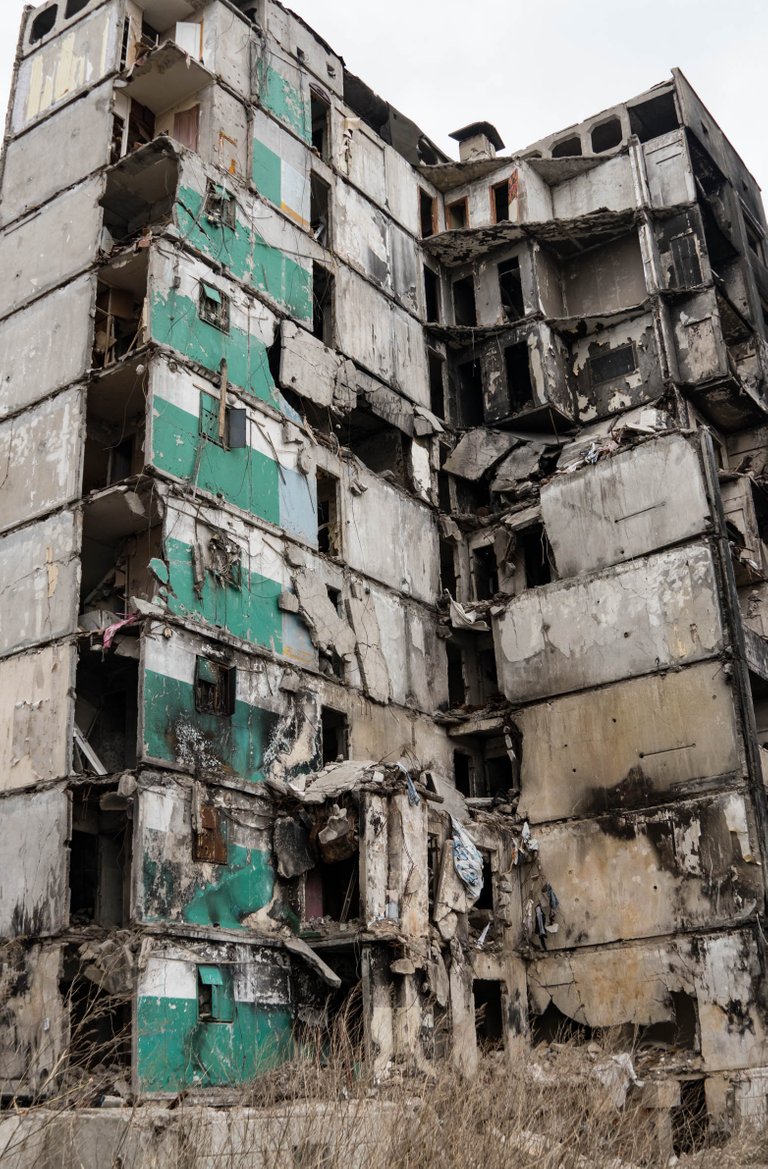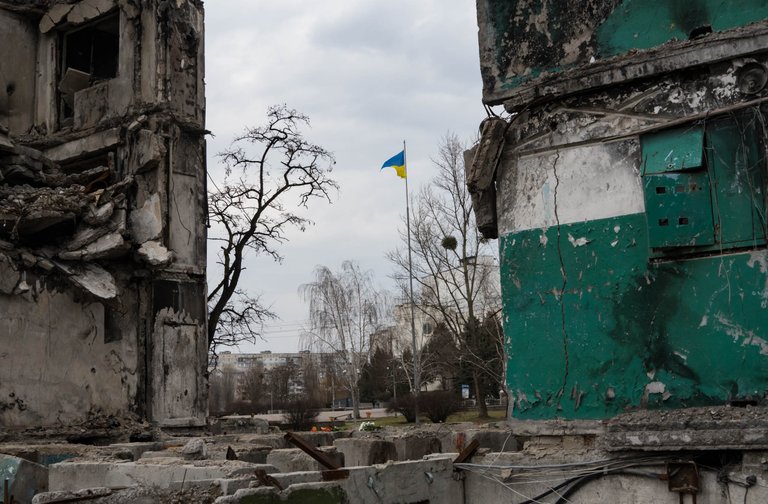 Call for help. They are here and there. People have already understood that foreign guests are being brought here. Why not try it? Any help is appreciated.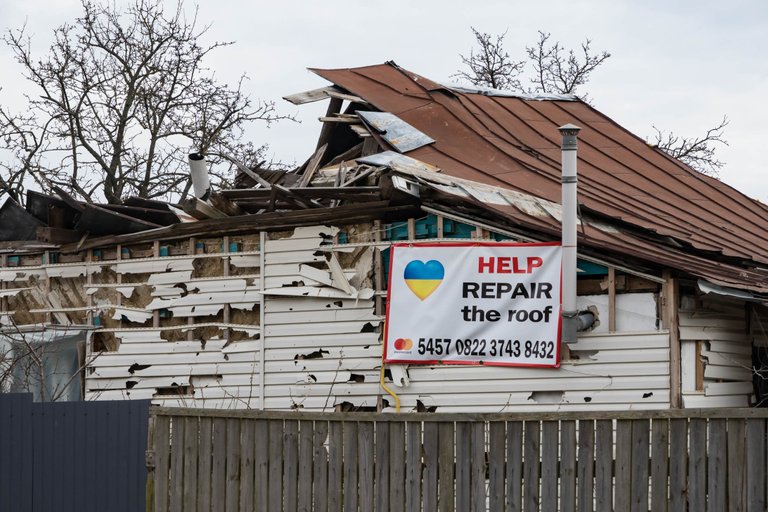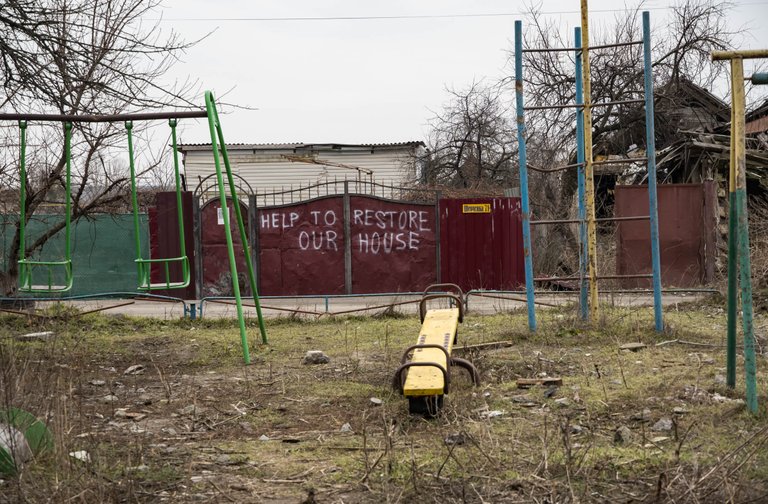 The neighboring house no longer needs help. Only demolition.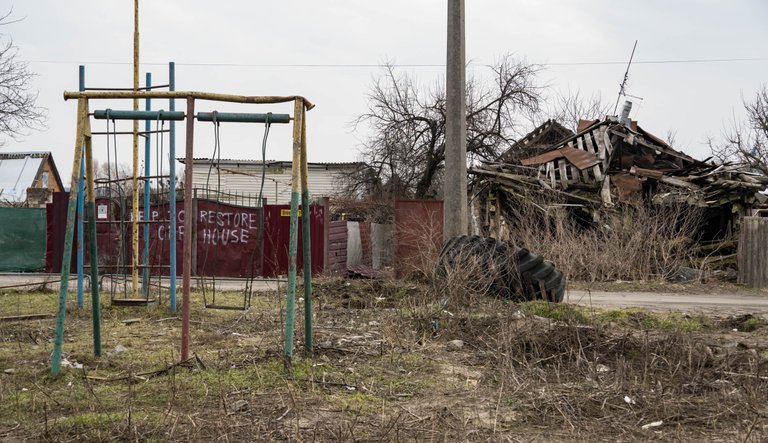 The owner of this settlement painted over the inscriptions left here by the rashists.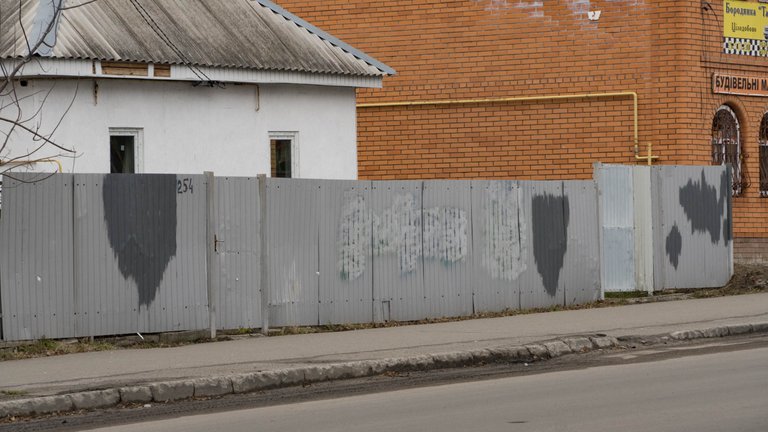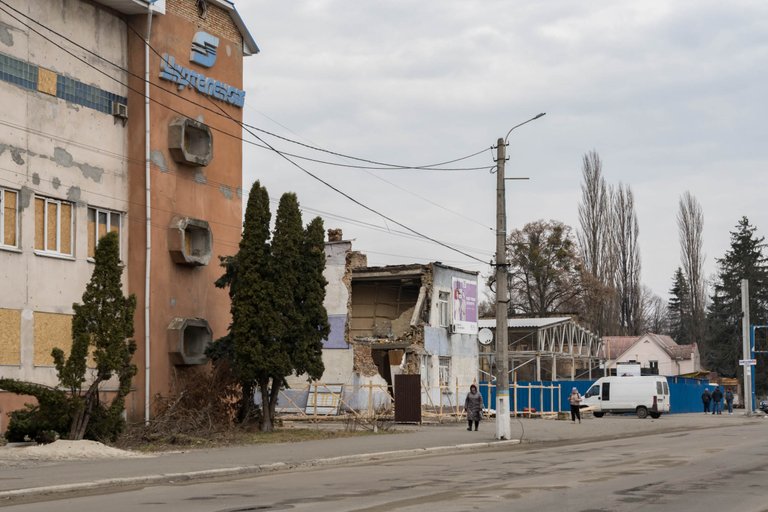 That's all. We returned to our car, and continued our trip to Irpin. Another small town that became known in the world because the war crimes.
As I promised, these are links to my previous posts from this trip. Usually, I'd say here - "Enjoy!" but you know if you're normal you can't enjoy viewing such things. But still, sometime we need it to understand, and remember.
Banksy's graffiti in Ukraine. My visit to Hostomel
Banksy's graffiti in Ukraine. My visit to Borodyanka. Part #1
Thanks a lot for your time and attention 💙💛
Stay tuned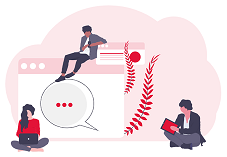 Need a free Hive account? Get yours now
Thanks to @hivepeople for the banner!