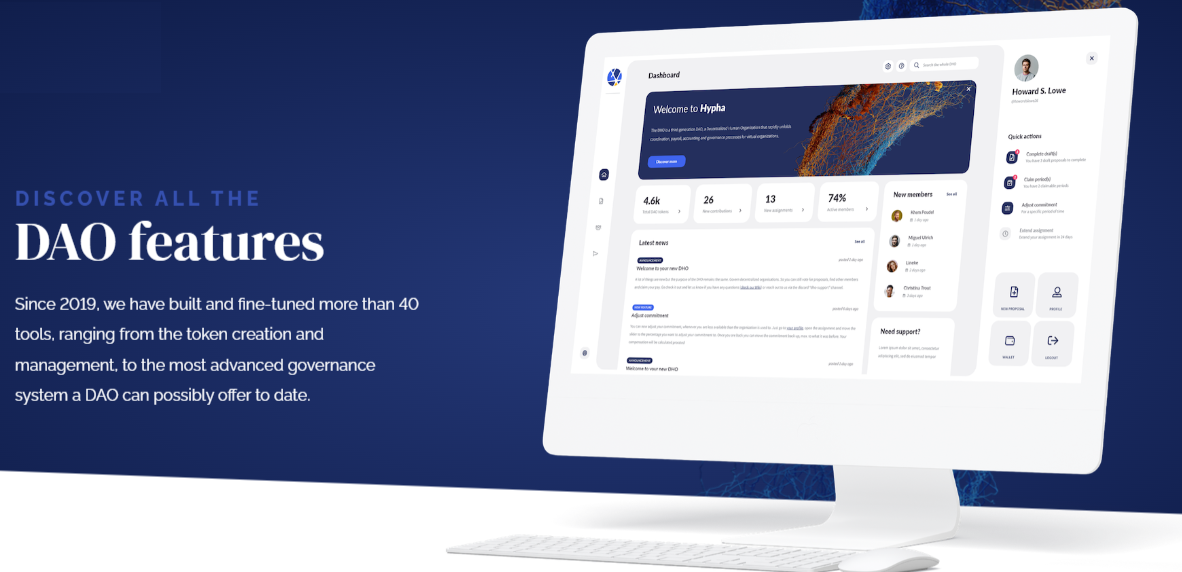 (Credit: Hypha)
HyphaDAO's ''Organization-in-a-Box'' Beta launch to be deployed on EOS Blockchain is almost here. The EOS community will be among those to benefit from a thriving suite of features that will make on-chain collaboration easier. Expect to see innovative features to help build smart organizations on EOS like Secure Multi-signature Treasury, Upvote Elections and Ecosystem scaling.
In Sept 2023, the EOS Network Foundation granted $850K to HyphaDAO to bring their Organization-in-a-Box'' product suite to the EOS community.
HyphaDAO's ''Organization-in-a-Box'' Solution makes it easy for anyone to join a DAO based on their unique interests. With an account set up, users will see every DAO belonging to the Hypha network and be able to browse by ecosystem.
HyphaDAO provides all the key building blocks for groups, communities, start-ups and organizations, to effectively and rapidly organize, govern, manage capital, compensate, and coordinate together to achieve their goals in a transparent, structured, fraud resistant, scalable and decentralized way based on blockchain technology. HyphaDAO tools include Governance tools, Compensation tools, Treasury management tools, Organizational assets, Open architecture, Tokens and more. Organizations that wish to build on the EOS Blockchain will be able to access a robust suite of tools for structuring and managing their DAO.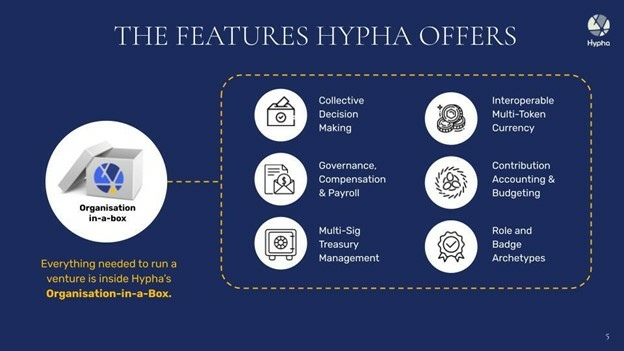 (Credit: Hypha)
To empower web3 innovation, here's a sneak peek of the 10 new features announced by HyphaDAO that would transform how organization collaborate on EOS Blockchain.
Feature 1: Quickly and easily set up a DAO by selecting from ready-made templates.
Feature 2: Achieve decentralized organizational structure via circles and circle budgets
Feature 3: Benefit from having a safe and secure Multi-signature treasury
Feature 4: Leverage policy proposals to align and vote on key decisions
Feature 5: Collaborate and add value to projects via Quests
Feature 6: Engage your community like never before
Feature 7: Reach consensus with Upvote Election
Feature 8: Validate decisions via Community Proposals
Feature 9: Build and scale ecosystems via Ecosystem As a Service (EaaS)
Feature 10: Explore and find opportunities in DAO networks
The EdenOnEOS community will be among the beneficiaries of the HyphaDAO's ''Organization-in-a-Box'' solution. It will enable the EdenOnEOS community to evolve into a large-scale, interconnected DAO ecosystem.
EdenOnEOS is a governed community on EOS Blockchain through EdenOS, a set of smart contracts based on the principles outlined in Dan Larimer's book, More Equal Animals. The Eden process is a unique, game approach to selecting leaders of a community in a way that resists capture, with a bottom up "wisdom of the crowd" approach, randomness and optimize for consensus building.
HyphaDAO will integrate the Eden Democratic Process as a governance setting in its new voting module. All new DAOs using Hypha would the choose to use an EdenOS governance process right out of the box to select their leaders. EOS members will gain access to Hypha's DAO solution via a range of attractive pricing plans including a freemium option, to start their own DAO.
More than 80+ DAOs are already in the network. The EdenOnBitcoin (EOB) Project has also signed-up to participate in Beta testing.
If you want to join the beta tester organization, you can sign-up here: https://hypha.earth/sign-up-for-your-hypha-dao/
Posted using ThiagoRe.com