Hi All,
Sometimes you might know me (
@theguruasia
) as the owner of
TRENDO (TRDO) Token
project top of STEEM chain.
Due to the chain split & few other reasons I had to shut down the
TRENDO
services & started Token buy back & burning process.
During last few months time, I started few token projects top of HIVE-ENGINE &
VAULT Token
is one of the project that share
95% of @hiveupme curation bot earning between it's delegators
.
---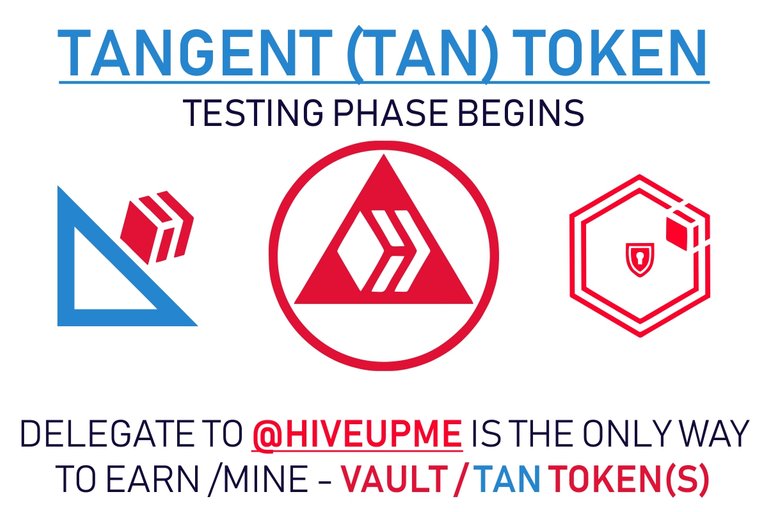 ---
TANGENT (TAN) - A Comment Based Tip Token Script
I have upgraded the
TRENDO (TRDO) Token
script (developed by
@ali-h
). The new script contains more features than the previous (TRDO) script & we are testing the script with TESTO Token before go live.
---
TANGENT (TAN) Token Economy
TAN Token daily minting rate is totally depend on the earning of
@hiveupme
curation bot's particular day - curation earning. (TAN Token keeps
1:1 token mint rate
to VAULT Token).
---
TANGENT (TAN) Token Distribution
The daily mint of TANGENT Tokens distribution:
25% TANGENT Tokens share between @hiveupme delegators.
50% TANGENT Tokens share with the comment reward bot.
25% TANGENT Tokens share to the developer funds to burn or sell tokens.
---
Summon TAN Comment Reward Bot
You can use either one of the below listed command at
Post => Comment Section
to summon the TANGENT (TAN) Comment based reward bot.
$tangent
$tan
!tangent
!tan
---
Limitations
The below listed limitations also added to TANGENT script.
You should hold atleast 10 TAN Tokens to summon the bot.
TAN Reward script works on 50% reward & 50% curation module.
You can't summon the bot more than 3 days older posts.
You can summon the bot for 3 successful calls per day.
---
The main token project will be launched on 5th of October, 2020 (Next Monday). During this time period we are testing the project by using TESTO (True Test) Token.
---
Join Us at [CORE / VAULT Token Discord Channel]