Dear Hivers,
On one side, you have small exchanges listing Hive — like Quidax and Bitfxt. You can always transfer your other tokens and trade them for Hive.
Then on the other side, you have big exchanges offering card payments. In this post, we will discuss such payments along with the fees.
If you are planning to buy more Hive tokens, then we have several options right now. I have discovered 3 simple ways.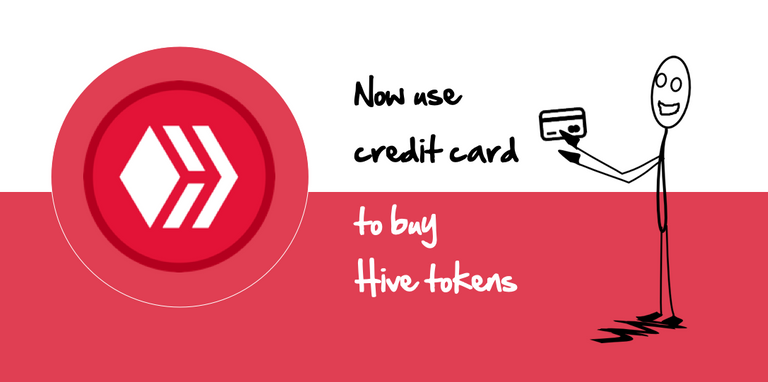 ---
#1: Buy Hive Using MoonPay
---
MoonPay recently updated their list of tokens. It includes Hive.
This company supports 160+ countries. The interface is simple with a flat fee of $5 per transaction.

To make the purchase:
Head over to buy.moonpay.io
Select Hive token
Enter the amount
Sign in / verify your identify
Pay using your credit card
What you should know: The following countries are NOT supported [details]:

Benefit of MoonPay: It supports all major debit/credit cards and also mobile payments like Apple Pay and Google Pay. Do note that, depending on your country, you might face some hiccups.
---
#2: Buy Hive Using Binance
---
Binance needs no introduction. To buy the token, however, you have to follow a two-step process. Instead of buying Hive directly, follow these steps:
Step 1: Purchase USDT from your credit card [link]
Step 2: Trade USDT with Hive (as Binance supports Hive/USDT pair)

What you should know: When it comes to fees, you pay 3.5% per transaction or 10 USD — whichever is higher.
---
#3: Buy Hive Using Bittrex
---
Bittrex was the first exchange to list Hive. They have also introduced card payment this year.
To make the purchase:
Head over to your Bittrex Holdings page (link)
Click on Deposit by credit/debit card
Select the currency (US or Euro)
Enter your card details

What you should know: 3% fees with a daily limit of $2500. Also, only Visa is supported (see Mastercard supported countries here)
---

---
To recap:
MoonPay takes a flat fee of $5 per transaction.
Binance charges 3.5% or $10 — whichever is higher
Bittrex fees are 3%
On top of this, it is very important to mention the conversion fee. As you will pay through your local currency, there is a conversion charge. Typical conversion fee is around 1% to 3%.
Overall, you will end up paying $105 to $110 to buy $100 worth of Hive. It is extremely important to remember this.
So if you are comfortable with this fee, then go ahead and make your purchases. Collect your lovely tokens. In fact, someone told me it makes sense to buy now.
Perhaps it does.
It makes sense considering the price of the Hive tokens right now. It makes sense considering new power up initiatives like #HivePud. It makes sense — as long as you are comfortable with the fees.
And it makes sense — as long as you believe in Hive.🔥
Cheers,
Sid
---
If you liked this article? Feel free to comment and upvote and reblog.