The Long Son Pagoda is a Buddhist temple in the city of Nha Trang on South Central Coast of Vietnam. It was previously known as Dang Long Tu and sits at the foot of Trai Thuy mountain, in city of Nha Trang. It is a mere quarter of a mile west of the main railway station. Long Son Pagoda was initially erected on a different hill in 1886 by Thich Ngo Chí, the then spiritual leader here. He was famously involved in anti-French resistance forces who tried to regain Vietnamese independence.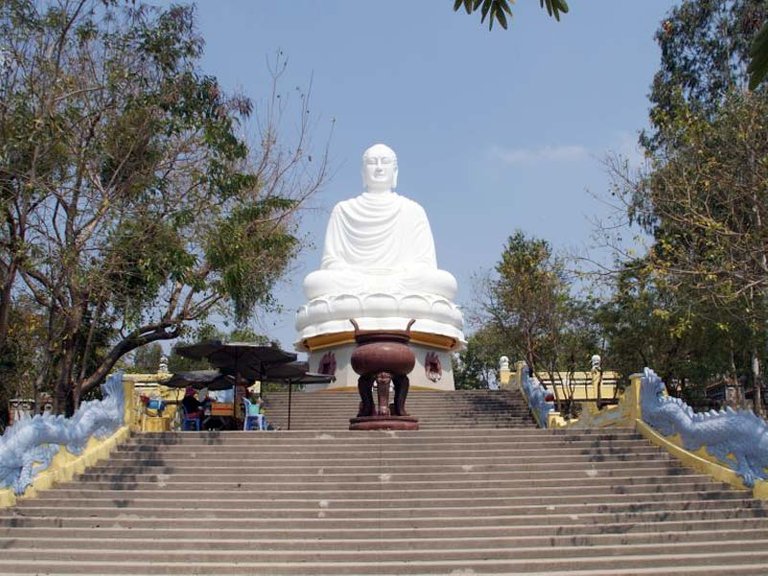 The white Buddha statue at the Long Son Pagoda
As the 20th century was in its first few months the area was hit by a huge cyclone, the temple was all but destroyed and was moved from its initial position to its current location. The Buddhist Studies Association declared the temple the headquarters of the Buddhist Association in the whole of Khanh Hoa Province, in 1936. Again in 1940, the temple was renovated and enlarged by Thich Ton That Quyen. The turbulent history of Long Son Pagoda continued in 1968, when it was heavily damaged during the Vietnam War, in particular the tiled roof. After the war it was restored to its current condition.
Not far from the Long Son Pagoda, a road leads up to Hai Duc Pagoda close to here there is a large white concrete statue of Gautama Buddha. The it are statues of seven arahants, those who have achieved Nirvana. Whilst to the front of the statue are two dragons, each of which is over 20 ft long. The statue dominates the landscape and can be seen from every which way visitors enter Nha Trang.
!steemitworldmap 12.250538 lat 109.180149 Long Son Pagoda D3SCR
I have been developing the InSeAsia website for three years. It genuinely is a labour of love. I have lived in Southeast Asia for 9 years and have no plans to ever leave.
I am extremely grateful to anyone who follows me, up votes, comments or re-steems my work.
Come and check me out. If ever you come to Saigon, Vietnam get in touch and we can meet up.
Website: http://www.inseasia.com
Steemit: https://steemit.com/@inseasia
Facebook: https://www.facebook.com/InSeAsia/
Facebook group for Southeast Asia Steemians: https://www.facebook.com/groups/846253152208905/
YouTube: https://www.youtube.com/channel/UC4YQUTrPwK190V4vbJDLt_A
Instagram: https://www.instagram.com/inseasia/