The Nha Trang Beach is a fabulous almost 4 mile long stretch of golden sand shaped in a long sweeping curve and one of the main attractions of Nha Trang. The sea here is perfect and picture postcard turquoise blue. In the heaviest times of the wet season it turns to a murky brown colour because of the run off from the local area, but rest assured for most of the year it is perfect. There are also designated sections where jet skis etc cannot go, making this a superb family friendly swimming location.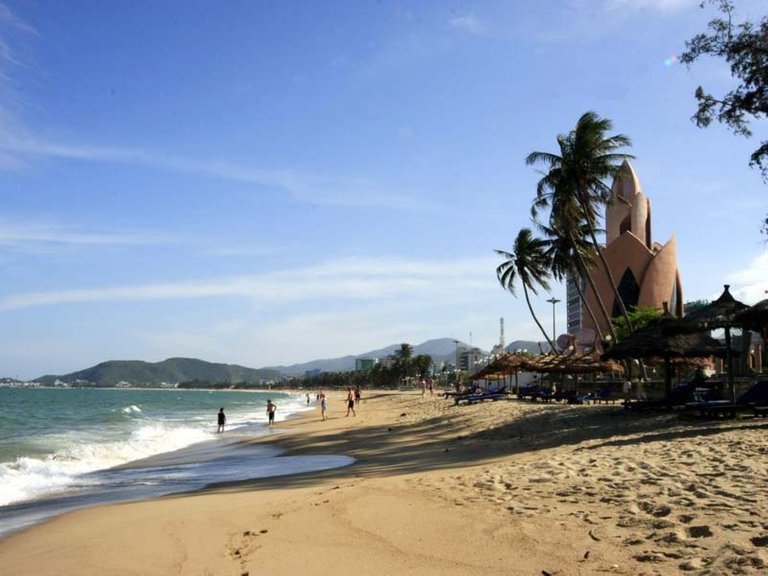 The beautiful Nha Trang Beach
The beach is fringed with palm trees making it the ideal tropical island type setting. Development has been kept to a minimum, providing just the right level of amenities without damaging what Mother Nature had already provided. Holiday makers in Vietnam can rent sun loungers, chill out and buy drinks from the friendly vendors who stroll around all day. Just off the coast are small islands making this a terrific centre for snorkelling and scuba diving.
There are many things to see and do in Nha Trang of course, but when you get tired of walking around some of the famous attractions, this is the perfect venue for some much needed R&R.
!steemitworldmap 12.242482 lat 109.198291 long Nha Trang Beach D3SCR
For other Nha Trang attractions see also:
#1 The Long Son Pagoda https://steemit.com/travel/@inseasia/attractions-of-nha-trang-1-the-long-son-pagoda
I have been developing the InSeAsia website for three years. It genuinely is a labour of love. I have lived in Southeast Asia for 9 years and have no plans to ever leave.
I am extremely grateful to anyone who follows me, up votes, comments or re-steems my work.
Come and check me out. If ever you come to Saigon, Vietnam get in touch and we can meet up.
Website: http://www.inseasia.com
Steemit: https://steemit.com/@inseasia
Facebook: https://www.facebook.com/InSeAsia/
Facebook group for Southeast Asia Steemians: https://www.facebook.com/groups/846253152208905/
YouTube: https://www.youtube.com/channel/UC4YQUTrPwK190V4vbJDLt_A
Instagram: https://www.instagram.com/inseasia/